C for Colombia. After
traversing through Armenia and Brazil, we go to Colombia today.
Colombia. Columbia. 
A
slight difference in the spelling but a world of difference (pun intended). 
There is only one correct spelling for the South American
state and it is Colombia. If 'Colombia' refers to the South
American state and 'Columbia' refers to the North-American river which
"rising in the Rocky Mountains and flowing through British Columbia",
There's also a city by the name Columbia in South Carolina, USA. Even its own country men
seem to be angry about being misspelt as seen in this
media report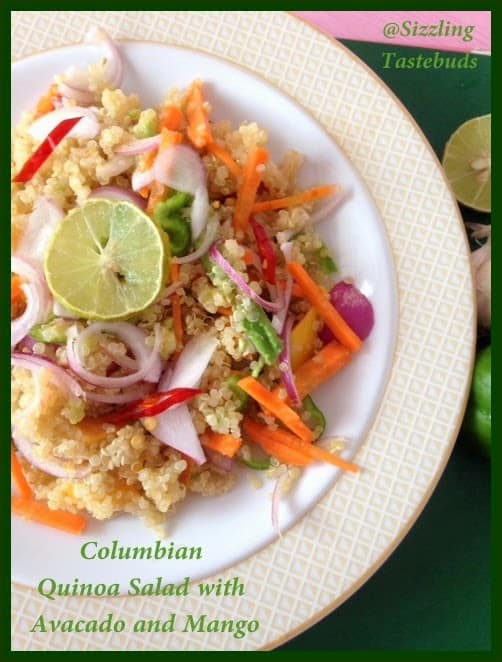 PinPin

So
today, we are travelling to the country Colombia (in South America) with a
wonderful salad of Quinoa with Avacoado and Mangoes. Thanks to Mir, who
promptly messaged me that Quinoa had roots in South America. I had (still have)
a huge bag of red and white quinoa that H lovingly lugged back from New York,
and everytime I look at my staples, it says to me 'please use me up'. It was
the first time I was cooking with Quinoa (a wondergrain in today's parlance)
although I have eaten the baked Quinoa at a friend's place.

The
lightness of the grain along with its versatility blew me away. I had two
servings of today's salad and still felt light like a feather. During that
process, I have bookmarked scores of veg Quinoa recipes that I hope will help
me use this grain quickly. Its almost like the Couscous
Salad and Couscous
Tikkis I cooked, although I feel Quinoa lends itself to baked and stir
fried salads better while Couscous can be adapted better to Indian style cooking.

Before
we get to the dish of the day, quick 5 facts about Colombia (Source
– Wiki) :

 
Colombia's
varied cuisine is influenced by its diverse fauna and flora as well as the
cultural traditions of the ethnic groups. Colombian dishes and ingredients vary
widely by region. Some of the most common ingredients are: cereals such as rice
and 

maize

; tubers such as potato and 

cassava

; assorted 

legumes

; meats, including beef, chicken, pork
and goat; fish; and seafood. 
Colombia occupies the northwestern end of 

South America

,
and is the only country there with coasts on both the 

Pacific

(1350 km
long), and the 

Atlantic

 (over 1600 km) oceans. 

Colombian
coffee is among those considered as the best coffee in the world.It is exported
to United States, Germany, France, Japan, and Italy.Most coffee is grown in the Colombian coffee growing axis 

region.
When
I saw Erica's recipe here,
I really didn't have to go further. I almost cooked the Vegan Lentil Loaf but
changed my mind (once more).
About
this dish : I Loved it for its simplicity and earthiness and fruit filled
sweetness that the mango brought in. I didn't add pineapples per the original
recipe but luckily for me, it was the fad end of the mango season here in
Mumbai so I could lay my hands on a not-fully-ripe mango (which still retained
its slight tang). And I also added a few more salad veggies to make it
wholesome. 
Will I be making this often ? Yes, with probably a few roasted bell peppers and zucchini thrown in for good measure and slightly cranky up the spice meter.
This
is a salad that's apparently served with grilled chicken or even with barbequed
dishes. For me, it's a dish I can carry to potlucks or even when I want to
enjoy a light mealJ
***************************
Country –
Colombia
Dish– Quinoa
Salad with Mango and Avocado
Recipe
type – Salad
Difficulty
level – Easy
Spice Level–
Medium
Recipe
adapted from Here
Prep
 –20 mins
| Cook time : 10 mins | Serves : 2
Serving
Suggestions :At room
temperature, serve with Garlic bread or even toasties
 ***************************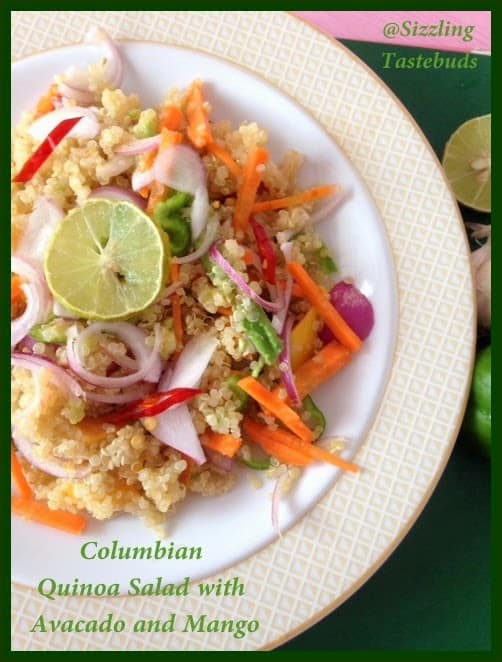 PinPin
Ingredients:
To cook the Quinoa :
Quinoa – 1 cup
Olive Oil – 1 TBSP
Water – 2 cups
Salad :
Diced Fresh mango (with skin on) – ½ cup
Bell peppers – 1/2 – juilenned
Juilenned carrots – a handful
Red Onions – 1 medium (Slit lengthwise)
Avacoado – ½ (peeled and diced)
Cucumber – ½ medium (diced)
Dressing:
Salt
Pepper
4 tsp lemon juice
Olive oil – 1 TBSP 
Method:
Bring
the water to a rolling boil in a pot. Add a pinch of salt to it. Add olive oil.
Wash quinoa thoroughly. Add to the pot and cooked covered for 15-20 mins. Once
its cooked, turn off flame  and fluff up
the quinoa with a fork. Set aside.
In
a large bowl, mix the dressing ingredients. Add the salad ingredients , toss
once or twice. Check for salt or spice. Add Cooked Quinoa and toss again
Serve
immediately.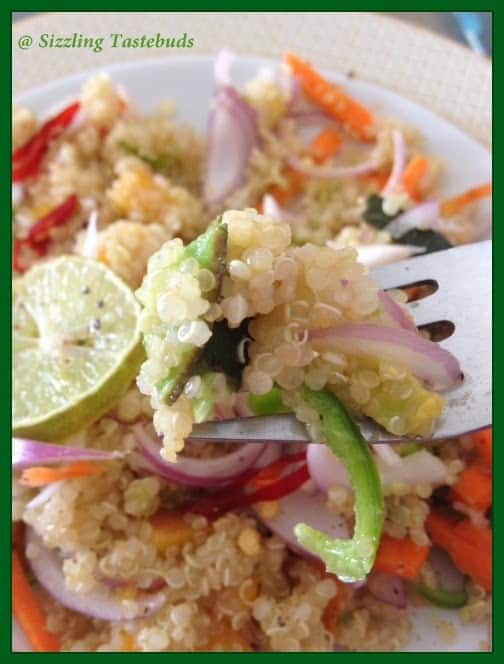 Pin
See what else the Marathoners
are cooking for Alphabet C