Soups. That quintessentially popular & comforting food.
Classified mostly seasonally as Summer Soups (mostly broths) and Winter soups
(Shorbas and the filling and thick creamy ones),.there are some eternal favourites in every
family – likeTomato Soup, Cream of Corn, Veg Clear Soup and today's Manchow
soup. Throw in some cheese and you have kids lapping up a hearty bowl of veggies
without much fuss.
So, a simple Cheesy manchow soup that
works well both as a pre-dinner snack or as an appetiser. Addition of cheese is
optional. But as I was going easy on the Soy Sauce and other additives, cheese
more than made up for the flavour. Which is why I didnt end up with a dark
looking Manchow soup but more healthy filled with veggies. I teamed this up
with some pull apart bread and we had a fab weekend dinner. Sending this to Blogging Marathon (BM
# 26) under "Soups & Salads" theme this week. Check the fellow marathoners
here.
Prep time : 15 mins | Cook time : 15
mins | Serves : 4
Serving suggestions : Croutons / Bread
sticks / Home baked or store bought fresh bread
Difficulty level : Easy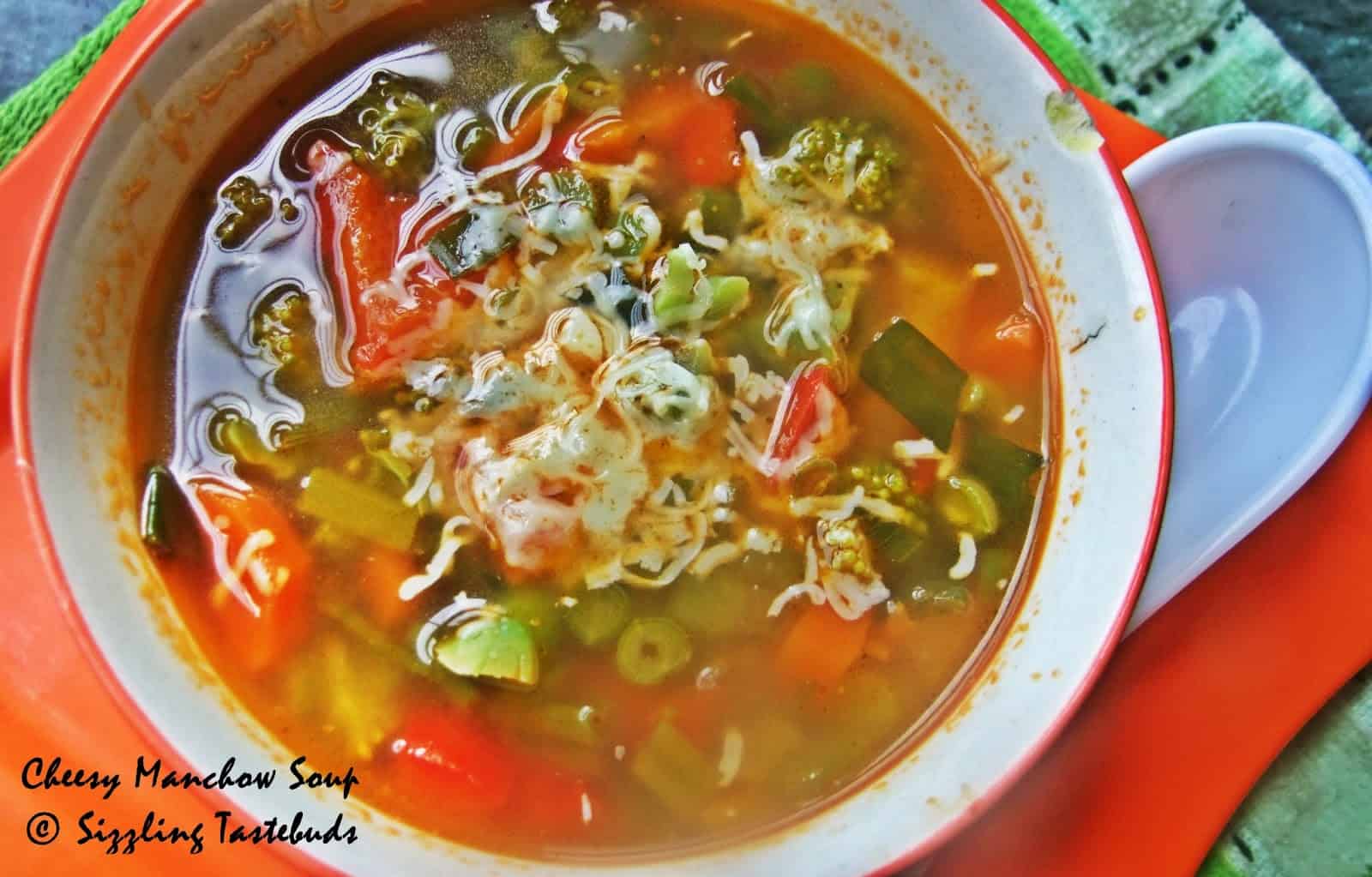 Pin
Ingredients:
Veggies (all mixed 2 cups in raw form)
: Finely Shredded cabbage, julienned Carrots, Finely chopped french beans.
Onions – 1 large – minced fine
Capsicum / bell pepper – 1/2 chopped
fine
Garlic – 3 to 4 pods, minced fine
Fresh grated ginger – 1/2 tsp
Green chillies – 1 or 2, adjust spice
(ignore if using green chilli sauce)
Veg Stock – 3 cups
Olive Oil – 2 TBSP
Soya Sauce – 1/2 TBSP
Tomato Ketchup – 1 to 1.5 TBSP
Corn flour – 1/2 TBSP (or more
depending on how thick you want the soup)
Salt – to taste
Garnish : Spring Onion greens, Grated
Cheese (I used normal processed Cheese cubes)
Additional Topping : Fried Noodles (I ran out of Noodles, so didnt add)
Method:
Wash,shred all veggies (mixed
veggies).
Bring a large soup pot or a saucepan to boil with 4 to 4 1/2 cups of
water. Add little salt and tip in the mixed veggies. Let it cook for 6 – 8 mins
till crunchy but not fully done. Strain the water – you should end up with
approx 3 cups of stock. Reserve.
In a wok, heat oil. Fry garlic, ginger
till smell disappears. now add onions and bell pepper and fry till crunchy. Add
the soya sauce, salt & tomato ketchup. Mix well.
If using add the green chilli sauce,
else tip in the chillies and saute for 1 min.
Now add the blanched veggies and saute
for further 2-3 mins. Check for salt and spice.
Add the veg stock and let it come to
boil.
Mix the cornflour in 1 to 2 TBSP of
water and add to thicken the soup. Let it simmer for 2-3 mins more.
Adjust spice once more
Garnish with fresh spring onion greens
and grated cheese. If using Noodles, fry a handful of Hakka Noodles in oil and top before serving.
Serve hot 🙂