Having been part of the 50th Blogging marathon in person was an experience worth sharing. There are a lot of us BMers who would post this event in their blogs day by day, and event by event pics for all of us on the blogging marathon family circle : a family that Srivalli led by the front. My post here is providing a different perspective that I personally experienced and at close quarters.
The much awaited BM 50 (Blogging Marathon) meet just concluded on Sunday, and boy it was fun ! 50 months of non stop cooking, non stop emails and non stop chatting : All this while I had been chatting to people who are so much a part of ur social ecosystem, and putting a face to that name was exciting, fun and exhilarating. Late night chats, some of the foodies in us going into OCD levels of clicking each moment, each prop and vying to neck out and see that demo, video shoots,pani puri shots, cake carving, food studio visits : all of this was so much fun. 
For me, it was more interesting to see the personal  & emotional angle where Padma as the too-perfect hostess made sure we were completely comfortable in her house that we usurped , and Veena, who led logistical and emotional support throughout the event. Of course Princy (vaishali) was driven crazy by the tamil-speaking girls who giggled when she wandered in with a (invisible) stick and threatened to fine us if we spoke in our native language. 
"Hospitality means primarily the creation of free space where the stranger can enter and become a friend instead of an enemy. Hospitality is not to change people, but to offer them space where change can take place. It is not to bring men and women over to our side, but to offer freedom not disturbed by dividing lines." 
As the quote by Henri Nouwen (above) goes, it isn't easy to open your doors and heart to (almost) complete strangers : strangers whom you would have never met otherwise or given a second glance if you had met them at the market or an airport. It takes guts and strength to arrange and successfully complete this kind of event, and kudos to all the South bloggers (Padma, Kamalika, Valli, PJ, Veena, Gayatri, Nandini) who arranged every detail with so much passion it was exhilarating. Pradnya, Usha, Archana and Vaishali provided so much fun and laughter its impossible to record them through words. 
Although I missed some crucial parts like meeting the bloggers' personal family / kin and a few key events , it was warm all along, and thanks to Padma who didn't lose her composure any moment with almost rowdy-like hilarious momagers(moms who acted like teenagers) who had all-but hijacked her house and the two lil adorable kids who accompanied us on all our outings during the trip. 
It showed no matter how far or near you live,  LOVE is one thing that binds the world. So, here's signing off from BM 50 as I leave you with a picture collage, and looking forward to BM75 (about 2 yrs from now) where some of us (shhh) have some ideas already brimming! 
PS: due to personal privacy and respect to the other bloggers, have put up a collage with food and food related pics (without tagging any person on pics). The rest shall be shared privately.
Adios,
Till then…
Cheers
Kalyani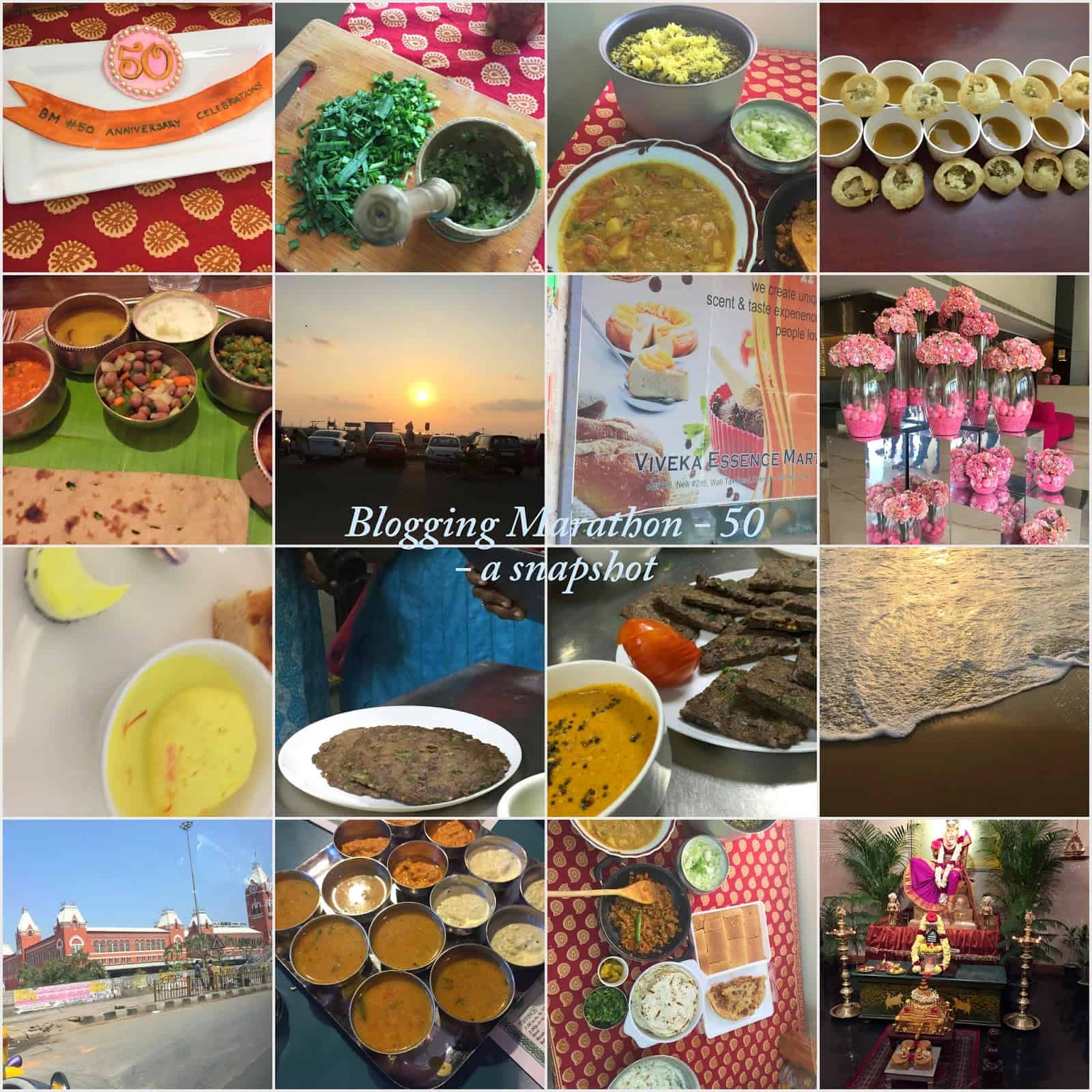 Pin