For this edition of the  Shhh Secretly Cooking Challenge, my partner was Priya Suresh who probably needs no introduction. She gave me coconuts and nuts to be incorporated in a Brazilian inspired dish.
Coconut is widely used in Brazil and has influences from Europe and Africa. Last month for this event, I had made Wholewheat Thin Crust Pizza with Corn and Cheese with my partner as Mayuri.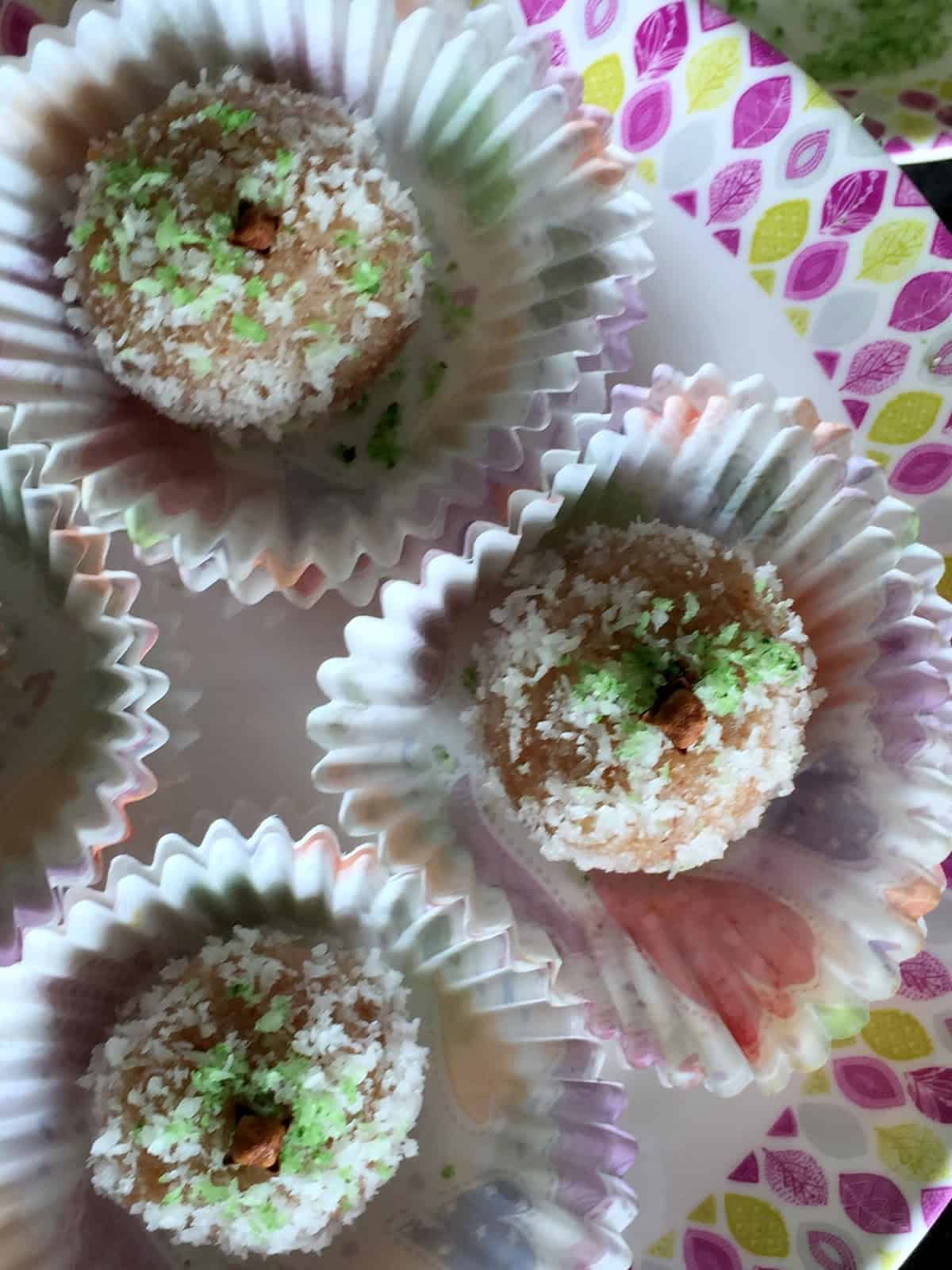 PinPin
Wiki says" Acaçá is a famous pudding made of Coconut and rice flour. Beijinho ("Branquinho" in Rio Grande do Sul) is a typical Brazilian birthday party candy prepared with condensed milk and grated desiccated coconut or milk powder. It's the coconut version of the Brazilian brigadeiro".Bolacha sete-capas is Composed of seven thin layers of a dough consisting of wheat flour, coconut milk, butter or margarine and hydrogenated vegetable fat. Pamonha is a traditional Brazilian food, it's a paste made from fresh corn and milk, boiled wrapped in corn husks, turned into a dumpling. Variations include pamonha de milho and pamonha de carimã, and some variants usecoconut milk. Arroz de coco (coconut rice) is A dish prepared by soaking white rice in coconut milk or cooking it with coconut flakes.
Pin
So, we see that Coconut is quite widely used in this cuisine. 
Today's dish – Beijinho de Coco means Coconut Little Kiss. They are cute "Pick me ups" at any party.
The original dish contains Condensed milk which my older kid is slightly allergic to, so I have made some substitutes which went very well. 
Read on to see what substitutes worked for me 🙂 
The step-by step pictures also would be helpful for beginners 🙂
These pack very well for a snack box for older and younger kids. Thanks for the ingredients, Priya 🙂 the kids loved it a lot…
Beijinho de Coco – Brazilian influenced coconut + almond sweet snack


Prep time : 10 mins ; Cook time : 10 mins ; Makes : 9-10 pieces
Ingredients:
Full Cream Milk – 3/4 cup
Butter – 1 tsp
Powdered Sugar – 3 TBSP
Almond Meal – 3 TBSP
Dessicated Coconut Powder (unsweetened) -3 TBSP
Vanilla Essence – 2 drops
Food Colour – 1 drop (opt.)
For topping:
Dessicated Coconut Powder (unsweetened) -2 tsp
a few cloves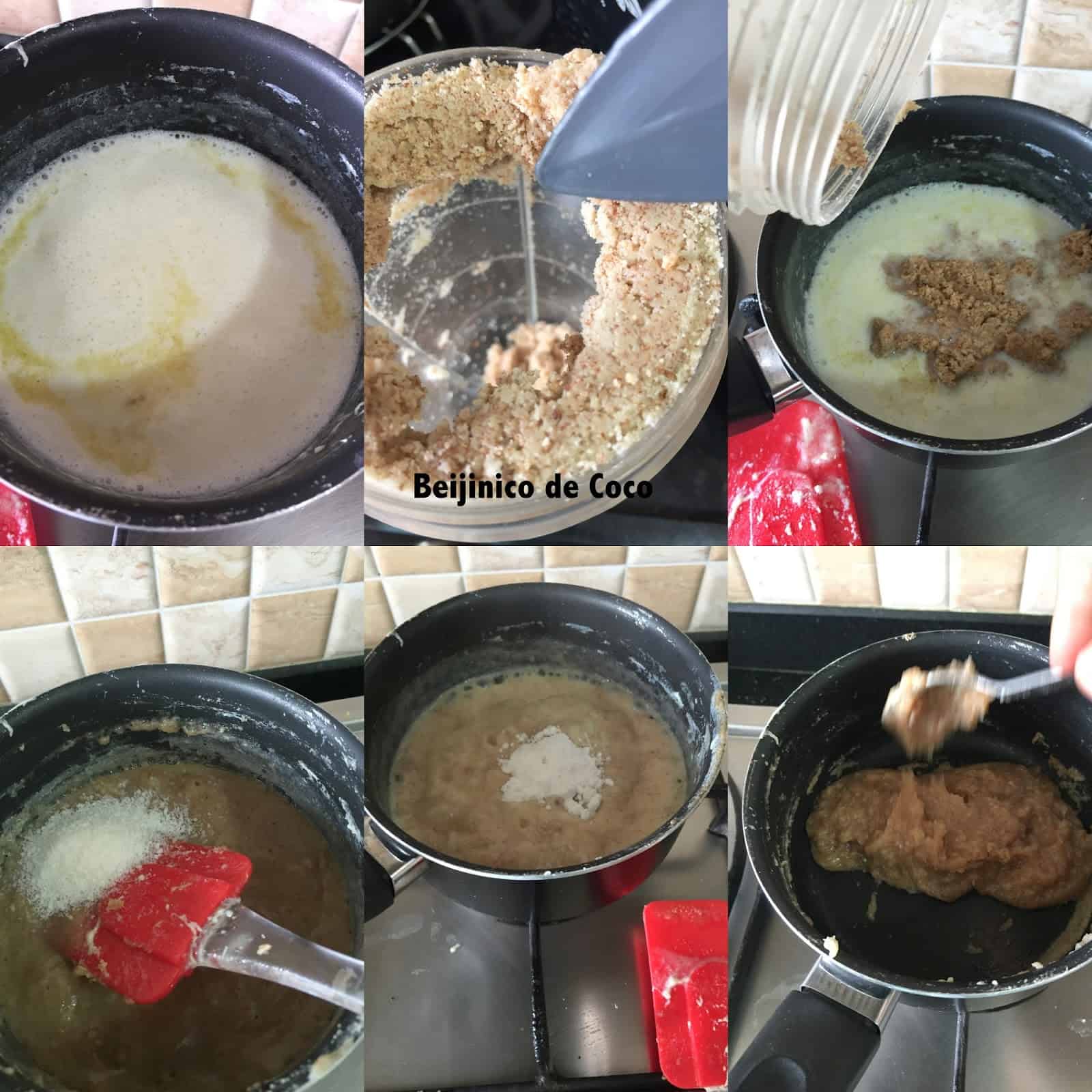 Pin


Method:
Simmer butter and milk in a sauce pan, when it reduces to half, add the sugar and cook till it dissolves. Now add the Almond Meal, dessicated coconut, vanilla essence and let the mixture thicken over very low flame and starts leaving the sides of the pan (about 6-8 mins). Let it cool for 1-2 mins. 
Pinch out a little dough at a time (the almond meal and the butter will leave behind lots of grease at this stage, so no need to grease your palms), shape into a small ball & roll it in dessicated coconut (add a drop of colour to part of the coconut if you wish to)  and top with a clove. Place in individual paper liners and serve at a kids' party 🙂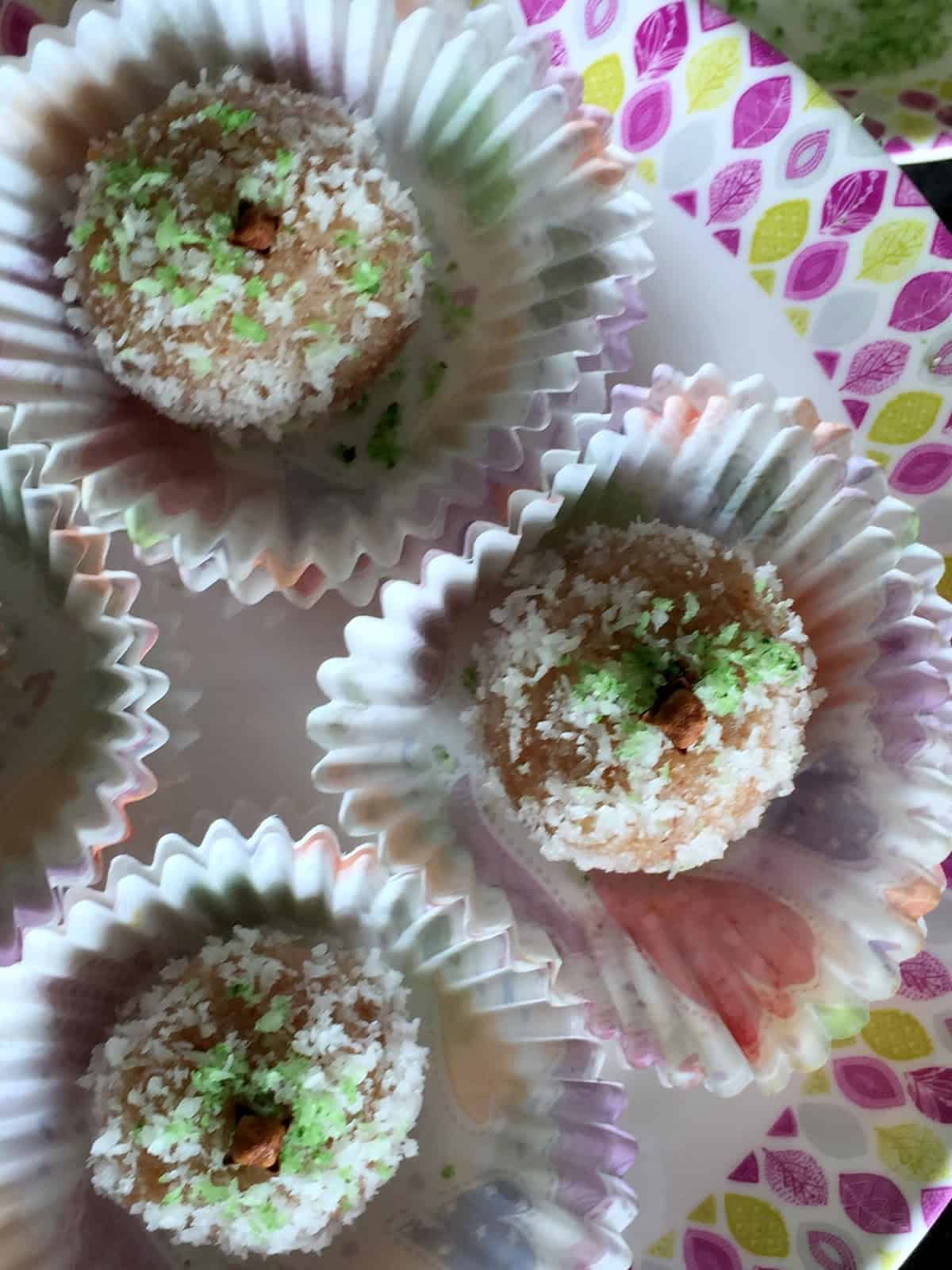 PinPin