Monsoon – the very word conjures up memories of crispy hot pakora (deep fried lentil fritters) and many other monsoon treats, of hot soups, of chai (the Indian style milky tea), of lazing around in my grandmom's armchair and gazing at the raindrops sliding down the window pane, of broken, lost and missing colourful umbrellas at school or college ☔️ and many more.
And, brace yourself for a longgggggg post 🙂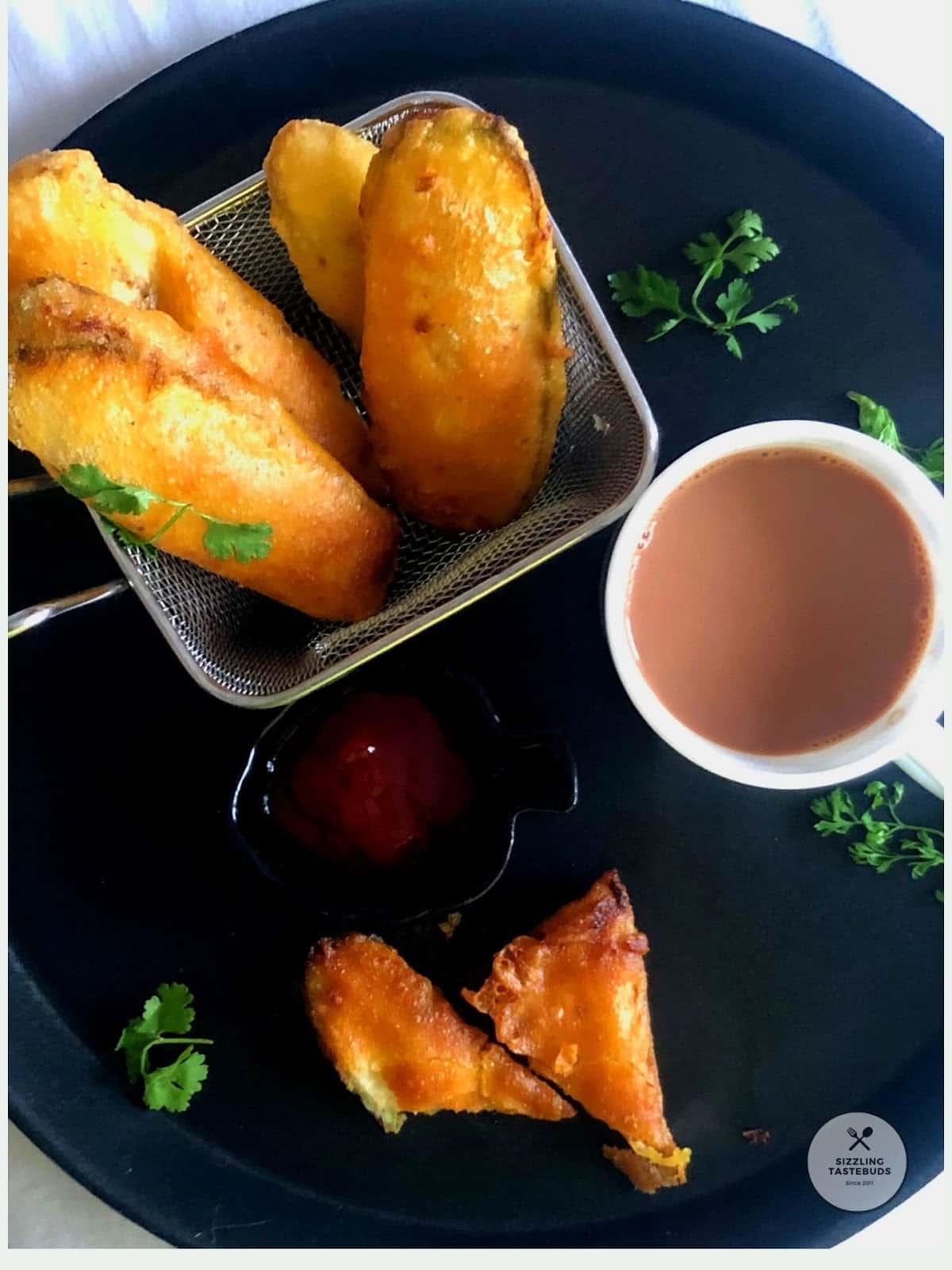 Pin

Food as en emotion ties us to different seasons in myriad ways. While to some, monsoon is a terrible inconvenience (think of the daily essentials / home delivery guys – the newspaper boy precariously balancing the paper on his Rickety bicycle while at trying to manoeuvre his way around seen and unseen potholes in the pouring rain, yet keeping the newspapers dry every morning while it reaches your doorstep without as much as a smudge or a drop of water.

Or the Mumbai local train commuter who jostles for space , even a teeny weeny foothold on a crowded train in the monsoon all the while trying to catch the umbrella in the left hand while hanging on to life dear (and, a laptop) in the other only to be drenched in more water once he/ she enters the train with more dripping umbrellas all around him / her.
Pin

or the child like my younger one who's been planning her first ever "head to toe monsoon drench session" ever since the summers (and the lockdown) set in a few months ago. Waiting and wishing for the skies to darken a bit ( and asking me everyday at twilight and dawn) – " will it rain today, amma?" . Pure innocence and a hope.

And hope it is for the romantics who cuddle up on Marine Drive at Chowpatty (mumbai) in pouring rain, oblivious to people or the rain lashing around.

Monsoon brings to me some bittersweet memories – all conjured over the years. For the child in me growing up at Bangalore, it meant rains almost thru the year except for the summer vacation and Rains only meant one thing – you wear a rain coat and carry a handful of paper boats and let them sail on the tiny / large rivulets of water on the road outside your house. There was some satisfaction in seeing the boat – rickety as it was – sailing through to the end of the lane. When the rains stopped for rhe day, me and my friends would run to the end of the road to see whose boat had made it and whose was in tatters.

And the next rainy day, rise, reset, repeat .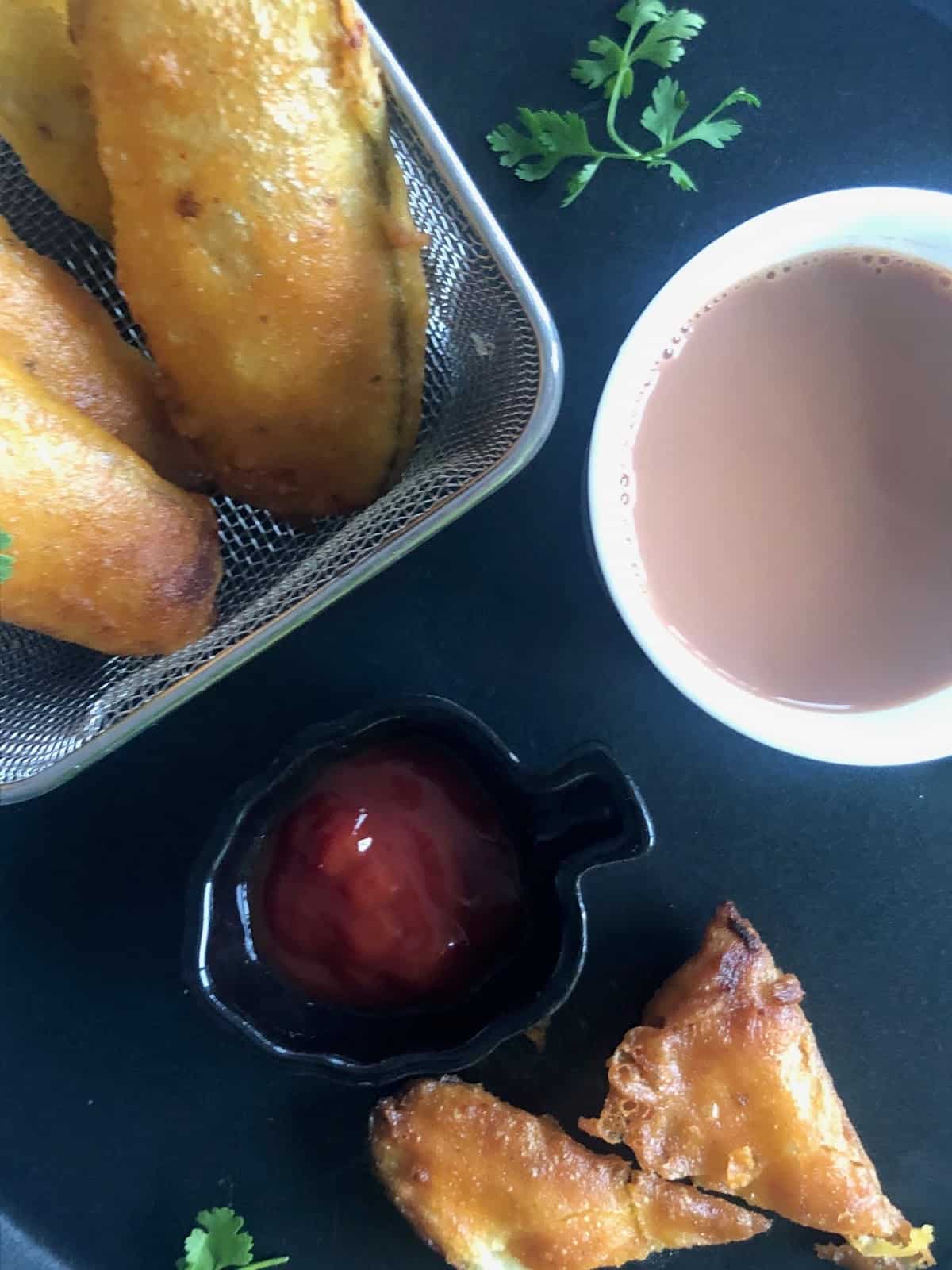 Pin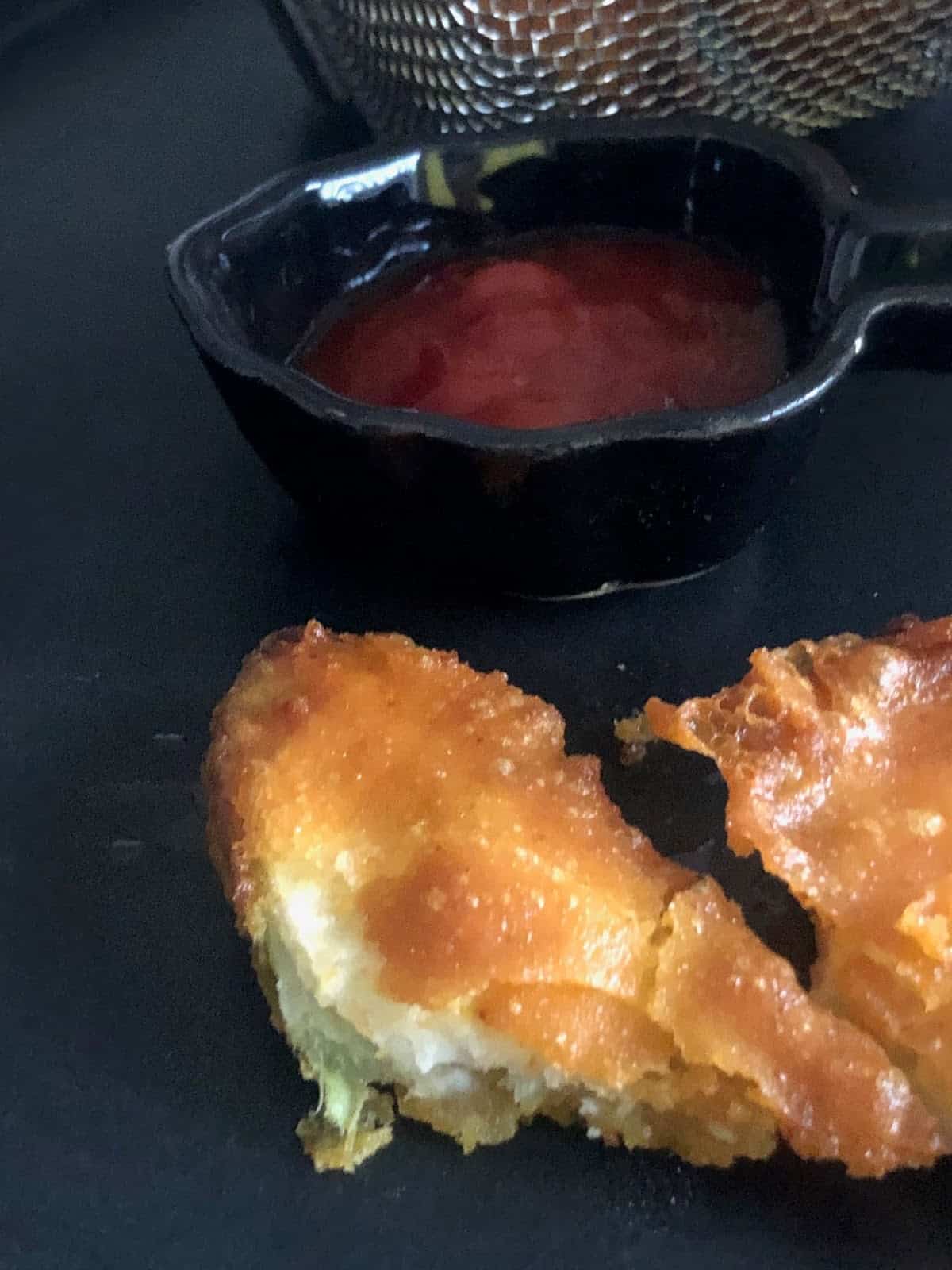 Pin
Hope I tell ya !!
And some stories that Archana set us thinking about this week at #249Monsoonmunchies.
Hope is also that you aren't bored with the post so far. If you have reached reading till here , then let's make some bhajias with raw bananas – rhe perfect antidote to rain -washed evenings.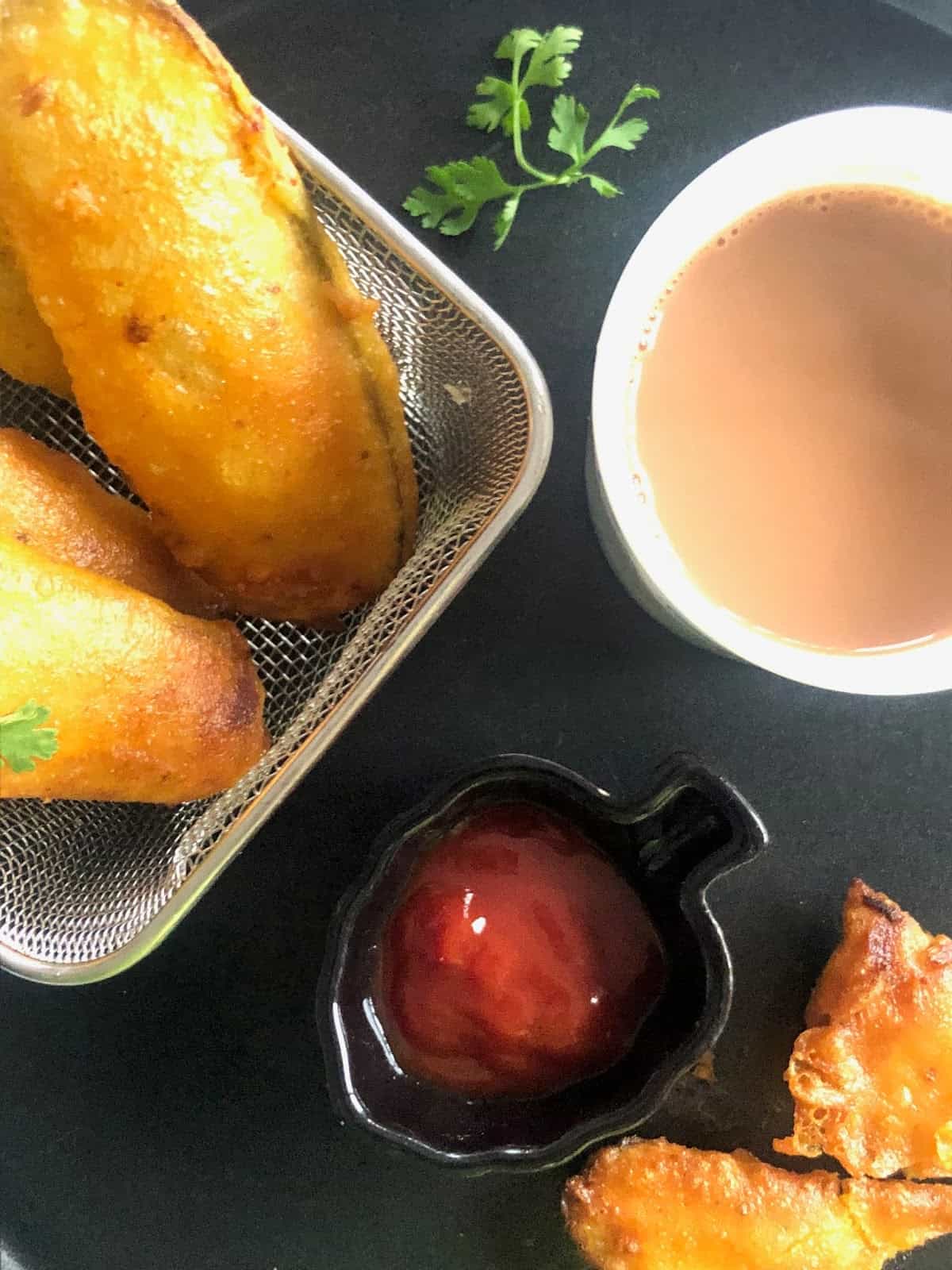 Pin
Other Monsoon munchies on the blog that we love, include:
Lemon Coriander Soup (our all time fav!!!)
Pasta Pakora (leftover cooked pasta, and voila, we have a delicious snack)
Paneer Chilly Bites (quick to make when the temptation kicks in)
Chilly Cheese Sandwiches (needs no introduction :p)
Keerai Vada (Greens added to Urad Dal Vada batter and deep fried)
Chawal ke Pakore (leftover cooked rice turned into a tasty yummy snack)
PIN FOR LATER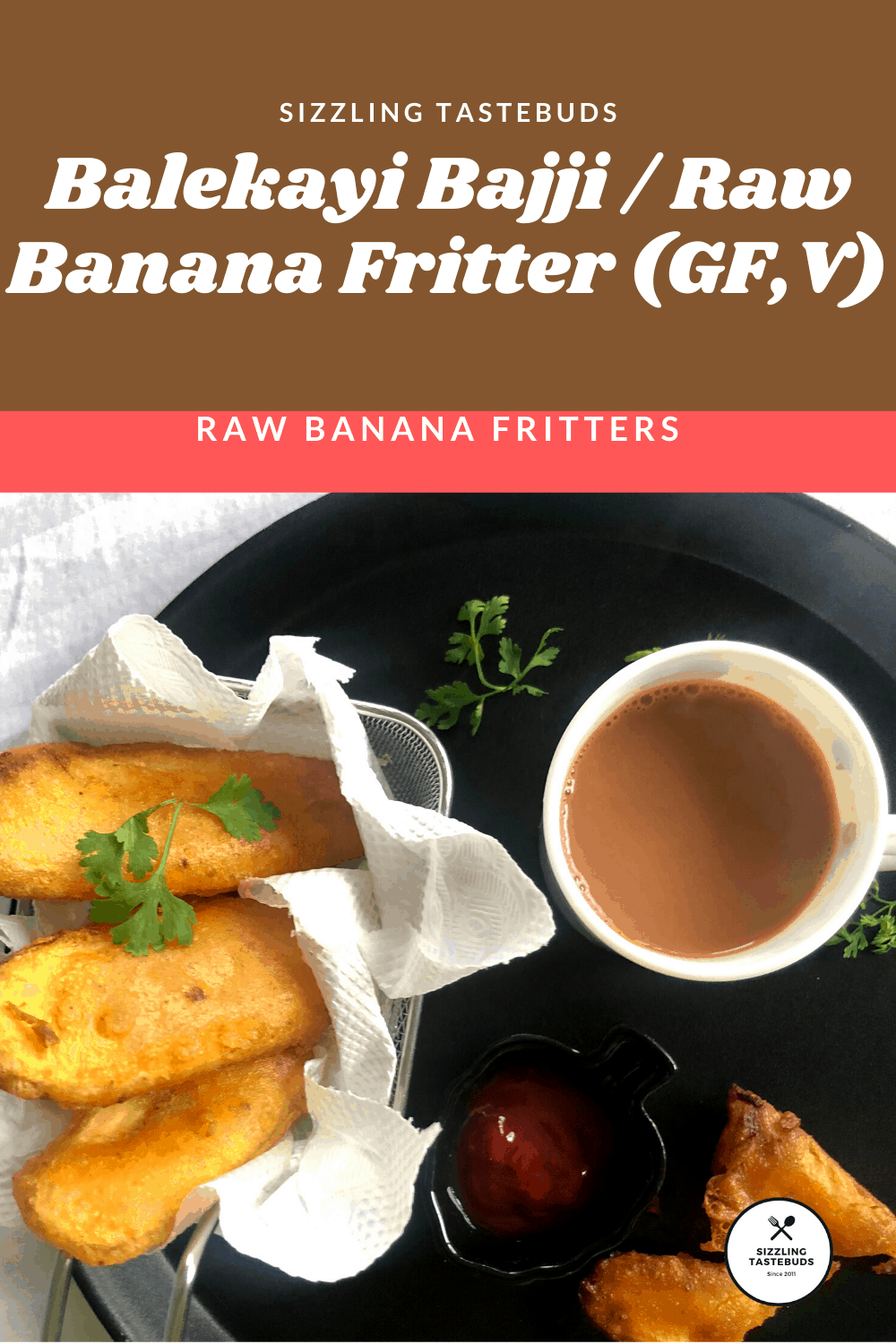 Pin
Vazhakkai (as Raw bananas are called in Tamil) is a healthy source of dietary fibre and we use it regularly in our cooking – to make avial , podimas, curry , kerala style erisseri etc . Today we use firm, green fresh raw banana to make bajji (tamil word for bhajia / deep fried fritter).
Prep time – 15 Mins | fry time – 15 Mins | makes – 15 servings
What you need:
Raw banana / vazhakkai / bale kai (kannada) – 4 medium sized
Oil to deep fry : 1-2 cups
For the batter :
Besan / gramflour / kadalai maavu / kadle hittu – 1 cup (200 ml)
Rice flour – 1/4 cup or heaped 2 tablespoons
Salt – 1 tsp or to taste
Haldi / tumeric – 1/4 tsp
Crushed ajwain / carrom seeds – 1/4 tsp
Red chilli powder – 1 tsp or to taste
Chopped coriander leaves -1 tsp (optional)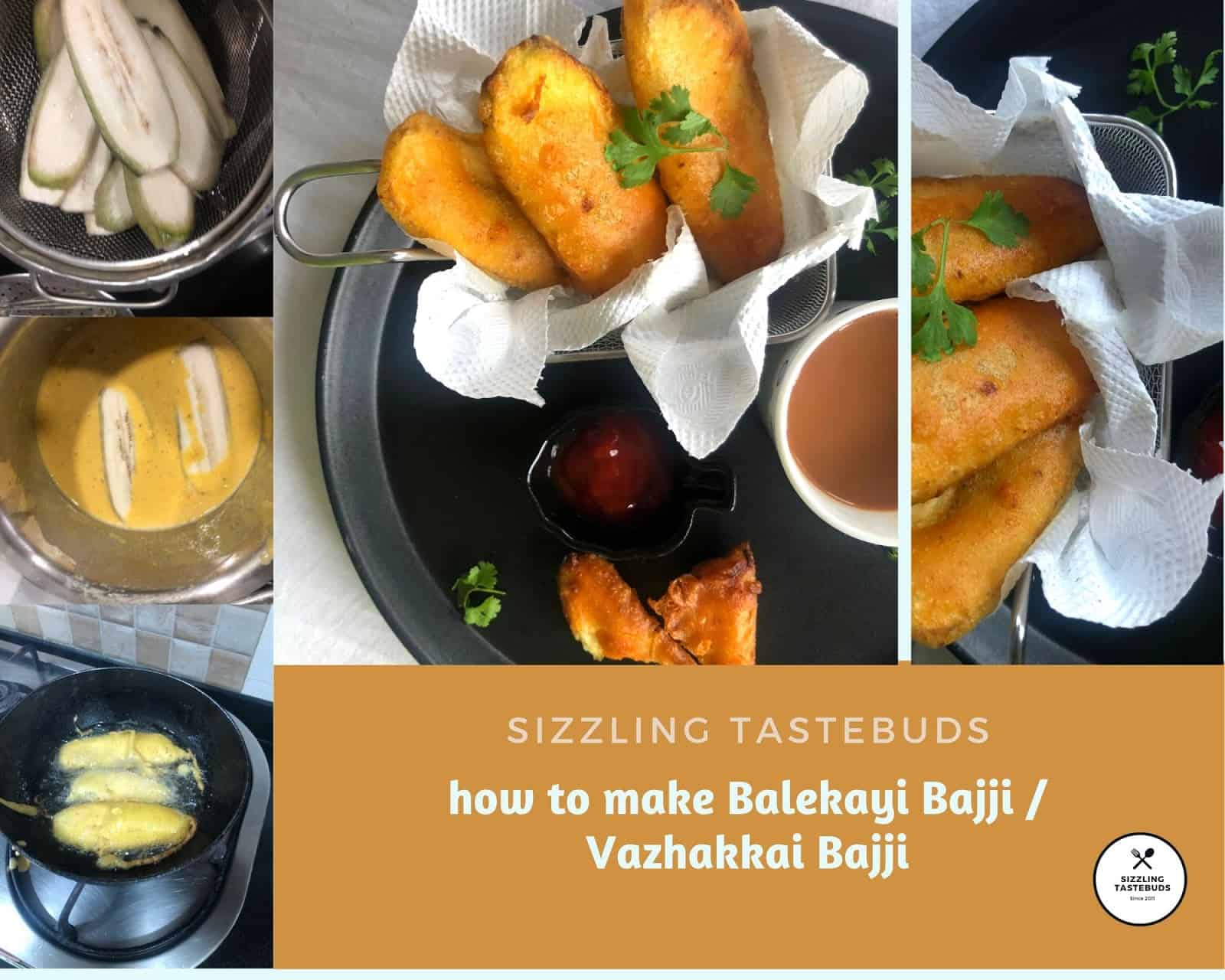 Pin
Method:
Peel the raw banana and slit them lengthwise in flat strips and reserve them in mildly salted water
To make the batter –
sieve both the flours, add salt, spices. Mix well. To this, add 4 tbsp of hot oil , mix with the spoon till the hot oil is incorporated in the dry flour mix.
Slowly add water – little by little- to take the batter to a thickish consistency. Rest it for 5 mins.
To fry:
Keep a deep bottomed pan / kadai with oil for heating. Let the heat be on medium-high.
Slowly dip a few pieces of the soaked ( and drained) pieces of the raw banana strips into the batter
Shake off excess batter and gently slide into the hot oil.
Fry till golden brown on both sides.
Serve immediately with coconut chutney or just as is / with tomato sauce / green chutney.
Wash them all down with a generous cup of Indian masala chai .
And make more memories with the monsoon once again 🙂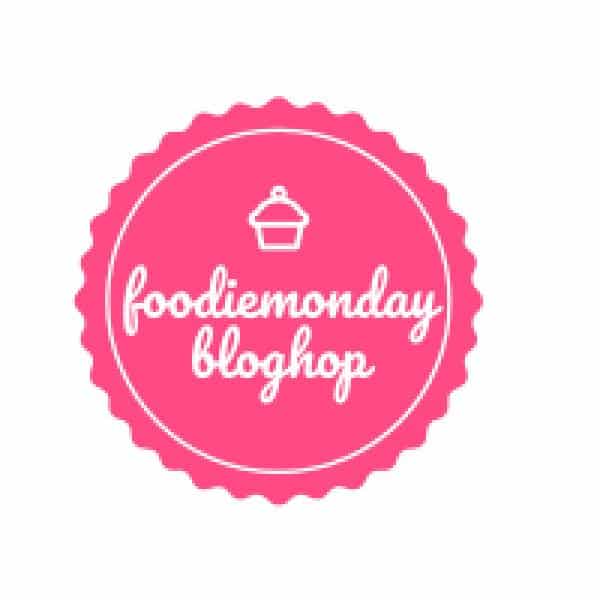 Pin