Arichuvitta sambhar (loosely translated as spiced paste – lentil sambhar / stew- but not really capturing the essence of an authentic dish) is the centrepiece of a tambrahm meal – be it everyday menu or on festival / special occasion. Altho sambhar (the tamilnadu tiffin sambhar or the Karnataka darshini / udupi sambhar ) is used with Idli / tiffin / breakfast items, a different version is made for lunch or dinner to be had with rice .  
Either homemade sambhar powderfor an instant mixed-veg sambhar is used or a special combo of spices come together in an aromatic paste for the latter. So this special ground masala works great with most veggies like shallots (chinna vengayam), bell-pepper  (kodamilagai) and radish (mullangi) or even brinjal / aubergine ????(katrikkai)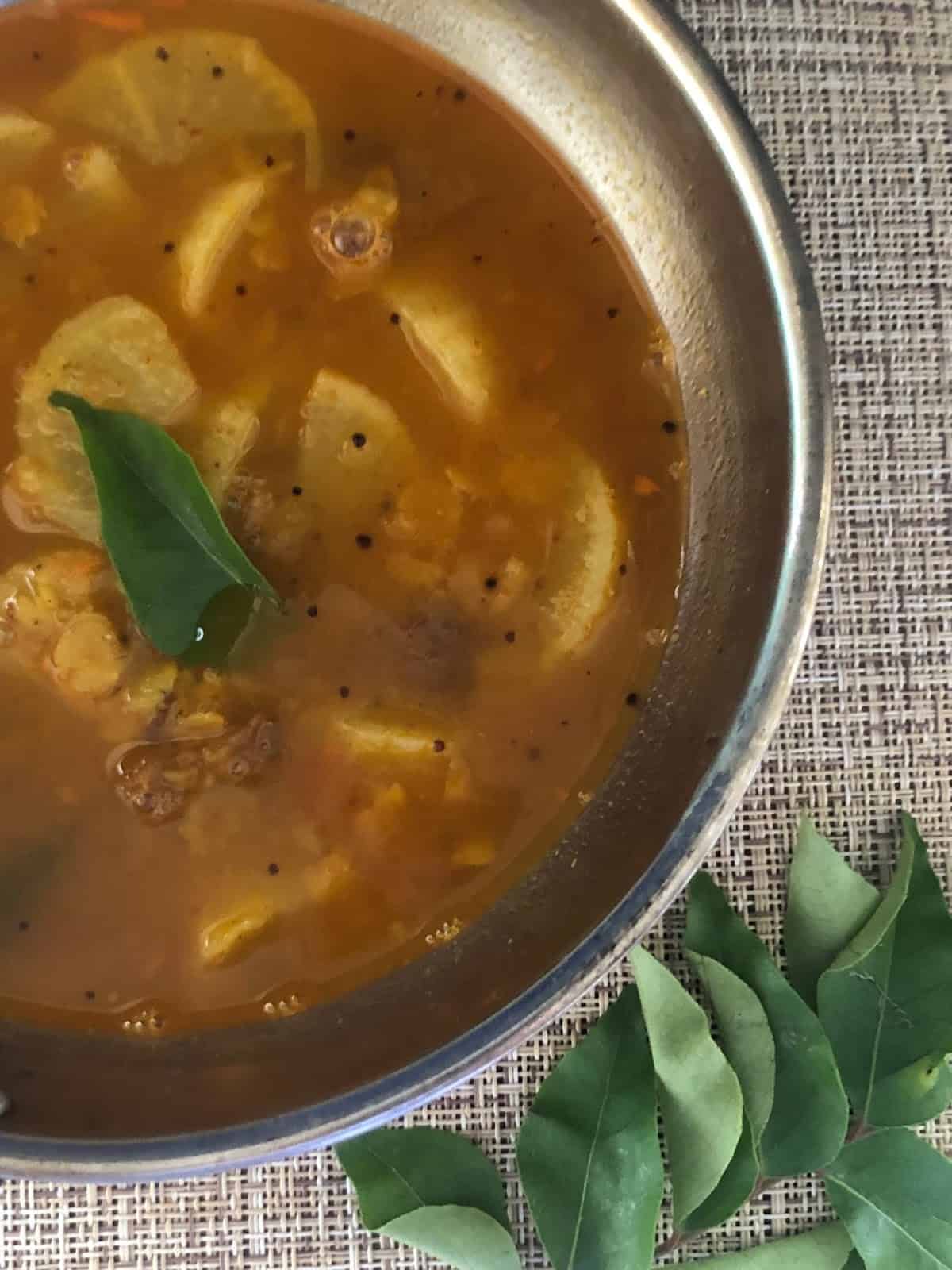 Pin

Paired with Jayshree for this month's edition of sshhh secret cooking challenge, she gave me red chillies and toor dal as the secret ingredients .  At our house, we usually avoid using mullangi (radish), onion and garlic on Ekadasi, amavasya (new moon day) and any festival days. But the rest of the month, we make this mulling sambar or chinna vengayam (pearl onion / shallots) for our Sunday brunch. Jayashree made Idli Milagai podi with the ingredients I gave her – Urad dal and Chillies

Radish is undoubtedly a diabetic -friendly veggie but many people don't like to eat it we love this sambhar as well as the raw mullangi salad (aka kosambari) or even raita made with fresh radish. I also love the Mullangi Palya (radish stir fry)that we make during winters with fresh, juicy radish. 

Let's see how to make this aromatic sambhar. I made it twice this month, first time I served it with Kothavarangai curry and the second time with some Chow chow poriyal + some bombay mixture. 

Prep time – 20 Mins, cook time – 15 Mins, serves -4 ~5 adults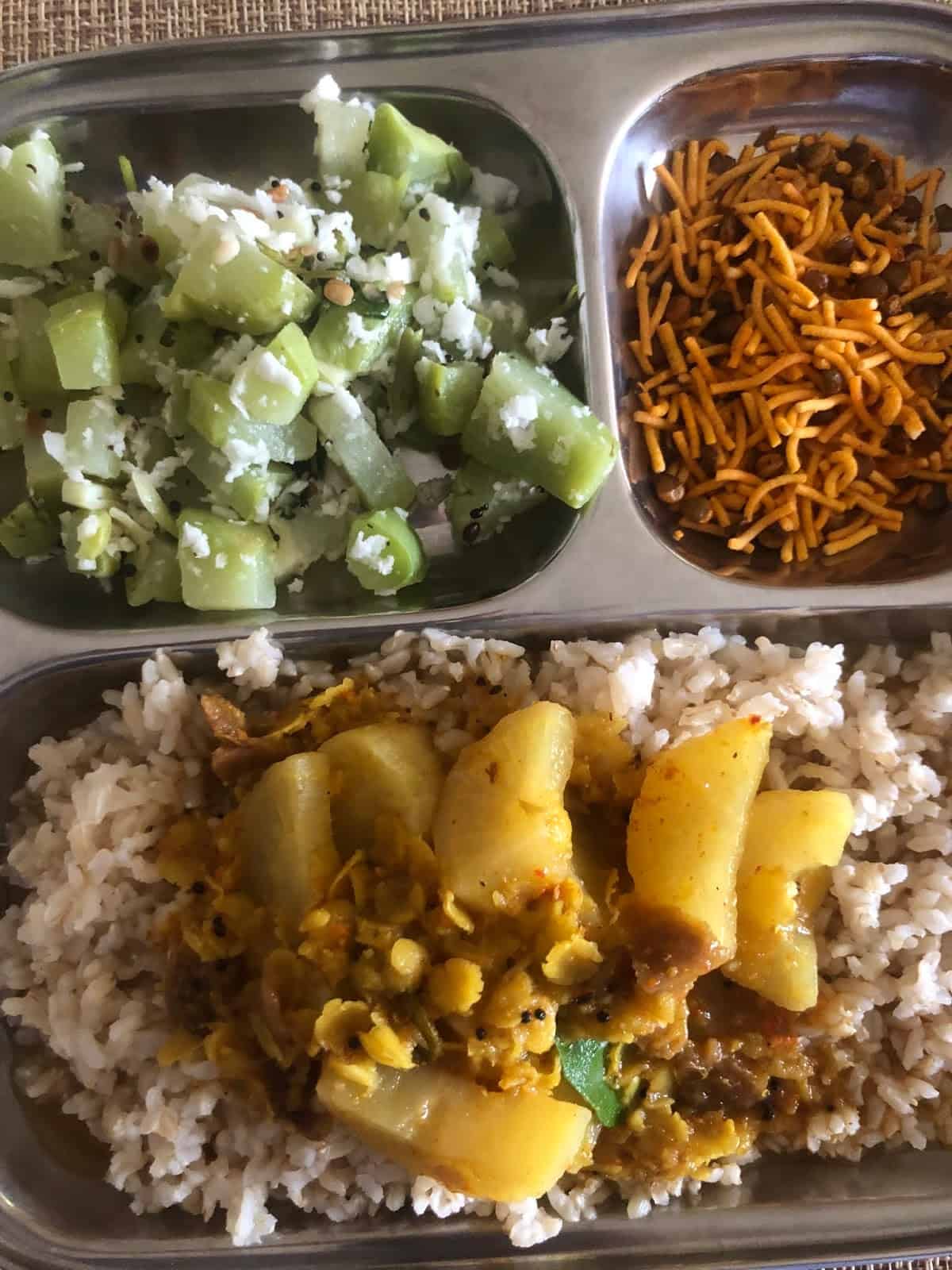 Pin
What you need:
Toor dal / pigeon pea – 1/2 cup (1 cup -250 ml)
Turmeric – 1/4 tsp 
Oil – 2 tsp (divided use)
Fresh radish – 1/4 kg or 2 medium radishes
PIN FOR LATER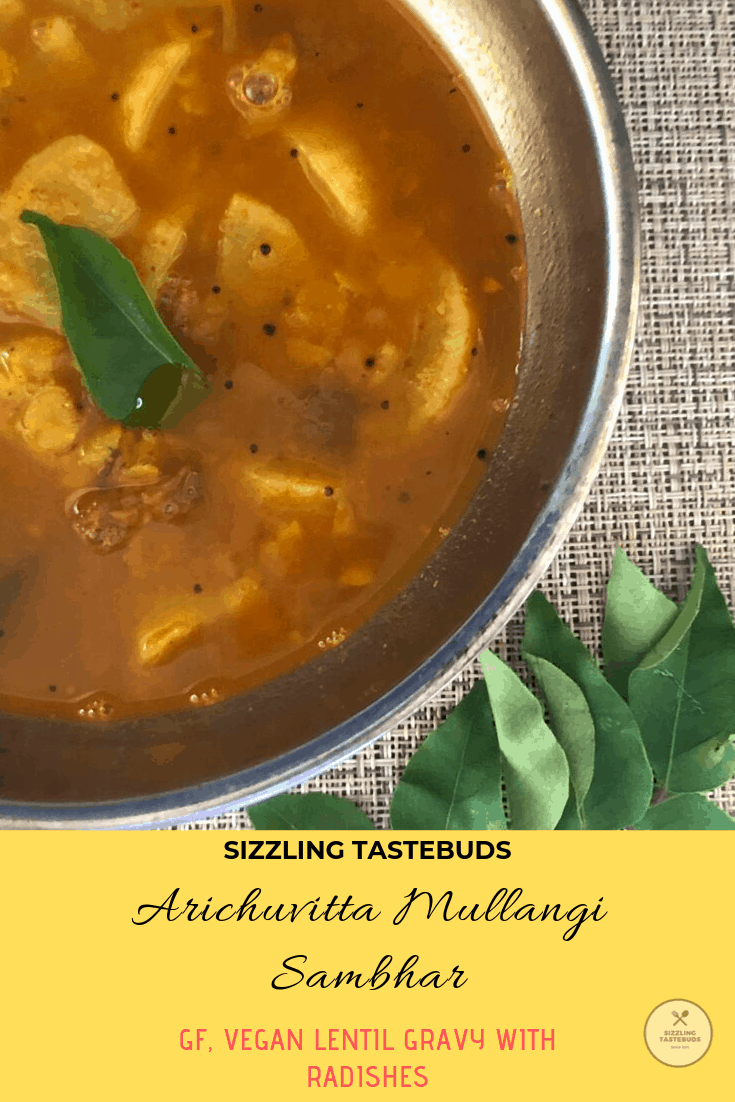 Pin
For spices masala paste:
Coriander seeds – 2 tbsp
Jeera – 1 tsp
Methi seeds- 1/2 tsp
Channa dal / Bengal gram – 1 tbsp 
Tamarind – small gooseberry size
Raw rice – 1 tsp 
Red chillies – 4 -6 (adjust spice)
Freshly grated coconut – 1/4 cup
Asafoetida –  generous pinch (skip for GF)
Tempering:
Mustard seeds, curry leaves, 1/2 tsp oil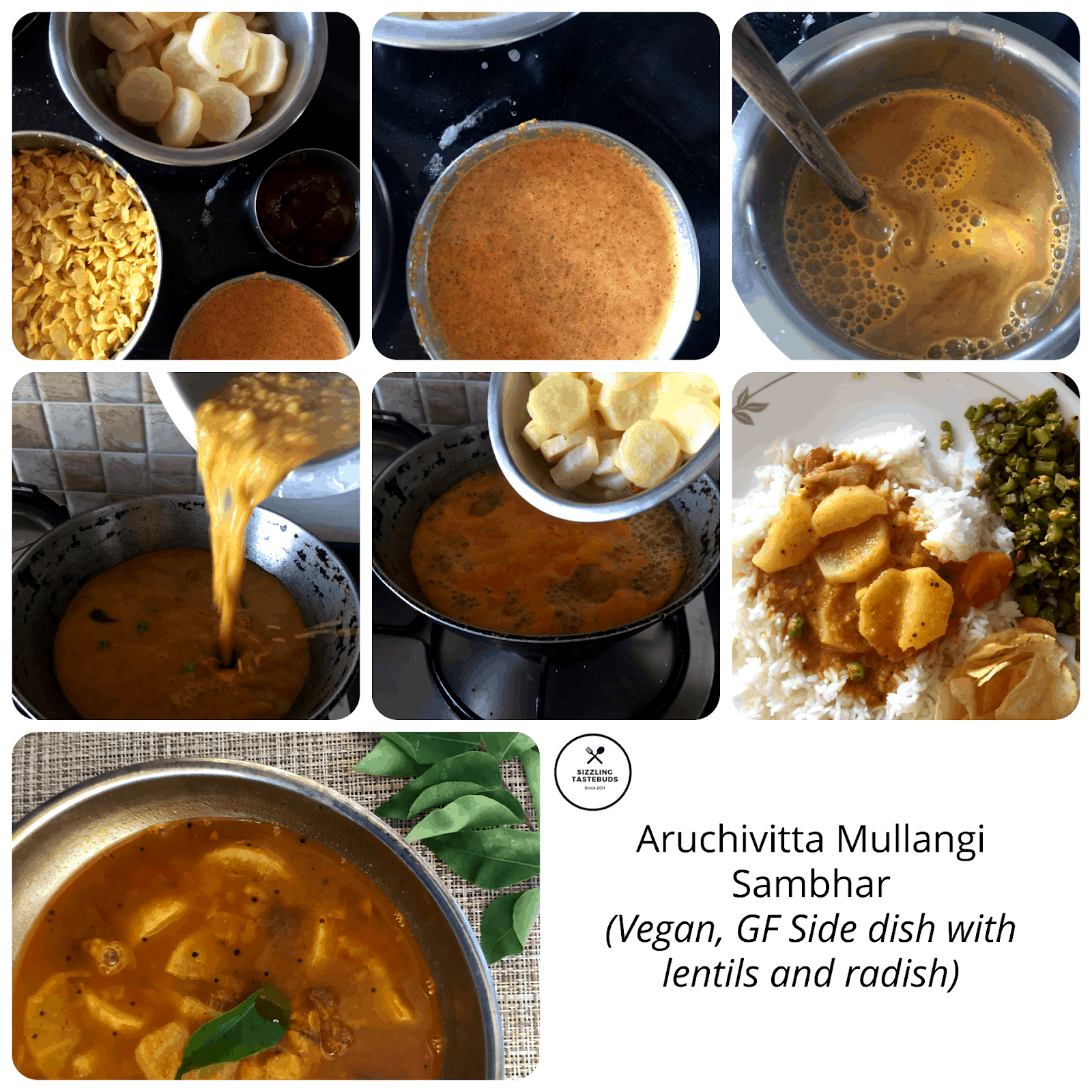 Pin
How to:
Pressure Cook toor dal with turmeric till mushy and keep aside. In the same cooker but in a separate container , cook radish (lightly peeled and cut into thick roundels).
While the veggies and toor dal are cooking, make the masala paste – in a pan, add 1 tsp of oil and roast all the ingredients for the paste in the order mentioned till aromatic (on a low flames only) 
Once the red chillies are fried a bit, switch off the flame and add the  coconut and asafoetida. Let this mixture cool. Add 1/3 cup of water and make a thickish well ground paste.
In the same kadai / large pan, add rest of the oil and sauté the paste for 2-4 mins till oil starts separating, now Add salt to taste, cooked toor dal and adjust more water to a pouring sambhar consistency. Now add the cooked radish and let it simmer for 3-4 mins more. 
Make the tempering with oil, mustard seeds and curry leaves and pour on top.
Serve sambhar hot with rice / ragi sankati / brown rice + veggies for a soulful meal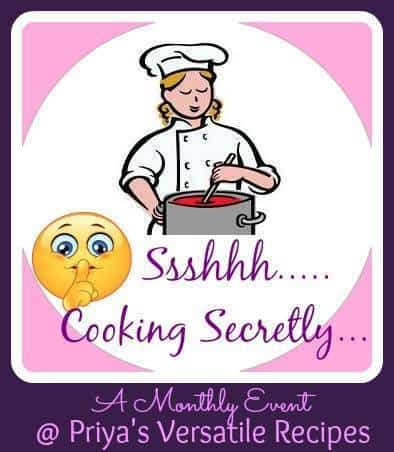 Pin