Days pass so quickly. Its already the 9th day of the Baking Marathon..
When I chanced upon Pavani's
Wholewheat calzones,
I set upon making them immediately. After the first rise, totally forgot about
it as the kids needed attention, so we went out for a long drive, and I came back to a
rather smelly kitchen where the fermented dough had spilt over quite a but:((
But as
I had promised the kids a calzone, they were pretty excited about a folded
pizza (for that's how I had described it to the EO) and she insisted I start
all over, and that she would help meJHubby
gave me weird looks as everyone was hungry, so I promised to make it the next
morning.
This must be one of those mornings when I made the dough as early as 3:45 am and by 6am, the calzone was ready to
be packed for EO's snack box by 7. Thankfully it was a very sultry morning and
the dough rose very fast and we had a great time working with that so early in
the morning and EO was so excited to put in the cheese and I was shuttling between the camera, the oven & the morning breakfast… all looking harried !!! Whew !! I think am gonna remember that episode for a long time now…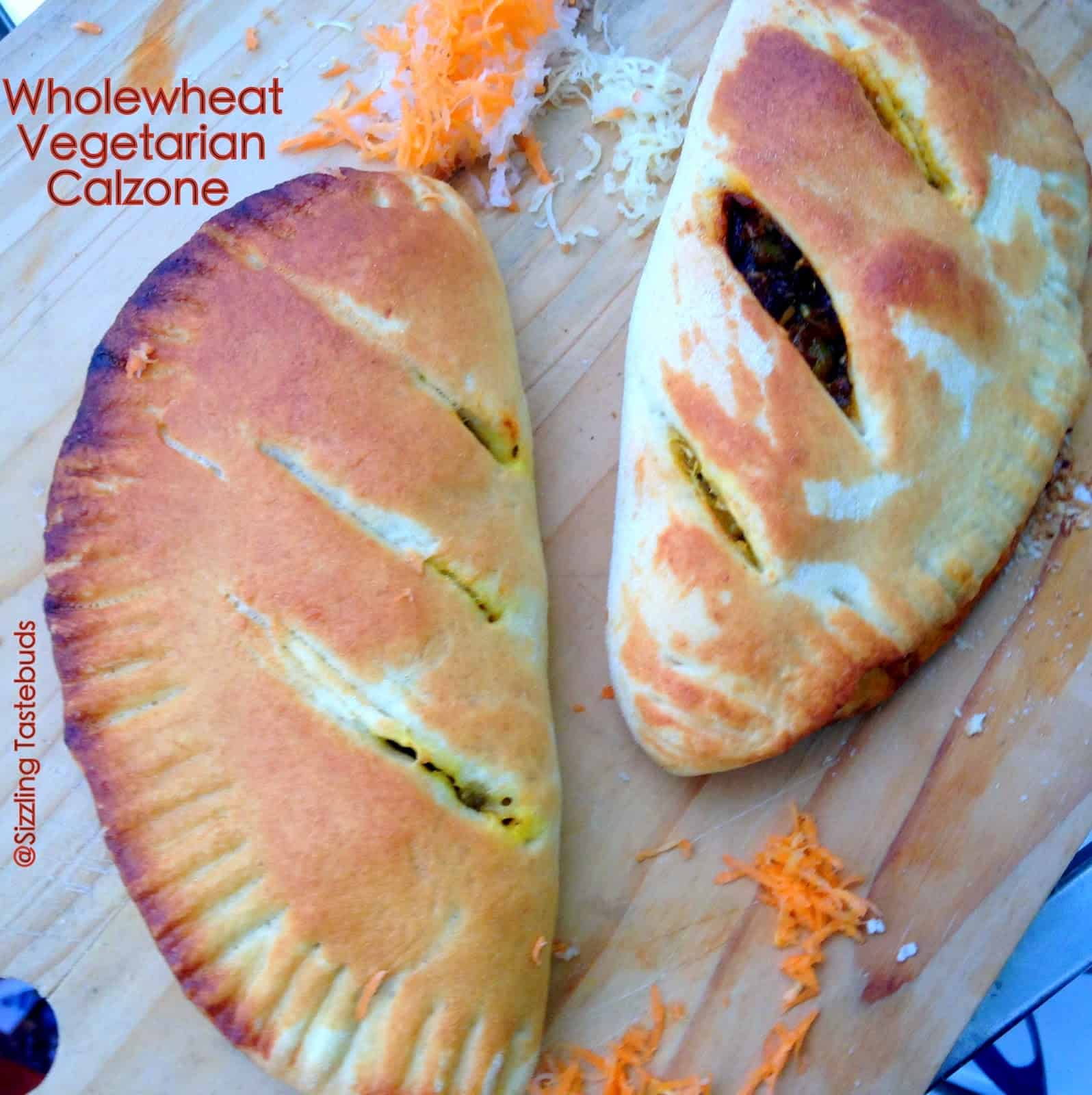 Pin

In that hurry I forgot to take
final plated pics, so these are as rustic as they get. Tastewise it was brilliant, and
in hindsight I think it was good I made it the next day morning as I filled in
previous night Aloo-Gobhi (potato caulifloiwer) dry curry and it was an Indian
twist to the Italian CalzoneJ

I stored the remaining in the
refrigerator and microwaved them for the evening snack with the neighbour's
kids who enjoyed it tooJThanks
pavani for this recipe, and am sure the fillings are so versatile, am planning
spinach and corn next time I make it !!

Baking Marathon Day 9 : Wholewheat
Vegetarian Calzones

Recipe type : Bread (Yeasted)

Course: Snack / Main Course

Cuisine : Italian

Makes : 3 large sized calzones

Prep time: 30 mins | Standing Time : 1 hour + 45 mins

Bake time : 30 mins (varies from oven
to oven)

Ingredients:
Wholewheat flour (I used
unbleached king Arthur flour) – 3.5 cups
Salt – 1 tsp
Yeast – 2 tsp
Sugar – 1 tsp
Warm water – about 1.5 cups
(depends on the flour)
EVOO – 2 TBSP
Filling:
Aloo Gobhi Sabji – 1 cups (or just
about any sautéed veggies)
Oil – 1 tbsp
Cheese grated – 1/3 cup ( I went
easy on the cheese, but you can add as much as you prefer)
Pizza sauce – ½ cup (homemade
Pizza sauce)
Dried herbs – ½ tsp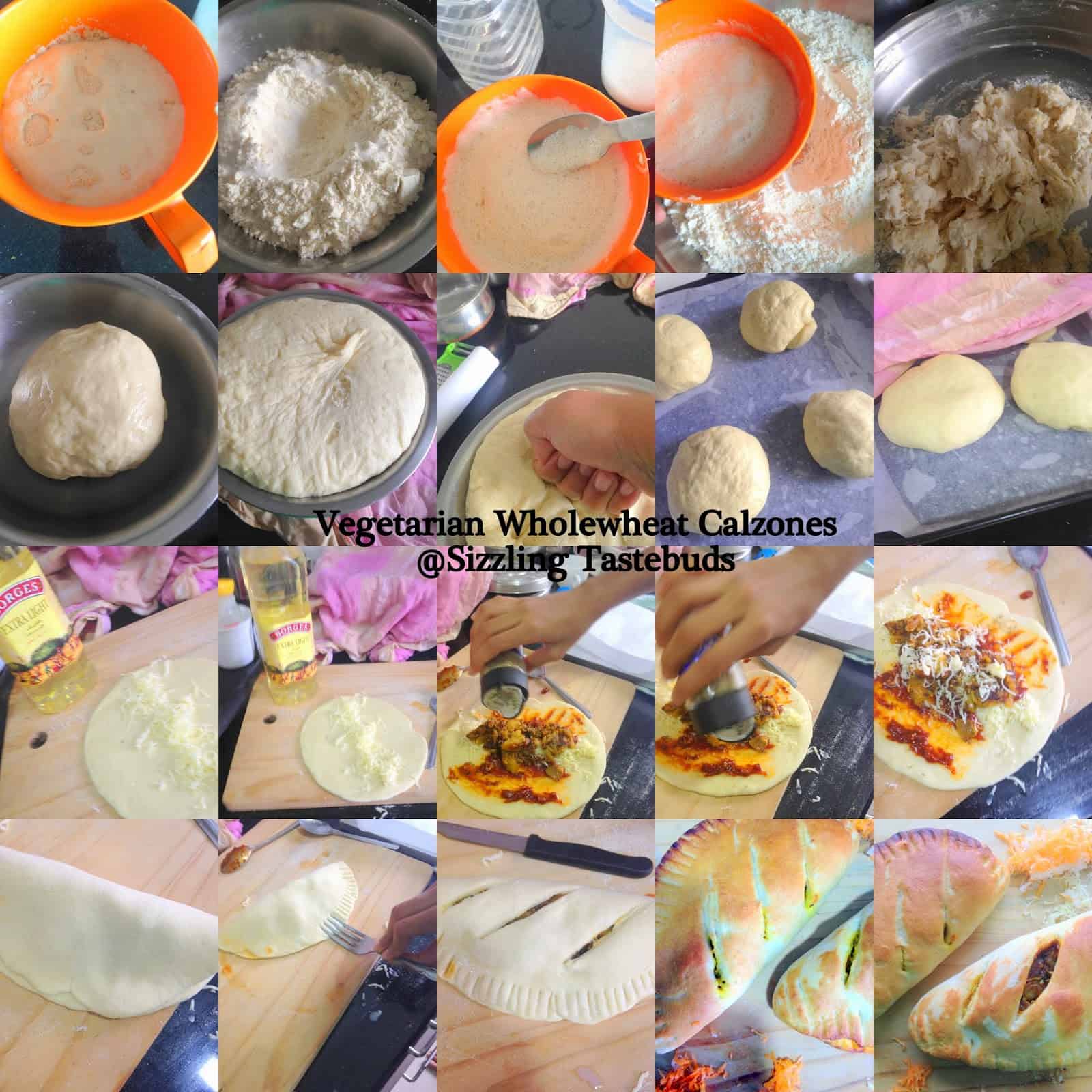 Pin

Method:
Proof the yeast with warm water
and sugar. Once it froths, add to a bowl where wholewheat and salt are mixed
well. Make a dough and knead for 10-15 mins (the bread flour was so good, the
dough came together in less than 10 mins). Rest covered for an hour ( I
switched on the oven light and kept it for 45 mins).
Once risen, punch down the dough
and make into 3 or 4 equal portions. Knead for 4-5 mins more and rest them
covered again (for about 45 mins).
In the meanwhile, I sautéed the
leftover sabji in a tsp of oil, checked for spices and let the mixture cool. Preheat
oven to 180C / 375F.
Roll out one portion of the 2ndrise dough into a thickish disc, spread the pesto / pizza sauce. Sprinkle sauce , add grated cheese and spread a small portion of the stuffing as shown.Top with dried herbs.
Fold into half and seal the edges
with a fork so the filling doesn't spill out
With a sharp knife, make slits on
top of the calzone and gently place on the baking sheet . (Tip : Roll out the
dough directly onto the baking sheet, and do the filling and folding to be
safer)
Brush with milk – sugar mixture
(if needed) and bake for 28-30 minutes. The 2ndbatch was done under
23-24 mins, so you need to keep a watch.
Cool for 6-8 mins and cut and
serve immediately
Pin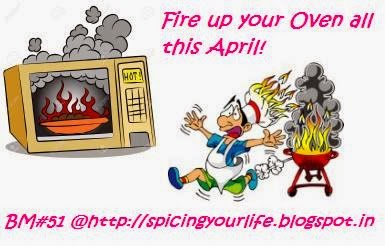 Pin
Check out the Blogging Marathon page for the other Blogging Marathoners doing BM# 51