Cooking Carnival is here, and we are at the threshold of yet another exciting Mega BM (Blogging Marathon) . If you have been watching this space, you know that each April and September, we blog non stop for the entire month (while Sundays are off).
The last few Mega BMs were very exciting:
This April 2016, I blogged about 26 unique Tamil Cuisine dishes. Last year it was International Cuisines at BM Buffet (Sep 2015) & a very exciting Baking Marathon (April 2015).
2014 saw us Around the World in 30 days (Sep 2014) and we presented Indian States (April 2014).
So this has been a very exciting journey for us.
Cooking Carnival is a journey that Valli, me and many other bloggers would love to present over the next 30 days. The themes were open-ended this time (actually considering its more difficult to stick to a theme than be given one).
As always, my list kept changing (mostly due to lack of time and, err….planning) .. But these dishes presented this month have been vetted by my family, and we hope to savour them as they keep getting added to the meal rotation
See you all, on this wonderful journey this September…..
And, welcome to Cooking Carnival :)))
Cheers
Kalyani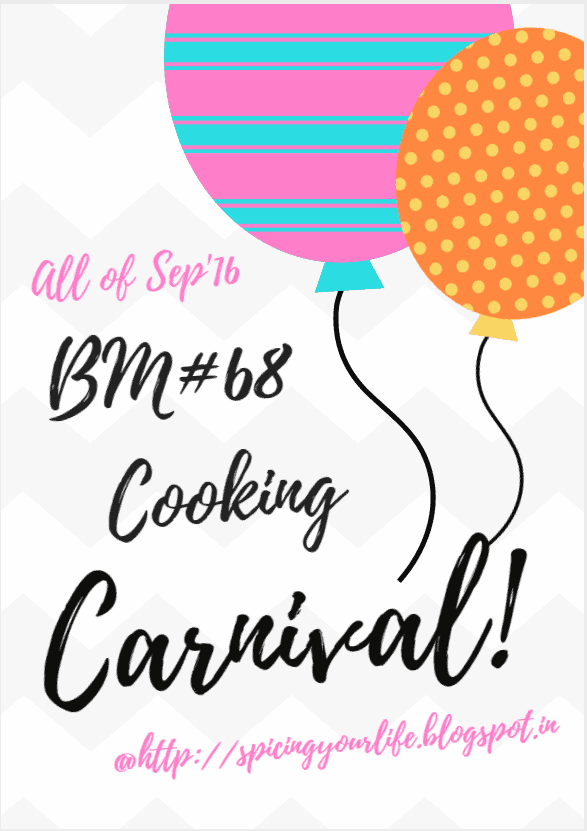 Pin