When I first started preparing the list for this April BM (Blogging Marathon) named Explore the Flavours , I realised I had quite a few in my drafts and so was comfortable till about Dec 17 end / mid-Jan making some new dishes as well.



But the laptop crashed taking with it a lot of pics and most of all for the April BM. There was no way to recover them and I was feeling quite low having lost a lot of ready to use pics.



I was in two minds whether to make a new list and join the gang of marathoner. As I write this, I recall that I wrote to Srivalli this morning about not joining the March BM due to personal commitments and that I was still indecisive about April mega BM.



I have no idea how this ends, but I have made a beginning with this post to feature 26 street foods in A-Z order over the next few weeks.


Street food and Chaat are quite close to my heart and I knew I needed quick wins if I had to get a list and action them as well. Before the old (er) lists keep popping in my head, let's head to check out street food all this April.


As if I had lesser hurdles, I wanted to also challenge myself to think beyond chaats esp Indian street food so there are a couple from the International arena which appealed to us as a family.



In the past we had the following marathons
September 2013 was ABC Cooking
April 2014 was Indian Food Odyssey
September 2014 was Around the world in 30 days
April 2015 was Fire up our Ovens
September 2015 was a Buffet On Table
April 2016 was a Journey through the Cuisines with 26 Tamil Dishes
September 2016 was Cooking Carnival!
Sep 2017 was 30 days of proteins




So stay tuned to this place and join me and the other BMers on this roller coaster journey all this April.


Cheers and hope to see you all around right thru this April Megathon 🙂
Kalyani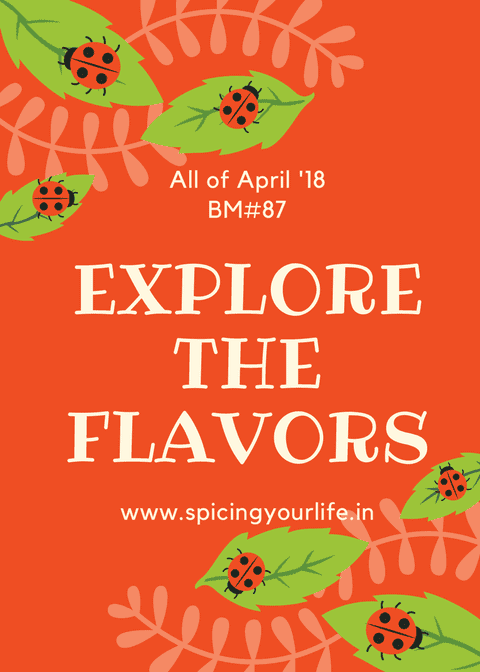 Pin