After
the Papaya Ginger Lime Relish, we have a tasty Condiment from Karnataka
state, India. I love chutneypudis (or chutney powders) like my grandmom's classic version or the Godhi
Chutneypudi (Wheat grains based version) or
the more recent flax
seeds version. Like Molagapudi,
this can also be had with Akki
Rotti / Ragi
Rotti / Sajjige
Rotti (flat breads) or mixed
with rice, which is the more preferred method to consume this.
All
in all, Pudina Chutneypudi (or podi) is for those who love to pep up their
everyday meals with spice and flavour 🙂 So, lets get cracking. 
BM
# 56 – Buffet on Table, Day 13 – Pudina Chutneypudi (mint spice powder)
Course
: Condiments, Cuisine : Indian, Vegan.
Type
: Spice Powders, Origin : Karnataka (India)
Prep
time : 15 mins, cook time : 5-8 mins , Makes :Approx 200 gms of Spice powder
Shelf
Life : 4-6 weeks under refrigeration in an airtight container
Serving Suggestions : Hot rice with ghee (or sesame oil for a vegan option)
Pin

Ingredients:
Pudina (fresh mint leaves) – packed 1.5 cups – cleaned, sorted, washed and
drained on a paper towel for 10 mins **
Urad
Dal (split black gram) – 1 cup
Dry
copra (Kobbari) – grated – 1/4 cup
Red
chillies (dry) – 6 to 8 (adjust spice)
Hing
/ asafoetida – a generous pinch (about 1/4 tsp)
Tamarind
– a small roundel (about 20 gms)
Jaggery
– slightly more than the tamarind
Salt
– to taste , about 3/4 tsp
Oil
– 3 TBSP 
(**
you can also use dried mint (made at home or store bought. In that case, dont
fry it in oil, but use 1/2 the quantity  – about 4 to 5 TBSP with the rest
of the ingredients, and follow the rest of the procedure. The taste will differ
a lot if dried mint is used – it also may get bitter soon).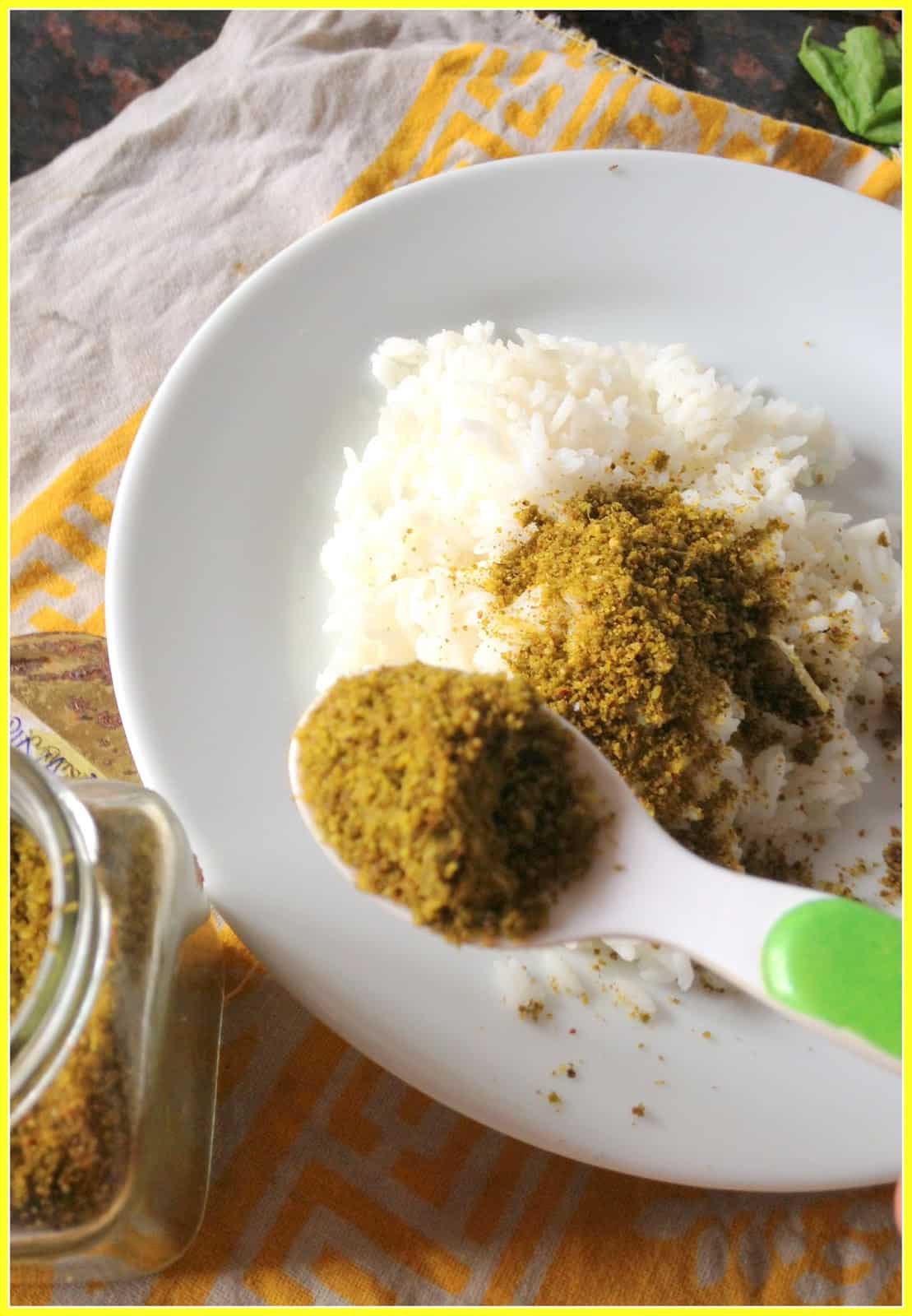 Pin

How
to make:
Dry
roast the grated dry copra without any oil for 1-2 mins till just warm.,
transfer to a dry plate
In
a pan,heat 2 TBSP oil. Fry the urad dal and chillies on a medium flame till
the dal turns golden brown (you may remove the chillies after 1-2 minutes else
they would be burnt). Transfer to a plate. 
In
the remaining oil, fry tamarind till it turns a little crisp (tamarind paste is
not preferred for this recipe). Transfer to the same plate.
Add
the remaining oil, add the drained and almost dry pudina and toss it in the oil
till they shrivel and all moisture is out and it dries up almost. Cool both dal
mixture and sauteed pudina.
First
in a spice blender, grind the dal mixture coarsely (just pulse it for a few
seconds). Now add the cooled and sauteed mint leaves, and blitx once more.
Better still, add the mint leaves in 1-2 batches so that they are unfirmly
ground. 
Now
add the tamarind, salt, jaggery, asafoetida , dry copra and blitz it one fine time. Dont
over do as the copra will leave oil and you would have a messy chutney. 
Adjust
salt and seasonings once you take out the spice powder. Cool and store
immediately in a glass airtight container. 
Use
a dry spoon at every use for longer shelf life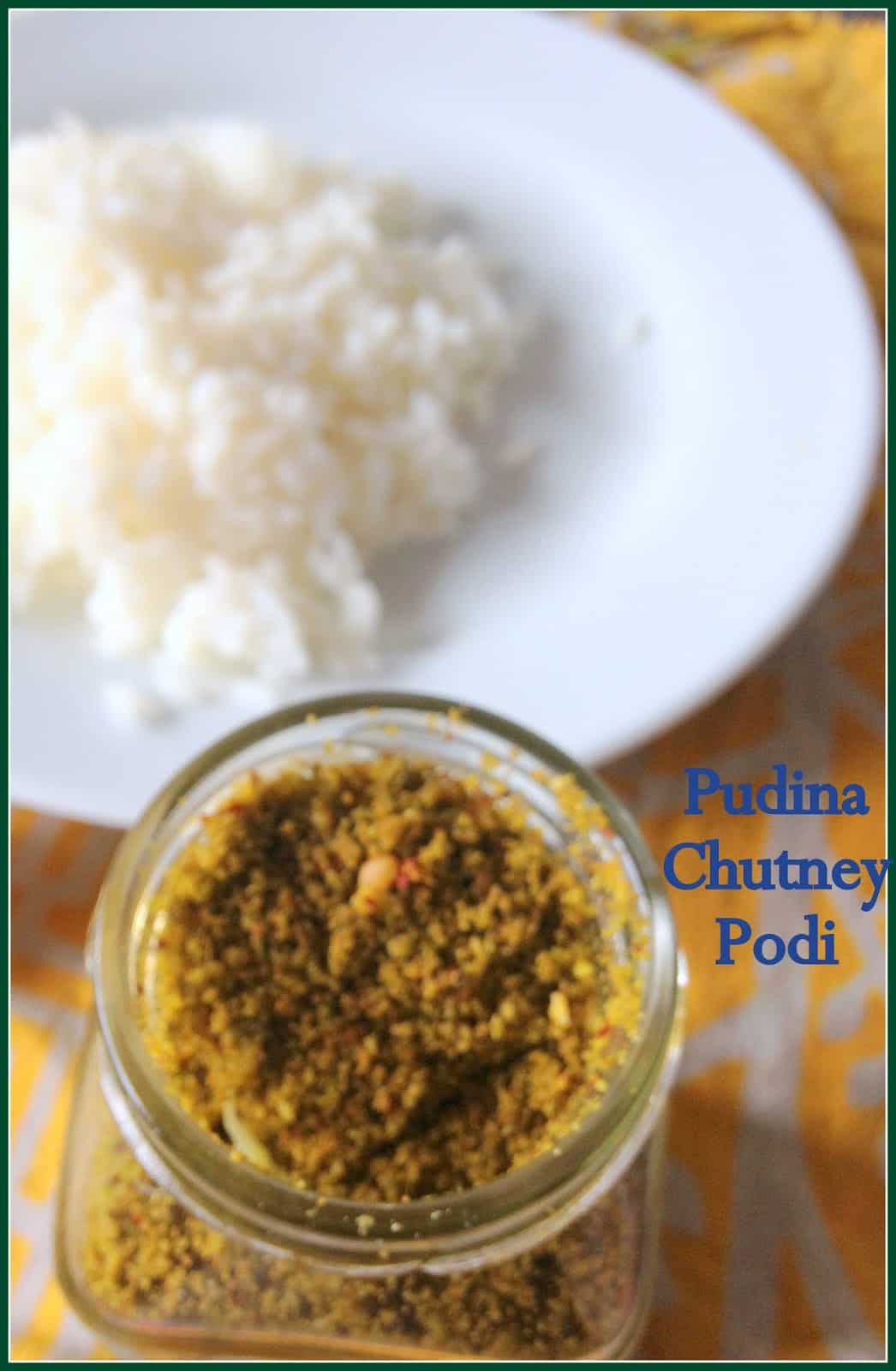 Pin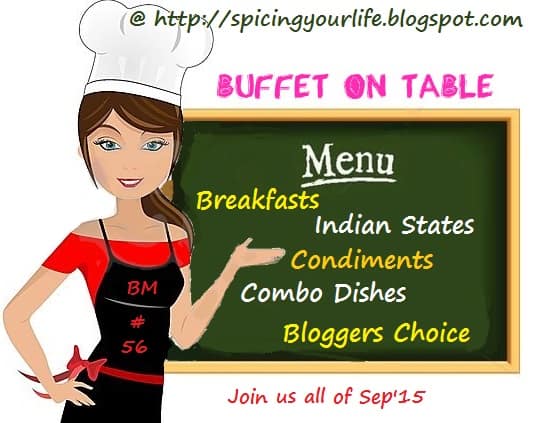 Pin
Check out the Blogging Marathon page for the other Blogging Marathoners doing BM# 56