Ever felt a
laziness that envelops you that saps out all energy that you wish to curl up
under a mattress with a rivetting book or sip on your favourite beverage. Well,
that was my state last week, and I even managed not to cook for almost half a
day, holding kid to ransom with a Dominos Pizza. Well, pizza is a pizza, and
once those calories add to a burgeoning waistline, its time to hit the kitchen.
But ahem, the veggies in the refrigerator are not too appealing, so we all
settled down to a quick and nice little meal with Hot Steaming rice, Cumin-
pepper Rasam and this Poondu Podi. Bliss !
After the Godhi Chutneypudi and Idli-Dosa Mulagapudi this is another addition to the spice rack, and
garlic lovers will love this. For others like me, who like their garlic in
invisible form, it was rather mild and flavoured well. The next day dawned
(time doesnt sleep, you see!),. so I actually served it with some Tomato Onion Uttapams and sesame oil, and voila, in went the dosas ! All in all, a versatile Spice
powder thats sure to tickle your palate.
Lets get to make
it.. While this goes to Alphabet P of BM # 32 and Valli's Side Dish Mela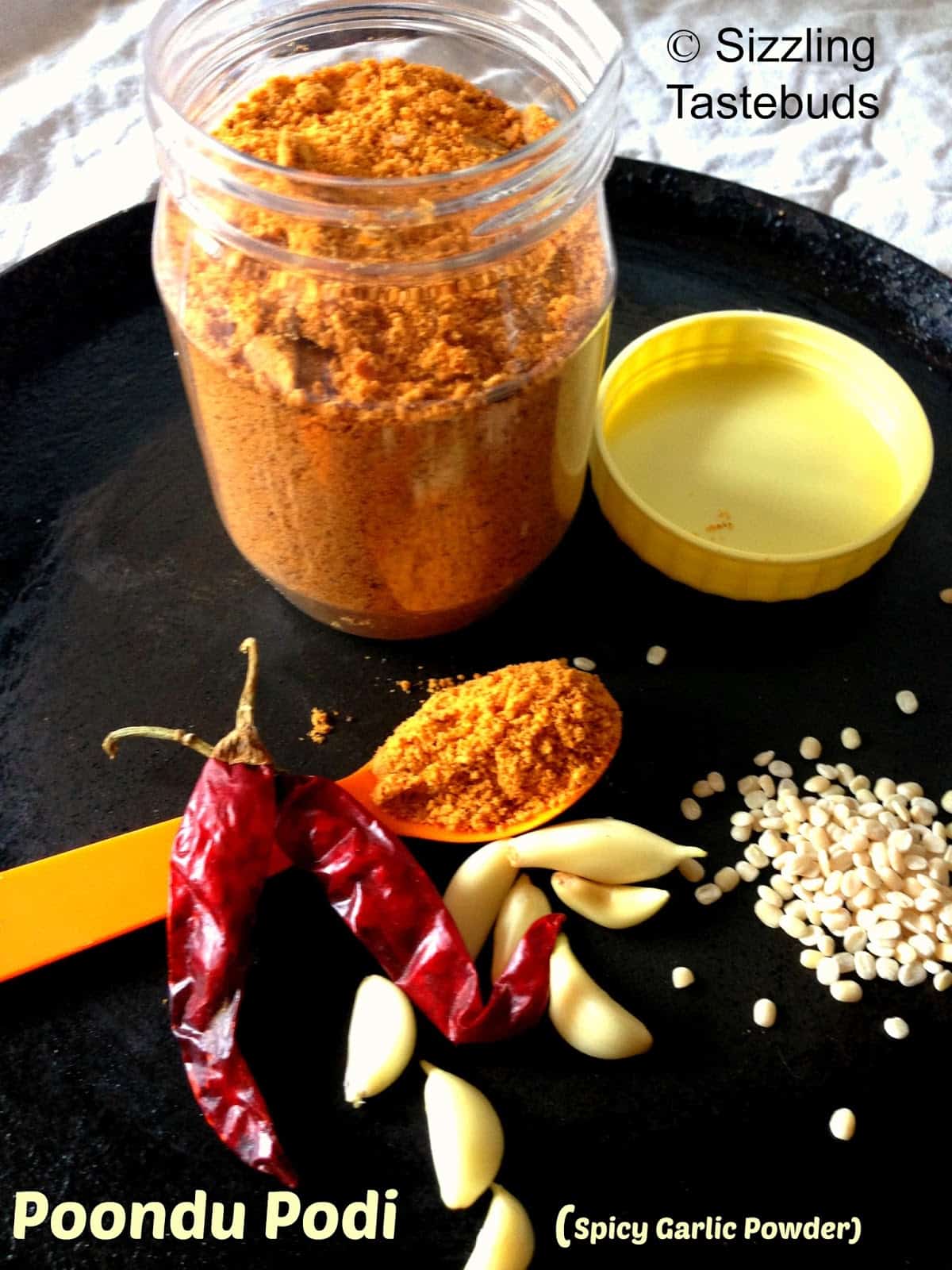 Pin




Prep time : 15
mins | Fry / Roast time : 10 mins |

Makes : Approx 100 gms, keeps for a month
without refrigeration

Garlic flavoured
Spice Powder – Mix it with hot rice – Sesame oil or team it up with Idli
/ Dosa & Uttapams.

Ingredients:
Garlic pods – 50
gms (approx 20-25 medium sized pods)
Urad Dal / split
black gram – 1 cup
Oil – 4 TBSP
Red chillies
(Spicy variety) – 5 to 7 (adjust spice)
Red chillies
(Kashmiri variety) – 4 to 5
Asafoetida – 2
pinches
Salt – to taste
(approx 1 tsp)
Method:
Peel the garlic
and fry them in 2 TBSP oil till the pods turn golden brown on a low-medium
flame (takes about 8-10 mins).Transfer to a plate.
Fry the chillies
in the remaining oil till they turn glossy (approx 1/2 min)
Add 2 TBSP oil
again, and fry the urad dal too on a medium flame till the dal turns golden
brown and lets out a nutty aroma (Be careful to mind the stove for the dal
browns very fast)
Cool all fried
ingredients.
Grind to a gritty
powder. Add salt and asafoetida
Store in an
airtight glass container. Use with a dry spoon as required.
Pin