Vegan. Gluten Free. Paleo. Keto. Whole 360 – the whole galaxy of new age diets is promising – each in its own way 🙂
A new baby was added to my dictionary last week – Pegan Diet
What is Pegan ?? I was flummoxed too when I first heard of it, and turns out Dr. Mark Hyman (the proponent of Vegan Pegan diet) created a mix of Paleo and Vegan (75% vegan and 25% proteins, which allows animal meat too) with a LOT of dos and donts 🙂
So Paleo + Vegan = Pegan. Simple ? Actually it is 🙂
Our blogger friend, Veena who recommended the theme for #184 Foodie Monday Bloghop also gave a sneak peek into what was allowed and what wasn't and by the mid of last week, I wanted to cry as almost everything I thought could be used was in the no-eat category 🙂
PS:
My personal take on this Pegan diet is that unknowingly, most of the Sambhar, Rasam & kootu (especially made with keerai/ Greens and toor Dal / Masoor Dal especially), even our humble Methi-Chole are already Vegan / Pegan in its own way!! The Western world has however, glamourised this much like Yoga or Turmeric Milk Latte or Moringa, which are the rage now 🙂
While doing a month-long Proteins only Blogging Marathon that I did in 2017, I had learnt from here, here and here (to my utter delight) that both broccoli and cauliflowerhave more protein than a glass of milk, and have since then loved to make many many dishes using broccoli or even cauliflower as am veering to be a full vegan, and always on the look for non-diary / non milk substitutes for calcium and protein for the family and me.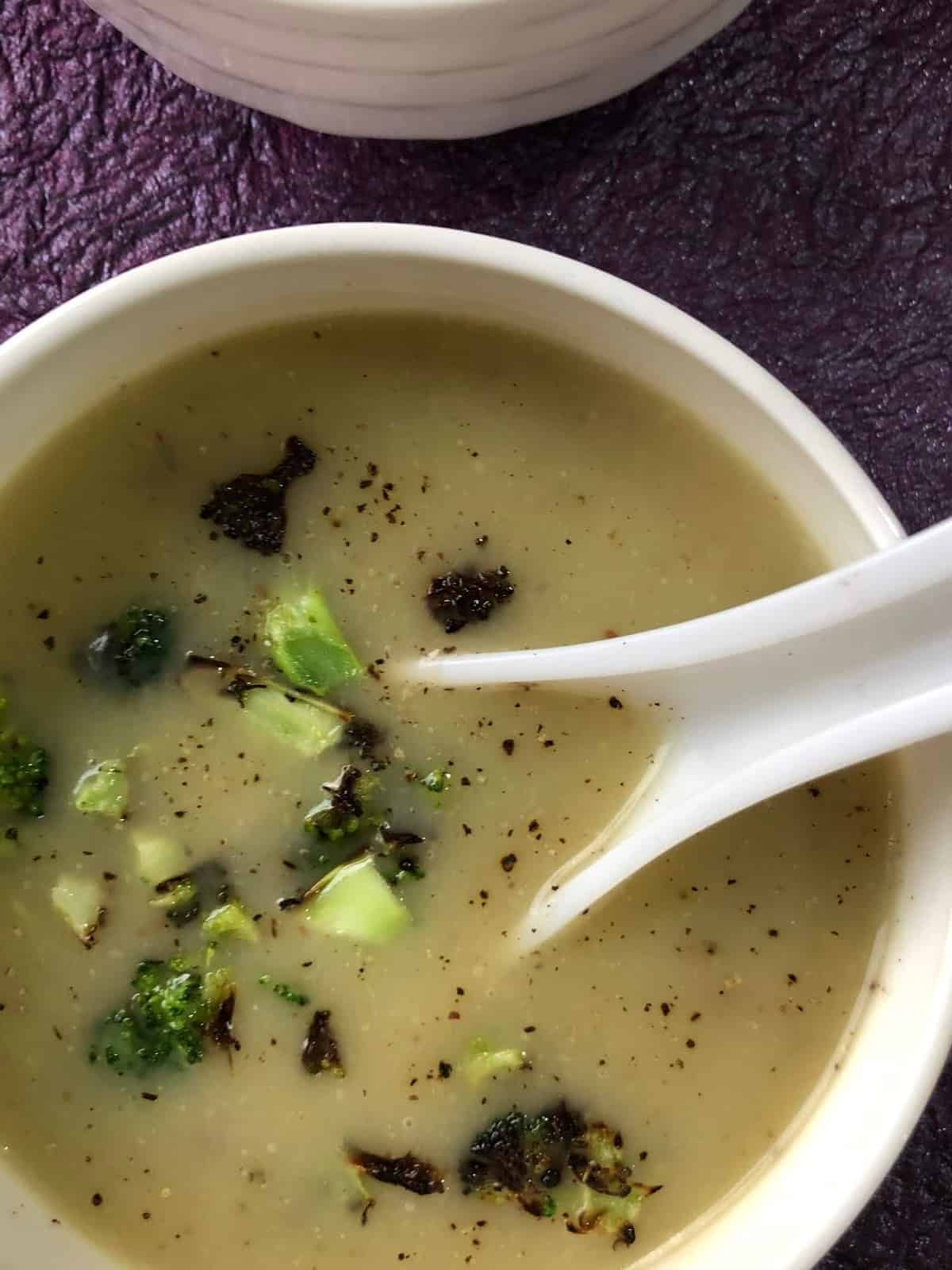 Pin
As we don't eat eggs too (for the protein component of Vegan diet which generally is meat based), I started at looking at plant based proteins and our dear friend Broccoli and almonds came to the rescue.
The kids still love their once-in-a-month-only paneer dish and as I haven't warmed to Tofu / Tempeh as yet (or even the nut based milk) , for now these cruciferous veggies – Broccoli and Cauliflower + a handful of almonds go into today's Vegan (and Pegan) dish.
Linking this to both the events :
Blogging Marathon #97 under "Vegan – Gluten Free" dishes
Week #184 PeganDiet for #FoodieMondayBloghop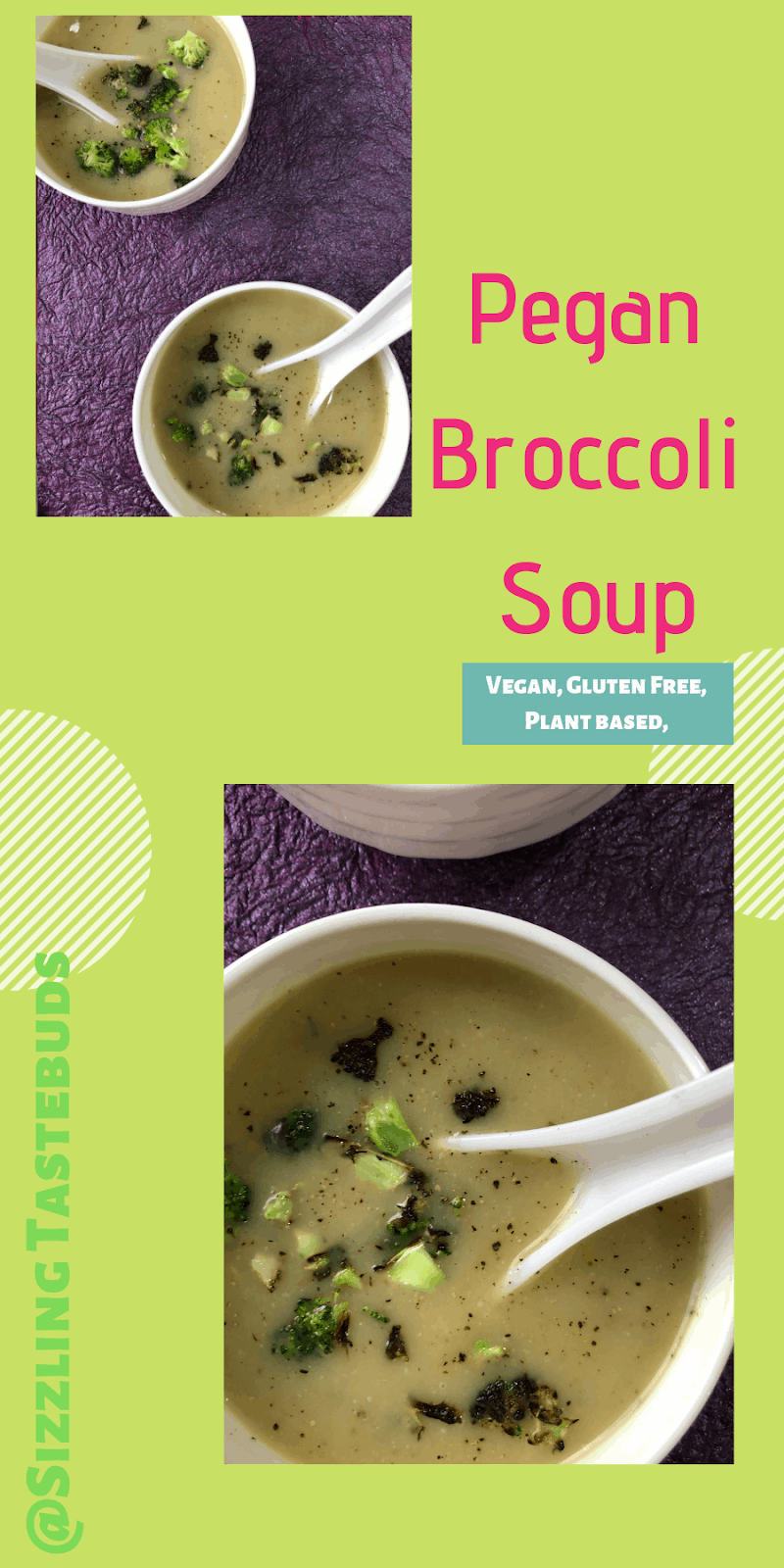 Pin
Dish : Cream of Cauliflower Broccoli Soup (Pegan Recipe)
Prep time – 15 mins, Cook time – 10 mins , Serves – 2~3
Ingredients:
Almonds (soaked in hot water) – 15 nos.
Cauliflower & Broccoli – 150 grams EACH – diced into florets
Onions – 1/2 minced fine – diced
Garlic – 1/2 large clove, minced dine
Homemade veg stock – 500 ml
Salt and pepper – to taste
Ground nutmeg – a generous pinch
Cold pressed Sesame oil – 2 tsp
PIN FOR LATER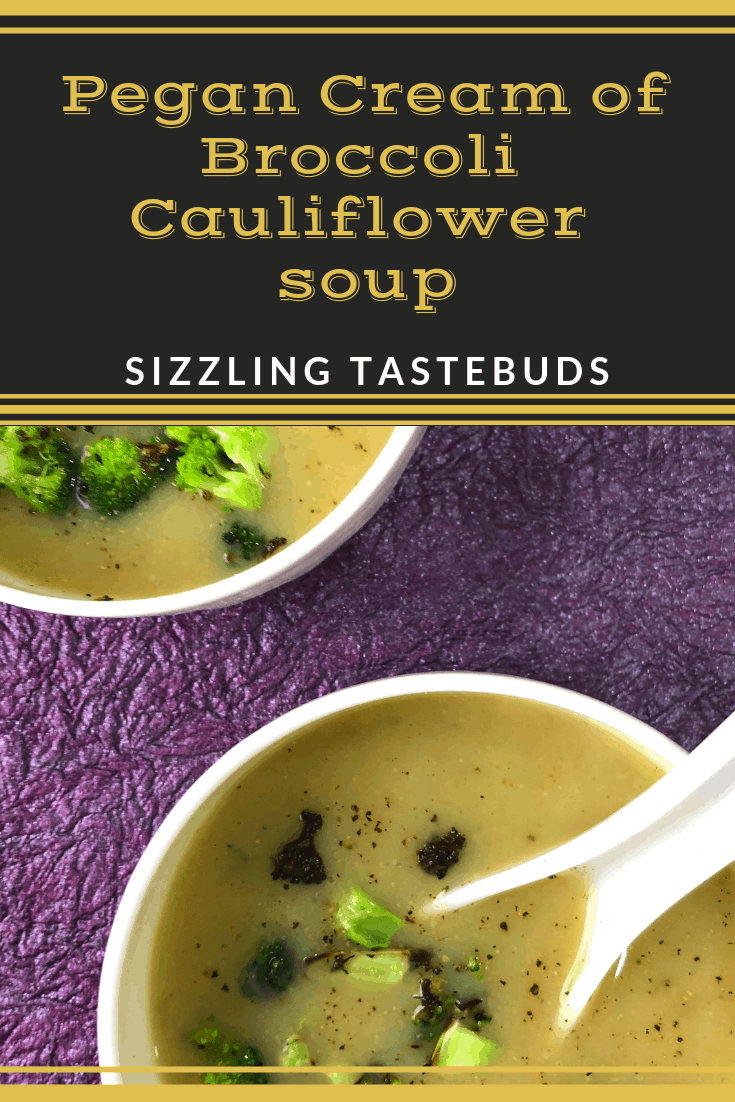 Pin
How to:
Peel the soaked almonds and keep aside. In a pressure cooker / Soup pot, add the sesame oil. saute the onions, garlic, broccoli and the cauliflower. Reserve some suited broccoli for topping. Add the homemade veg stock, bring to a rolling boil . Add salt and pepper at this stage and pressure cook for just 1 whistles. Let the pressure come down on its own.
Drain the Veggies (reserve the water) and puree them WITH the almonds to a smooth paste. Return the puree to the cooked stock , let it simmer, add the reserved broccoli , nutmeg. Check for salt and spices and adjust accordingly.
Serve hot !!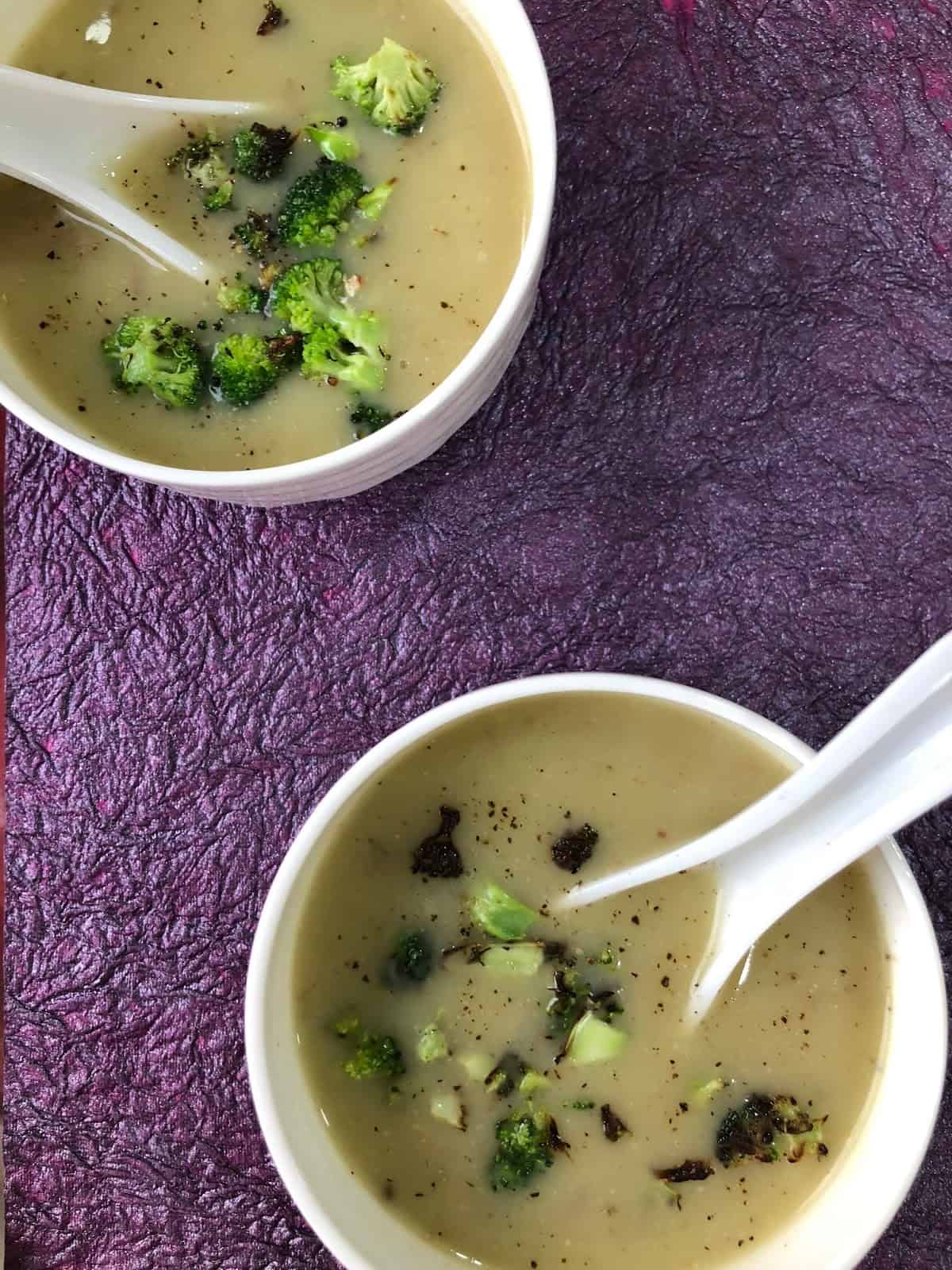 Pin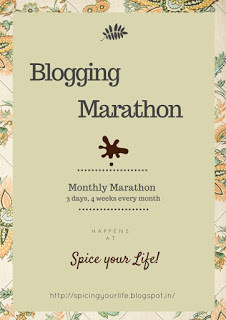 Pin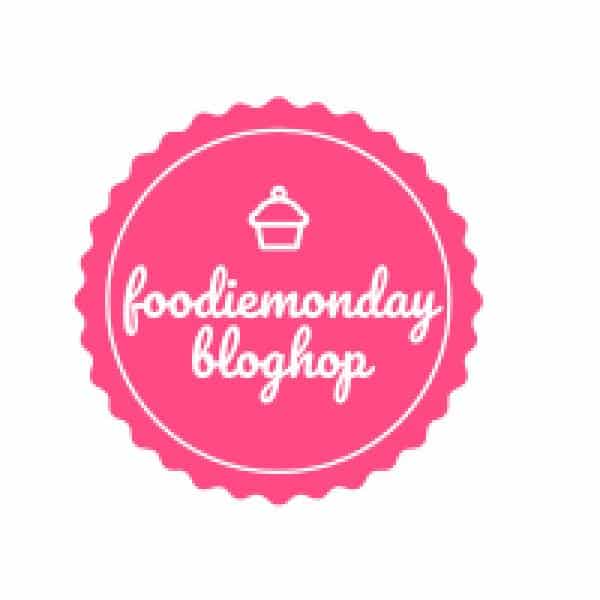 Pin