I made this very very healthy Nelli Pachadi (Amla Chutney / Gooseberry chutney) which we usually make for Dwaadasi Paranai (the feast on Dwadasi – the 12th day of the hindu Calendar). Amla is a superfood, the benefits listed here. My grandmom used to make this along with Agathi keerai poriyal (Agase Soppina Palya as it's known in Kannada) and the combo was a super hit when mixed with rice and hot ghee.
Before we proceed on to this simple recipe : a background. Hindus usually fast on Ekadasi (11th day of the fortnight) with cereals / carbs totally off that day, and sticking to fruits and milk. This is one (religious) way of cleansing the body of all toxins. How simple to detox !!
So, the next day that is Dwadasi, the food is not only Saatvic, but is also easily digestible : containing herbs (like Agathi Keerai or Agase soppu (Kannada) – botanical name is Sesbania grandiflora- which is known to cure mouth ulcers and Amla– which is the supreme condiment for Vitamin C ) .
It is said that eating one gooseberry every day increases your healthy life span by 3 months (I dont know the source of this data, but I bet it must be true, coz Amla is sooooo healthy). If you are still interested in why people fast only on Ekadasi, check this very interesting link.
Check out 20+ varieties of chutney for Idli / Dosa / Rice here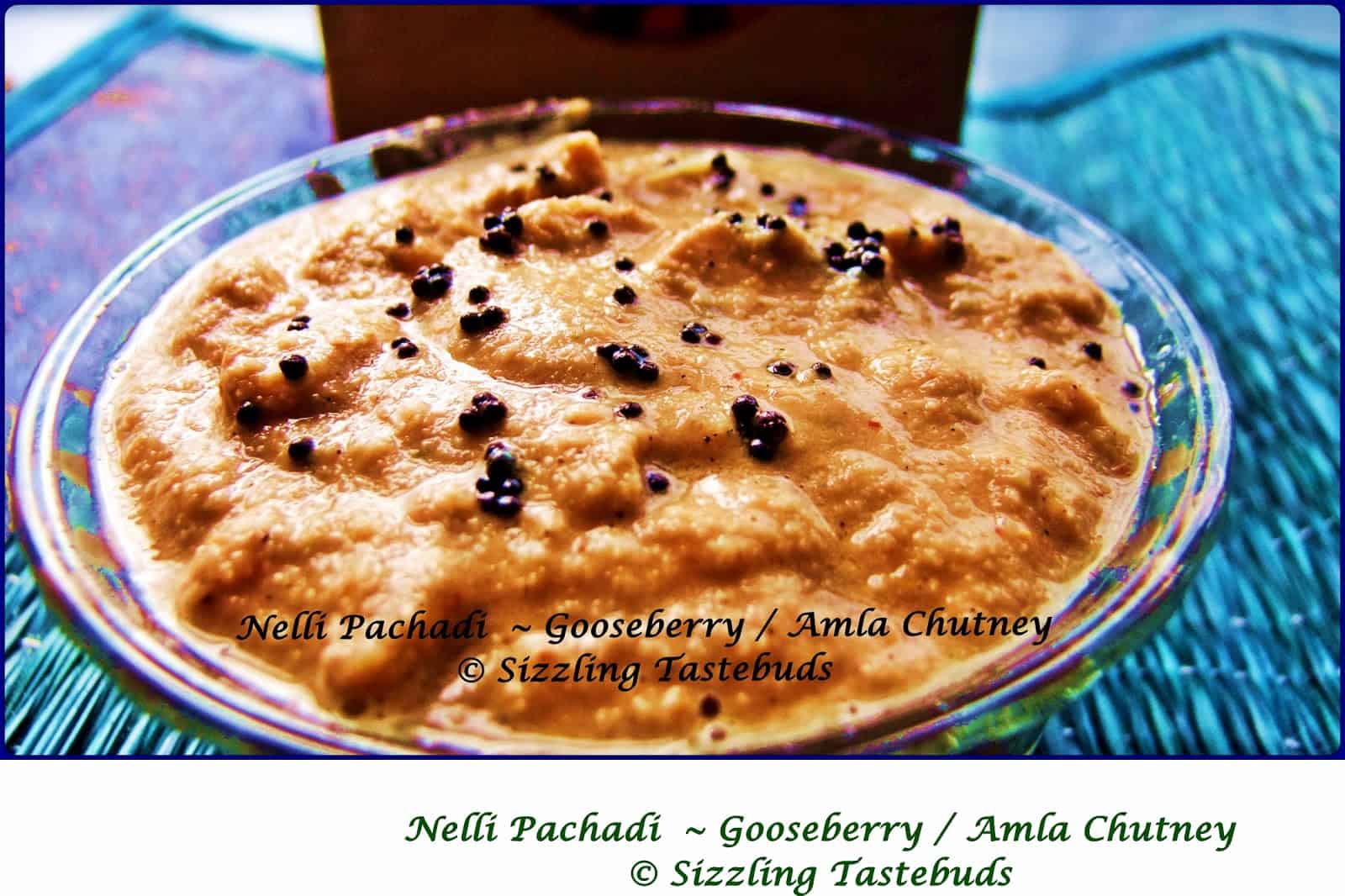 Pin
Back to today's recipe. Its a simple pachadi (chutney) which uses Amla (Indian Gooseberry) in its freshest form. For those who cannot access Amla in its fruit form, you may use the dried form (generally in vathal form). But if the vathal is salted, do check how much salt you add to the pachadi. Let's get on to the post now !

Prep time : 20 mins. Cooking time : Nil. Serves : 2
Ingredients:
Amla / Nellikai / gooseberry – 3 to 4 medium -large sized ones

Grated coconut – 1/4 cup

Methi / fenugreek seeds – 1/4 tsp

Grated Jaggery – 1 tsp

Salt – to taste

Red chillies – 1 nos

Byadgi chilli – 2 nos

Tempering : Oil (1 tsp). Mustard seeds – 1/2 tsp, Asafoetida – a pinch, curry leaves

Method:
1) Wash and pat dry the amla. Finely grate them. I got about 1/4 cup of grated stuff.
2) Dry roast methi seeds. In the same pan, heat 1/4 tsp of oil and fry red chillies. Cool.
3) Grind the amla, coconut, fenugreek and red chillies with salt and minimum water to a thick paste.
4) Turn to a bowl, add jaggery. Prepare tempering and pour on the chutney, and serve with hot rice and ghee. This chutney keeps for a week under refrigeration.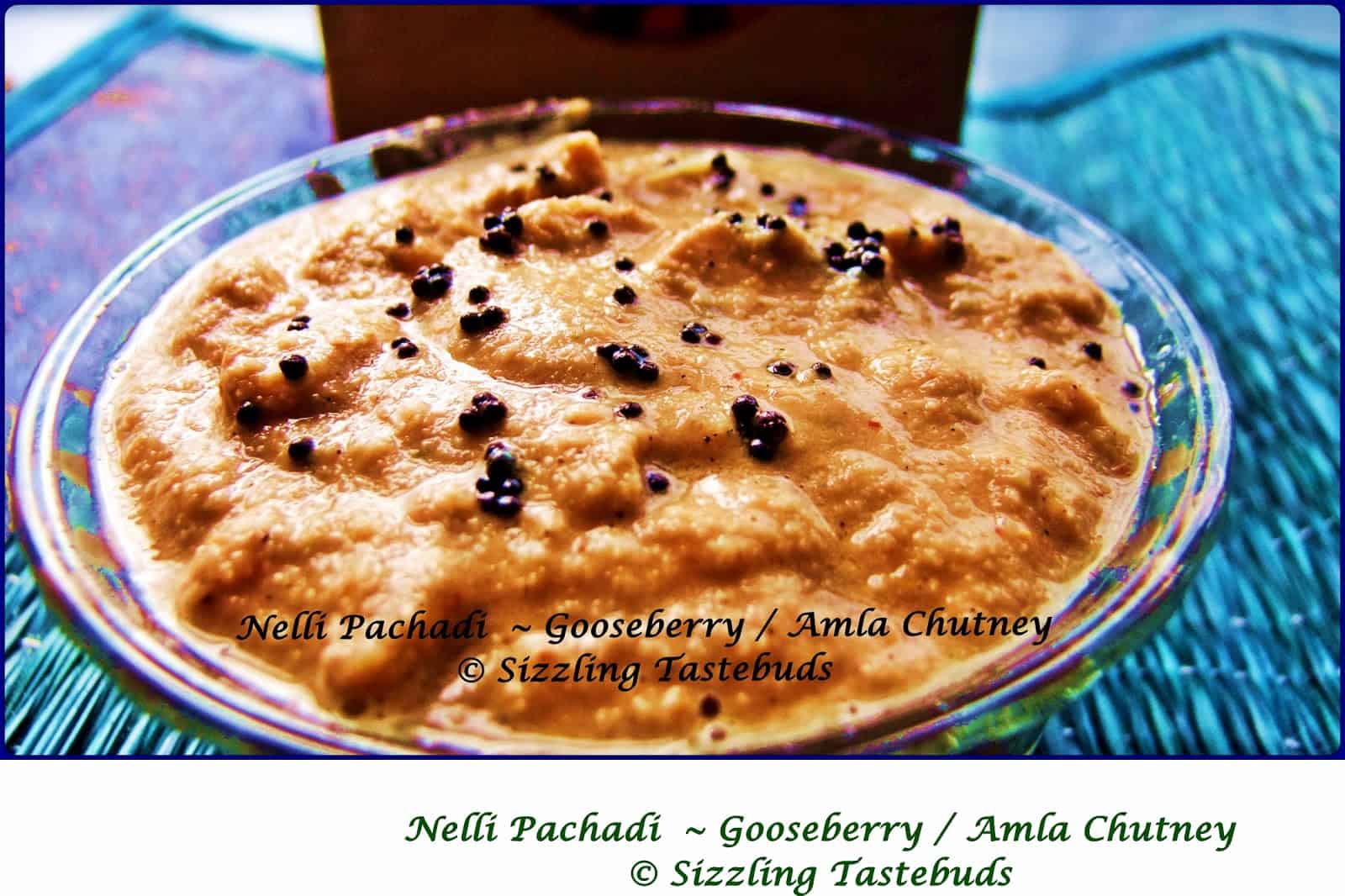 Pin
Tip:
1) you could use leftover chutney as a spread for bread / chapati and stir fried veggies for very healthy sandwiches / wraps
2) If using salted dried amla, reduce the salt used.