Moong Sprouts is always present in my pantry.. And after Moongachi Usal, Sprouts Adai, I used these to make myself a quick Sprouts & Grapes Salad with Lemon-Honey dressing today. And teamed with toasted bread, it was a perfect light lunch for Saturday noon. It requires almost zero time to make, if you have the sprouts on hand. Team it up with any fruit and sprinkle some salt / pepper, and you have a fabulous light snack to munch on even in the afternoons. Off this goes to:
Blogging Marathon, Only Sprouts – event by Pari, hosted by Priya, Indrani's Winter Veggies Event & Vardhini's New U. Also to my event Kitchen Chronicles – Cooking with leftovers – hosted by Veena. And to MLLA # 43, hosted by Chez Cayenne, event bySusan.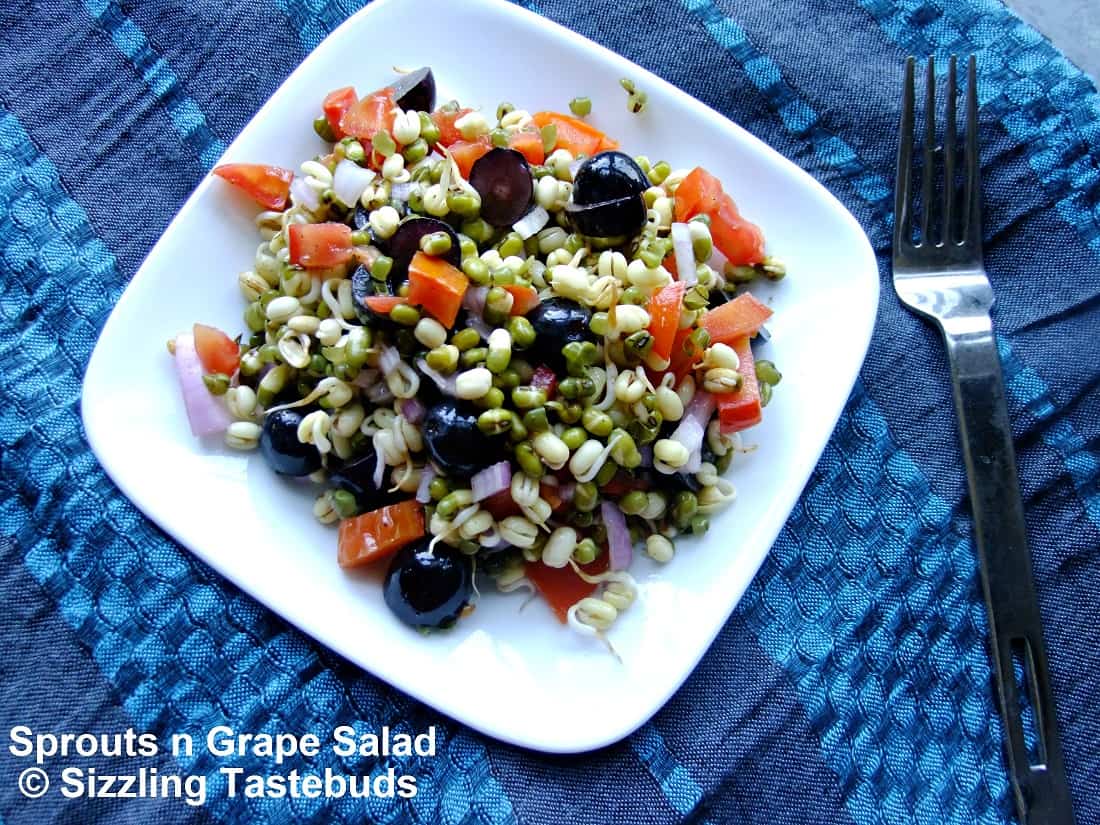 PinPin

Prep time :10 mins.Cook time : NIL. Serves :2  

Ingredients:
Moong Sprouts – 1 cup
Chopped fruits – 1/2 cup (I primarily used up black grapes that were in my pantry)
Tomatoes – chopped – 2 TBSP 
Onions minced fine – 2 TBSP
Dressing:
Chaat Masala – 1/2 TBSP
Red Chilli powder / Black Pepper Powder – 1/2 tsp
Lime juice – 1 TBSP
Honey – 1 tsp
Salt – to taste (optional) . I didnt add any 🙂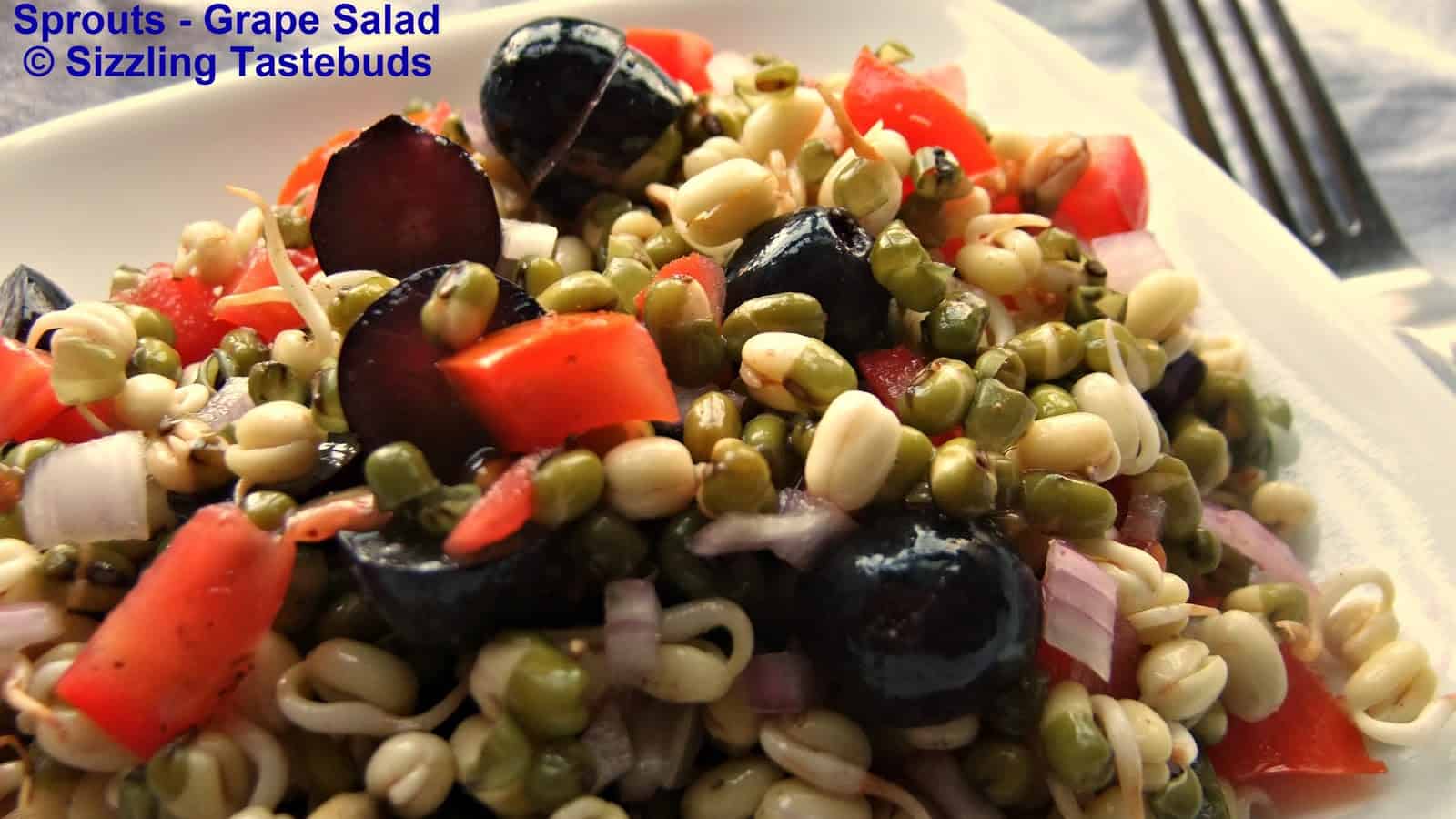 Pin
Method:
1) Chill and mix both the sprouts & chopped (and pitted grapes),onions and tomatoes in a large bowl. 
2) In another cup, mix the dressing ingredients well. Use 1/2 tbsp of vinegar in place of the lemon juice if desired.
3) Just before serving,add the dressing into the sprouts – fruits mix and toss well.
4) Serve immediately on a bed of lettuce (well, I ran out of lettuce, so had this straight on:))
Notes:
Grapes are only indicative. You can use a medley of fruits : pineapple chunks, peeled and cubed apple, orange segments, sweet lime : all these work wonderfully well.
Add red chilli flakes instead of red chilli powder / pepper powder for a hot and new experience in the dressing.
Ensure all the ingredients (except dressing / topping) are chilled before serving – that way they get perkier and crunchy when you eat. If using apples, add them just before serving as they brown on exposure (due to oxidation)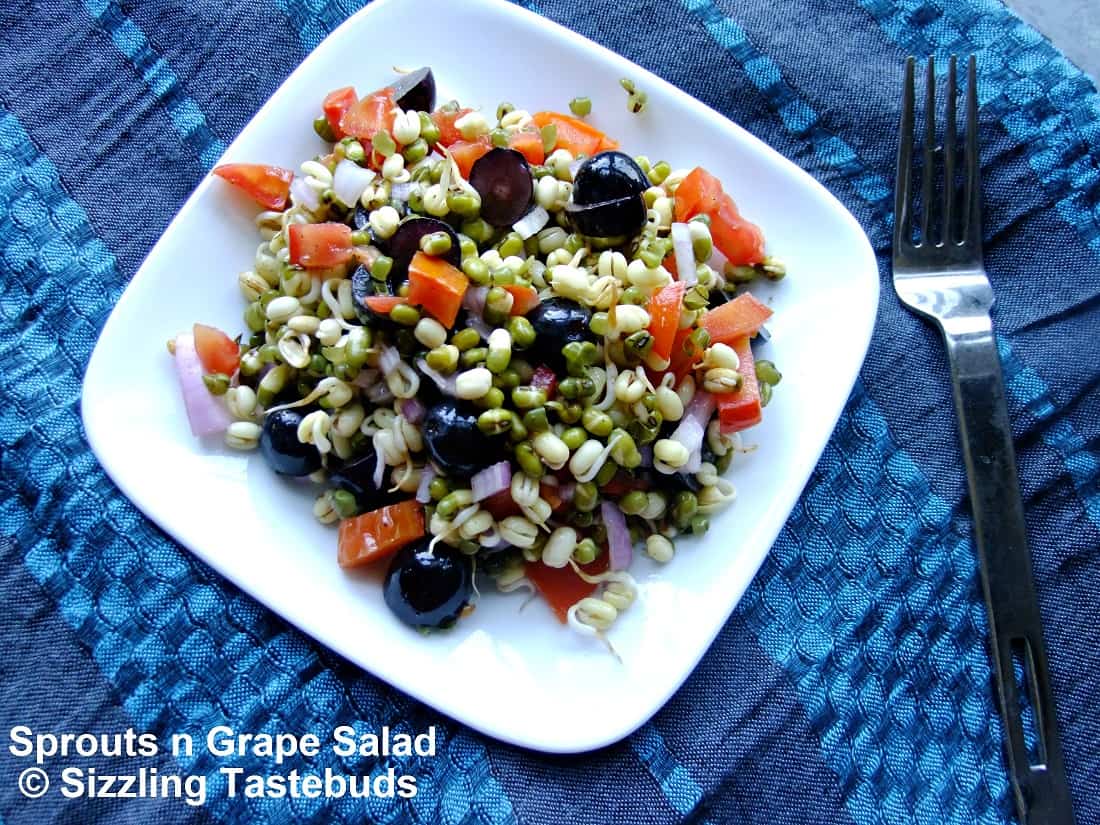 PinPin