The scorching summer is here (well, in most parts of the world).
And its raining sweltered days (and nights)… Makes us want to grab a glass of
fruit juice, Lassi, Salads or any other light Summer Meal. 
In the midst of all this comes the
Magic MingleChallenge # 17 for this month with the ingredients : Yoghurt &
Fennel (or in Indian parlance, Dahi & Saunf). 
Minglers can use any yoghurt – full
fat / fat free / greek / flavoured or whatever variety you are used to. Saunf
(fennel) can be in raw form (fennel leaves) or in dried (seed) form. Both of
these are excellent ingredients to beat the heat, and am sure we Magic Minglers
will find even better ways to use them other than Lassi :-)) So, put your
thinking caps on.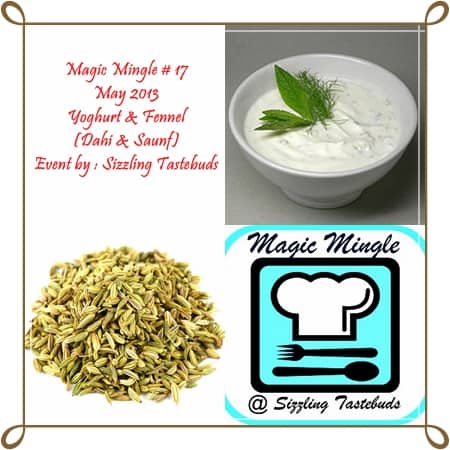 Pin

And make sure you feature both these
as star ingredients in your dish. Visiting members' posts and commenting is
mandatory from this edition onwards … Minglers to link your vegetarian and
eggless entries to the Linky tool as below, and use the Logo too in your
entries while providing a link to this event announcement. Event runs from 1st – 15th May 2013.

For those who wish to join this club at Magic Mingle,
drop me a line at [email protected] with your name, blog Name & URL.

Till then, happy cooking 🙂

Cheers

Kalyani