Radhika of Tickling Palatesis a wonderful blogger and has, over the past few months grown to be my to-go dear blogger friend. Her wonderful event – Blog Hop Wednesdays – is quite a rage in the blogging world, of which I am also a part of. When I asked her to do a guest post for this blog some time ago, she so sweetly agreed, and also has presented a traditional sweet – Lavang Latika along with describing how the palate of Chennaiites (her current city) has evolved over the years, yet the local food of Idli-Sambhar never failing to tickle your palate (no pun intended!) .. 
Read on for Radhika's wonderful post (reproduced here from the original text) and the yummy recipe too. Thank you,Radhika for your time:-)  
Radhika says:
I'm so happy to be doing a guest post for Kalyani (who blogs at this blog –Sizzling Tastebuds) , who has become a very close friend in the past few months. I wanted to do something very traditional and unique considering the festive month of the year. So I chose this "Lavang Latika" from my Grandmother's kitchen which is prepared during Diwali time at home.

 

The one question put to me by her that really got my attention was how the people of Chennai, youngsters to be exact are taking on the food revolution. With so many expats in the city I would say that Chennai has emerged as one of the popular food hubs in the country. Today's youngster is well educated, well travelled and is able to handle any cuisine like a Pro. Their knowledge of International cuisine is not any more limited only to noodles and pizzas. This can be felt just by looking around the city as it has become home to many restaurants specializing not only in Multi cuisines but also many are dedicated to a particular type of cuisine pertaining to a particular country.

 

The youngsters of today do not hesitate to experiment and explore with food. They do not restrict themselves to visiting the popular food joints but have also started cooking various cuisines at home itself. You only have to visit the food malls to find out this fact as the shelves are stacked and over flowing with so many international brands vying for our attention, just waiting to be picked up and used for consumption.

 

You may grow, branch out and spread in your search for adventure but the roots still remain where they are. They always come home to idli, vadai and sambar for breakfast and I'm sure you will all agree that nothing can beat hot sambar rice or vattha kulambu with a dash of ghee. No matter what, traditional food is just incomparable especially in terms of health aspect. Now let's go to one such traditional recipe …

 

Lavang Latika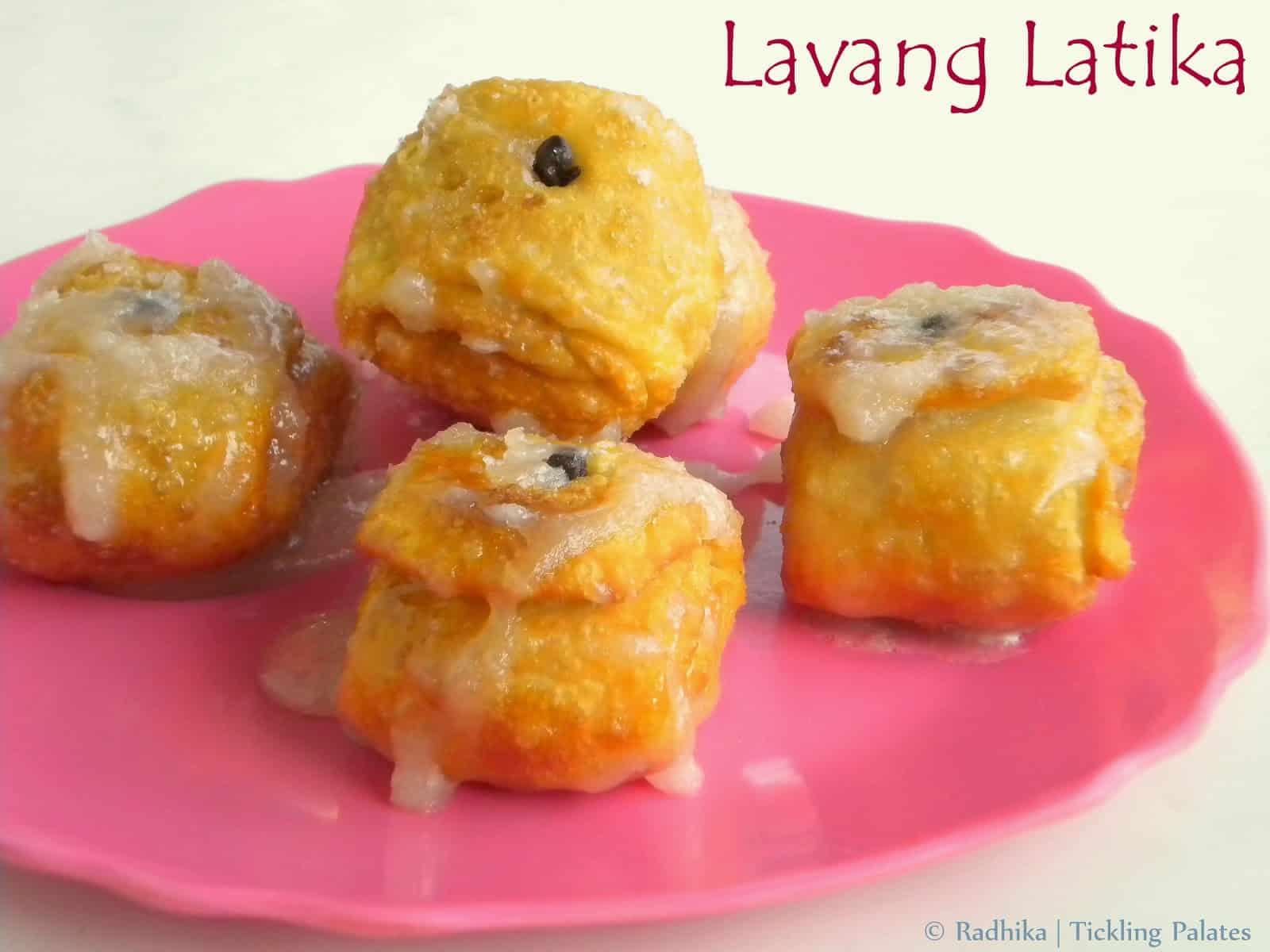 Pin
You'll need:

All Purpose Flour – 1 cup

Cardamom Powder – 1/4 tsp

 

 

For Stuffing:

Milk / rose water – few drops

 

Method:
For the Dough: In a bowl place all purpose flour with salt and mix well. Add ghee and rub with your fingers till they resemble bread crumbs. Add water little by little and make soft dough. Let it rest for at least 1/2 hour. Keep the dough closed with a damp cloth.
For the Sugar Syrup: Heat 1/2 cup of water in a vessel. Add sugar and let it dissolve completely. Add the milk at this stage and when the scum separates remove with a ladle or filter the syrup by passing it through a sieve. Cook further over low flame till you get to the one string consistency. Switch off stove and add cardamom powder. Keep it warm.
For the Stuffing: Coarsely powder the almonds and cashew nuts. In a bowl crumble and mash khoya. Add the powdered nuts, sugar and mix well. If it is dry add few drops of milk or rose water to make it moist. Keep aside.
How to make Latikas: 
Take a small lemon size ball from the dough and flatten it like you would for a poori.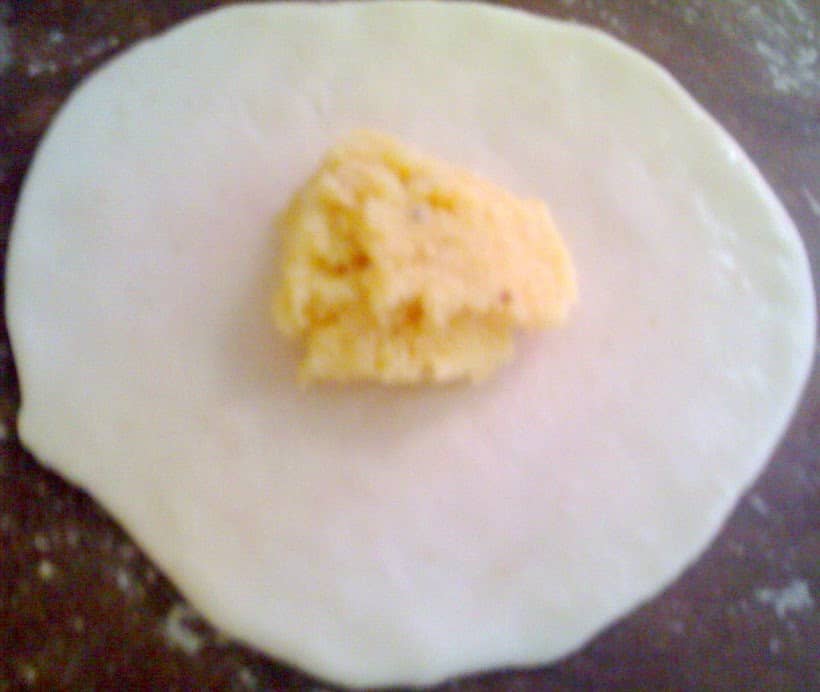 Pin
 

We are going to make an envelope here. Bring the opposite edges as shown in the picture.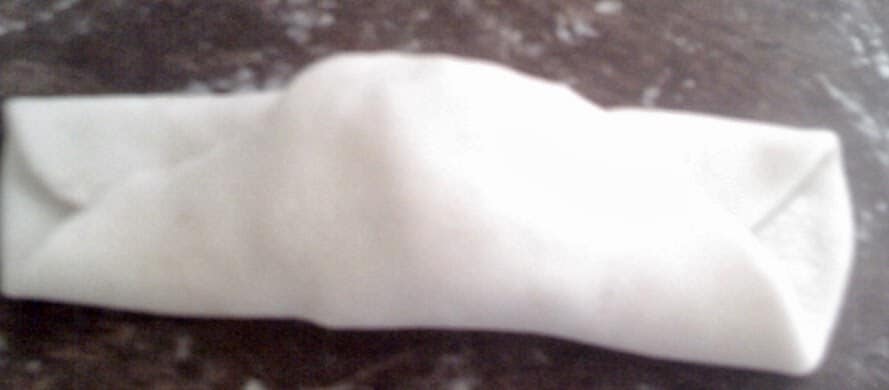 Pin
Apply pressure gently so that they can stick well. Insert a clove in the center as securing it with a pin.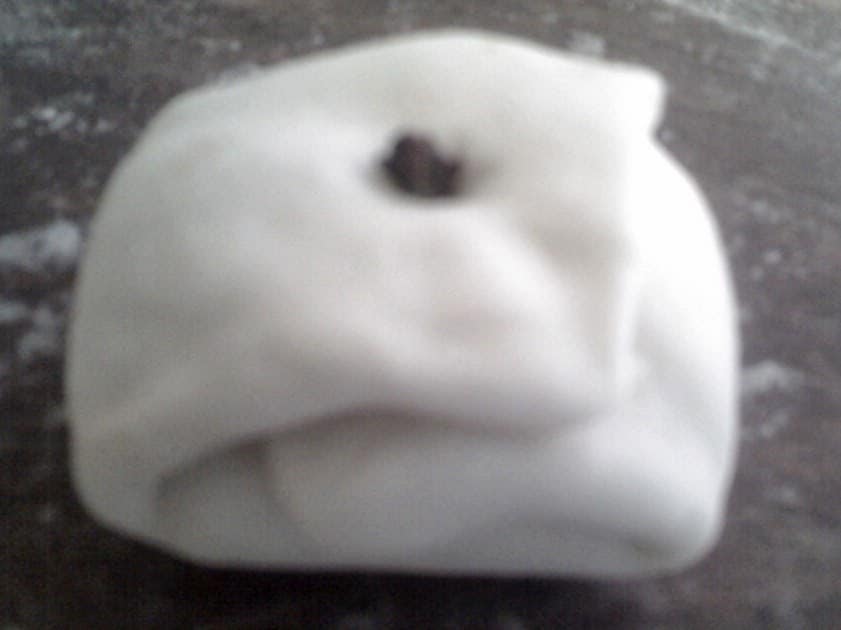 Pin
How to proceed:  Heat oil in a kadai. Slip the latikas one by one and cook till golden brown and crisp. Drain on a kitchen paper and immediately put them in the sugar syrup. Let it soak for at least half an hour and then it is ready to serve.
How I made it: Usually Grandma deep fries them in ghee which I just can't imagine  doing so. So I cheated by adding a few tbsps of ghee to the oil to not to miss out on the flavor part. Also I cooked the sugar syrup to 2 string consistency which she also does as it would make storage easier. The sugar syrup will coat the lavang latikas well and it would be easy to serve too.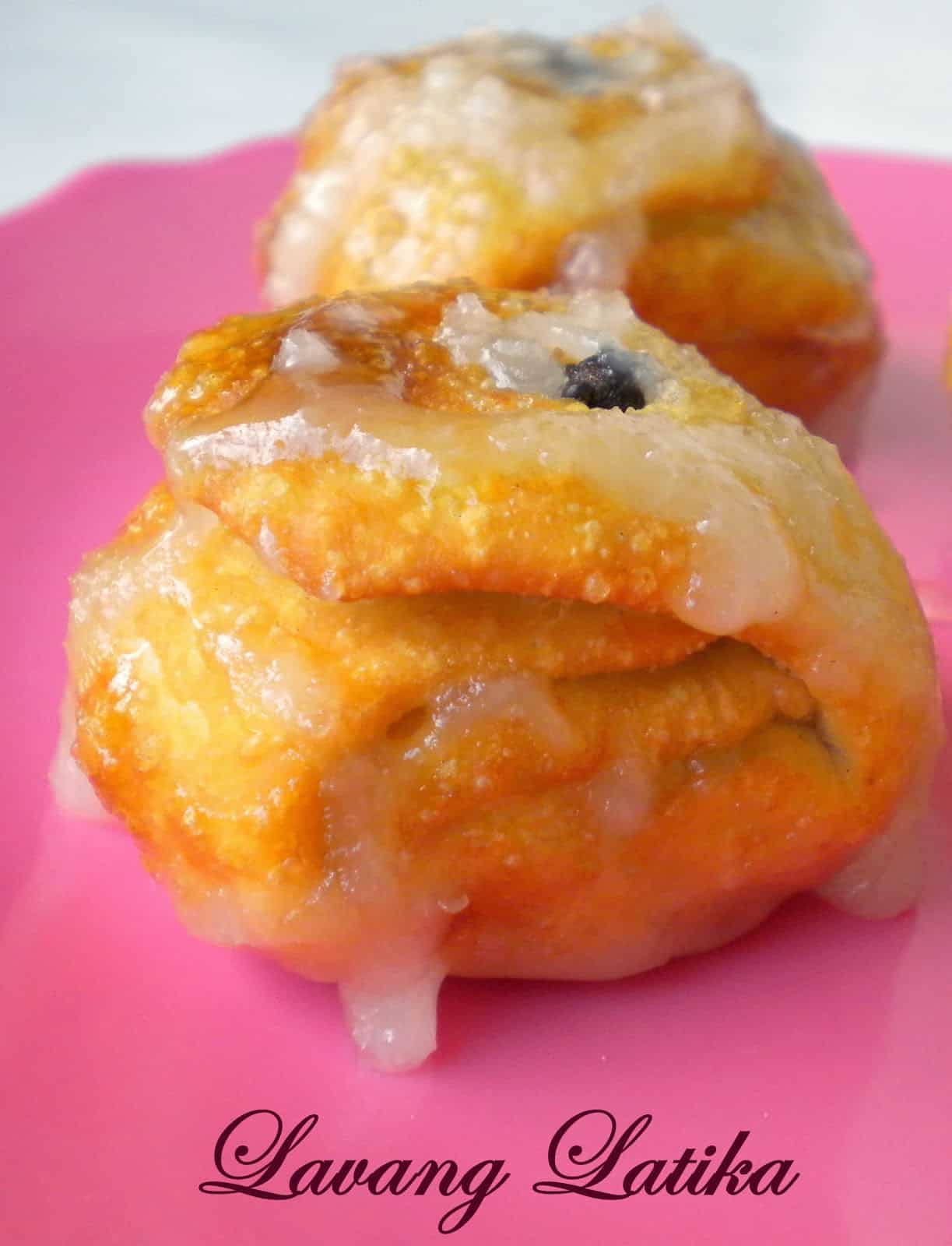 Pin
Notes:

If you are unable to get hold of Khoya you can also use "paal kova" but leave out the sugar.
You can also coconut stuffing used for poli as a variant.
You can also add any food color to the sugar syrup.

 Enjoy this Diwali with this traditional sweet.