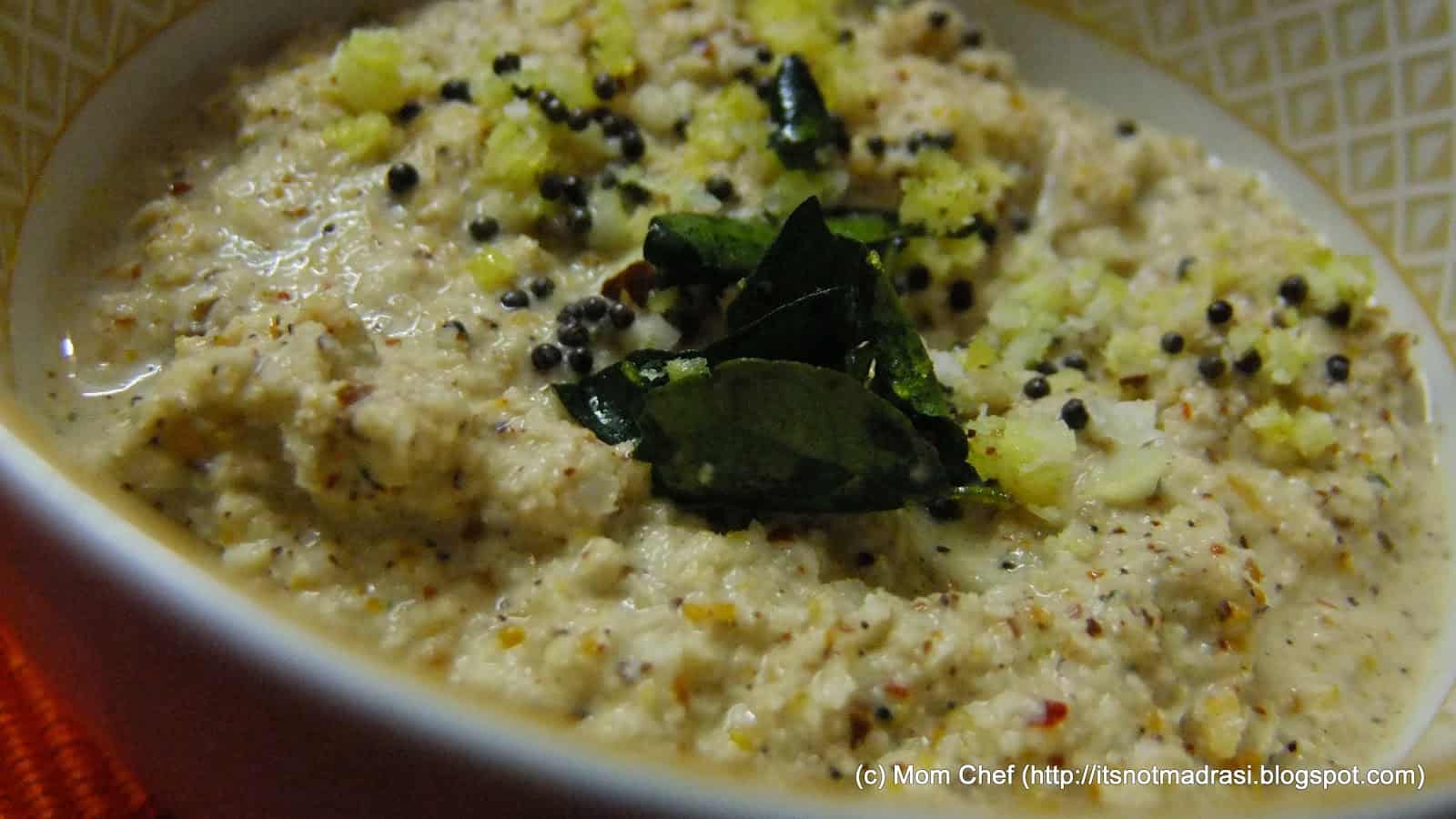 Pin
Thogayal or Thuvayal is one distinguishable feature of South Indian cooking, more specific to Tamilnadu region. It differs from other chutneys not only in nomenclature, but also in ingredients : Although thogayal is largely coconut based, the addition of tamarind and, in some cases, dry methi seeds gives this a distinctive flavour. Also, dry red chillies are favoured additions instead of green chillies in most 'traditional cookery' homes even today for Thogayal. Most Thogayals are  vegetable based too, and I reckon it must have been one way the smart homemaker recycled the vegetable peels / other parts of the plant body, of which vegetarians largely based their recipes around.
There are many popular Thogayals viz., Inji Thogayal, Peerkangai Thogayal (ridge gourd based), Chow Chow Thogayal (made of Chow Chow – another creeper veggie), Pudina Thogayal (mint leaf based). I must however mention that Tamilnadu's Inji Thogayal is slightly different from Allam Pachadi of Andhra  Pradesh. Eaten mixed with hot rice and / or ghee at the beginning of a South Indian meal, these Thogayals differ from the North Indian Chutneys like Khatta Meetha chutney or even the Theeka Pudina Chutney etc as coconut and dals form an important ingredient in the South Indian Thogayal.
"S" loves this Thogayal mixed with hot rice and sesame oil (nallennai) and so does my daughter too and therefore, this dish features atleast once a week in my family's menu 🙂
Sending this to Srav's Roti-Pachadi event
Preparation Time : 15 minutes ; Cooking Time :Nil
Serves : 3
Ingredients:
Ginger 2 inch length (washed and peeled) – cut into flakes.
Channa Dal – 2 tbsp
Hing / Asafoetida – 1/2 tsp
Dry red chillies – 2
Jaggery – 1/2 lemon sized
Grated Coconut – 2 tbsp
Tamarind – 1 lemon sized quantity
Salt to taste
For tempering: Oil – 1 tsp, Mustard seeds, Curry leaves.
PinMethod:

1) In a skillet, heat 1/2 tsp oil. Add channa Dal, red chillies, tamarind, ginger. Fry till channa dal turns golden brown. Cool.

2) Grind together the above dal mixture with coconut, jaggery, salt and very little water. Thogayals are not runny like the normal chutneys as they are eaten with rice.

3) For the tempering: In a skillet, add the remaining 1/2 tsp of oil, splutter mustard , hing and curry leaves. Garnish the Thogayal.

Tips:

1) You may use any leftover Thogayal as a spread on bread slices for a yummy sandwich with or without veggies. You may also add this leftover Thogayal to curd for a quick raitha. Remember to adjust salt carefully.

2) For all Thogayals, grind the ingredients first without water into a dry coarse powder, and only then add enough water just to moisten it lightly.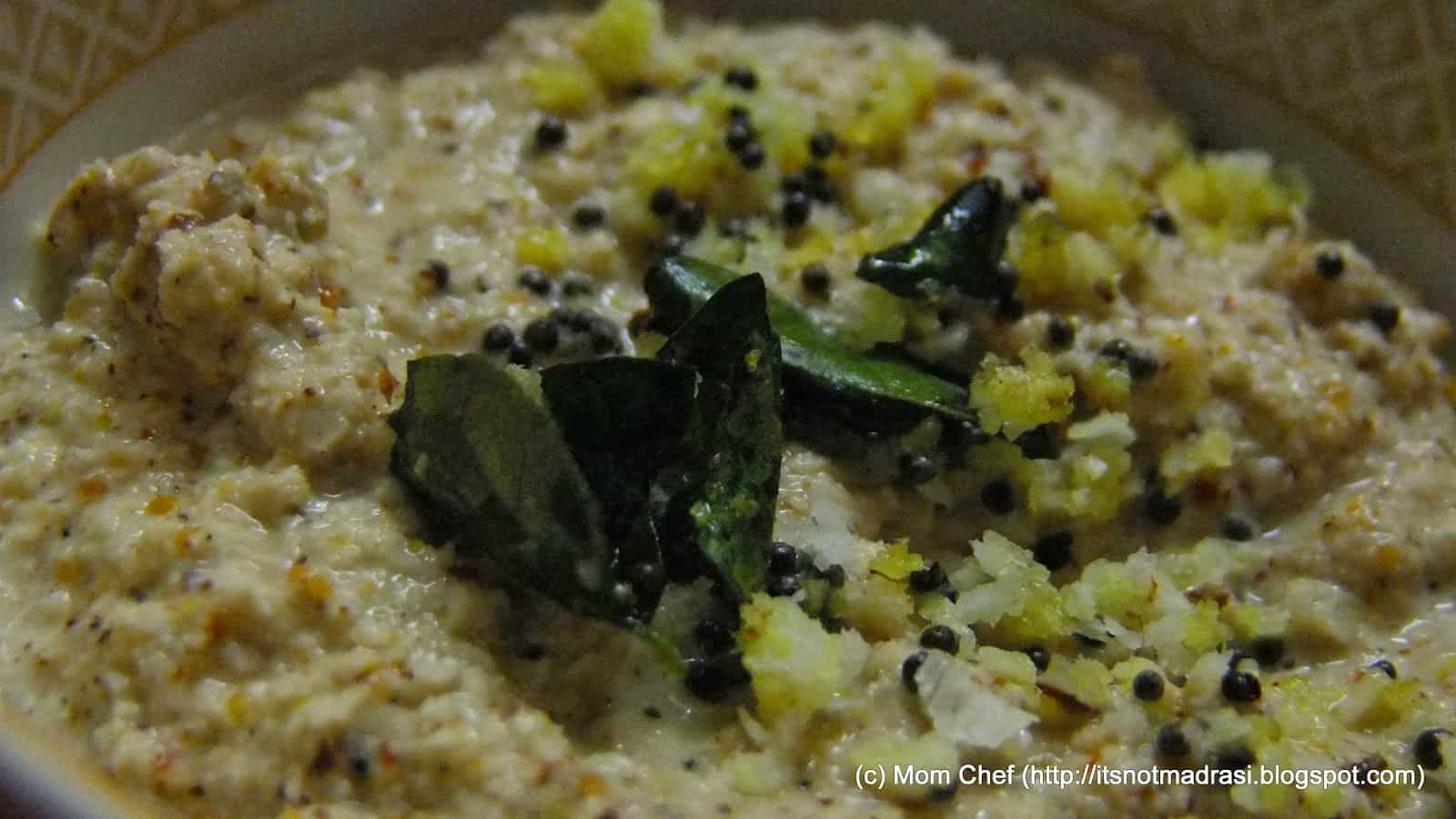 Pin