Certain dishes evoke memories. Of scorchingly humid streets in Kolkata while watching the world pass by as you hungrily gulp matkas of deliciously cold and sweet Mishti Doi. Of Chandigarh where eating (trying to) only half a (giant) ghee laden Gobhi Paratha was considered rude, not to mention that that large glass of lassi would make your stomach burst! Or having Jigar Danda (a delicacy) on the streets of Madurai, while deciding how much more mallipoo (jasmine flowers) you could probably lug back to aroma-starved Mumbai or even doing justice you could do to the yummy and uber-fresh and soft Idlis at Murugan Idli store. And even wolfing down that last plate of masala puri on a gaadi (hand cart) at good old Bangalore, not knowing when you would go back to that city.
Similarly today's dish – Gobhi Jeera Masala – is pure Delhi in its memory, for me. It must have been at the Noida guesthouse that I had this first. Guesthouses being guesthouses, there is a limited menu and that at specific times too. (Unless of course one buttered up the 'chotu' or the 'maharaj' to dish out onion pakoras in the middle of the night). But this dish is definitely full of warmth and goodness with simplicity personified. I had this with butter-soft hot phulkas, a hearty, earthy yellow Dal Tadka and a cup of chilled yoghurt. After a weary long day of travel till your back (and hind) gave way, nothing was more comforting than the earthy aromas of cumin and home-made sabji that this dish gave out. You may use whole cumin in this dish, but I strongly recommend you use freshly roasted cumin powder for a simple but exotic dish ! Off this goes to the following events – Vardhini's New U, Siri's Healing Foods event – Cauliflower, hosted by Vardhini & to Anusha hosting SYF&HWS – Cumin, event by Anu. Also to Indrani's Winter Vegetables event.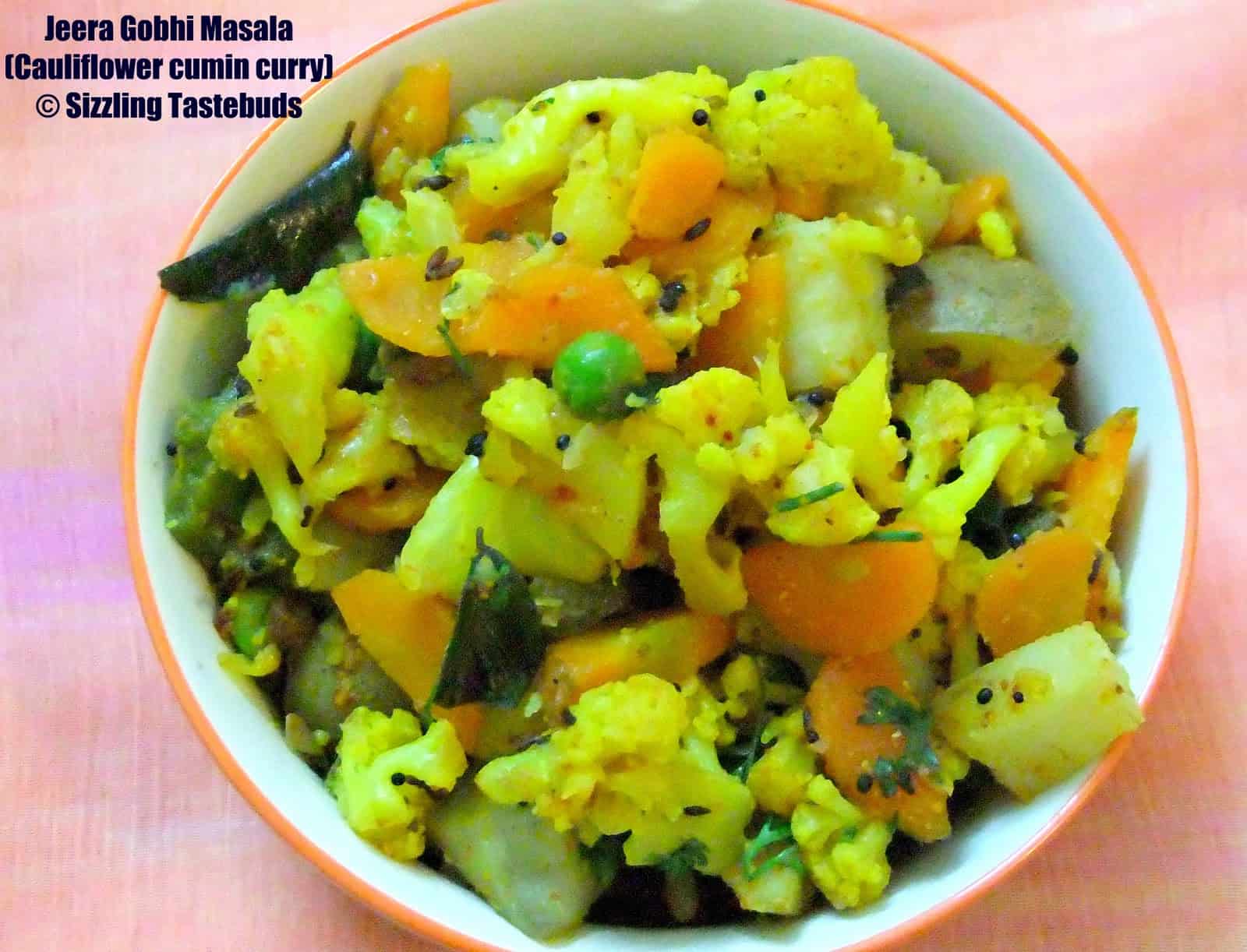 PinPin

Prep time : 15 mins. Cook time : 10 mins.

Serves : 2

Ingredients:
Cauliflower / Gobhi – cut into small florets -1 cup
Carrots – diced – ¼ cup
Fresh peas – a handful (optional)
Potato – cubed – ¼ cup
Roasted Cumin powder – 1 TBSP
Oil – 1 tsp
Salt – to taste
Garam Masala powder – ½ tsp
Tempering: Mustard seeds, Jeera/ Cumin
Green chillies – 2 (OR 1 tsp red chilli powder)
Turmeric – a dash
Amchur / Dry mango powder – ½ tsp
Coriander and lime juice – for garnish
Method:
1) Bring a large pan of water to boil. Add a pinch of salt and turmeric each and add the cauliflower florets into it. Blanch for 8 – 10 mins. Drain and reserve
2) Pressure cook peas, carrots & potatoes for one whistle (else blanch along with cauliflower florets).
3) In a non stick pan, heat oil. Add the tempering. Once the cumin (jeera) and mustard stop spluttering, add the blanched veggies.
4) Now add the roasted cumin powder, garam masala, salt and mix well.
5) Cook covered for 6 -7 mins.
6) Uncover, add the amchur and red chilli powder and sauté again.
7) Garnish with coriander and lime juice and serve hot with phulkas & any dal.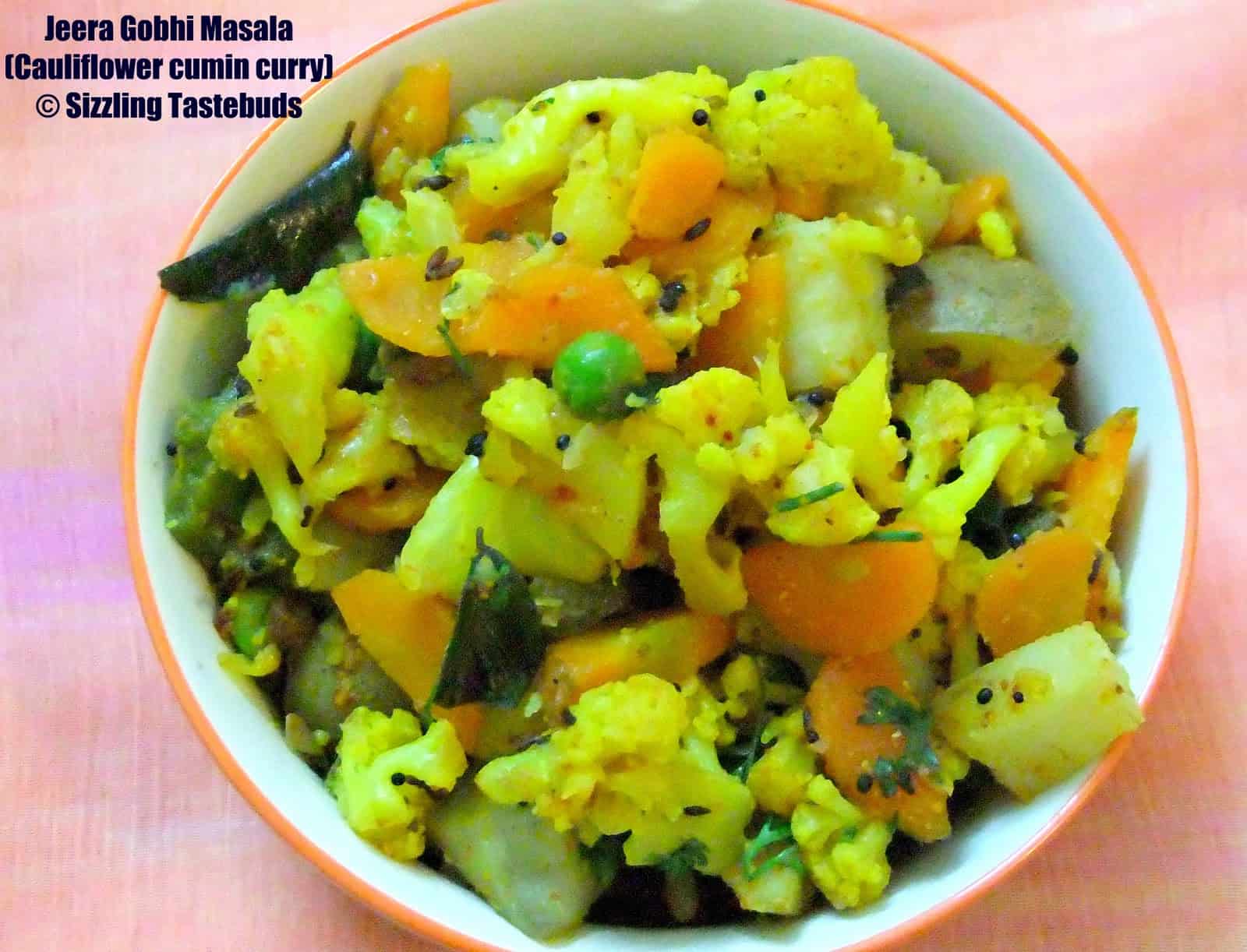 PinPin