This mega BM gave me an opportunity to both procure and cook with Millets. Although we do use Jowar in Thalipeeth, and Ragi (Fingermillet) in Ragi Rotti, Ragi Sevai, Ragi Sankati regularly, it was actually when I made Thinai Pongal last year did we actually relish these millets in everyday dishes. Another recipe with millets is  Foxtail Millet Sevai.
My blogger friend Priya Sri was kind enough to send me a package of these millets somewhere in 2013/14 to get me started and I need to thank her for the millet journey 🙂
Today's is a dish which we make every week now, considering both my kids love Dosas in most forms. Its diabetic friendly too so can be had by diabetics, in moderation of course.
Lets get to Day 6 of JTTC (Journey through the Cuisines) with this easy to make and tasty Dosa.
Foxtail Millet Crepes / Thinai Dosa 
Prep time : 10 mins, Grinding time : 40 mins, Makes : approx 20-25 dosas
Soak time : 6-8 hours
Fermentation time : 10-12 hours (or overnight)
Cuisine : Tamilnadu, Course : Breakfast / evening Tiffins or Dinner
Serving Suggestions : Sambhar / Any Chutney / Molagapudi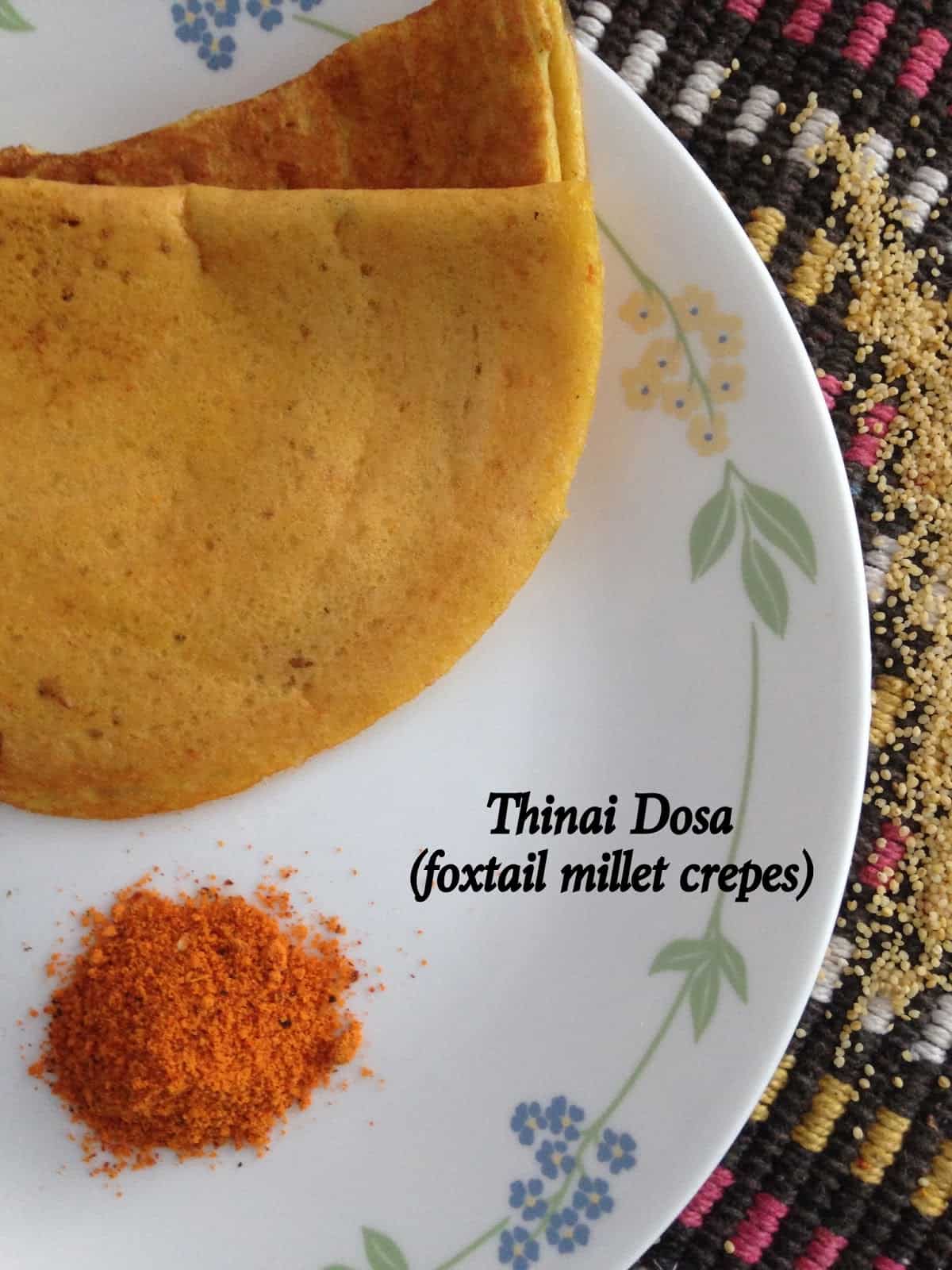 Pin

Ingredients:
Foxtail Millet -3 cups
Urad dal -1 cup
Fenugreek seeds / Methi seeds -1 tbsp
to make the Dosa : Oil as required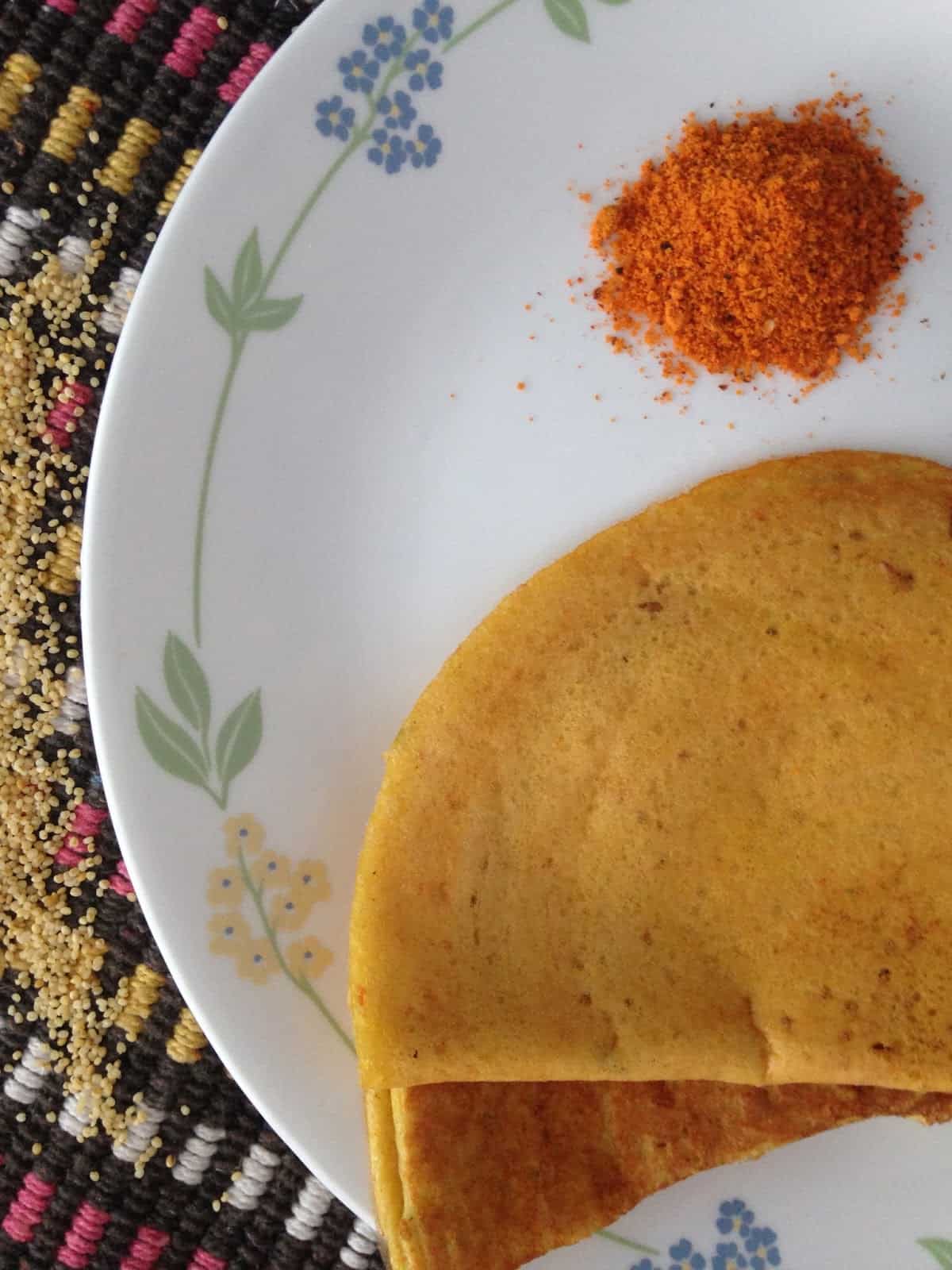 Pin

Method:
Wash and Soak the urad dal+fenugreek seeds separately. Similarly wash and soak the Foxtail millet with adequate water. Soak for min 6-8 hours.
As with any other Dosa batter, grind the two batters separately, mix well and add 1 tsp of salt and mix well.
Let the batter ferment overnight or for 8-10 hours in a warm place.
Before making the dosas, beat the fermented batter well. Take a deep ladle of batter and spread thin on a hot tava / skillet.
Drizzle oil as required. Cook on both sides for 1-2 mins till crispy
Serve immediately with Chutney / Molagapudi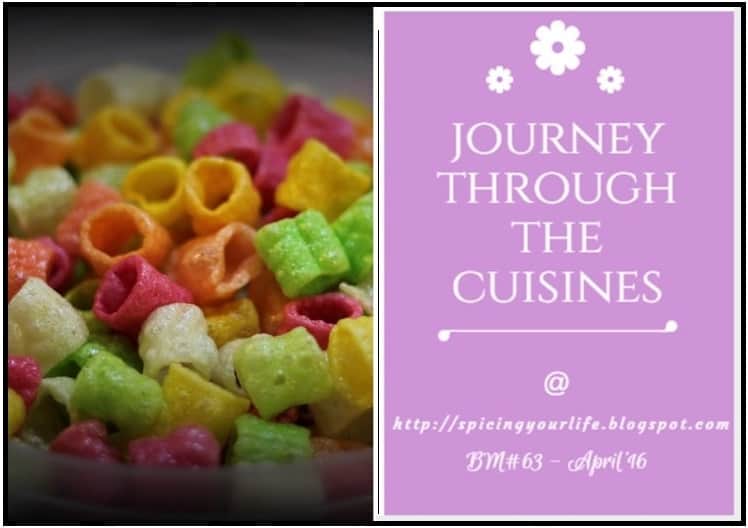 Pin
Check out the Blogging Marathon page for the other Blogging Marathoners doing BM# 63