Chaat
– the name simply induces salivary glands on a overdrive. Memories of food are
always beautiful., and eating chaat with loved ones – on the beach, on the
roadside, from a food cart….. balancing that paper plate and digging into
that yummy concoction that Chaat offers. Its rightly named so, coz Chaat means
to lick , in Hindi. Anyone worth their chaat would surely lick their fingers /
spoons / plates clean to savour the spicy – savoury – sweet – tarty kick that's
only enhanced by the various chutneys that are used – green chilli – mint –
coriander or the red
chilly chutney or the
tamarind-dates (aka khajur chutney).
Today's post is sure to
steal the hearts of both kids and adults alike. I generally have a batch of
boiled chickpeas in the freezer and its pretty easy to put this together.
Addition of yoghurt is a must to this chaat to balance the heat from the fiery
chutney. If not preferred, this can be had as is and the name then changes to
simply Ragda Chaat. Ragda refers to the boiled white peas / yellow peas /
chickpeas which is cooked to almost mushy kind of consistency but still has a
bite. You could use any of these three lentils or a combo.
Enjoy this treat at home as this goes to Blogging Marathon # 53 and also to Sandhya who is hostingKids delight – Snacking all the way series . Also to PJ who is hosting MLLA #84
Similar recipes: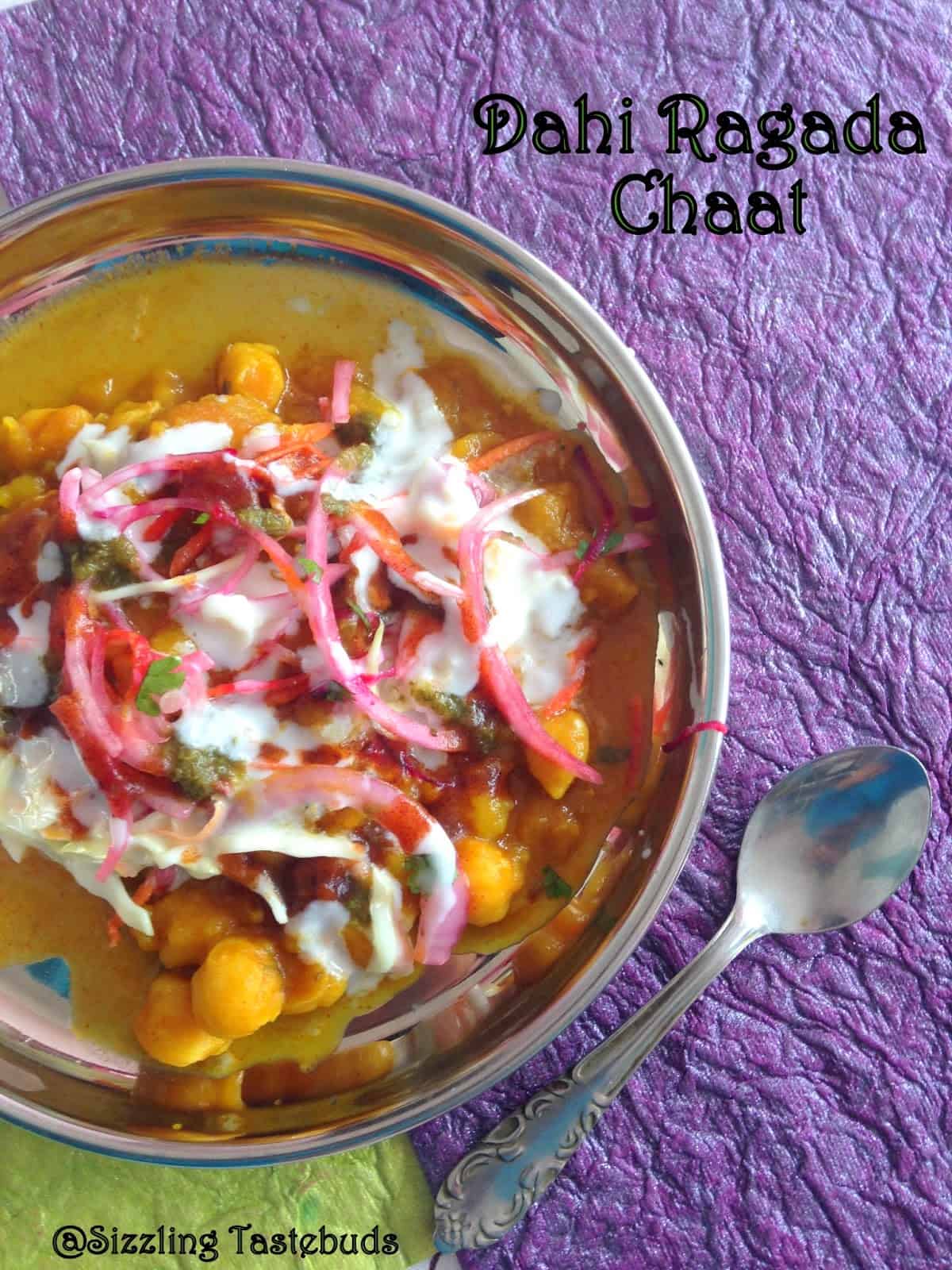 Pin

Prep time : 20
mins | Cook time : 10 mins | Serves : 4

Ingredients:
Cooked
Ragda – 2 cups
Oil
– 1 tsp
Ginger
garlic paste – 1/2 tsp (optional)
Onions
– 1/2 cup (minced fine)
Tamarind
– dates chutney – 3 tsp
Chaat
masala – to taste
Sliced
onions – dipped in vinegar – 1/2 cup
whisked
yoghurt – 1/2 cup
Red
chilli powder , salt, roasted cumin powder – all to taste
optional
garnish : fine sev (chickpeas fritters), coriander and lemon juice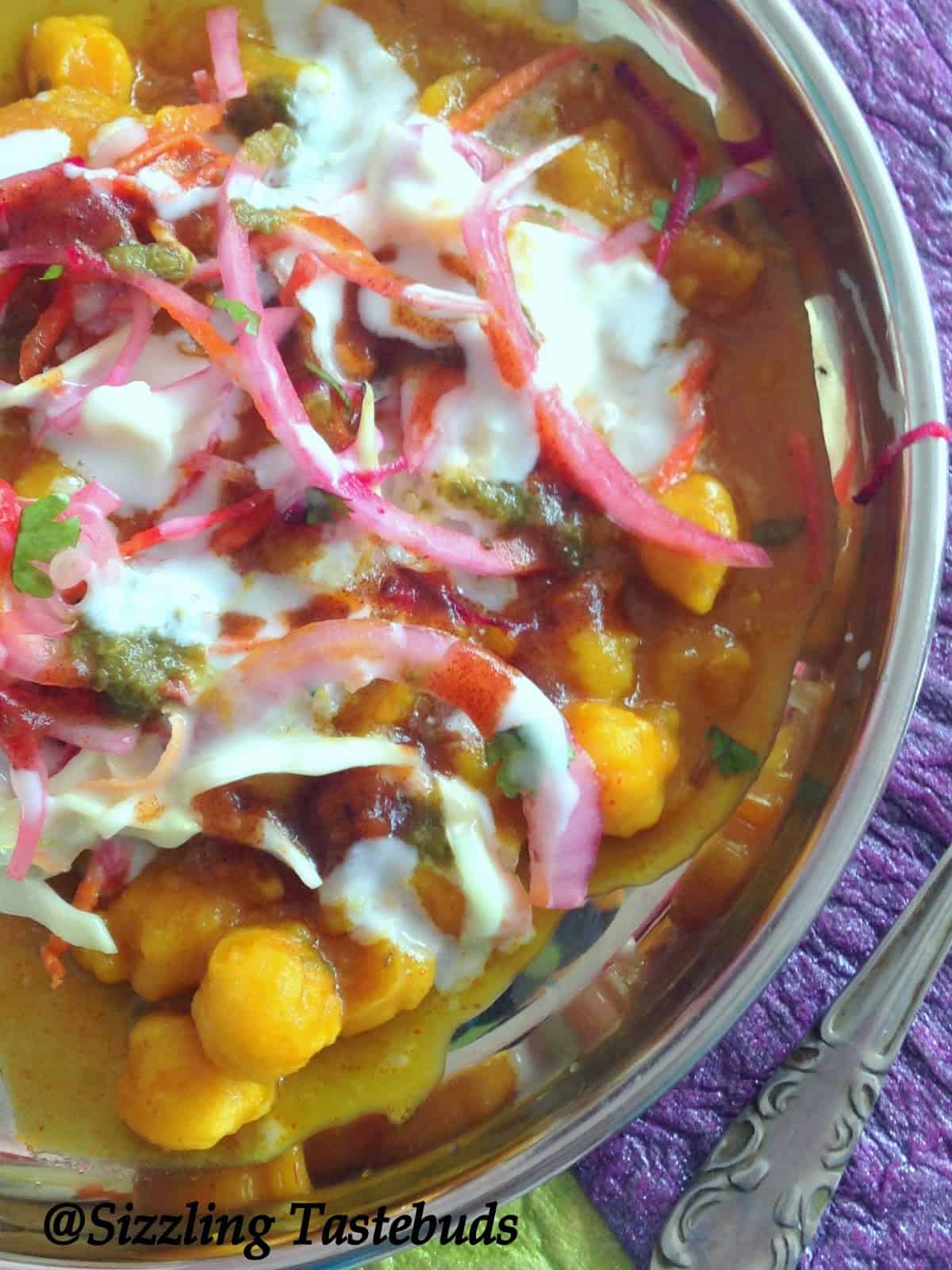 Pin

How to cook:

In a pan, heat 1 tsp oil,
fry ginger paste and onions till onion turn pink and translucent, add the
boiled chickpeas (ragda),1/2 cup water, requisite salt and chaat masala, let it
simmer for 6-7 mins.

How to assemble:

In a plate, make a base of
the cooked ragda mixture, top with chutneys , 1-2 tbsp of whisked yoghurt,
spice powders , sliced onions and serve immediately.

Optionally, you could crush
papdi (maida based savoury biscuits like discs), and then assemble upon it
too.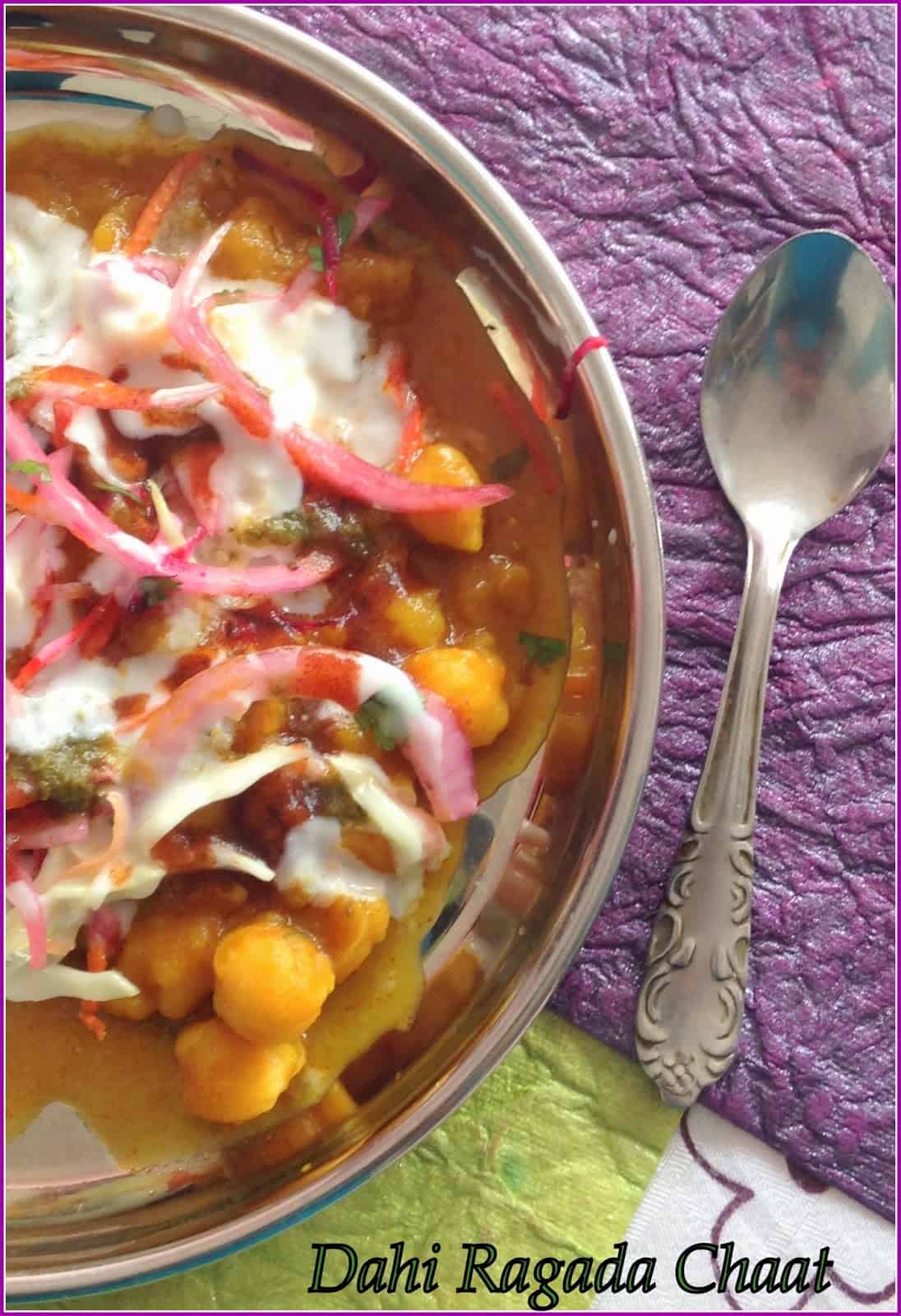 Pin