Come
summer, and we are all looking for a zillion ways to beat the heat right ? Think
smoothies/ raithas/ mocktails– just about anything that would take just very
little time to make and then make a dash to the pool !!
Today's
dish will let you do that – a yummy pickle thats quick to make, great to taste
and a keeper surelyJCucumber Pickle was new to me as well till I made
it..And boy ! Did we love it or what ?? S packed a whole box to his office
where it got promptly polished off, and I loved to mix this with plain steamed
rice or even lap it up with ParathasJ
Pin

Its
tantalizingly good, and although am not a great fan of pickles, this version
surely will feature regularly on my dining table – summer months or not ! I
usually make Pachadior Raitha or even Dal with Cucumbers, but making this
lipsmacking pickle was a new culinary high for me !

Do
try it out and let me know how you liked it. For now, this will go to my own
event – Pickles/ Preserves Fest & a Giveaway (no,I am not eligible for the giveaway, but you are!)Hurry,
and do link your entries for a wonderful giveaway! Also to Jayanthi who is hosting WTML& Krithi/ Denny's Serve it – Preserved

Lets get to the recipe now…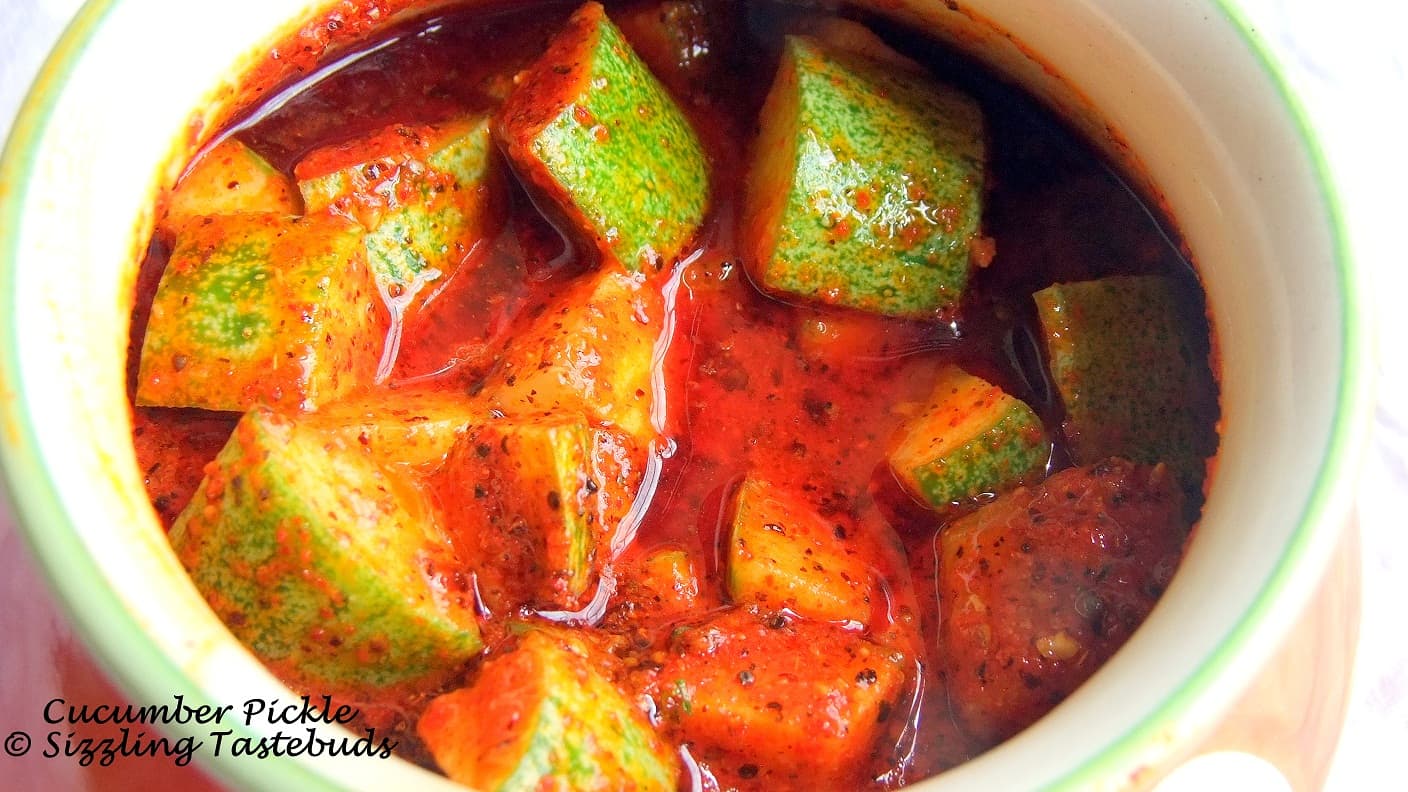 Pin

——————————————————————————————-

Prep time – 20 mins

No cooking required

Makes – Approx 150 – 200 gms of Pickle

Keeps for approximately a month or two (under refrigeration)

Difficulty level – medium

Serving Suggestions – Parathas/ Idli /
Dosa/ Plain steamed rice / Curd or yoghurt rice

———————————————————————————————

Ingredients:

(the quantities in the picture are only indicative but not actual measurements)
Cucumber (very tender variety) – 250 gms (or 2
medium sized ones)
Cooking Oil – ¼ cup (I used sunflower oil, but feel
free to substitute with any flavourless oil)
Salt – to taste ( I used approx 3 TBSP)
Lemon juice – ¼ cup
Pickle Masala powder:
Methi / Fenugreek seeds – 2 TBSP
Mustard seeds – 1 TBSP
Red Chilli powder – 3 TBSP
Asafoetida /Hing– ½ tsp
Turmeric powder – 1 tsp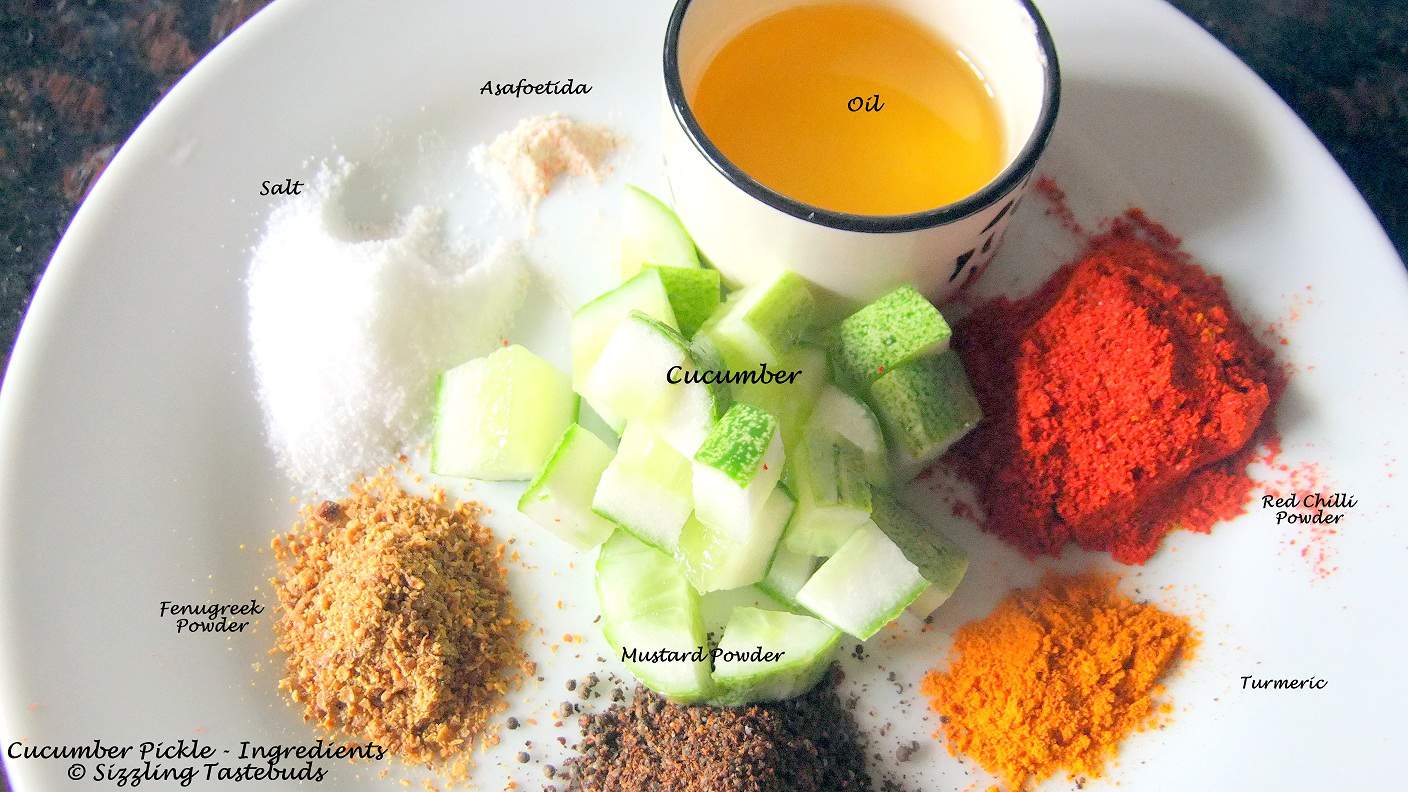 Pickle Ingredients
Method:
1) Wash and pat dry the cucumbers. Deseed them and
cube them. Lay the pieces on a plate lined with absorbent tissues.
2) Pat them dry with another paper towel.
3) For the pickle masala: Dry roast methi (fenugreek
seeds) and mustard seeds separately. Powder them in a stone mortar (or briefly
pulse them in a spice grinder). The former method of using a stone and pestle
is preferred as heat from the mixer grinder doesn't bear well with any pickle.
Also dry roast the red chilli powder, turmeric and asafoetida separately and transfer
to a plate.
4) Sterilise a glass jar (or a ceramic container). Dry
thoroughly with a soft clean muslin cloth.
5) In a large clean glass bowl, add the cucumbers, the
ingredients of the pickle masala (powdered mustard, powdered fenugreek,
asafoetida , red chilli powder and turmeric powder) and give it a nice stir.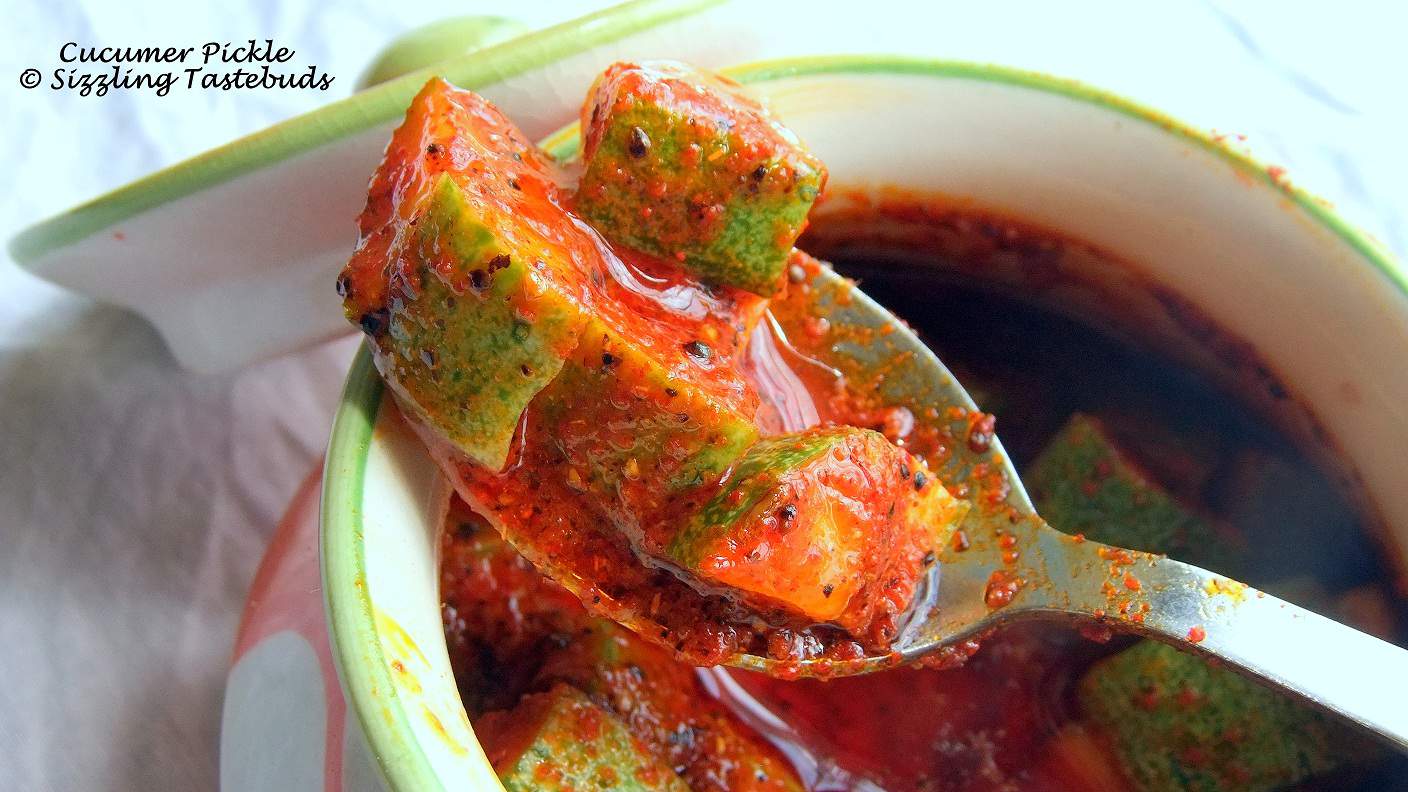 Pickle Consistency after two days
6) Now add the salt, lemon juice and oil and with a clean
dry wooden spoon, mix the pickle well.
7) Keep lightly covered for 1 hour. The pickle will
become oozy and irresistibly aromaticJ
8) Stir once more and transfer to the sterilised container.
9) Refrigerate and use as required. I made a slightly
large quantity, so it lasted for almost a month.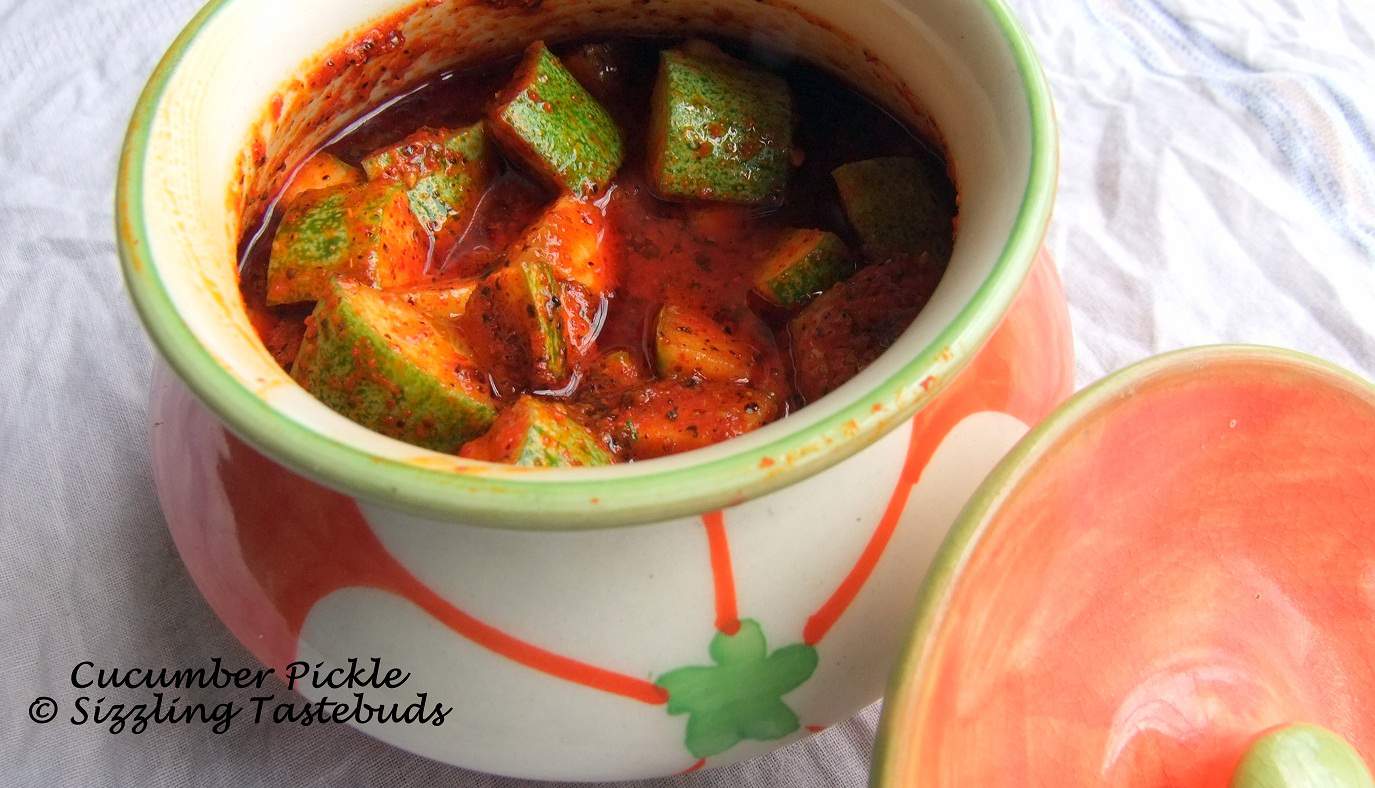 Pin