Sundal
or steamed salad with legumes features very often in our menu, and not just for Navratri offering – we make it out of most legumes : Channa dal, Chickpeas, Masoor Dal,Green Gram (payaru), Avarekaalu (hyacinth bean) etc.. I generally have
a batch of cooked kala channa / chickpeas in my freeZer . In emergencies, just
take out a batch and sauté it with easily available ingredients and you have a
wonderful usli / Sundal on hand – filling, proteinicious and almost zero oil.
As winter is almost upon us, I have access to
fresh peas. What better way to savour it fresh and off the pod ;)) today's dish
is a easy breezy snack that's great to curb the 5pm cravings or even add up a
protein in your kid's lunch box. Green peas Sundal is crazily easy to make as I
prefer fresh peas to soaked peas for maximum taste.
So go on and make it as this Dish makes it way to BM 46 under legumes and lentils and Valli's Kids Delight Lunch Box with Nuts and Legumes .. 
Hope u enjoyed the Nuts and Legume series with No-bake choco nutty bars, Oats-moong tikki and today's dish – Battani Sundal (fresh green peas salad). Stay tuned for a different theme next week :-))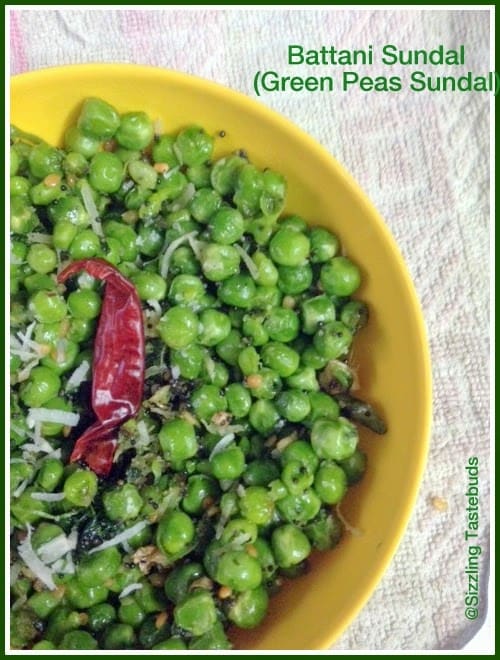 PinPin

Prep time : 5 mins ; cook time : 15 mins ;
serves : 2




Ingredients:

Shelled Fresh peas – 1 cup (if using the dried green or
yellow peas, soak overnight and pressure cook till done but not mushy ; if using frozen, thaw for 10 mins and pressure cook for just 1 whistle)

Oil – 2 tsp

Tempering : mustard seeds, Urad Dal (1/2 tsp), asafoetida, red
chillies, ginger grated,curry leaves n coriander leaves

Fresh coconut – grated – 2 tsp

Salt – to taste

Lemon juice – 1/2 TBSP (optional)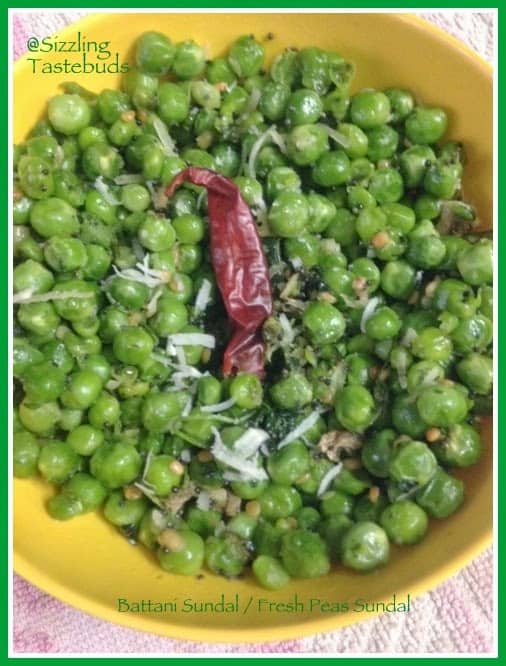 Pin




Method :
Pressure cook peas for 1-2 whistles with very
little water (just 1-2 TBSP will do)

Drain all the water.

In a pan, heat oil, prepare the tempering. Add
the cooked peas, sauté well.

Add salt, check for seasoning

Finish with coriander leaves, lemon juice and
fresh coconut.

Serve warm or at room temperature.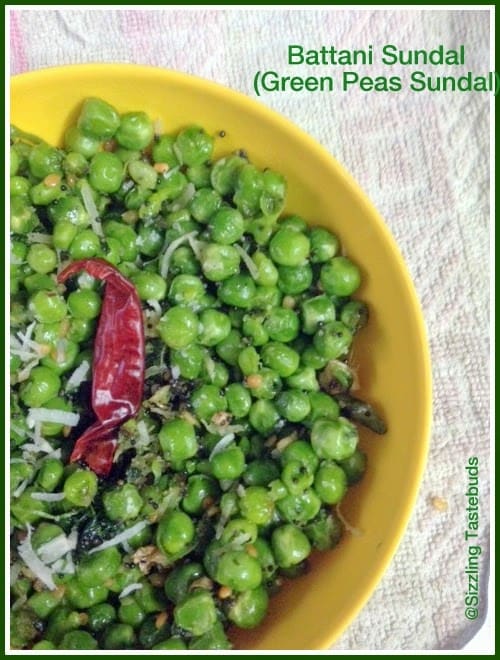 PinPin