This GOTTO be the most awaited recipe, not just for me, but for my little angels. They have now got used to eating homemade pizzas, which are a lot more healthy and way less cheese than home delivered / takeaway pizzas made commercially, and they don't complain at all.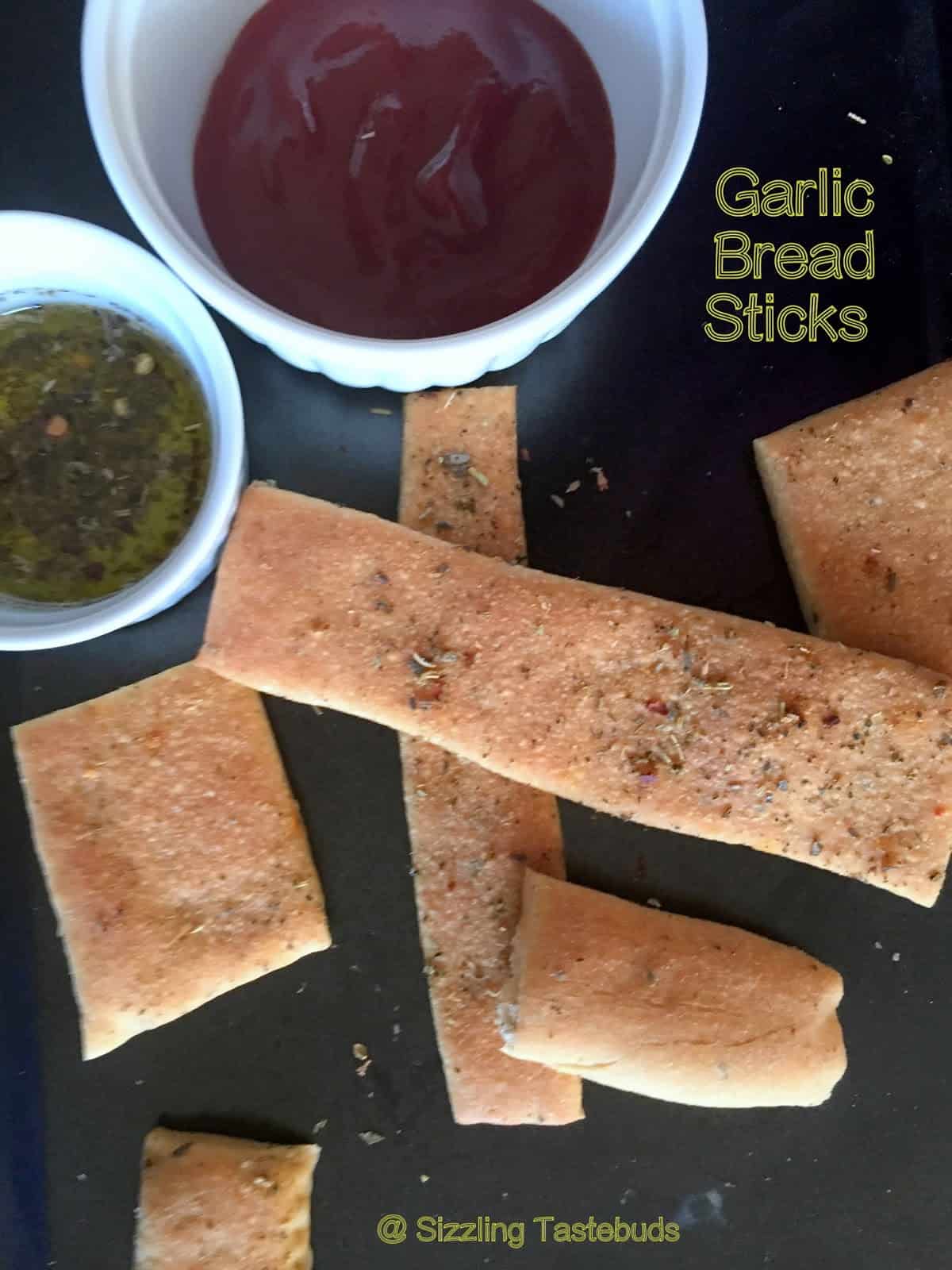 Pin

But this Dominos style garlic sticks is their favourite, and after seeing a lot of recipes online including Pavani's Pizza Bread sticks (from her Olive Garden favourite menu), I found that making these werent so tricky at all. Thanks Pavani for the inspiration and the push to make these 😀

Save for the copious butter and garlic thats in some of these recipes, it was pretty easy to customise. I could save only a few sticks from the kids and their friends who enjoyed these (almost) wholewheat cheese sticks.

And yes, no more Dominos / store bought Garlic sticks for us 😀

I went with 50-50 of APF and Wholewheat as I felt it needed a slight sponginess that comes from perhaps bread flour or APF. But you could go 100% either way. Next time I make it for the husband and myself , I am sure to try with just wholewheat. I am sure the recipe is so wonderful and delicious, we wont mind the wholewheat version 🙂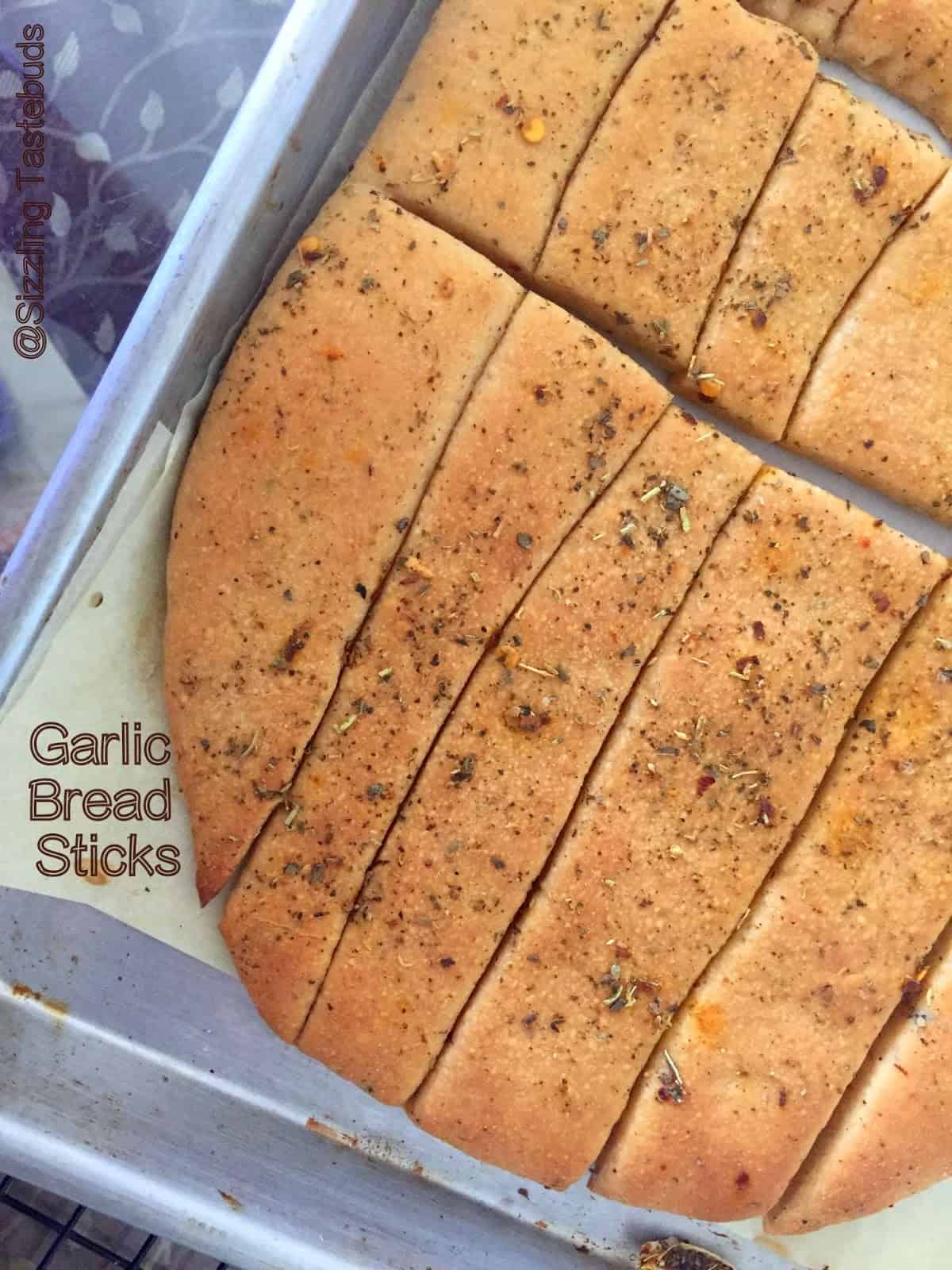 Pin

Sending this to Day 4 of Bakeathon. Check out the other marathoners here for the treats dished so far. For the treats dished out till now, head here for the running recap…

Prep time : 15 mins (incl kneading). Standing/ rise time : 2 hours + 30 mins |

Serves : 4 kids

Ingredients:
Wholewheat flour – 1 cup
Maida / APF – 1 cup
Salt – 1 tsp
Sugar – 1 TBSP
Yeast – 1.25 tsp
Olive oil – 6 TBSP (divided use)
Dry Chilli flakes – 1 tsp (moderate according to kids' choice)
Butter – 3 TBSP (opt. but recommended – can use vegan butter for vegan version) – divided use
Pizza seasoning – 2 tsp
Warm water – 1 cup + 2 TBSP (depends on flour quality)
Cornmeal – 3 TBSP (I used very fine fine sooji / semolina)
Minced garlic – 3 tsp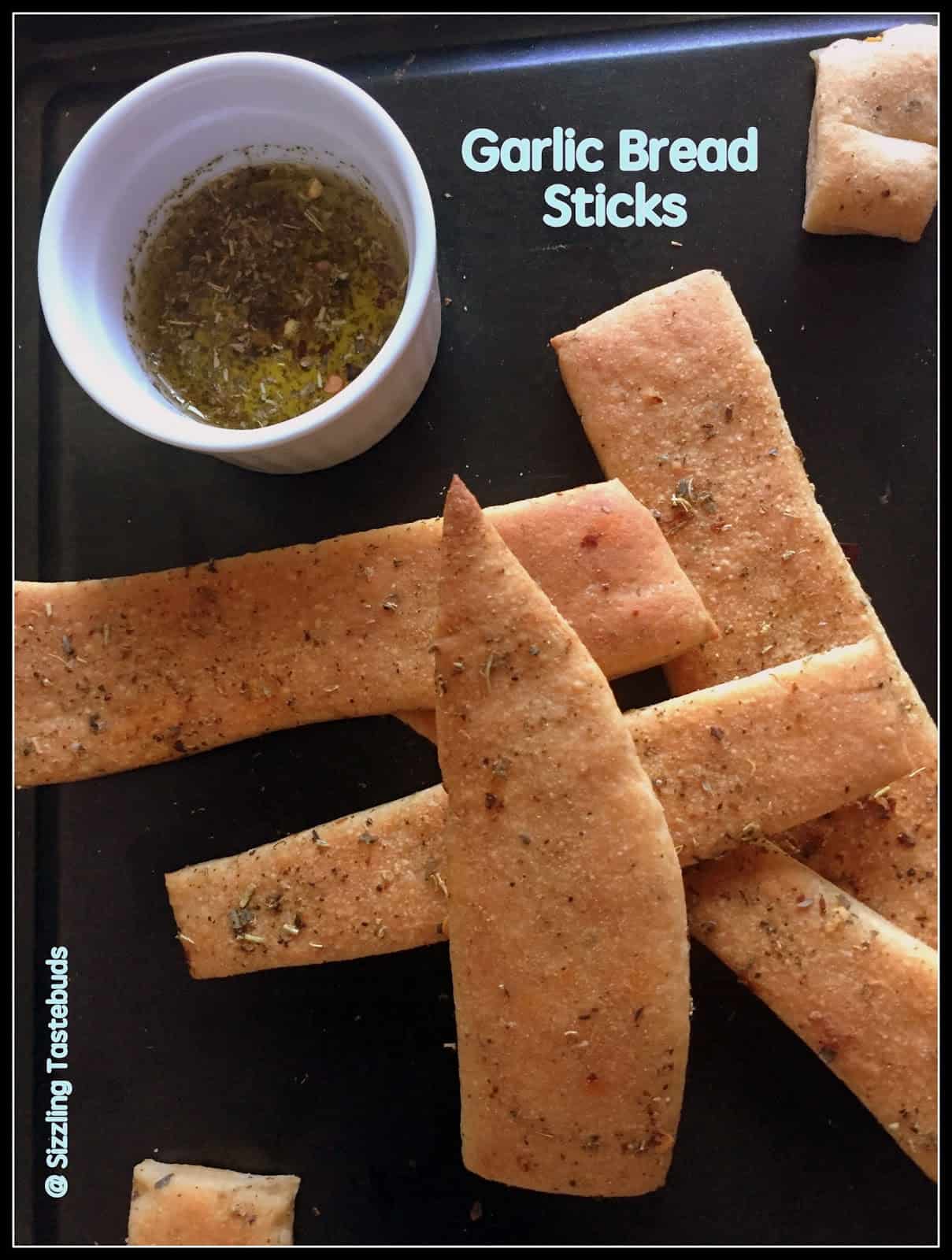 Pin
How to:
In a stand mixer or large bowl, add water , sugar and yeast. Mix well. Leave aside for 15 mins (this step is optional and many prefer to add the yeast directly to the flour, but I prefer to proof the yeast everytime).
Once yeast blooms, add the salt, half the oil and whisk very well. Add the flours one by one, 1 tsp of the pizza seasoning and red chilli flakes and knead to a very smooth dough – mine took 10-12 mins.
Cover with a cling wrap and let it rise (as its slightly chilly, it took about 1.5 hours to rise double)
Once risen, punch the dough and knead for 2-3 mins again.
Meanwhile Mix the remaining oil,melted butter and minced garlic and slightly microwave for 25-30 seconds. Let the garlic seep and stand for atleast 30-45 mins for full flavour (through the second rise)
Line a baking tray, spread the cornmeal / semolina lightly. Take the dough and flatten it out within the tray (alternatively, I rolled out the dough with some dry flour to the approx size of the pan and lay it very carefully into the semolina dusted pan and spread it almost till the edges). **
Make incisions with a sharp pizza cutter / knife to the shape / size you want those sticks (typically these are rectangular). **
Cover and rise for 30-45 mins. Towards the end of the 2nd rise, preheat oven to 200 C / 425 F.
Brush with the garlic oil, sprinkle some more seasoning.
Bake for 15-20 till tops are crisp and golden brown. Once out of the oven, brush with more butter-oil-garlic seasoning for an aromatic treat !
Cool slightly on a wire rack and serve warm with seasoned olive oil and tomato sauce. Tastes yummy as is. :))
** (As seen below)the second and third time I made this, I rolled out the first risen dough into a large circle, applied all the garlic seasoning, folded into a semi circle and cut out thickish batons all through the dough, yet not separating them. Both versions tasted yummy !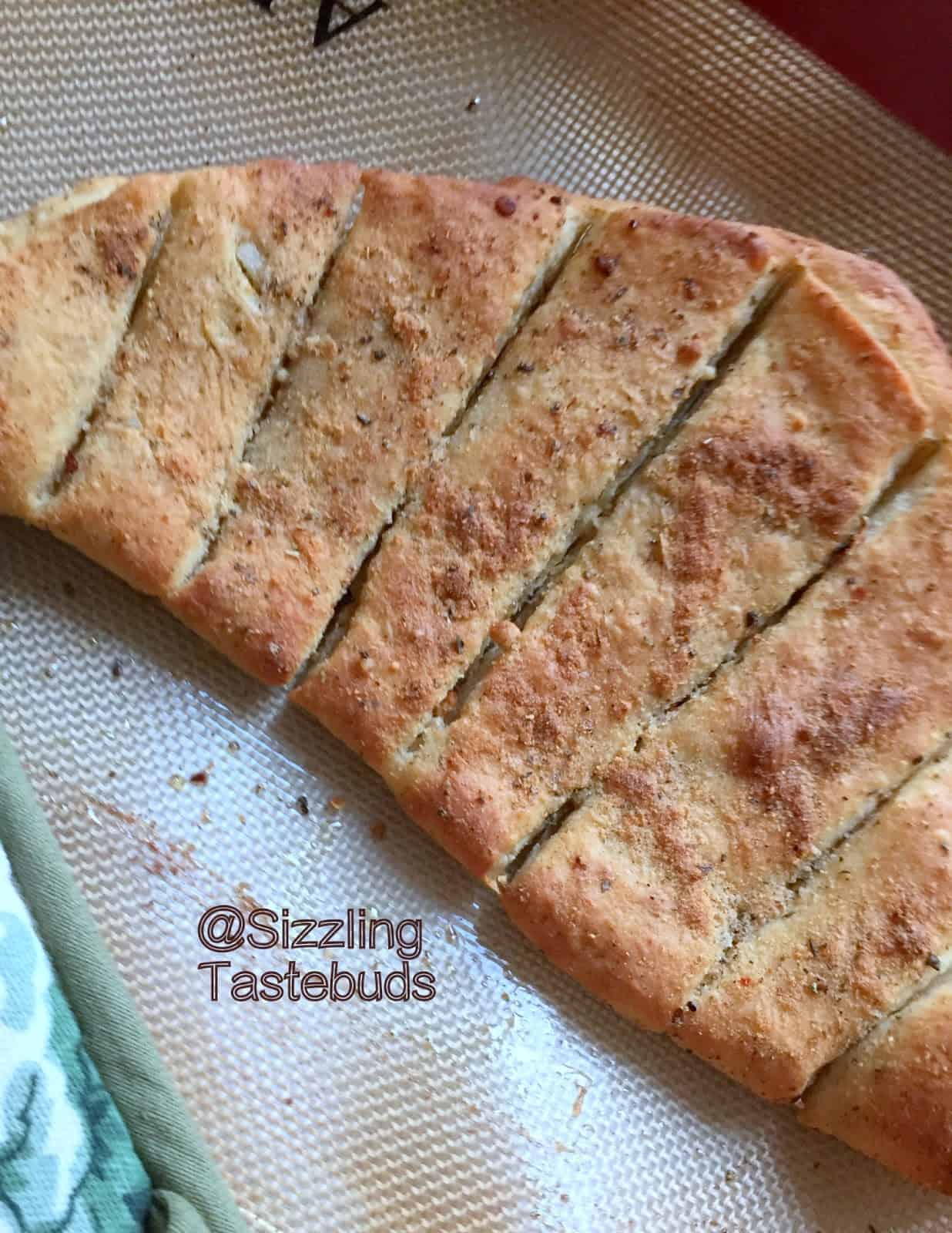 Pin
This is part of the
Bake-a-thon 2015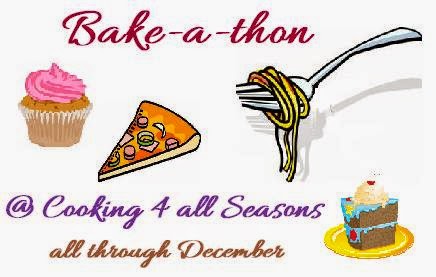 Pin