Coming to the last day of the Kootu series in this Blogging
Marathon. After Karamani Kootu, Podalangai Poricha Kootu, today's dish Ezhu Kari Kootu (Tamil : Ezhu – 7, Kari – vegetables or gravy made with 7 veggies) is made
expecially for Pongal (Tamil Harvert Festival) to celebrate the harvest season.
Traditionally, it uses most of the fresh harvest and is spiced in a mild gravy.
Pairs amazingly well with Hot rice and Tomato Rasam.
Although it doesnt use Onion or Garlic , as its made for a festival, its spice
comes from Green chillies. In my house however, we prefer red chillies..
Part of a rather elaborate Pongal menu
comprising Ven
Pongal (or Khara Pongal), Sakkarai
Pongal (Sweet Pongal), Mor Kozhambu, Rice and Papad, this
dish is known for its curative properties to aid in digestion after all the
ghee and carbs consumed during the festive feast. Lets get to the recipe that
is making its way to BM # 28 under "Tamilnadu
Kootu". Thanks to Valli, these recipes saw the light of the day.. wish we had a week long Kootu theme, so could explore many more options :-))
Note: I have mentioned the 7 veggies that go into this gravy. Feel free
to add or leave out any more that you wish to.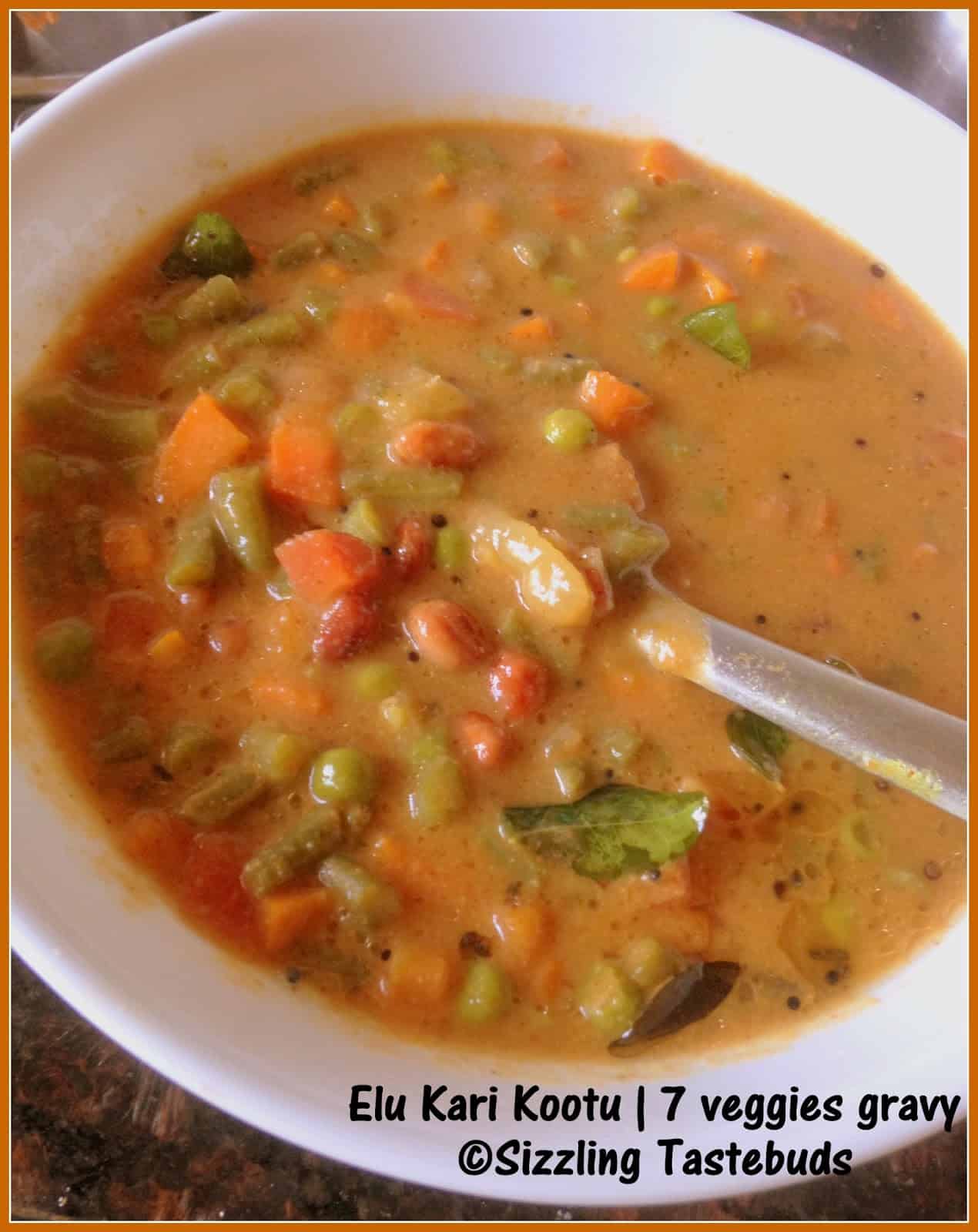 Pin
Prep time : 15 mins | Cook
time : 15 mins | Serves : 4
Spice Level : Medium | Difficulty
level : Easy
Serving accompaniments : Rice
and Papad or even Chapatis (Indian Flat bread)
Ingredients:
Moong Dal – 1/4 cup
Salt – to taste
Turmeric – 1/2 tsp
Tempering : Oil (1 tsp), curry leaves,
asafoetida, peanuts
The 7 veggies (totalling approx150gms
in raw and cut form)
Green plaintain – 1/2
Flat beans – 2 handfuls
Yellow Squash / butternut squash
– about 50 gms
Broad beans / flat beans – about 50
gms
Colocasia / Arbi – 4 to 5 medium
Sweet potato – about 1 small
Yam / elephant foot – a small piece
(those who are allergic to this veggie can substitute with carrots /
french beans – about 30 – 50 gms each)
Masala Paste:
Coconut – 1/2 cup
Cumin – 1/2 TBSP
Black pepper – 1/4 tsp
Red chillies – 1 or 2 (adjust spice)
Raw rice – 1/2 tsp (optional – to add
thickness – you may also use 1 tsp rice flour)
Method:
Wash, peel / string and chop all
veggies to equal size. Soak Moong dal for 10 mins in warm water.
In a large pot, bring about 3 -4 cups
of water to a rolling boil. Add a pinch of salt and the chopped veggies and
cook for 8- 10 mins till al dente.
Pressure cook Moong dal for 1 whistle
with turmeric. Cool.
Grind all the ingredients under masala
paste with lil water to a thickish gravy
In a pan, add oil, prepare the
tempering. Add the masala paste, fry till oil separates.
Add salt and boiled veggies. Let it simmer
further for 3 -4 mins covered.
Once done, serve with hot rice and Tomato Rasam.