My go-to person for salads is dear
husband. Having travelled far and wide, his taste in world cuisine is
impeccable. Being a foodie himself, he appreciates me quite a bit and
encourages me to keep trying new cuisines, salads especially. Today's Roasted Bell
Pepper Salad with Feta & Orange Vinaigrette is one such
inspiration and is a superbly quick and yummy one to make. It can be had all
the year through, especially the summers when one craves for light quick meals.
And salads are great on the tummy too.
We are not great fans of the Russian
Salad types where mayo or any heavy dressing is used. This salad today fits
perfectly into any weekday or even weekend dinner as a stand alone meal. The
fresh orange vinaigrette was perky, wholesome and added texture to
the entire meal. Team this up with any toasted or baked bread and you have a
yummy combo meal. Lets get to the recipe, shall we ?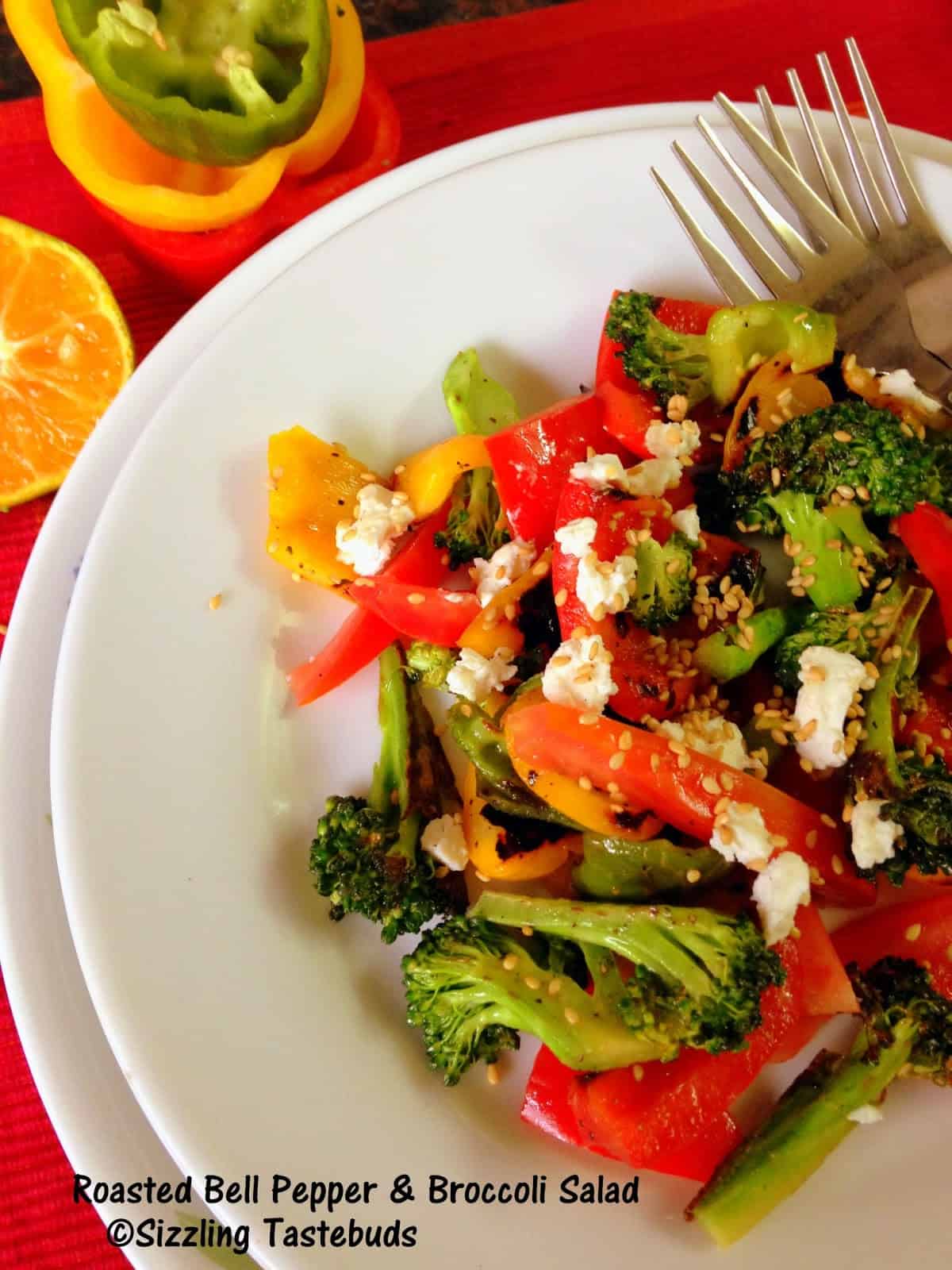 Pin
Prep time : 15 mins | Sauteeing time :
3 -4 mins | Serves : 2
Difficulty level : Easy
Linking this to BM # 26 under "Soups and Salads" where I join my fellow marathoners here. Also to Sangee's event – Show me your HITS – Diabetic Dishes, hosted by Soumya and Akila's event Dish starts with R. Finally to my own event Winter Food 30 min Foods that ends 5th March. Also to Priya's Healthy Me- Healthy Us event
Ingredients for Salad :
Bell pepper / Capsicum – 1/2 each of
any colour (I had 3 coloured ones, so used them)
Broccoli – 100 to 150 gms – cut into
medium sized florets
Tomatoes – firm – 1/2 – desseded and
cut into 1″ batons
Olive Oil – 2 TBSP
Crushed black pepper – 1/2 tsp
Salt – to taste (remember, Feta is
sharp and salty, so use salt accordingly)
Topping:
Feta Cheese crumbled – 2 to 3 TBSP
Roasted Sesame seeds
For the Citrus / Orange Vinaigrette:
Balsamic Vinegar – 1 TBSP
Fresh Orange Juice – 1/4 cup
Brown Sugar – 1 TBSP
Crushed Black pepper – 1/2 tsp
Olive Oil – 1 TBSP
Salt – a pinch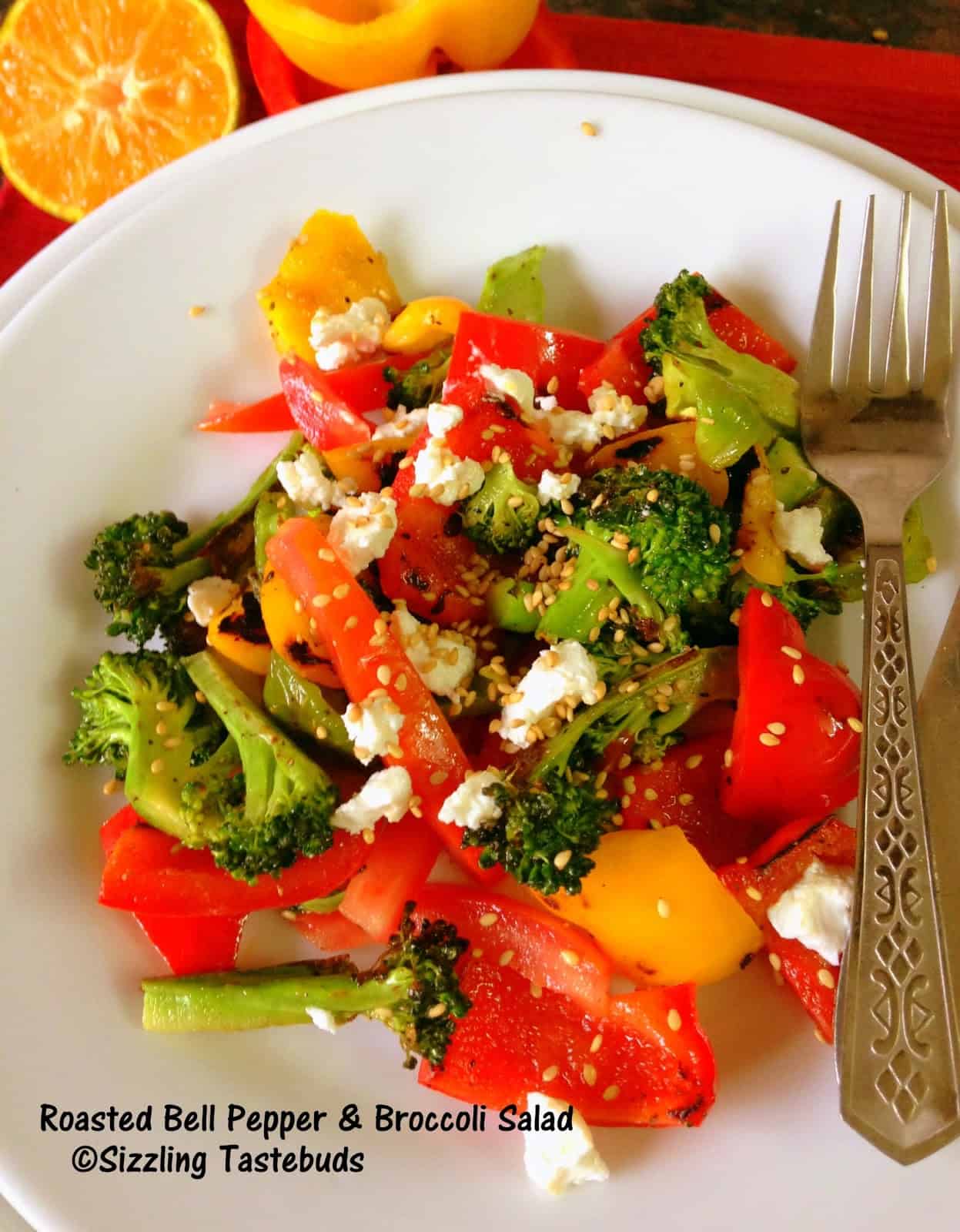 Pin
Method:
Wash and deseed the the bell pepper .
Cut into triangles or square shaped pieces, slightly flatten them with your
fingers. Wash and cut broccoli into florets.
Heat a frying pan / tava (skillet) and
place the cut bell peppers and broccoli. Drizzle the olive oil on them and
sprinkle a little salt and 1/2 the quantity of black pepper.
On a low- medium heat, roast them for
2- 4 mins till they are slightly charred, but dont burn (Alternately you could
bake them in a pre-heated oven at 160 / 170 C on a lined tray, but that works
for a larger quantity, and the tava method was quicker)
Once they peppers are done (they take
lesser time to roast), remove to a bowl and immediately cling wrap the bowl
(this helps releases the water and prevents them from getting soggy)
Keep an eye on the broccoli and remove
to a bowl once they are mildly roasted but still retain the crunch
For the Vinaigrette : Whisk together
all the ingredients and mix till the sugar is dissolved and the olive oil
blends with the Orange Juice. Chill for 5 mins if possible. (Tip : If you are
out of Orange juice, you could also mix Sweet Lime Juice with a tsp of Lemon
juice).
To serve: Toss the bell peppers and
broccoli together. Add the tomato batons (raw).
Check for salt and seasoning. Just before serving add the
Orange Dressing and Feta Cheese. Toss just once and top with roasted Sesame
seeds and serve immediately.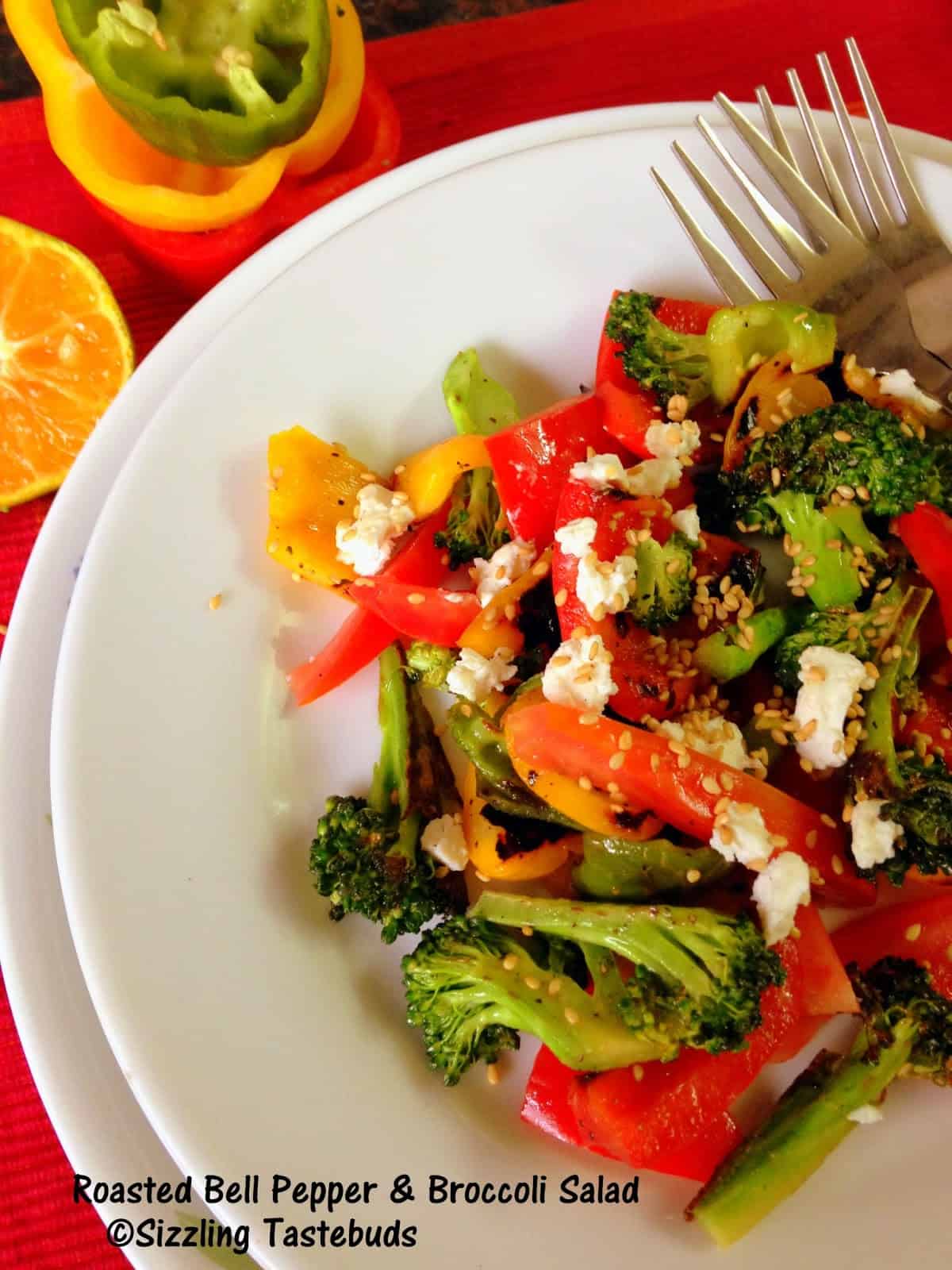 Pin