Bonda and no fry ? Bonda and healthy ? I must be kidding right ? Nope – this version of healthy veggie bonda is sure to be a hit in your family too as they were in mine. Looking forward to using the panner in the pantry in a healthy dish, I experimented with this method of using a Kuzhi paniyaaram device and it turned out to be drroooolworthy , even by my the standards of my biggest food critic – mom 🙂 !
Now who can resist bondas , right ? And having been on the healthy-eating wave for some time now, I am happy I have discovered this method of satiating a deep rooted craving for monsoon – favouring foods : the low cal way ! Lets walk oevr to this recipe for Healthy Carrot – Panner Bonda
J Do try it out friends and let me know how you liked it !
Loaded with protein from Paneer and the powerhouse Methi (fenugreek leaves) and Carrots, this is sure to be a hit in your party as a appetiser – even for those no-onion and no-garlic picky eaters. As I was also making this for my kid as an evening appetiser, I refrained from adding green chillies or ginger,but do ahead and give it a shot ! With or without a cup of tea / coffee, I am sure this would be a super hit in your kitchen too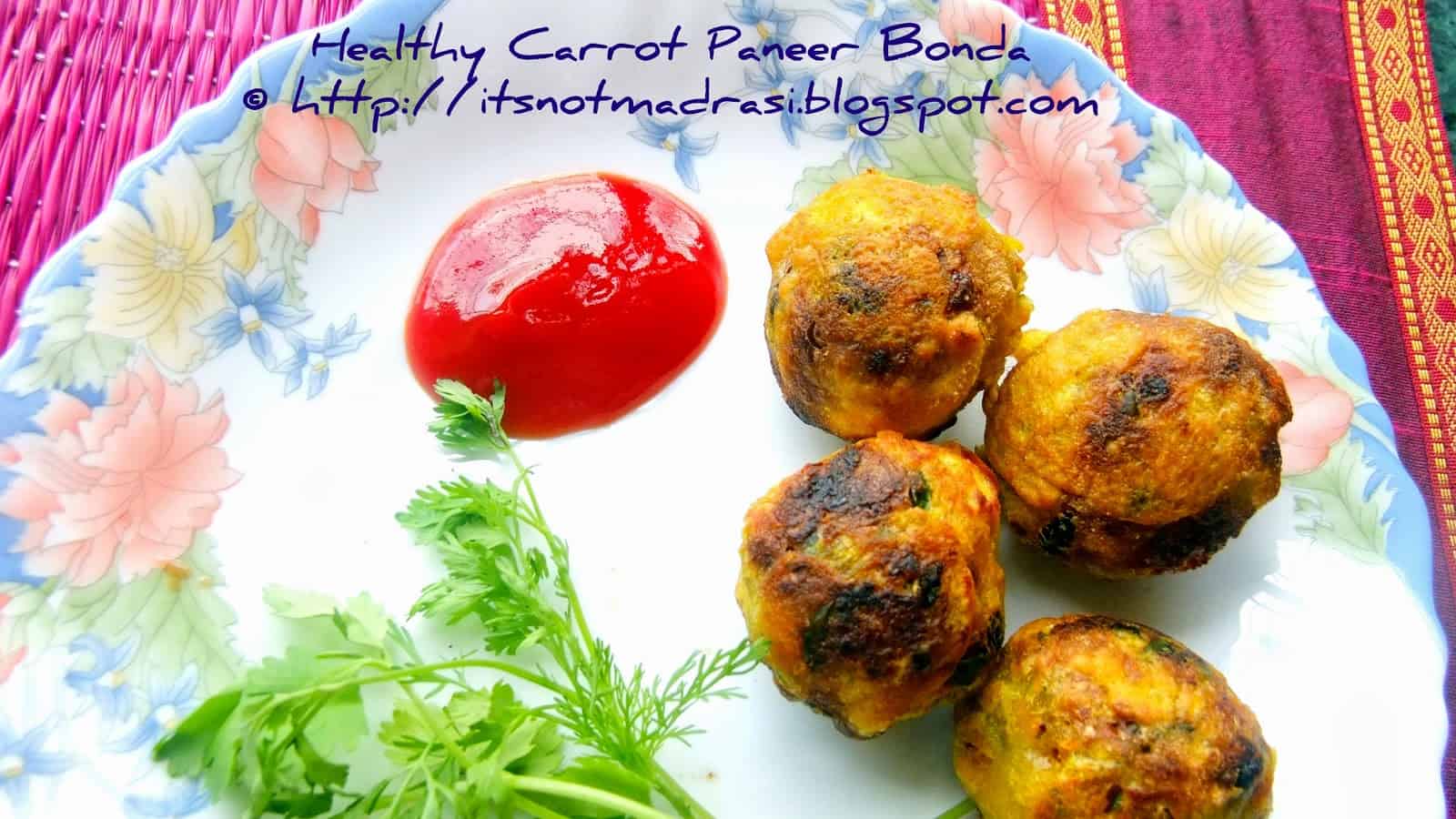 Pin

Sending this to :

My own event – Healthy Lunchbox Ideas – Carrots (all this August)

Krithi's Serve it Fried, Iftaar nights,Sukanya's Monsoon Medley

Vardhini's Fast food but not Fat food, started by Priya , and

Gayatri's Kid's Delight , started by Valli

Do not be alarmed by the long list of ingredients – these are available in any pantry !

Prep time : 15 mins. Frying time : 10 mins. Makes : 15 small sized bondas

For the filling:
Carrots – 2 medium grated fine

Fenugreek / methi leaves – ½ cup

Grated paneer / cottage cheese – ½ cup

Salt – to taste

Fennel seeds /Saunf – ½ tsp

Dry Masala powders  (each ½ tsp) : Jeera, Dhaniya, Kitchen King, Garam Masala, Amchur, Kasuri Methi, Red chilly powder

Green chillies – 2 nos (opt)

Ginger – ½ inch grated (opt)

Besan / gram flour – 4 TBSP

Cornflour – ½ tsp

Oil – Max 3 TBSP (split use)
Outer Covering:
Maida / APF – 2 TBSP

Cornflour – ½ TBSP

Salt – a pinch 

Turmeric – a dash
Method:
Mix grated carrots, finely chopped methi leaves, paneer.

Add the dry masala powders one by one , salt, saunf to this above mixture

Dry roast besan for 1 -2 mins till slightly fragrant.

Add the roasted besan and the cornflour to the veggie-masala mixture and shape into small bonda sized roundels

Cover with foil and refrigerate for 10 mins (optional but recommended)

Mix the ingredients for covering with 1 – 3 TBSP of water into

Pin

a light slurry.

Lightly smear the Kuzhipaniyaaram pan with oiled fingers and heat it.

Now take one roundel at a time, dip in the slurry till the covering is well coated and roll it on to the grooved kuzhipaniyaaram plate. Do this till all the grooves are filled with one bonda each

Drizzle very little oil on the bondas, decrease the flame to medium-slow and cook for 3-4 mins till golden brown. Flip over and cook till golden brown on all sides

Serve hot with coconut chutney /Green chutney or just tomato sauce and enjoy a guilt free snack , while savouring the monsoon