Yes, you read it right. Today's post is a very yummy Apple Chutney that came about, mostly as a result of toooo many apples lying unused in the pantry. We had bought some apples for naivedyam for diwali pooja, and my aunt n uncle who visited us also brought along some more. So, there we had apples galore. Like they say, when life hands you lemons, make a lemonade. So I checked quite a few recipes to use up apples, but most of them were jams / preserves and required pectin (which I am yet to add to my pantry list), or baking (and I do limit my baking with APF to once or twice a month). 
And, there it was – a dilemma. When hubby suggested that I make chutney out of it, given my rush to preserve every vegetable peel in the house to make Chutneys (like the Carrot one or the mixed peel version) , I looked daggers at him. When I realised he wasnt joking, we got to work (yes, me and hubby). While he made me a superb refresher with apples and green tea (recipe coming soon), I got to work with making this yummy apple chutney with a little ginger to spice it up for our Sunday breakfastof  Poha Idli. I had never used apples for chutneys, and therefore didnt know how the final taste 'should' be, but what resulted out of this  experiment was another yummy chutney added to my menu card 🙂 I have used normal red apples (Shimla red variety – the ones which are spongy in taste) , but do try out with other varieties and let me know if you liked this dish 🙂 . Meanwhile, check out10 other varieties of Chutneys here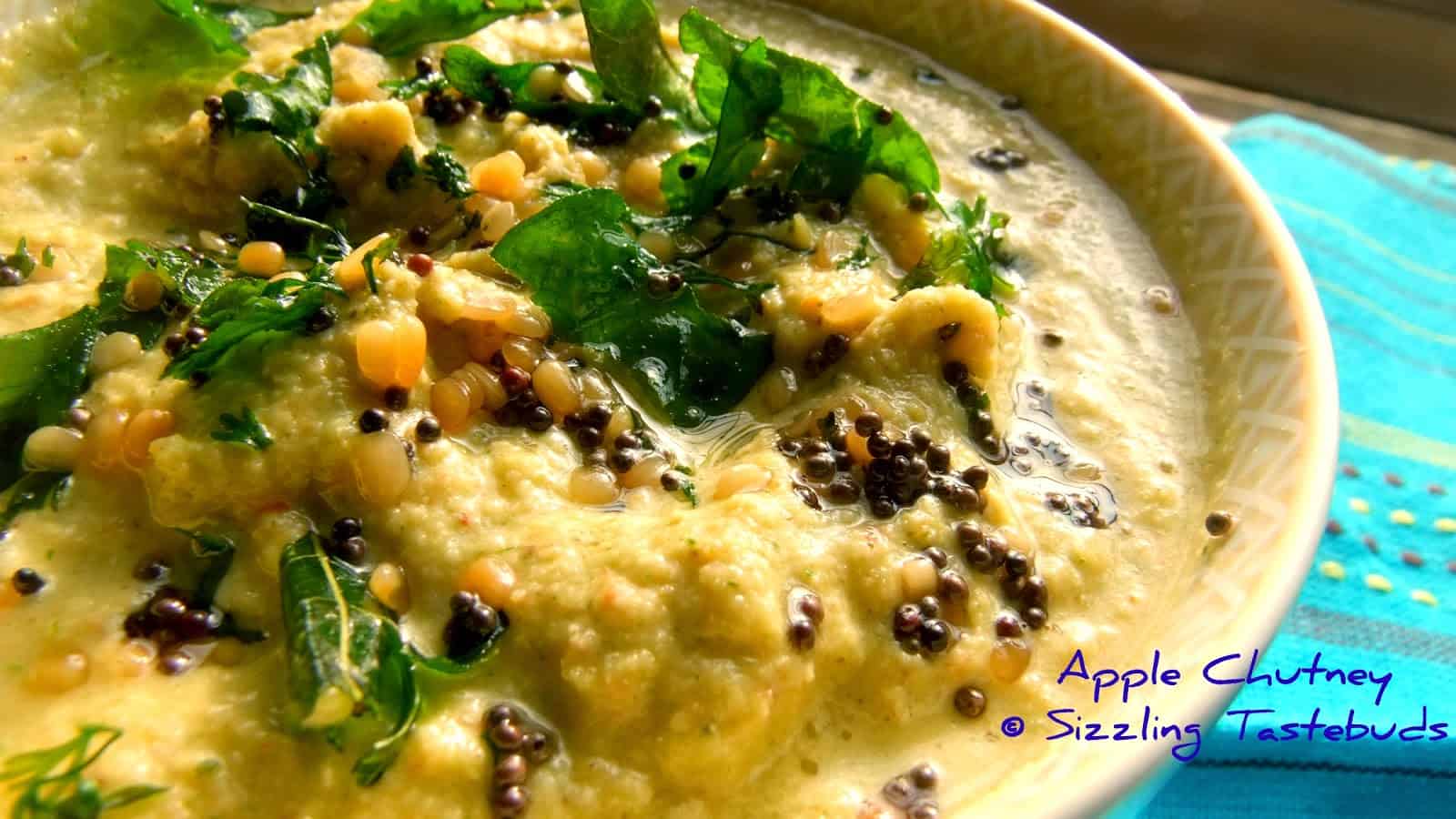 PinPinPin

Prep time : 10 mins.Cooking time :10 mins.Serves :3

Sending this to Priya Mahadevan's The Big Chutney Chowdown

Ingredients:
Apples – 1 large or 2 medium
Grated Ginger – 1 tsp
Grated Coconut – 1 TBSP
Tamarind – 1 small lemon sized
Channa Dal – 1 TBSP
Urad Dal – 1 TBSP
Red chillies – 2 nos.
Salt – to taste
Oil – 1 Tsp
Tempering : oil, mustard seeds, curry leaves.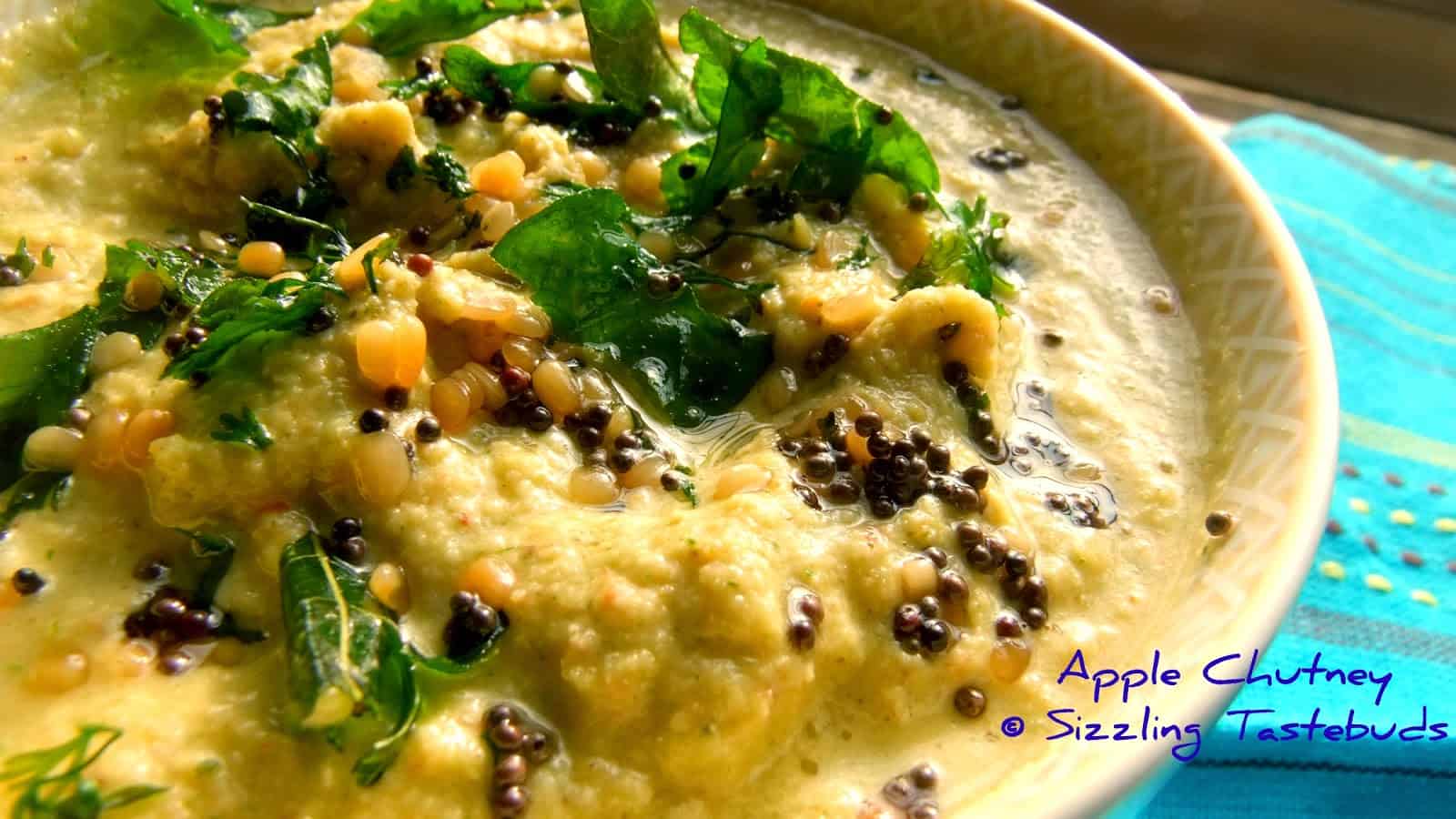 PinPinPin
Method:
1) Wash, cut and peel the apples. Core them and finely chop them into bits. preserve the peel as well.
2) In a pan, add 1 TBSP of oil. Fry the dals till they are fragrant. Now add the apples and saute them till they are slightly covered in the oil. Then add the peel too and sute further till the peel shrivels a bit.
3) Turn off the stove and add the red chillies, ginger and tamarind. Saute once more. Cool to room temperature
4) Grind coarsely first without coconut or water. Add salt, coconut and pulse once more.
5) Now add little water and grind to requisite consistency.
6) Transfer to serving bowl. 
7) Prepare tempering with oil. spluttered mustard seeds and curry leaves. Transfer to chutneys and enjoy with any South Indian breakfast.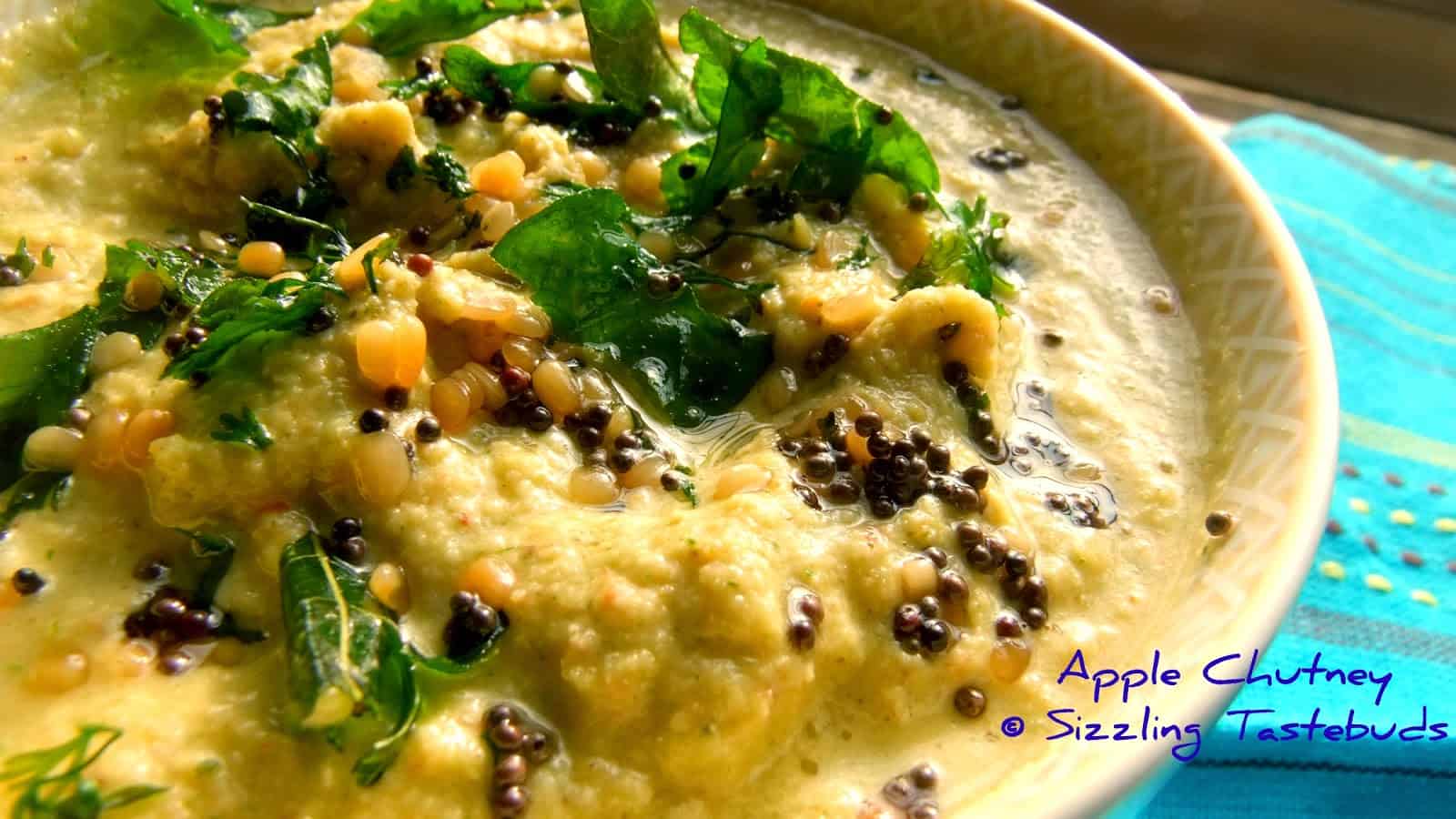 PinPinPin