Khara Kozhukattai or Khara Pidi Kozhukattai is a very popular snack or tiffin served in Tambrahm households either for an evening snack or dinner too. Kozhukattai (spelt as KO-ZHU-Ka-Ttai) is a steamed dumpling. This is made with either Rice Rava (cream of rice) or white rice too. The traditional way of making this is ground soaked rice batter and then form dumplings. 
Pin

Today we show an easy, healthy and quick way to make this, but with Brown Rice. Brown Rice has lower GI than white rice, more fibre and may also be eaten (in moderate quantities) by Diabetics too. This whole grain is also a good source of folate, riboflavin (B2), potassium and calcium.

This is my family's recipe, and we love it made this way with Brown Rice. The recipe is entirely vegan and satvik (no onion no garlic) you may also make it Gluten Free by simply skipping the Asafoetida (hing) added in this recipe. 
Pin
Pin
As this is steamed like Idli, this is very healthy and requires just 2-3 tsp of oil for 4 servings. Do make this healthy snack and let me know how you liked it.
This snack / kozhukattai can be eaten on its own (as its quite spicy) or paired with Coriander chutney like we did. It also goes well with Tamilnadu Style Tiffin Sambhar.
The ingredients are listed below and the detailed method is embedded in my  youtube link here. Do visit the channel / video and leave your valuable comments there too !
Prep time – 5 mins | Cook time – 25-30 mins | Makes – 24 pieces.
PIN FOR LATER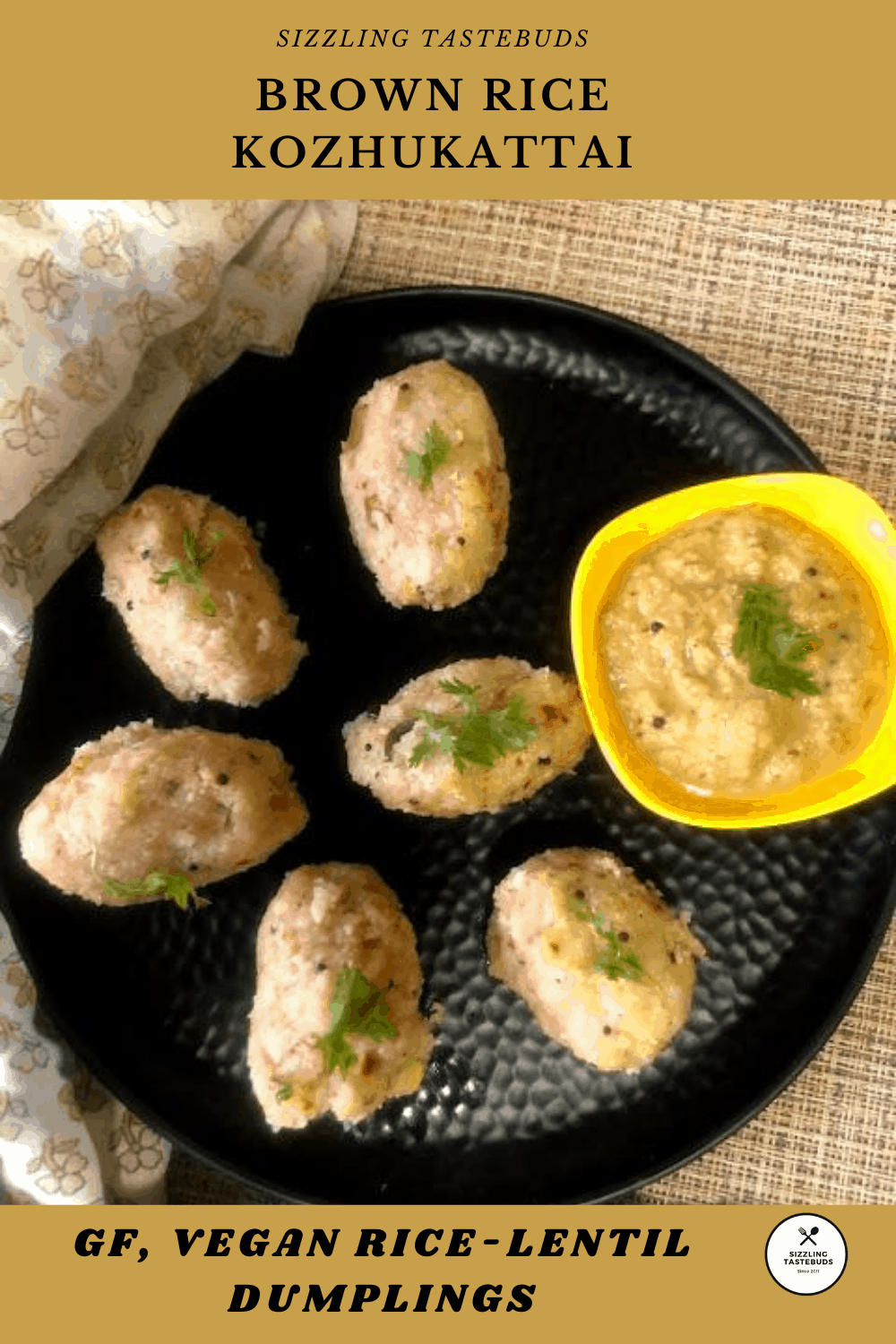 Pin
You would need:
To blitz to a coarse mixture:
Brown Rice – 150 grams
Toor Dal / Thuvaram Paruppu / Split pigeon pea – 4 heaped teaspoons (or 40 grams approx)
Jeera / Cumin seeds – 1 tsp
Spicy dry red chillies – 3 to 4 (adjust spice)
Black peppercorn – 1/2 tsp (adjust spice)
Tempering:
3 tsp Cooking Oil
Mustard seeds, Urad dal, Channa Dal – all 1 tsp
Curry leaves – few
Green chillies – minced (opt.) – 2 
Asafoetida / hing – a generous pinch (skip for GF)
Other Ingredients:
Water – 600 ml (or according to rice variety used)
Grated Coconut – Fresh or frozen – 4 to 5 TBSP – do NOT skip this, it adds to the softness of this dish
Salt – to taste
How to make: 


Refer the embedded video below and please leave your valuable comments on the channel too.