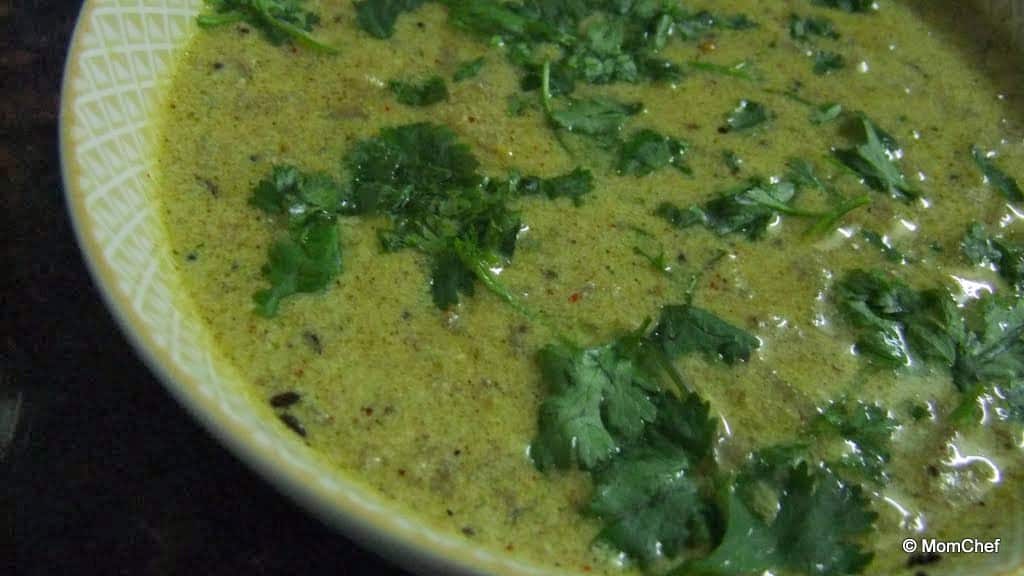 Pin

One of the advantages of Indian Cooking is most of the ingredients have medicinal / curative properties too ! One such ingredient is the banana stem – loaded with fibre and easy on the tummy too ! Banana is a versatile plant whose use is enormous –cooking, storing and eating on..  Having an ubiquitous presence in most South Indian homes, the humble banana comes in many varieties – nendhra pazham, elakki, rasathaali (or rasa baale in Karnataka), chukke (means slightly dotted). It is eaten in both raw and cooked forms. Banana Chips is a favourite snack across travellers ex-Kerala ! Presenting here is a healthy and light "Vazhai thandu Moar Kootu". For the linguistically challenged, this simply means "Banana stem in curd gravy"

Ingredients (serves 2)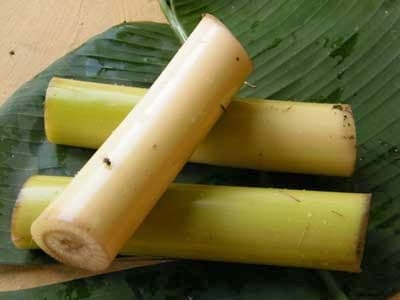 Pin
Banana Stem – peeled from outer layer & chopped finely removing the fibers in between (yes yes I know this is painstaking, but like they say, no pain no gain!) – 2 cups

Slightly sour thick curd – 1 cup

Salt to taste
           For the masala:
Grated fresh coconut – 2 tbsp (yes, dry copra / dessicated coconut will do, but the flavor would change)

Cumin seeds (Jeera) – ½  tsp

Dry methi / fenugreek seeds – 1/8 tsp

Channa dal – ½ tsp

Green chilly – 1 (opt)

Red dry chillies – 2 long

Hing – pinch

Turmeric – ½ tsp (opt)

Dry Coriander seeds (dhania) –3/4 tsp

Salt – to taste
For the seasoning / tadka:
1 tbsp oil

Mustard seeds – 1 tsp

Curry leaves & Coriander – few sprigs – cleaned and chopped

Hing/ asafetida
Method:
a)      Wash and clean the chopped banana stems. Boil them in slightly salted water till al dente/ slightly soft. Alternately pressure cook them for 2 whistles. Cool completely.
b)      In a skillet, add ¼ tsp of oil. When slightly hot, add methi, cumin , channa dal, coriander seeds, dry chillies, red chillies, hing, turmeric one after another and roast till the dal slightly browns. Do not burn. Cool.
c)       Dry grind the masala with coconut. Once completely dry, add a little water to make a thick paste (consistency of milk shake).
d)      Add this mixture to the curd. Whisk well. Add salt as required. Add 2 – 3 tbsp of water if you feel its too thick.
e)      In another pan, add oil, make the tempering. When the mustard stops spluttering, add the curd masala (in step above) on LOW heat. After 2 mins, add the boiled banana stems, and cook slightly for 1 -2 more mins. Do not over boil as the curd may give way and curdle.
f)       Serve hot with rice or phulkas / rotis.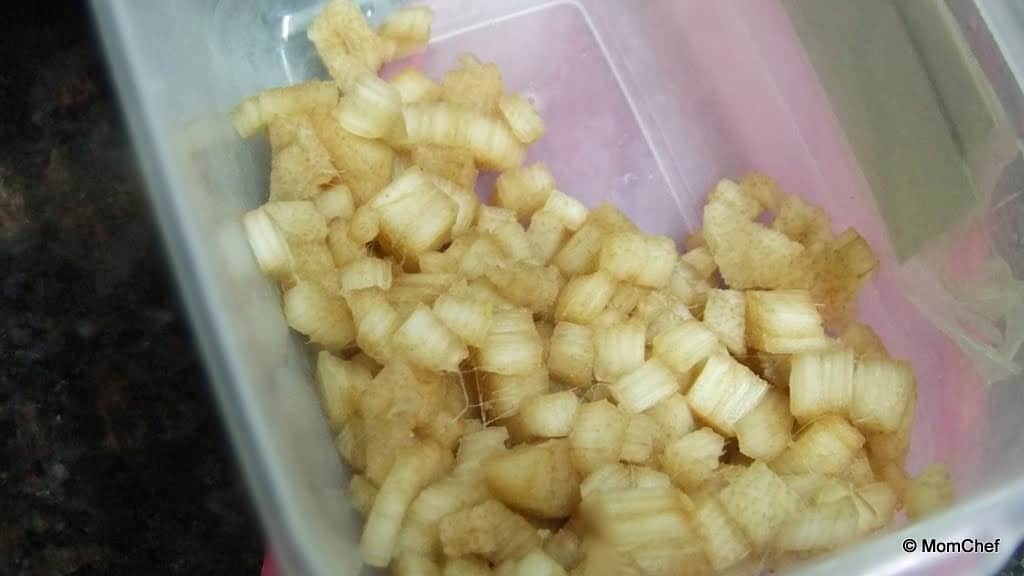 PinTips:
a) You may preserve the cooked banana stems in an airtight box for 1 day in the refrigerator. Else, before cooking, also soak them in buttermilk to avoid discolouration.
b) If you are not using green chilly, add one more dry red chilly to the masala paste.