Its that time of the year, where old resolutions are broken, new ones made, dust the old, ring in the new, create wishlists and tuck it all under the 'Christmas Tree' where Santa (good old dad/ grandpa in most cases) picks up the lists and fulfill a couple of them.. Well, its the same for me too – close to an year of running this blog, and it looks like yesterday! Advance X Mas and new year wishes to you all 🙂 May the cheer of the season bestow the choicest blessings upon you and your family !  
Well, coming to today's announcement – its more a compilation of  two major events that began at this blog and a slight makeover for them. And for all those lovely friends who have opted in to host my further events on HLI& MMK, a big thank you. The essence of these two events remain the same, while their names change a bit.. like calling a child by his/her pet name for a year and then registering a proper name.. I am sooo thankful to all my hosts – both in the past, and in the future too – and thought it befitting to announce this makeover before the year rolls by into a new one, where they are geared up to greet the new year. In case of a faux pas that any host names have been left out, do let me know so I could update immediately. Thank you dearies, for your enthusiasm. And in case any of my readers do want to pitch in through the year on remaining slots, do let me know…
(1) Healthy Lunchbox Ideas – my first event ever will remain close to my heart, as much as a firstborn is. It will now be called Cooking for Kids and the logo will also change as below. The rules of this event pretty much stay the same, but request hosts to check their emails 10 – 12 days before their event starts. Cooking for Kids – will now extend to all courses of food – main course, appetiser, snacks, desserts etc as long as they are cooked healthy and with one central ingredient as chosen by the hosts. The dishes need to be low fat and low fat, no deep fry with grilled,steamed and other healthy options. Hence the name – Cooking for Kids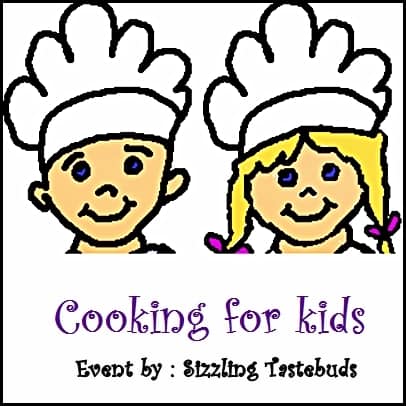 Pin

(2) My Mother's Kitchen – my second event conceptualised at this blog – was to discover old and heirloom recipes from everyone's kitchen. Somehow, the concept got diluted at some point, and now has been reinvented as  "Kitchen Chronicles" which will have a new theme running every month. The new logo is also as under. It will also feature newer global trends in cooking, including Vegan and Wholegrain delights.. Stay tuned to watch more on this space.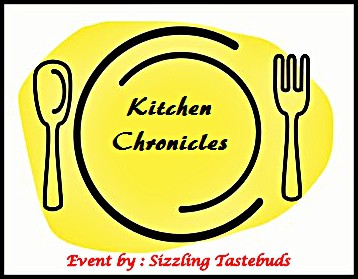 Pin

Hope you liked the new names. Yes, it will take a while to register them, but the essence of the events remain the same.

Now that we are done with the makeover, lets quickly list my hosts down. Do let me know in case of any correction or even if you are eager to host the open slots.

Kiddies' Delight hosting schedule
| | | | |
| --- | --- | --- | --- |
| Month | Host | Ingredient | Roundup URL |
| Jan-12 | | Zucchini | |
| Feb-12 | | Sprouts | |
| Mar-12 | | Sweet peppers | |
| Apr-12 | | Squash | |
| May-12 | | Apple | |
| Jun-12 | | Beets | |
| Jul-12 | | Mushrooms | |
| Aug-12 | | Methi (fenugreek) | |
| Sep-12 | | Sweet potato | |
| Oct-12 | Open | Radish | |
| Nov-12 | Open | Bottlegourd | |
| Dec-12 | Open |  Berries | |
Kitchen Chronicles schedule as under 
| | | | |
| --- | --- | --- | --- |
| Month | Host | Theme | Roundup URL |
| Jan-12 | Veena | Cooking with leftovers | |
| Feb-12 | Nupur | Soup it up | |
| Mar-12 | Sangee | Summer Splash | |
| Apr-12 | Saras | Heirloom Recipes | |
| May-12 | Geetha | Baked Delights | |
| Jun-12 | Archana | Go Nuts | |
| Jul-12 | Vardhini | Only Vegan | |
| Aug-12 | Kavi | Backyard remedies | |
| Sep-12 | Kalyani | Finger foods | |
| Oct-12 | Open | Wholegrains Mela | |
| Nov-12 | Open | Winter Special | |
| Dec-12 | Kalyani | An Xmas affaire | |