If I am to choose an universal dip / side dish in my kitchen that's so versatile that it goes well with anything from steamed rice to chapati to Idli to Dosa to Pongal to Curd Rice to Akki Rotti to Upma to Parathas (and everything in between), I would bet heavily on this dip – Tomato Thokku (or Quick Tomato Pickle). It was around the beginning of December when I made this first batch when my sister and BIL were visiting, and it vanished in a flash.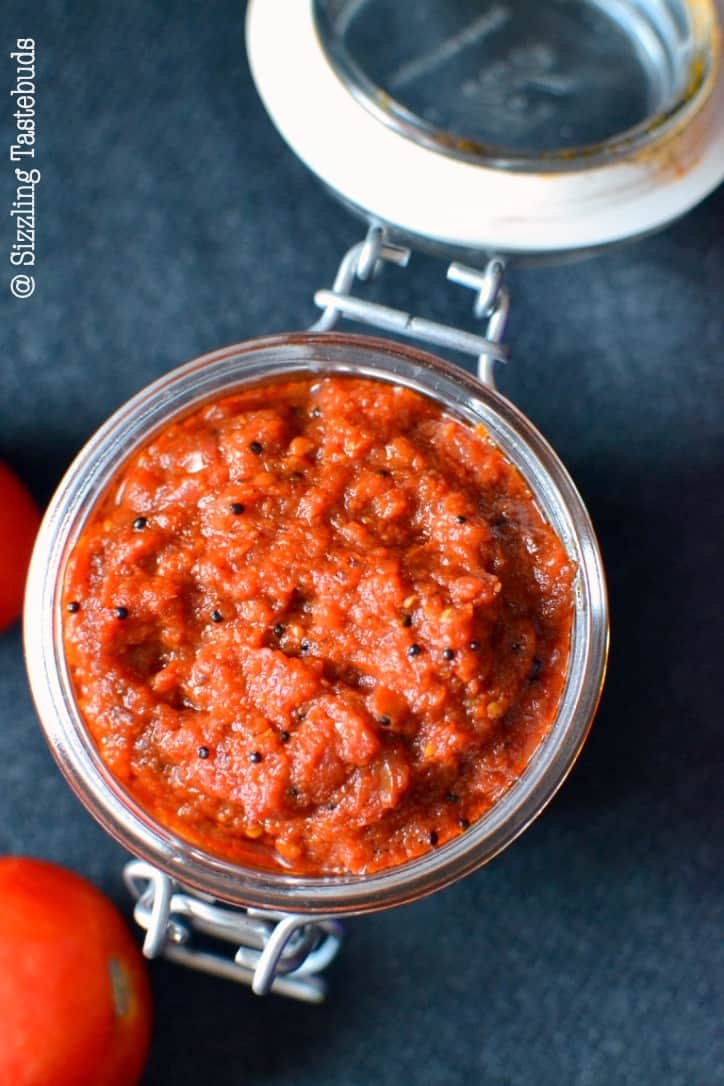 Pin

All the adults took to this pretty well, and although it was spicy my little one preferred this sometime with her dosa breakfast. The elder one, however, couldn't be weaned away from her favourite Lemon pickle (her fav go-to side for pretty much everything :D)

I made this again with step by step sorely for the blog (as I personally love it a lot), and hope that for thokku (spicy dip) lovers out there among my readers, it would help you make a batch of this and enjoy :-))

This week, 3 dips are going to feature on this blog, and this is the first in the series. Stay tuned for next two days for the remaining and a surprise (Hint : Santa arrives again on this blog :D)

Thakkali Thokku – Spicy Tomato dip (or quick pickle)  | Vegan and can be made GF too

Course : Side Dish / Dip | Spice level : Medium to high

Can be served with : Any Indian breakfast to breads or anything that you fancy 😉

Keeps for 2-3 weeks under refrigeration; fresh batches can be made anytime during the year.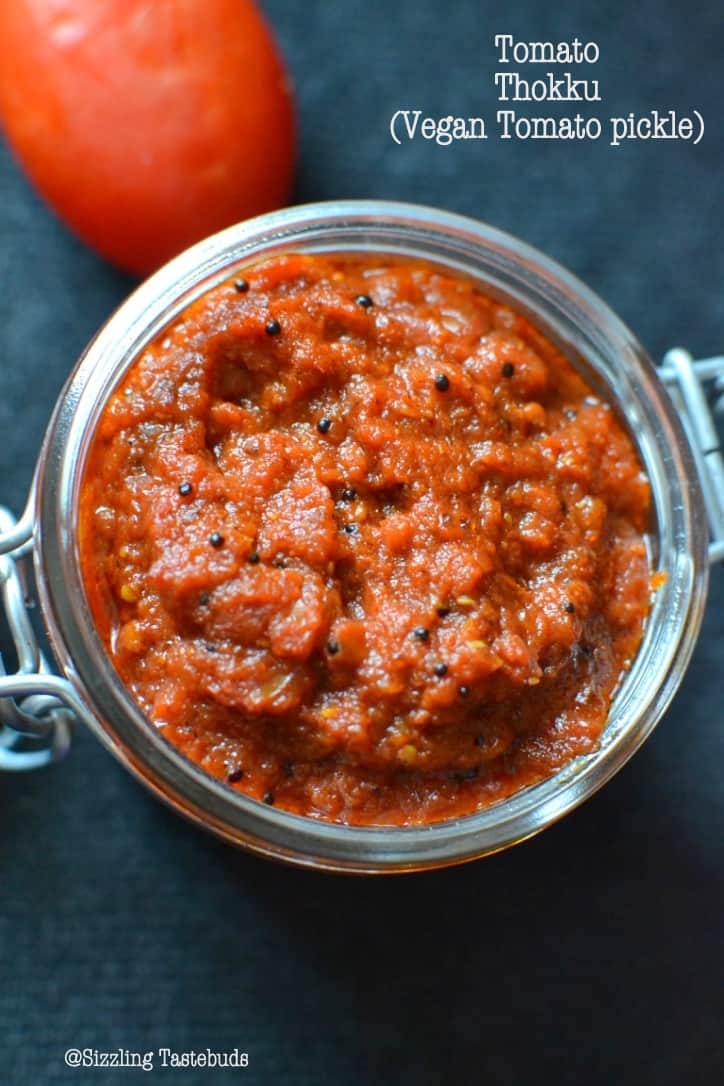 Pin
Prep time: 20 mins, Cook time : 45 mins, Makes : approx 400 gms of dip / pickle.
Ingredients:
Fleshy red juicy tomatoes – 2.5 kilograms (5.5 lbs)
Oil – 1/2 cup (approx 120 ml) (Sesame oil preferred or use any neutral oil)
Salt – to taste , about 2 TBSP
Turmeric – 1 tsp
Jaggery – 1 TBSP
Spice powder mix:
Methi seeds – 1 tsp
Dry Red chillies – 12/13 nos
Kashmiri chillies – 4 to 6 nos
Mustard seeds – 1/2 tsp
Oil – 1/2 tsp (opt.)
Tempering:
Mustard seeds – 1 tsp 
Asafoetida – 1/4 TBSP (skip for GF version)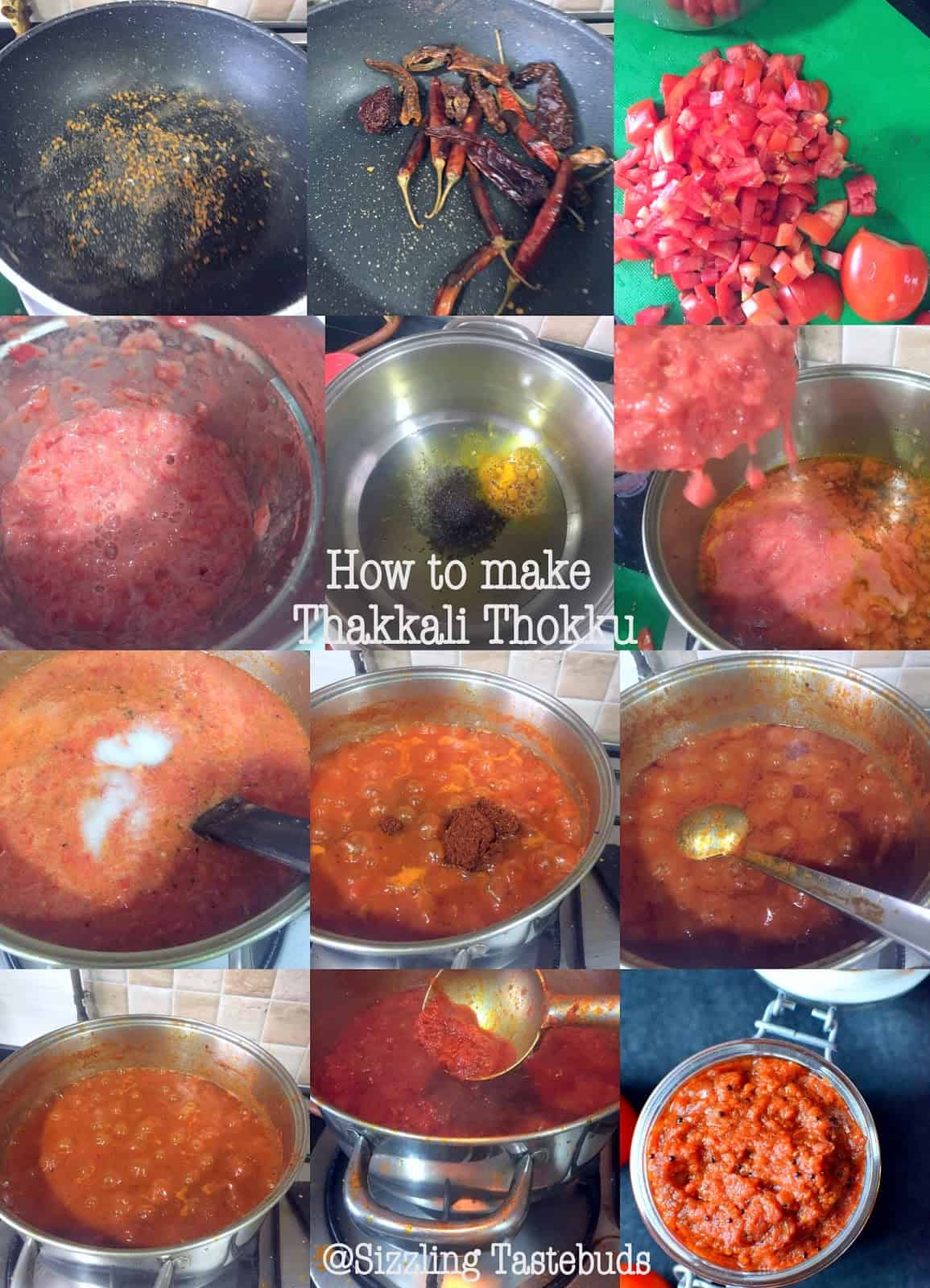 Pin


Method:
Wash and wipe dry the tomatoes . Cut the tops of the tomatoes, and using a food processor or knife, chop each tomato into 1/8, coarsely puree them with some chunks intact. do NOT add water at all at any stage during the entire pickle making process.
Dry roast the ingredients one by one under spice powder mix. Ensure the methi seeds are not burnt else will taste bitter. If you need to roast the red chillies in oil, add 1/2 tsp of oil and fry on a low flame. Cool thoroughly and powder
In a deep pan, add half of the sesame oil. Splutter the mustard seeds and the asafoetida. Now add the coarse tomato chunk+puree mixture and turmeric. Stir once or twice, and let it cook covered for 8-9 mins covered till they are almost reduced by a third.
Now add the spice powder, 1/2 of the remaining oil, mix gently and let it cook on a low flame for next 10-12 mins on a very low flame till oil starts separating from the sides. (it would require your continuous watch over the stove at this stage, it may also splutter as the mixture gets thicker, so you may want to cover the pot while stirring every 30 seconds.)
When you see the original quantity of tomatoes reduce to 2/3 or even half, add in the remaining oil, salt, jaggery. Mix and do a taste test and adjust spices accordingly.
At the end of this stage, oil should start floating to the top (it will settle once bottled, so dont worry).
Cool thoroughly and bottle in a sterile glass bottle.
Refrigerate and use a portion with a sterile clean dry spoon as required. stays for 2-3 weeks under refrigeration.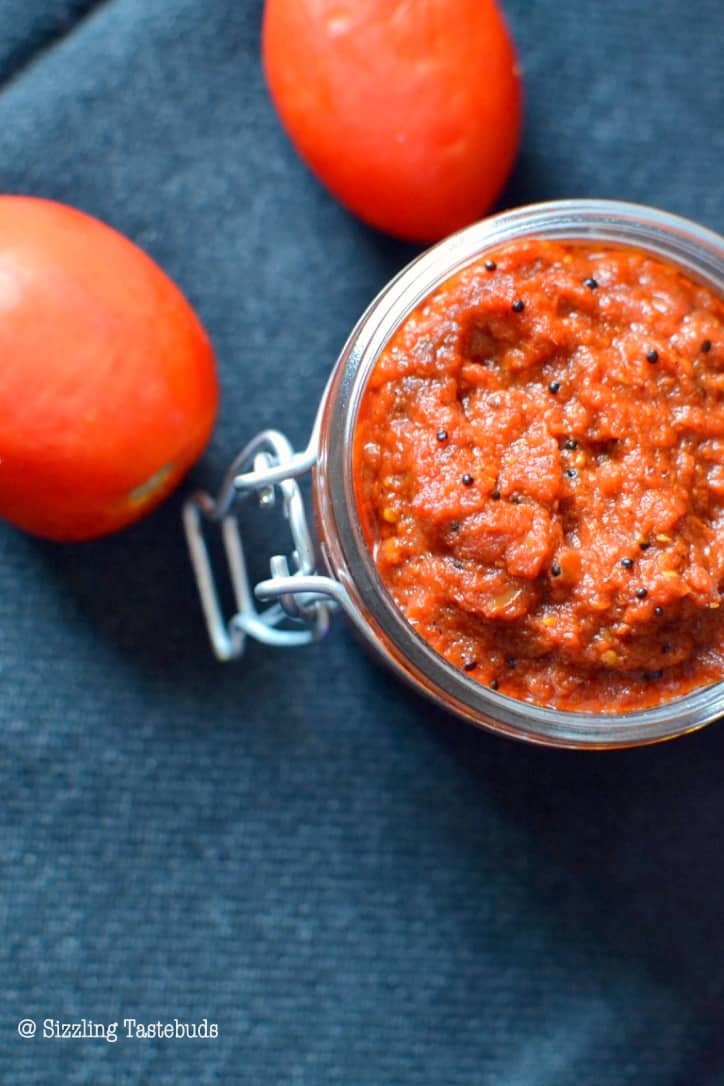 Pin
Notes:
Chillies usage might vary with spice level. If you feel that the red chillies aren't hot / spicy enough, dry roast a little red chilli powder / paprika and add with the spice powder
If you are out of Byadgi / Kashmiri chilli powder, use Kashmiri red chilli powder (after dry roasting it to remove any moisture)
As its quite a spicy thokku, use in small quantities, especially to kids or anyone else who's not spice tolerant.
The spice levels can vary depending on the quality / variety of the chillies used. Use your discretion for the same. 
Some add garlic to this thokku, but we prefer this method. If using garlic, dice them fine and saute well before adding the tomato puree.
Sending this to BM # 72 under "Dips" Theme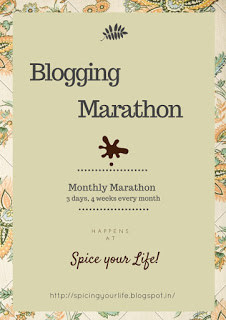 Pin