Chaat is welcome in any form at my place. I had a batch of cooked
and frozen chickpeas, and when my elder girl asked me to make something
chatpata (spicy) on a rather chilly Sunday afternoon, I suggested that I make
this. She was more than eager to help me assemble the chaat, and thanks to
inspiration from Vaishali who had posted a similar post that morning, we
enjoyed making it and wolfing them down. Although slightly tedious, this is
very similar to the Ragda patties or the Dry Tikki Chaat.  The base instead of dried
peas gravy is similar to the Chole (chickpeas gravy) served with Puri or
Bhature.  Topped with sev , chutneys and a dash of yoghurt, this makes for
a lipsmacking and colourful chaat for any party or get together. 
Sending this to Day 3 of Kids Colourful dishes. Hope u enjoyed the
series with Hung Curd Canapes, Badam Palak Shorba and today's post with Tikki Chole Chaat.  
Linking it to
 Varada's Kids Delight – Colourful Dishes
 event, who's hosting it this month
Prep time: 45 mins | Cook time : 15 mins | Serves : 6
Type : Snack / Chaat, Indian, Spice level : Medium to high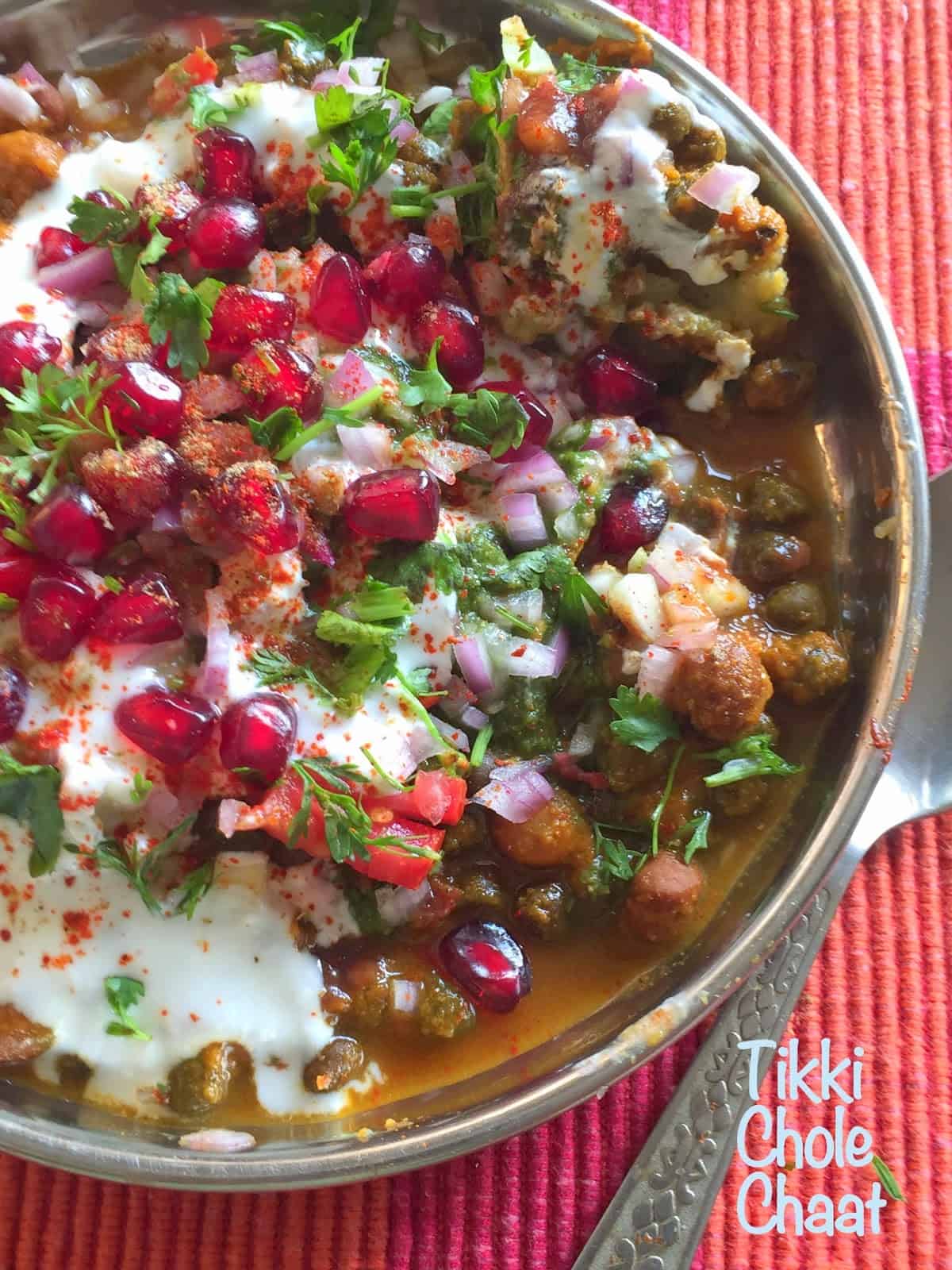 Pin

Ingredients:

(A) For the Tikki:

Potatoes
– 3/4 kg – boiled , peeled and grated

Boiled
Peas – 1/4 cup

Onions
– 2 large, minced

Bread
Crumbs – 1/4 cup

Salt –
to taste

Green
chillies – 2 or 3 – chopped fine

Cashews
– 4 to5  – broken into bits

Oil –
to shallow fry

Turmeric
– 1/2 tsp

red
chilli powder, Garam Masala powder – each 1 TBSP

Coriander
leaves

Chole :

Cooked
Chickpeas – 2 cups

Oil – 4
tsp

Soda –
1/2 tsp

Tomato
– 4 ripe – pureed

Onions
– 2 large – minced

Salt –
to taste

Ginger
Garlic Paste – 1 TBSP

Minced
Green Chillies – 1/2 TBSP

Dry
Masalas:

Garam
Masala Powder – 1 TBSP

Chole
Masala – 2 TBSP

Red
Chilli powder – 1 TBSP

Turmeric
Powder – 1/2 TBSP

Kitchen
King Masala – 1/2 TBSP

Amchur
/ Dry Mango Powder – 1/2 TBSP

Dry
Anardana Powder – 1/2 tsp

Coriander
powder / Dhania powder – 2 TBSP

Clove
powder – 1/4 tsp

For
Topping:

Coriander
leaves

Chat Masala 

Sev /
Ompudi

Lemon
juice

Minced
Onions & tomatoes

Pomogranate
pearls

Beaten
yoghurt – 1/2 cup (optional)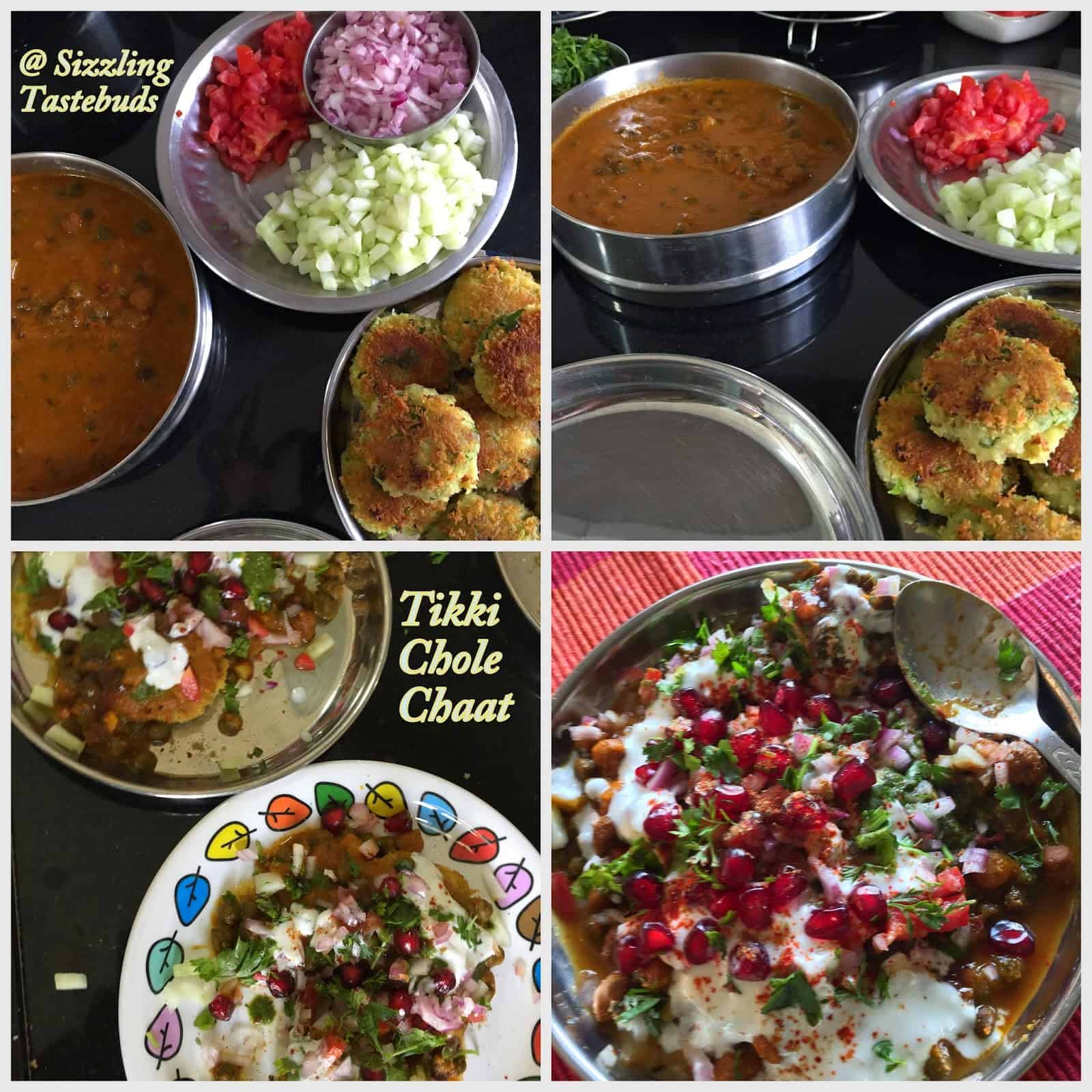 Pin
Method:
Chole: Follow
this method to make Chole. If you have cooked / canned chickpeas,
drain and make the usual recipe with Chole. Let the gravy be little dry and not
too runny.
To make
the tikki, mix all the ingredients under Tikki list and make into tikkis. If
not making immediately, refrigerate for upto 12 hours. Else blast freeze for 10
mins to make them firm. Shallow fry in oil and drain on paper tissues. 
To
assemble the chaat: 
Take 2
tikkis per serving, mash them up slightly. Add a ladle full of prepared chole.
Top with chopped onions, tomatoes, a dash of yoghurt and all the chutneys and
toppings. Add sev and serve immediately.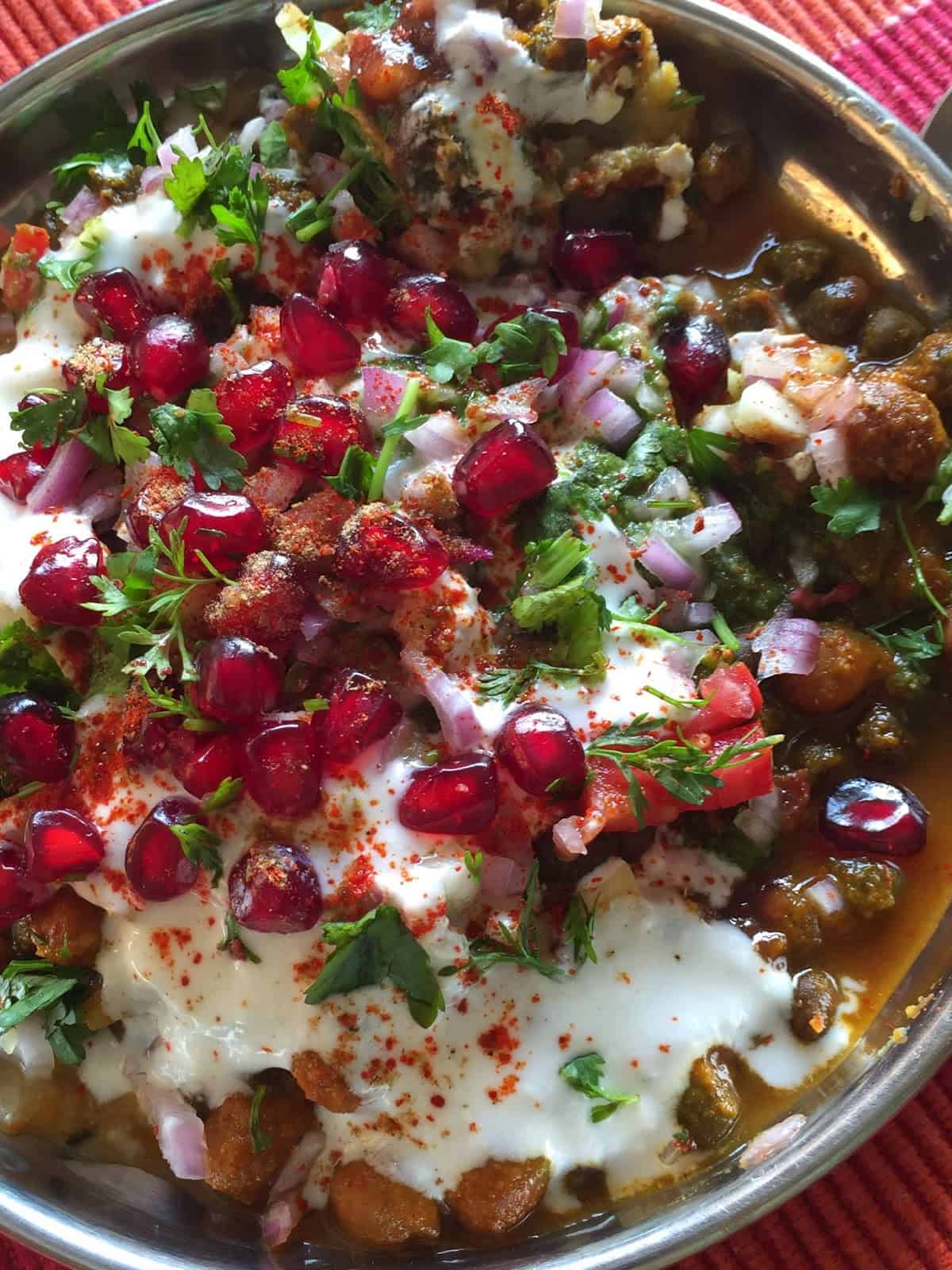 Pin