Ragi (or finger millet) was never my
favourite grain. Amma used to try to feed us the Ragi Mudde aka Sankati (finger millet
roundels) orRagi rotti(flatbread of finger millet). While the latter gained
acceptance slowly (thanks to her packing it religiously every week for our
school lunch boxes, where you had no option but to…errr..eat), I still found
every excuse under the sun to avoid Ragi Mudde. No amount of entreaties or
threats worked for this – its quite an acquired taste to eat Ragi. Now, I do
eat this with some grudge and my waistline thanks me for this versatile
and calcium rich grain, although my favourite would remain Ragi Sevai (or Finger Millet String hoppers). Linking this to PJ who is hosting my event "My
Health, My Way" – Theme :Calcium
Rich recipes
All this blabbering for what, one might
wonder. Mom made this amazing steamed Ragi Dosa (without a drop of oil) while I
was (read am) convalescing from the birth of my little one. Contrary to popular
preferences of eating crsipy Dosas, I somehow prefer my dosas soft and fluffy
(like theSet Dosa or even Poha Dosa– another two of my favourites) and this Steamed Ragi Dosa fit
the bill perfectly. Served with a generous helping of coconut chutney and Molagapudi, this
dosa has my vote on the perfect morning breakfast. Linking it to Blogging Marathon
after yesterday's Zero Oil Palak Paneer. Check the other marathoners here.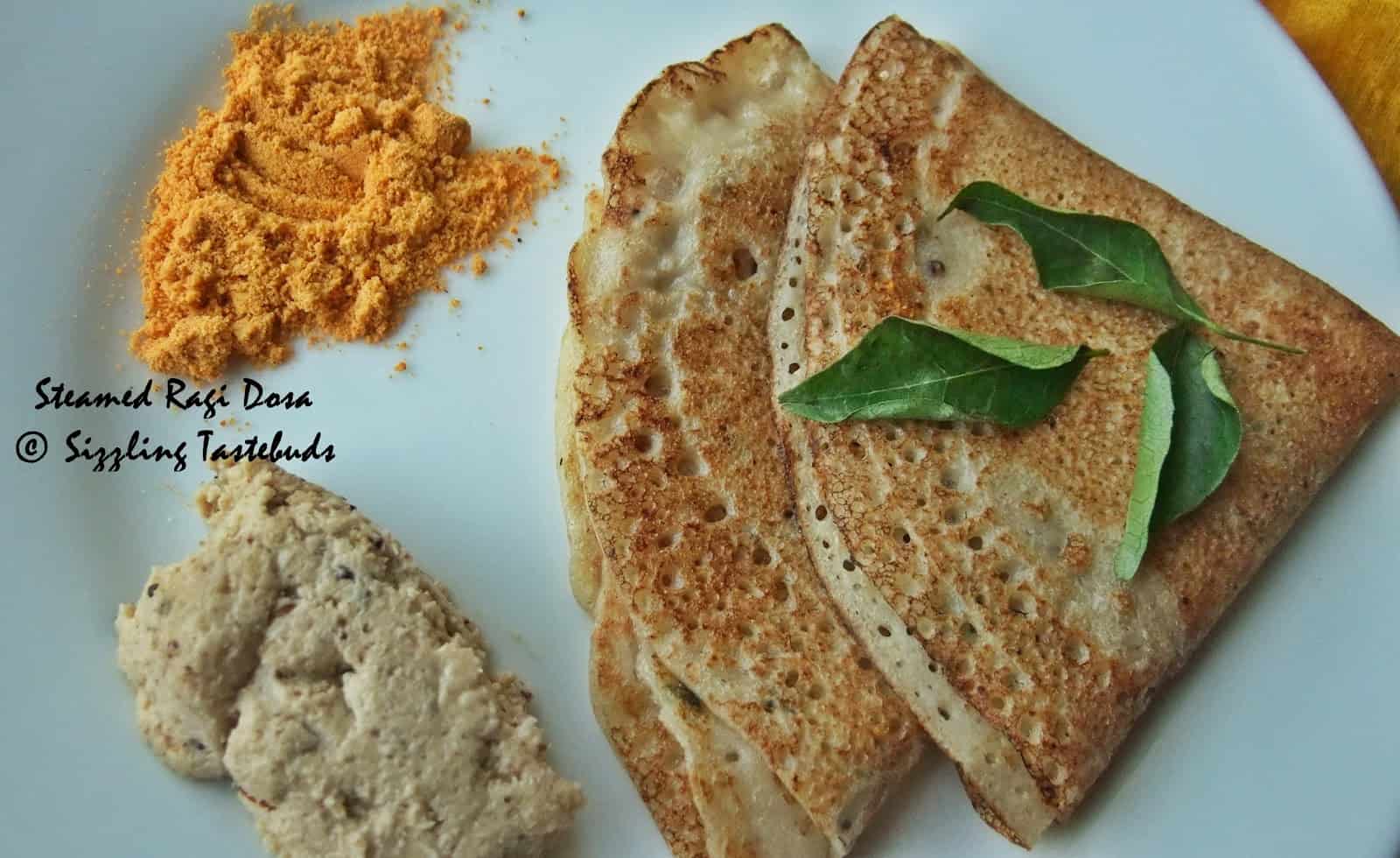 PinPin

Soak time : 4 hours | Grinding +
Fermenting time : 9 hours

Makes : 15 – 20 dosas

Difficulty Level : Medium

Serving Suggestions : Any chutneyor
Sambhar of your choice, or Molagapudi(fiery lentil powder)

Ingredients:
Ragi (wholegrain form) – 1.5 cups
Bajra – a handful (optional but
recommended) 
Idli Rice / Boiled rice – 1/2 cup
Brown Rice – 1/2 cup
Urad Dal (split black gram) – 1/2 cup
Methi Seeds – 1 tsp
Salt – to taste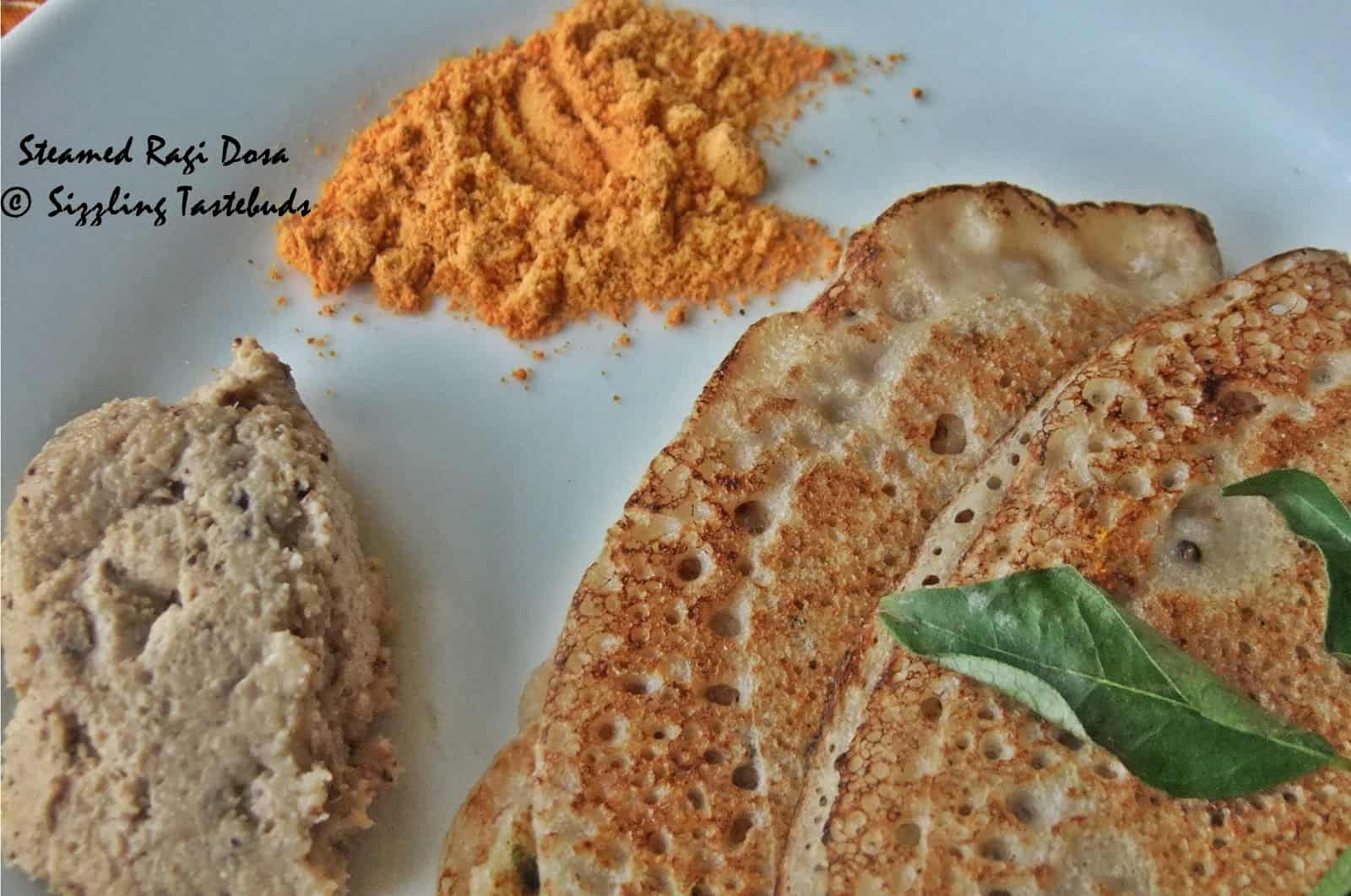 Pin
Method:
Soak the rice & other grains along
with methi (fenugreek seeds) separately for 4 hours.
Grind to a smooth paste as for any Dosabatter
Let the batter ferment overnight or for
minimum 8 – 10 hours
Once the batter rises next day (or
after fermentation), beat the batter well. Add salt to taste (See Notes below
for more info)
Heat a tava (skillet) to medium.
Pour a ladleful of batter in the centre
and spread to a slightly thickish dosa (like Poha Dosa)
Cover with steam and let cook for 1 – 1
1/2 min
Remove the lid and flip over to cook
for next 1 min
Once the dosa is cooked, serve hot with
any chutneyand  / sambhar of your choice 
Notes:
This method is the longish but healthier version of Ragi Dosa. Instant Ragi Dosa does not contain bajra or Urad dal, and also requires oil as a cooking medium, whereas this can be steamed.
If its winter / cold weather and batter does not rise, preheat your oven for a few mins and switch off. Keep the batter in a covered vessel in the oven but with the light on. This helps in fermenting. Last option (but not recommended) is addition of cooking soda once the batter rises (or doesn't rise). Mix well once you add soda and make dosa as detailed above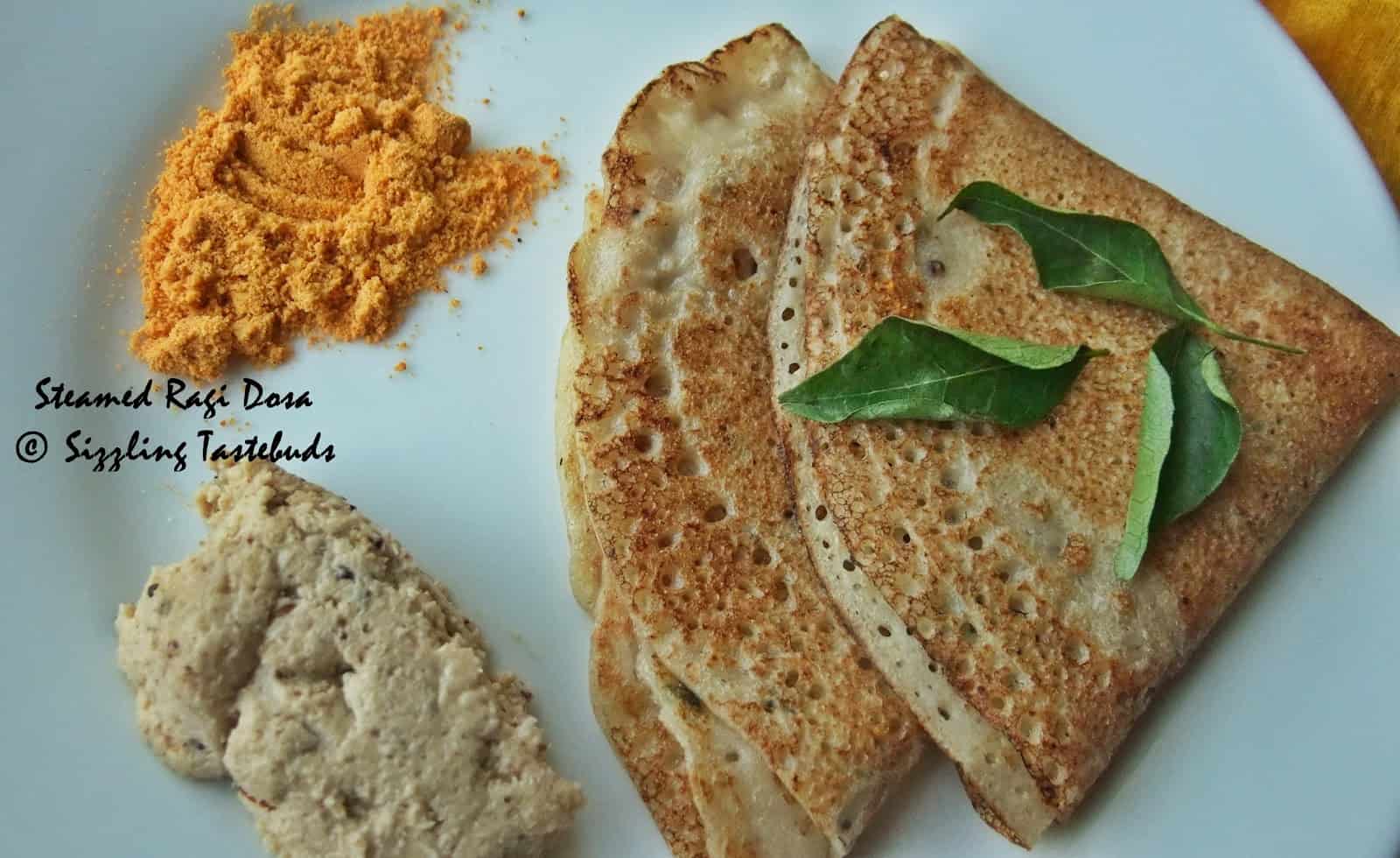 PinPin