Some celebrations calls for a sweet, some calls for a feast. 3 years of blogging on Sizzling Tastebudshas given me so much happiness – knowing and interacting with so many blogger friends worldwide, (virtually) savoring World Cuisine, and being a humble learner at heart of the nuances of food, from over the globe. Although the last year has seen me more behind the scenes with not too much blogging due to the birth of my 2nd princess, nevertheless its been fulfilling to interact with so many similar homemakers and astute foodies that it definitely calls for a celebration and a giveaway. Thank you dear readers, friends and family for this wonderful support. I am truly blessed. 
I would also like to show my appreciation for my readers with a giveaway (details at the end of this post), But before that, check out the yummy dessert :-))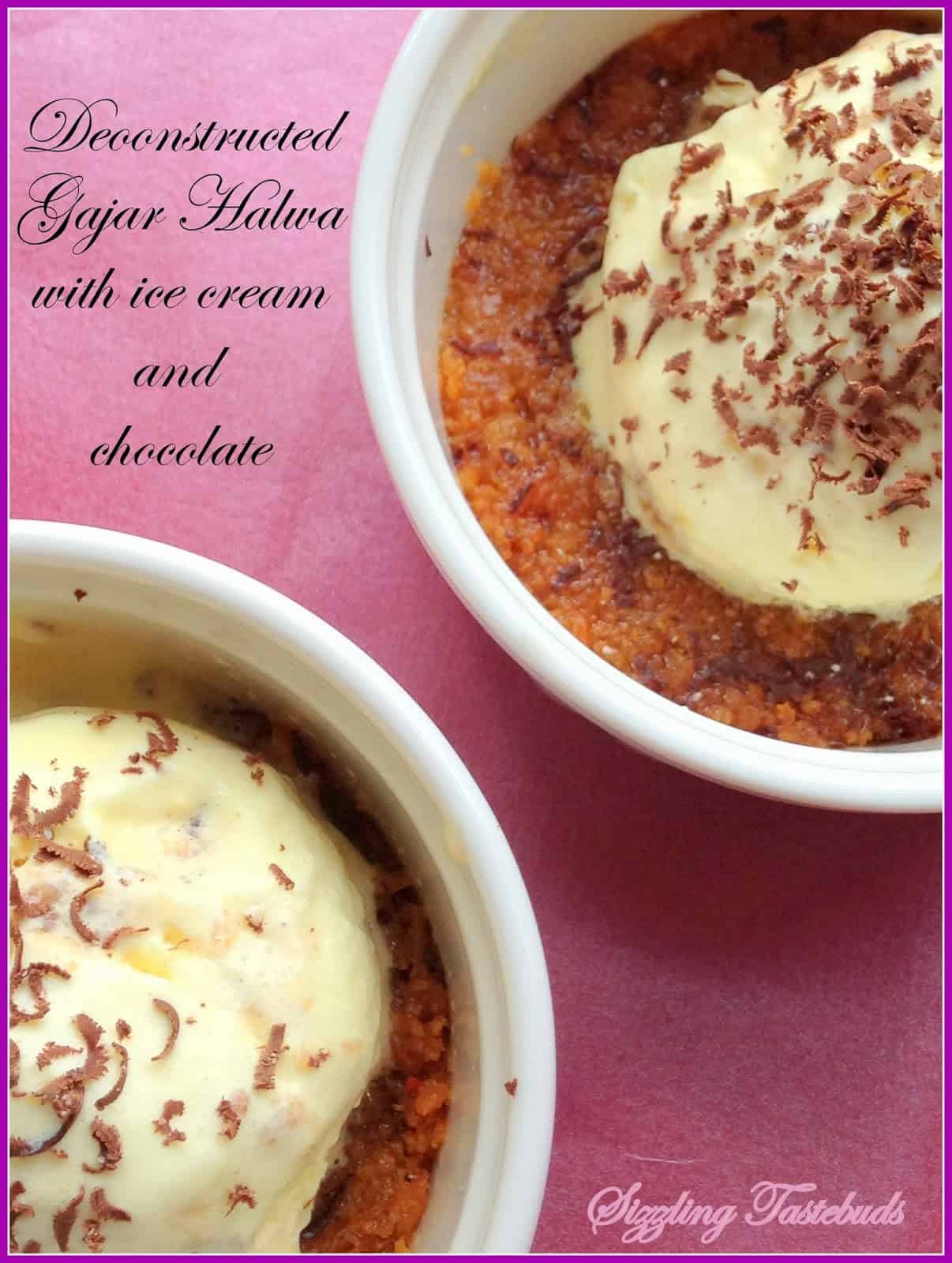 Pin

After Carrot Kheer and Chocolate cakeserved for the 2nd and 1st anniversaries respectively, I went in for a quasi fusion recipe with Deconstructed Gajar Halwa and Butter Scotch Ice cream. How much more decadent can it get ? Its the season of Red Delhi Carrots and what better way to put my hours of watching Masterchef Australia to test – to turn the humble yet earthy and feverishly familiar Gajar Halwa into something more sublime, to something that would last till the next year rolls in (well, hopefully not so long, for I have a laundry list of food to try out). well, it was an indigenous recipe, and seriously can you go wrong with Gajar Halwa, Ice Cream and Chocolate (yup!)

As someone (read the Dear Husband who ever so lovingly lugs back pots and ramekins and baking equipment from across the globe) asked me what my plans were for this year of blogging – it would certainly be more experimentation, of course with various techniques that I hope to bring to this blog, but also to ring in more cuisine from the world over, and yes bake a lot lot more making peace with my dear ally, yeast :-))

While all that are underway in different forms, sit and relax this immensely satiating dessert with deconstructed Gajar Halwa with butter scotch ice cream. Call it new age food, call it fusion, call it comfort food, this dessert would surely lap up your palate. (Psst : This is also a great way to use up all the gajar halwa you may have made during winter for guests who turned up, and didn't). Who says you need a masters degree in cooking, when all you need is a little smart work and great presentation – all served with love :-))


Prep time : 15 mins ; Baking time : 4 mins ; Serves : 4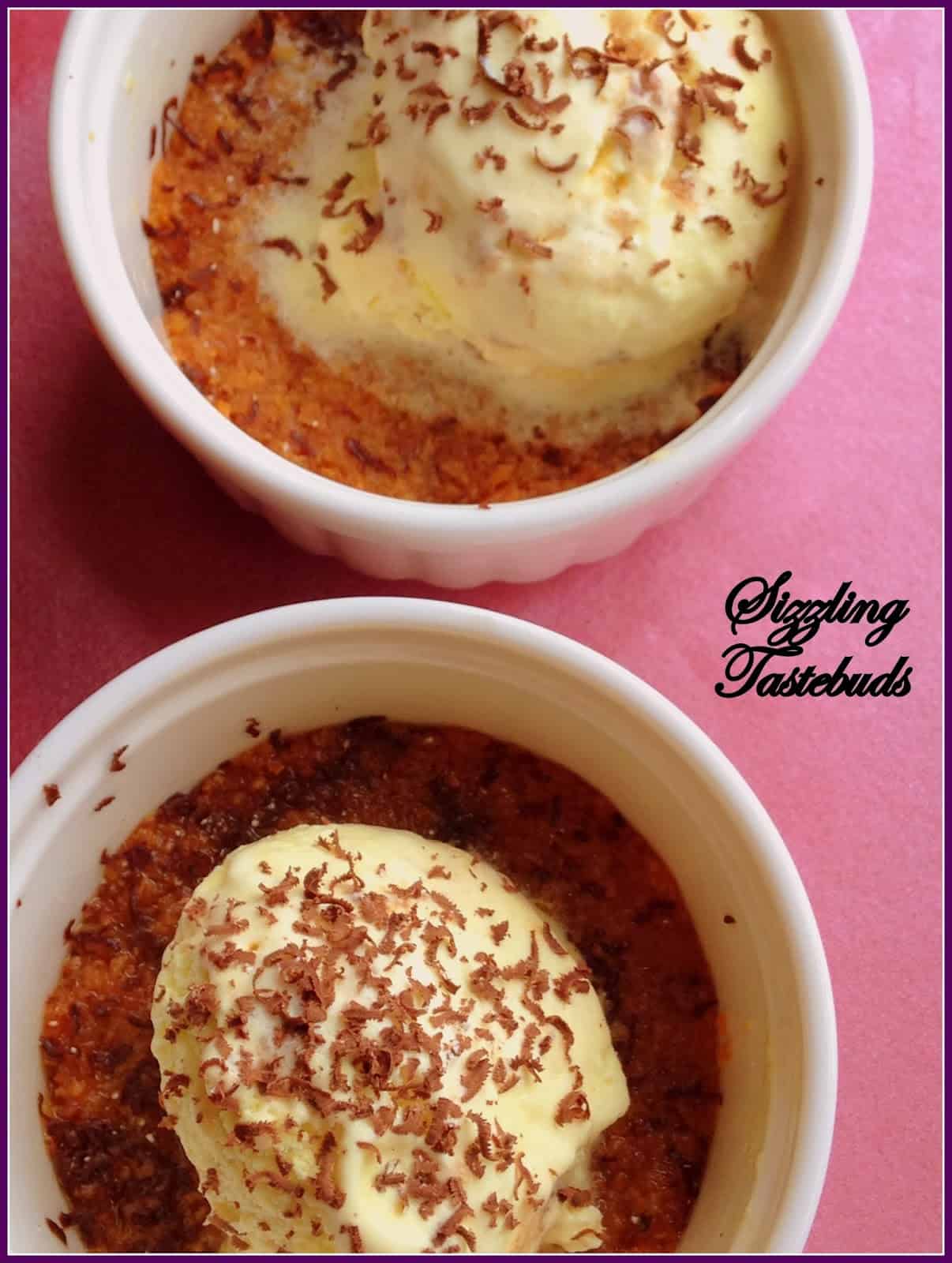 Pin

Ingredients:
Gajar Halwa – 4 servings ( I used the same recipe as my no-ghee Gajar-Lauki Halwa – replacing all Lauki with just Gajar)
Evaporated milk – 4 TBSP
Maida / APF – 2 TBSP
baking powder – 1/2 tsp
Salt – a pinch
To serve:
Butterscotch Ice cream (well, vanilla works fine, but butterscotch rules the roost at my place)
Dark / semi sweet Chocolate chips / chocolate shavings or sprinkles or fine cocoa (to balance the sweetness)
Method:
Make a slurry of maida and baking powder and salt with very little water (it should be a thinnish batter. Preheat oven to 160 Deg C.
In individual ramekins, add a serving each of Gajar Halwa, mix 1 TBSP of evaporated milk. Flatten it up a bit.
Now spoon in a thin layer of maida-slurry. Bake in a preheated oven at 160 for just 3-4 mins till it gets crusty on the top.
Cool a bit (just 1 -2 mins), top with ice cream of your choice topped with chocolate (in fact, if you like bitter / dark chocolate, go ahead and use it – it wonderfully offsets the sweet from the halwa and the ice cream)
Serve immediately.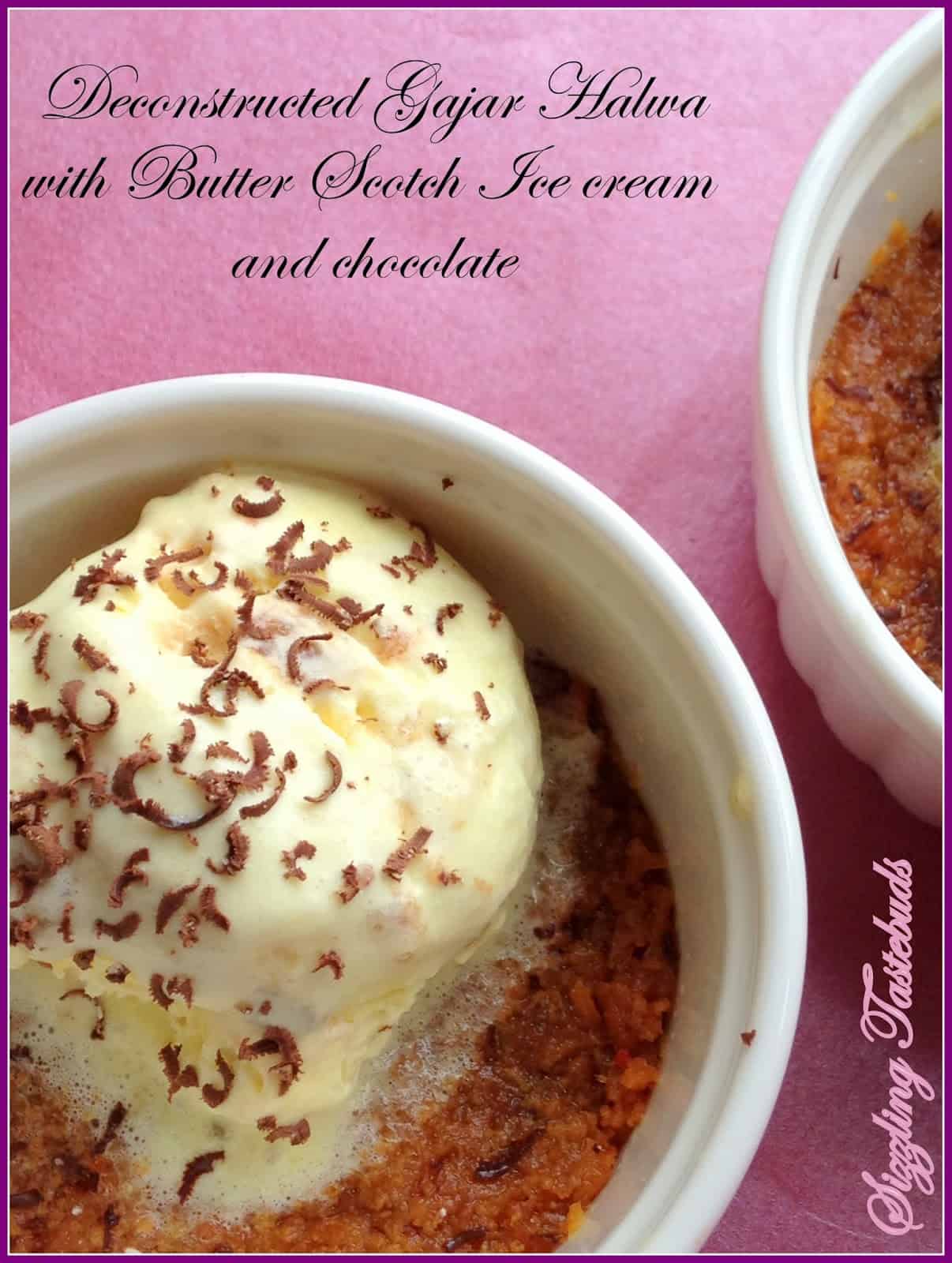 Pin
….and now, time for the giveaway. I am shipping one Swiss roll tray along with a cookbook within India to one lucky winner of my giveaway (chosen random from the entries). To win a chance to get this giveaway, all you have to do is this. The giveaway ends 15th Feb 2014. 
Subscribe

 to my posts via RSS Feed (10 points)
Join me via Google Friend Connect and 

Networked Blogs

 (10 points for each)
Tell me your most favourite blog post and why so, from this blog and leave the blog post URL as a comment (20 points). Also tell me one dish you would want featured on this blog (30 points).
Once you have done one or more of the above, leave a comment in the box below saying so (mandatory)


Thank you once again for your support and encouragement


Cheeers
Kalyani