Think Mumbai, think street food. Most of the streetfood in Mumbai wouldnt cost you more than Rs. 60- Rs. 70/- (Approx 1.2 USD or 1 Euro). Although I wouldnt vouch for the hygiene, most places can give you a full value for your money.. For a city that never sleeps and is buzzing with adrenalin, a simple street food like Vada Pav or Missal does (calorifically speaking) fill up your tummy on the go.. One such simple yummy delight is Safed Vatanyacha Missal (and Usal). Two names ? Confused? Read on to find out the details. For the linguistically challenged, Safed = white, Vatana = dried peas, Missal / usal = dish in tangy gravy.  
This dish is eaten as it is (like a side dish for Rotis / hot rice) – then its called a Usal, or also served topped with cilantro, chopped onions, farsaan (sev / bhujia), lemon and then its called a Missal. Both Usal and Missal are served with Pav (bread roll) in most Zunkar Bhakri Kendras (roadside eateries) sprinkled across Maharashtra and is a very popular street food. The highlight of this dish is the special-garlicky Kolhapuri Masala and have given the directions how to make it too. Without further ado, lets get on to the recipe…
Sending this to 
Anusha's Street Food event
My own event – Valentine Fest : Served with Love.. 
MLLA # 44, event by Susan, hosted by Sweet Artichoke
Amy'sHot & Spicy Treats
Priya Sreeram hostingFast Food not Fat Food, event byPriya's Now serving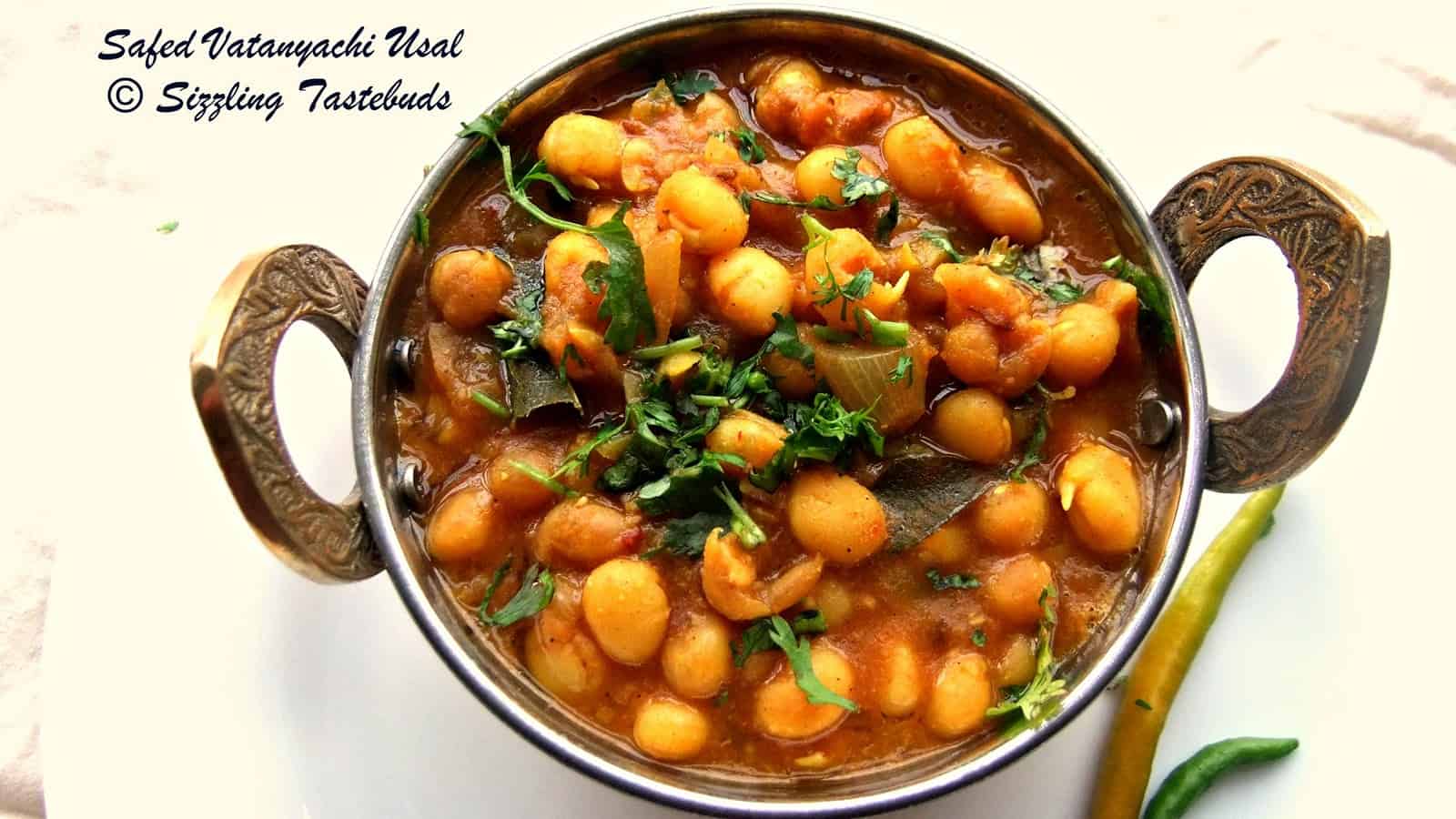 Pin

Prep time : 10 mins

Soaking time : 12 hours

Cooking time : 15 mins

Serves : 3

Ingredients:
Safed vatana (dried white peas) – soaked overnight – 1 cup
Onion – 1 – chopped
Tomato – chopped fine
Ginger Garlic paste – 1/2 TBSP
Tomato Puree – 1/3 cup (home made)
Green chillies – 2 no
Kolhapuri Masala – 2 tsp * (refer notes below)
Garam Masala – 1 tsp
Thick tamarind paste – 1 tsp
Salt – to taste
Turmeric – 1/2 TBSP
Oil – 3 TBSP
Garnish:
Coriander / Cilantro – 3 tsp
Chopped Onion – 1 no.
Lemon wedges – few
Sev / Bhujia – 1/2 cup (use the thick variety for best results)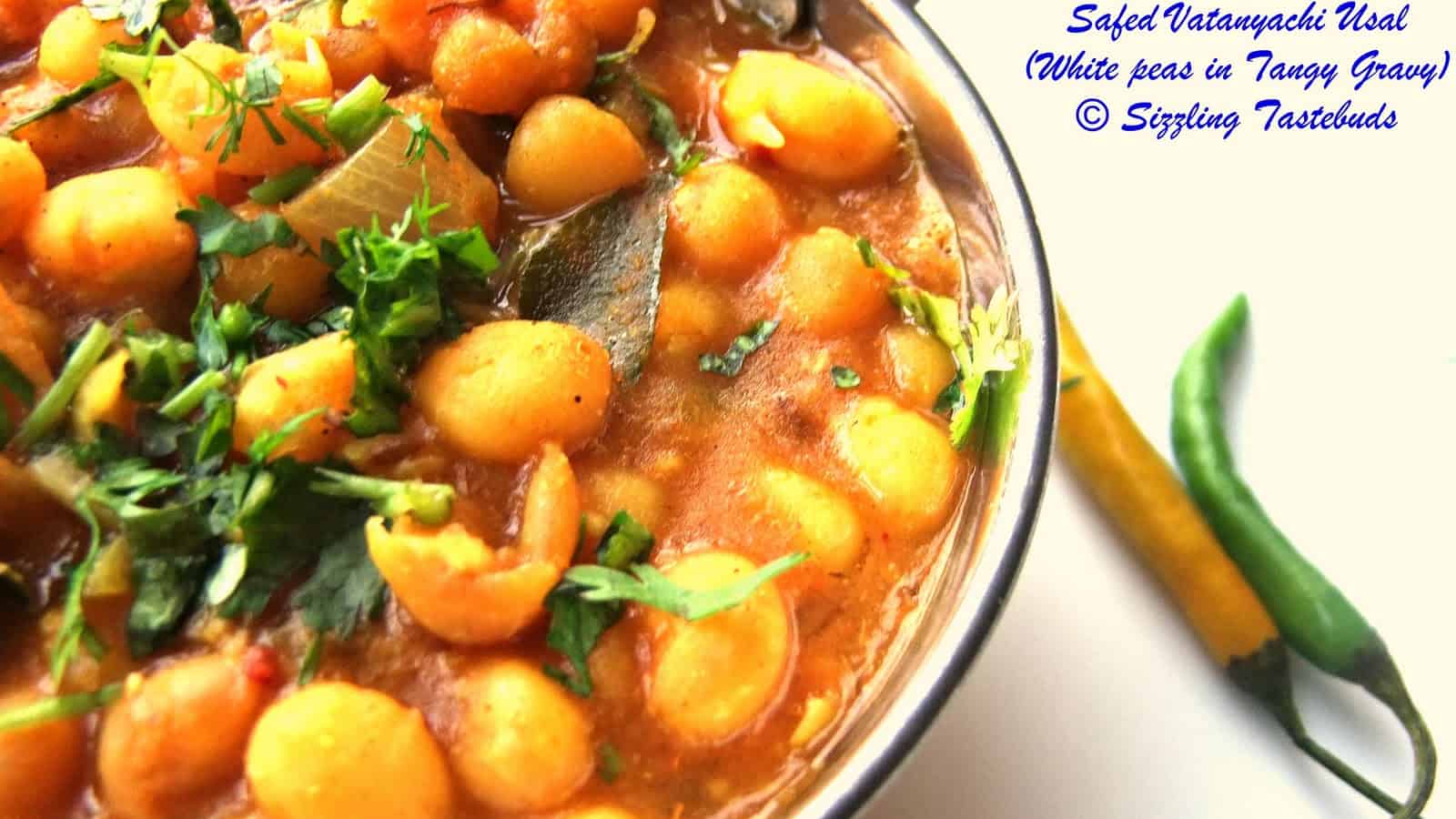 Pin

Method:

1) Wash, soak and cook the Vatana (dried peas) along with a little salt and a pinch of soda to 4 whistles.

2) In a pan, heat oil and add turmeric,ginger garlic paste, onions. Fry till onions slightly brown. Now add the garam masala, Kolhapuri Masala, salt, green chillies, salt and saute well. 

3) Once the raw smell disappears, add the tomatoes and saute till mushy. Then add the blanched tomato puree, tamarind paste and mix

4) Once you get a thickish gravy going, add the cooked Vatana (peas) and cover and cook for 10 minutes. 

Delicious Usal is ready

To use the same gravy, and turn it to Missal: 

In a bowl, take the Usal. Garnish it with chopped onions, chopped cilantro, Sev/ Bhujia and serve with pav (Indian Dinner Rolls / Indian bread)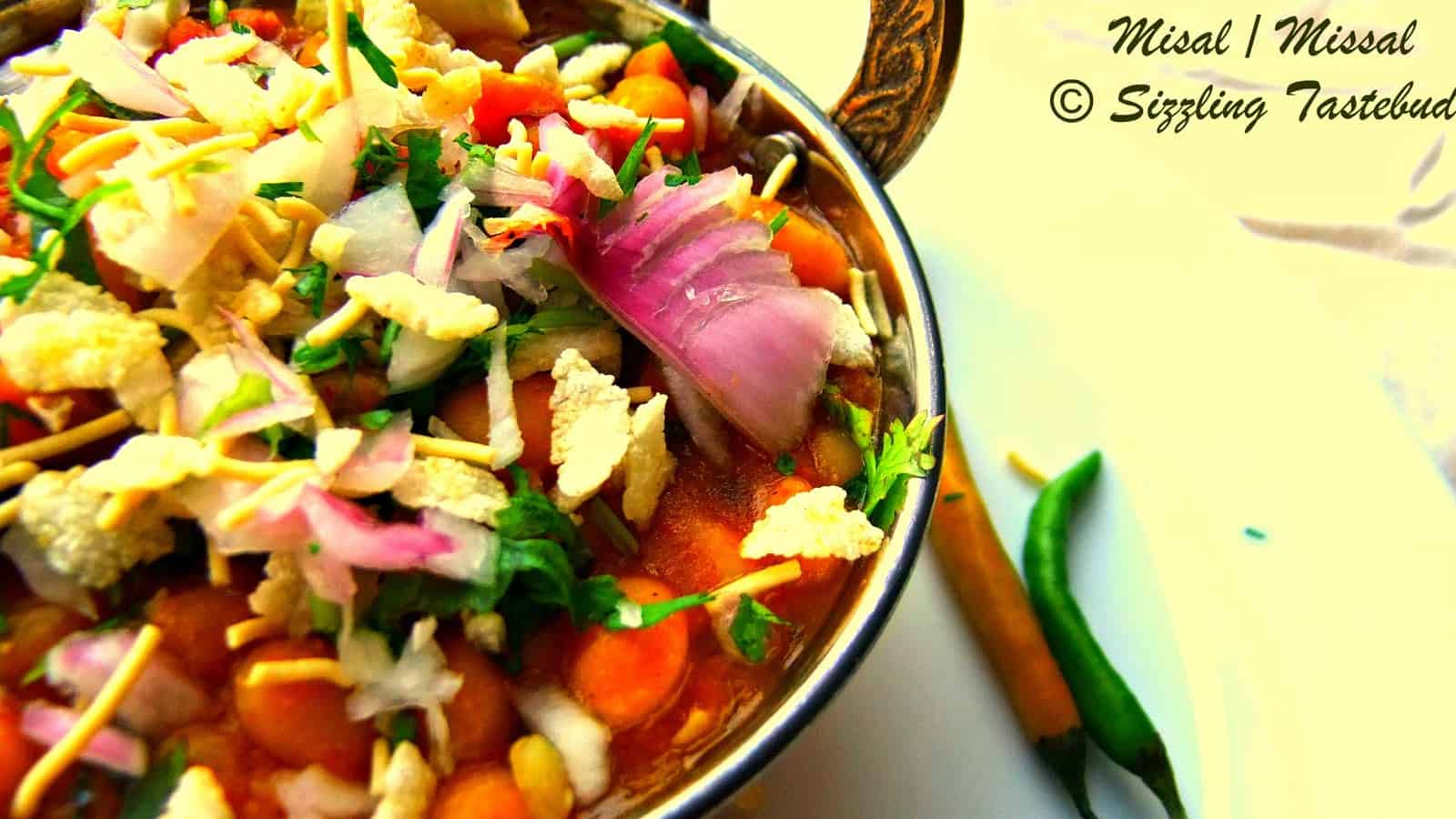 Pin
Notes: 
How to Make Kolhapuri Chutney / Kolhapuri Masala (adapted from here):
Ingredients
Red chillies – 6 nos ( Kashmiri Variety)

Red chillies-  2 nos (hot / spicy variety)

Coriander seeds – 2 TBSP

Cumin Seeds – 1 TBSP

Shredded Coconut – 3 TBSP (I used dry coconut)

Garlic – 6 pods

Sesame seeds – 1/2 tsp

Cinnamon – 1/2 inch stick

Pepper – 4 to 6 nos (adjust spice)

Fennel Seeds – 1/2 tsp

oil – 1 TBSP
Method:
1) Dry roast all ingredients except garlic separately and set aside.
2) Fry garlic in the oil till it turns brown and add to the mixed spice.
3) Cool and grind stuff to fine powder
4) Store in an airtight container and use as required. Refrigerate up to 2 weeks.
Please note this masala(spice mixture) is very spicy and some people also add fried onions & cilantro which I have skipped here. 2 tsp of this spice mixture for the above Usal / Missal is quite enough for a family of 4. However, please adjust spice accordingly.