If you are from Karnataka, chances are you have definitely eaten Rava Vangibhath. A very popular lunch box item, this is similar to Upmaand Vangibhathin some way, but the coming of the Sooji / Semolina (Rava) and also the aromatic spices and veggies is very comforting. I serve this with plain curd and papad and its very very filling. This is also one way you can get your kiddos to eat veggies as you play around with the ingredients too ! Adding of cashewnuts to this is purely optional, but does add a punch and a crunch while you munch it (hey ! that rhymed!:):)) This healthy lunch is off to Blogging Marathon Day 3 under Lunchbox Ideas. Check my fellow marathoners here.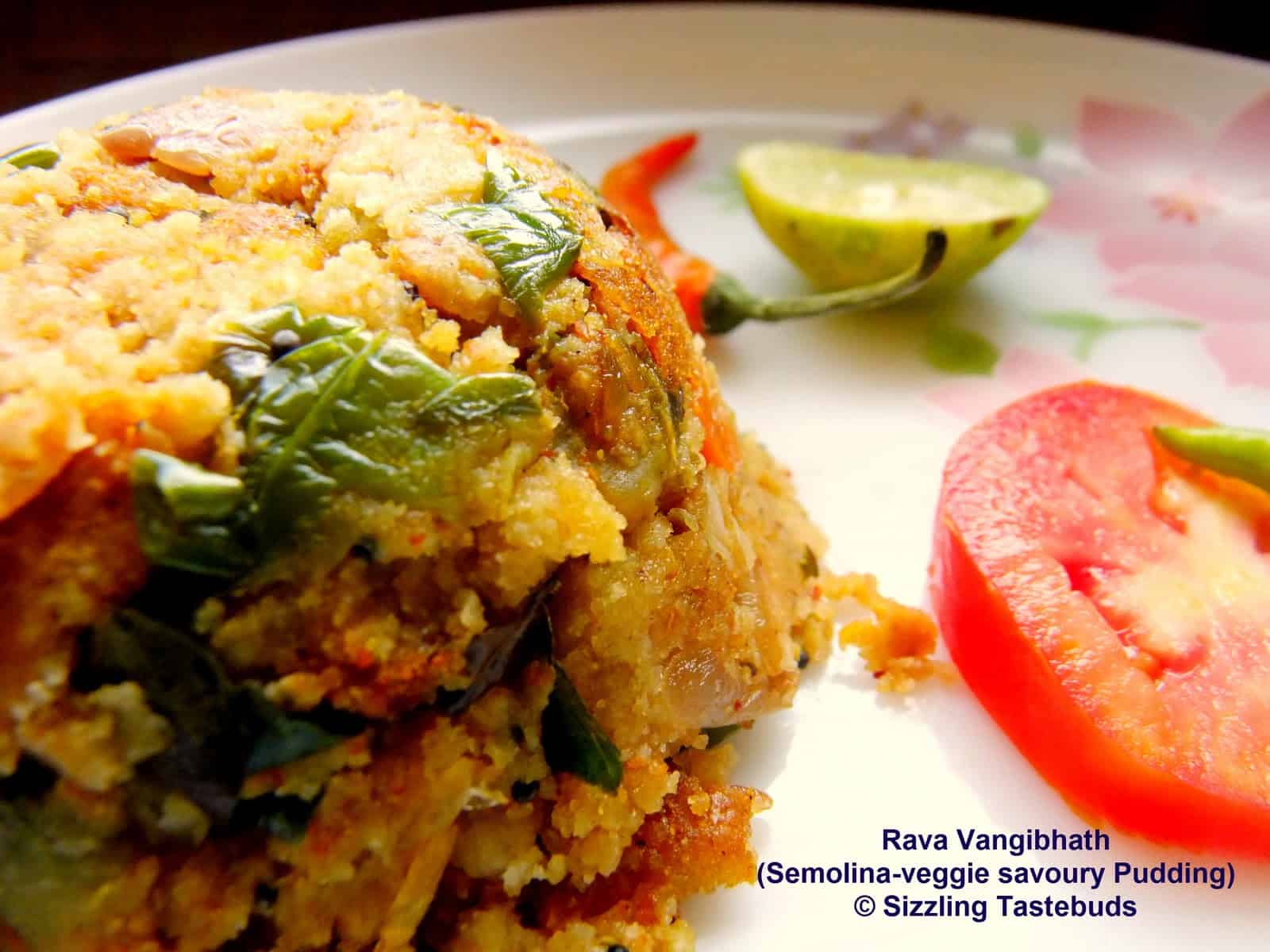 Pin

Prep time : 15 mins. Cooking time : 10 mins. Serves : 2

Ingredients:
Fine Rava / Bombay Rava  – 1 1/2 cups
Oil – 4 TBSP
Onions chopped-  1 large
Tomato – 1 large – chopped
Veggies chopped – 1 cup ( I used cauliflower, carrots, beans, peas)
Capsicum – 1 chopped
Green chillies – 2 or 3
Vangibhath powder – 2 tsp (See the recipe for Vangibhathfor the spice powder mix)
Salt – to taste
Tempering ; Mustard powder, urad dal (1 tsp), curry leaves
Coriander leaves & Lemon juice, roasted cashews(opt.) – to garnish
Asafoetida / Hing – a generous pinch
Turmeric – a dash
Hot water – 3.25 cups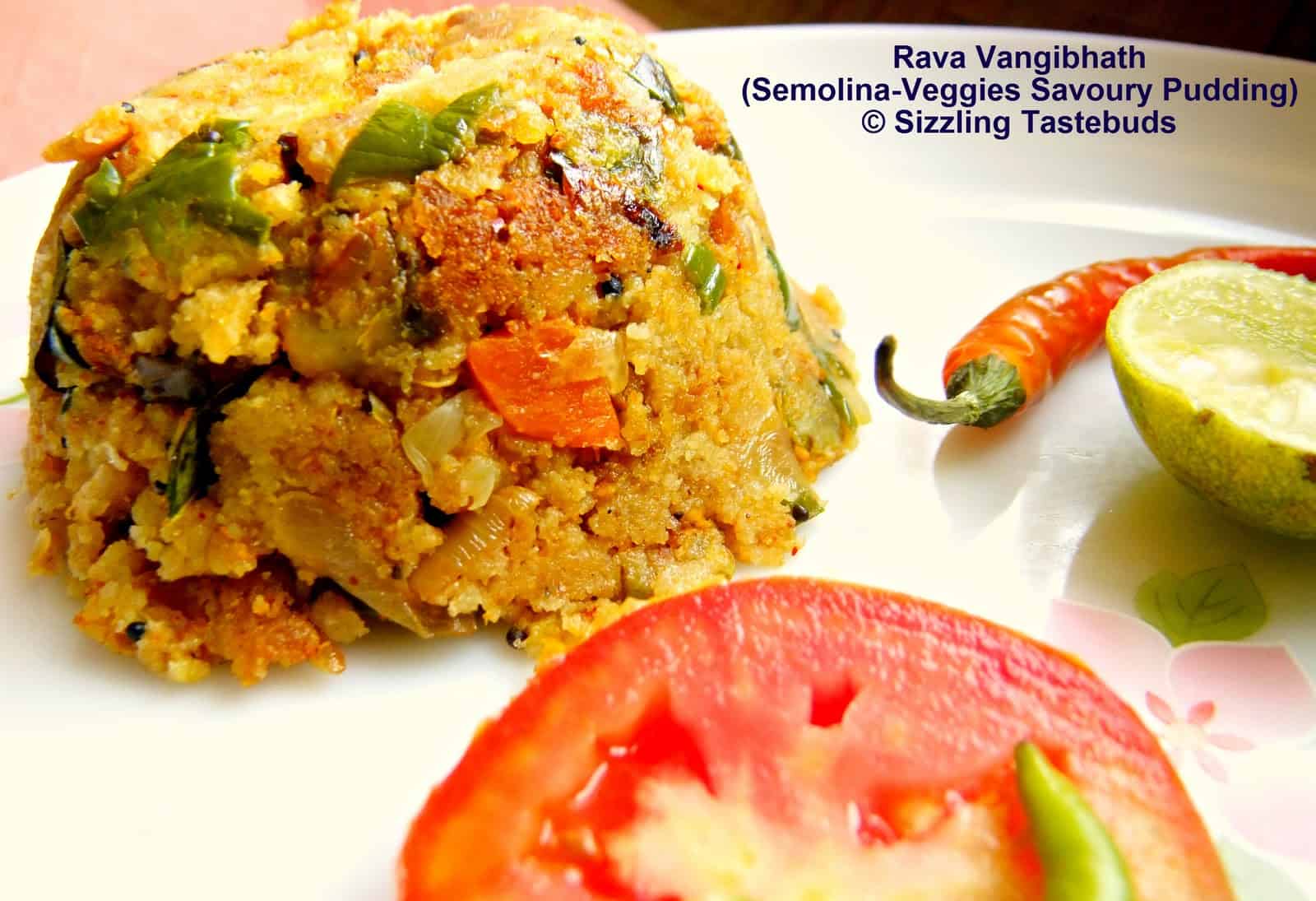 PinPin
Method:
1) In a deep bottomed pan, add half the oil. Prepare the tempering with mustard seeds, curry leaves, urad dal, green chillies. When the dal slightly browns, add the asafoetida, turmeric and the sooji (semolina) immediately.  Fry till the rava / semolina turns warm and emanates a nice aroma- take care not to burn it though. Transfer t a plate and cool
2) In the same pan again, heat the remaining oil. Once hot, add the onions, tomatoes and requiste salt. Saute till the onions brown and the tomatoes turn mushy. Now add the chopped capsicum (bell pepper) and the chopped veggies and the Vangibhath powder. Saute again. Add 3 cups of boiling water and cook covered for 6 – 8 mins till the veggies are cooked. Tip : I blanch the veggies for 10 mins in a microwave and add them thereby saving precious fuel and time.
3) Once the veggies are cooked, slowly add the roasted semolina in a steady stream and mix vigorously into the boiling water- veggie mixture. Add 1/4 cup more boiling water and a TBSP of oil at this stage and mix well. Cover immediately and cook for 8 mins till the sooji is cooked on medium flame.
4) Switch off the flame. Garnish with coriander leaves , roasted cashews and lemon juice and serve immediately with curd. If packing for the lunchbox, add 1 tsp of ghee to the Vangibhath to prevent drying out.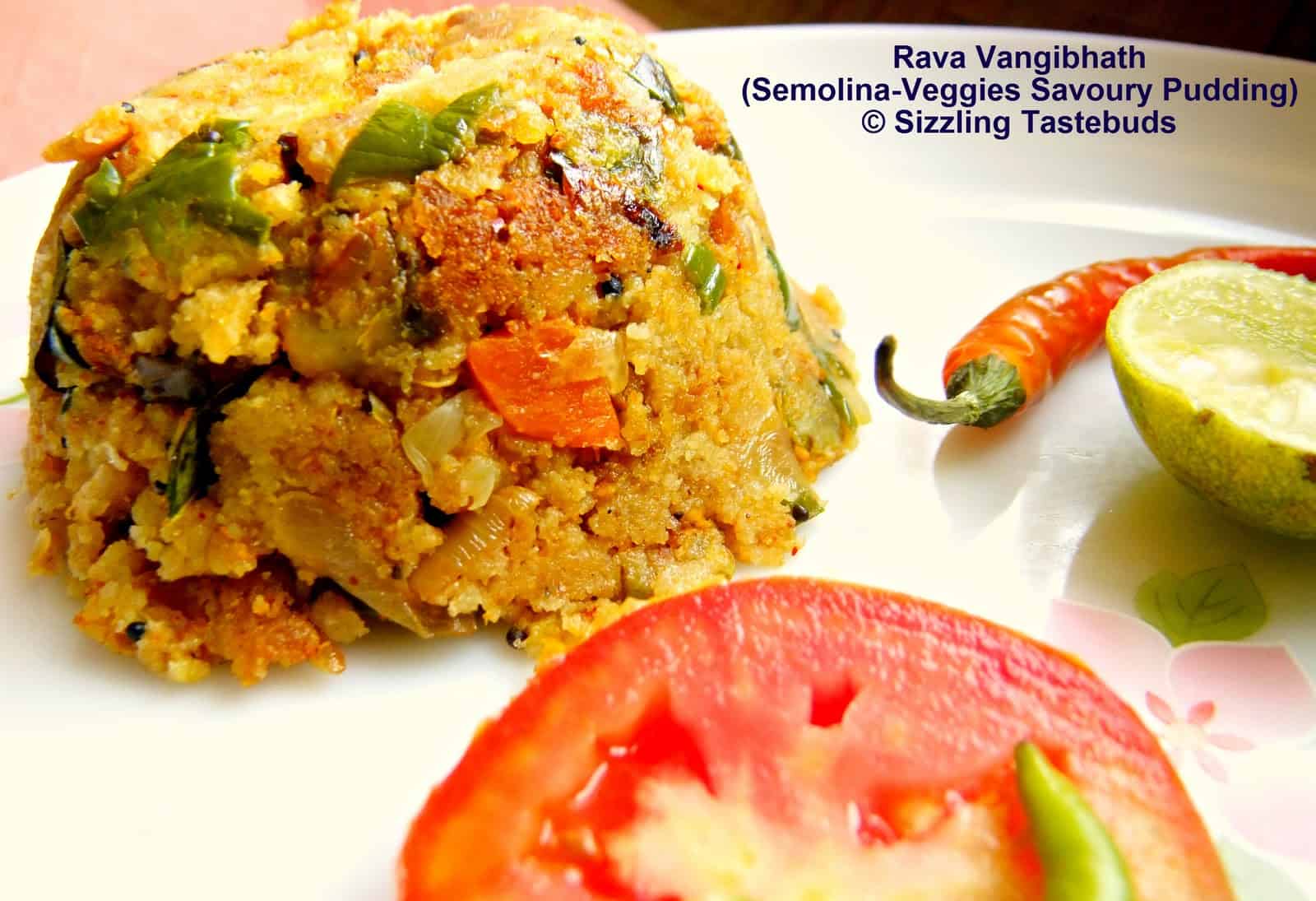 PinPin