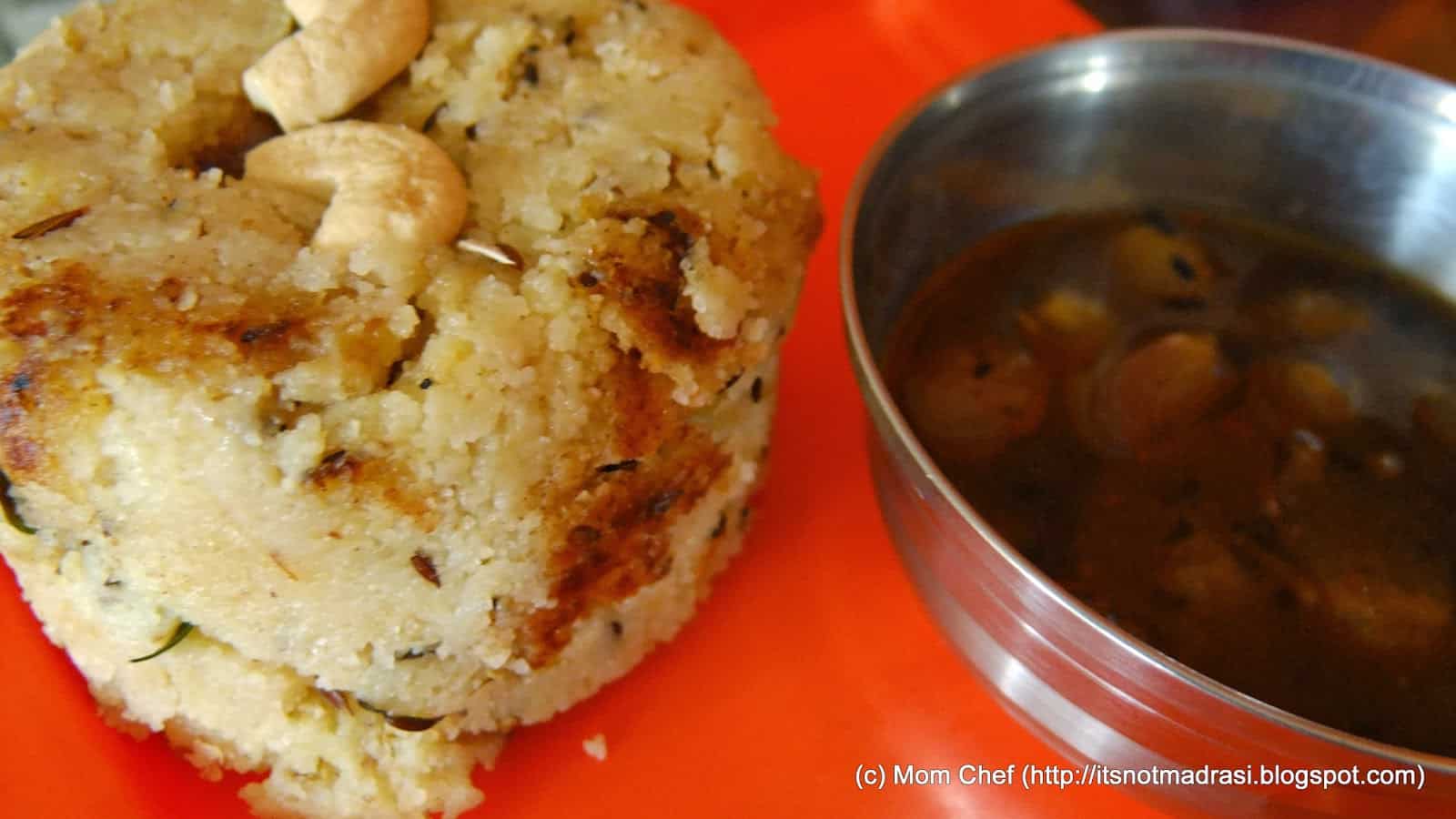 Pin
About 4 years ago, while travelling from Madurai to Coimbatore on work, my car stopped at a shack-like eatery somewhere midway between these two cities at about 6am in the morning. I must confess that the Pongal I ate there was like nothing I have ever tasted till date, or will perhaps never. Gooey soft and steaming Pongal with green chilly-coconut chutney on a freshly cut banana leaf (mind you , no stainless steel plate even!) was out of this world !! I dont know which village this was at, but I would give anything to (re)learn how to make that Pongal 🙂
Yes, Pongalalso means a breakfast dish (the namesake also referring to a South Indian festival) and is usually mis-named "South Indian khichdi" ! I quite take an objection to that because although Khichdi is usually made of the same main ingredients as Pongal (Dal -Rice), it also contains veggies, which the traditional Pongal doesnt have.
Pongal has been a stronghold of Tamilnadu cuisine, although its poorer cousins have been tried and tested in Karnataka as Huggi. I remember at an eatery near Mayo Hall in Bangalore, it served huggi (or what was called Pongal) with Onion-Cucumber Raitha :)In fact, Pongal–vadai combo I am told is a mandatory item at any Chennai wedding these days. It goes well with both Onion kuzhambu (also called gothsu) and / or Coconut chutney.
While on the quest for 'coconut free' and low-carb recipes, I decided to make Rava Pongal, substituting Rava for rice and the rest of the ingredients as it is.
Preparation Time : 10 mins
Cooking Time: 25 mins
Serves : 3
Ingredients:
a) For Pongal:
Rava / Soji – 2 cups
Moong Dal / Split green gram – 1 cup
Ginger – grated – 1 tbsp
Ghee – 3 tbsp
Jeera & pepper – 1 tsp each (coarsely powdered)
Asafoetida – 3/4 tsp
Salt to taste
Curry leaves – few
Oil – 2 tbsp
Optional garnish: Cashewnuts
b) for Onion Gothsu / Onion gojju:
Shallots – 100 gms
Tamarind extract – 2 cups
Rasam Powder – 1 tbsp
Jaggery – 1/2 lemon sized
Salt to taste
Turmeric- 1/2 tsp
For tempering: Oil- 1 tsp, Mustard seeds + curry leaves
Method:
(A) For Pongal
1) In a dry pan / handi pot, slightly roast rava . Transfer to a bowl.
2) Now add 1/2 tbsp oil and fry moong dal till golden brown.
3) Boil Moong dal in 3 cups of boiling water till 3/4 done. Ensure its not mashed up . Drain the dal and retain the water.
(You may also pressure cook for two whistles)
4) In a pan, heat ghee. Add the grated ginger, coarse powder mixture of Jeera-Pepper, hing, curry leaves, rava and the water from the dal. Cover and cook till Rava is cooked.
5) Now add the boiled moong dal, adjust salt and cook covered till the moong dal and Rava incorporate into each other. Stir occasionally if you are not using a non stick utensil as it may stick to the bottom / burn slightly. Cook covered till done.
6) Garnish with Cashewnuts and 1 tbsp of ghee and serve with Gothsu (recipe below)
(B) For Gothsu / Gojju:
1) Heat a pan, add oil. Splutter mustard seeds and curry leaves. Add turmeric, hing (optional) and the onion shallots and stir.
2) Add 1 cup of water and cook covered till shallots are cooked till 90%.
3) Now add the tamarind extract, salt, rasam powder and jaggery. Let it boil for 5 – 6 mins.
4) If you need to thicken this, add a paste of 1 tsp Rice flour mixed with 1/2 tsp of water.
5) Serve hot with Pongal.
Tips:
a) You may use chopped brinjal / ladys finger instead of onions for a satvic version of gothsu.
b) You can use Red chilli powder if you run out of Rasam Powder for the Gothsu.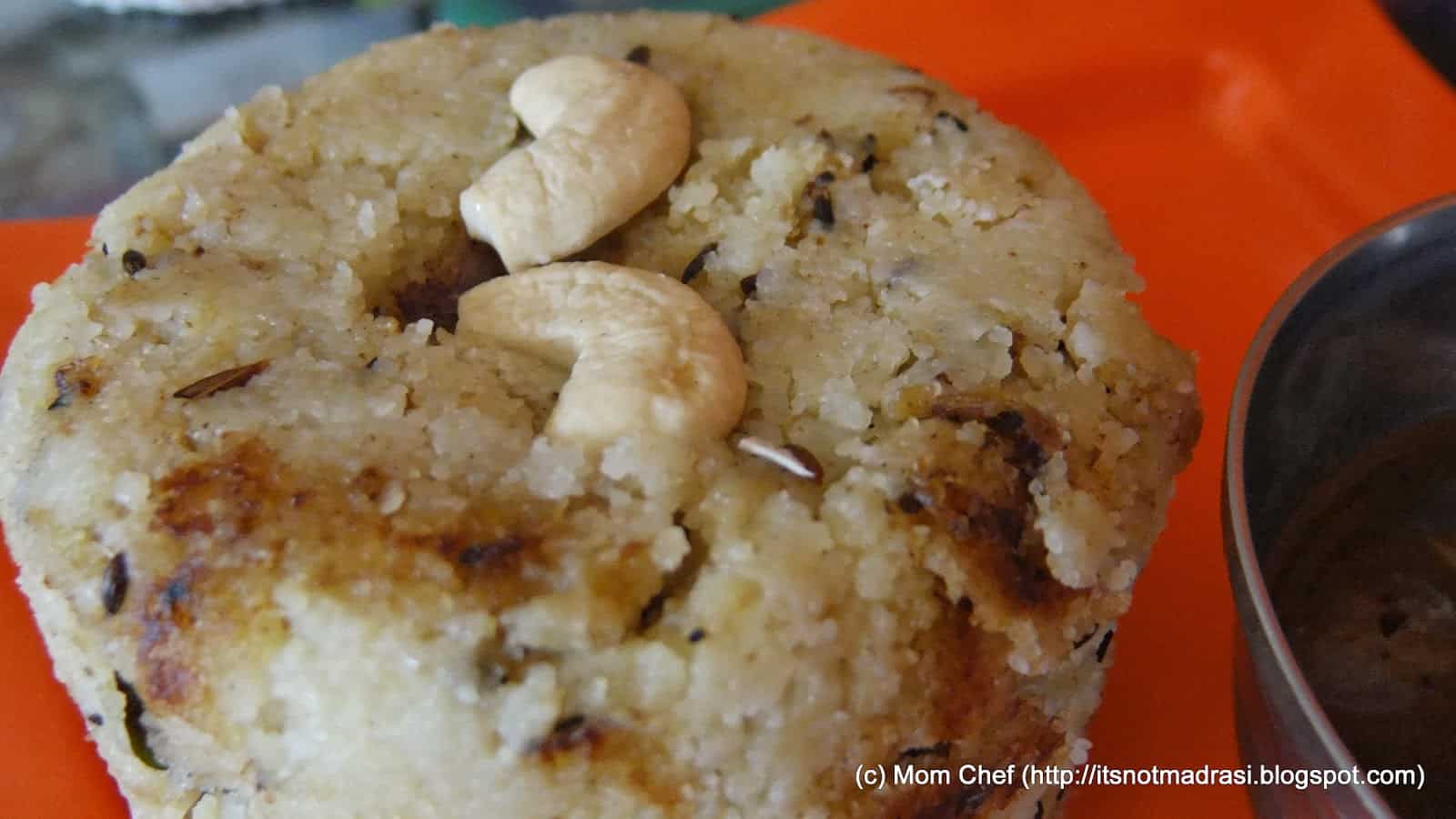 Pin