First the
disclaimer : This is a long post and close to my  heart. And I hope you
find it as interesting to read as much as I loved to write it.
Second the
declaration : This was a post, to be up on 18th Sep, but due to reasons beyond
my control, is on today under Alphabet O , although my fellow BMers at the Alphabet BM # 32are dishing
out stuff under the Quirky Alphabet Q which I am sure had many of us scouring
hundreds of websites before settling on THE recipe for the day.
O for Obbattu (ಒಬ್ಬಟ್ಟು). Obbattu is a thicker version
of the Poli or stuffed bread with jaggery and coconut. The difference between
Obbattu – a classic Mysore Karnataka dish – and Poli (with which it is
generally compared), couldnt be more yawning than saying Chinese and
Australians have the same genetic pool – I have nothing against either race,
but the comparision is …. ummm… duh ! 
Quickly coming to
today's post, it holds so many memories of being made loving by pati (my
maternal grandmom) and mom too just during the festival meal that I can feel
the sweetness of jaggery, the fresh coconut, the nutty aroma of jaiphal
(nutmeg) wafting through the kitchen, the glistening banana leaves shimmering
in the dim light of my Pati's kitchen – all memories that make this a yummy
dish to make,and for we kids to gorge on…
Festivals like
Ugadi (Kannada / Telugu new year), Diwali and most celebrations at home were
never complete with Obbattu , and Puliyogare (another classic iyengar dish). In
that sense, for those from a TamBrahm background, these were like the creme
brulee of Kannada cuisine. A thinner version of Obbattu with a maida covering
and coconut-sugar filling is made, and called Holige (ಹೋಳಿಗೆ) although the names are interchangeably used.
Alas. I never
mastered it, and just know the steps how to make this.When Amma made this for
Ugadi this year, I captured most of the steps, and recorded the steps verbatim
from mom (I should have used a voice recorder to make sure of the steps,
perhaps next time). So, this dish comes to you lovingly served along with the
Ugadi Thali (Festive spread) from my own kitchen, and the Obbattu made by mom.
Over to the recipe, now 🙂
Served here as
part of the Ugadi Thali:
Obbattu 
Puliyogare (Tamarind
Rice)
Cabbage Palya (cabbage
stir fry)
Kosambari(salad with
cucumber and moong dal)
Rasayana (banana salad with coconut and jaggery)
Anna (steamed rice)
Bele (Tempered Toor Dal)
Malenadu Southekaayi Majjigehuli (Yellow Cucumber in spiced yoghurt gravy)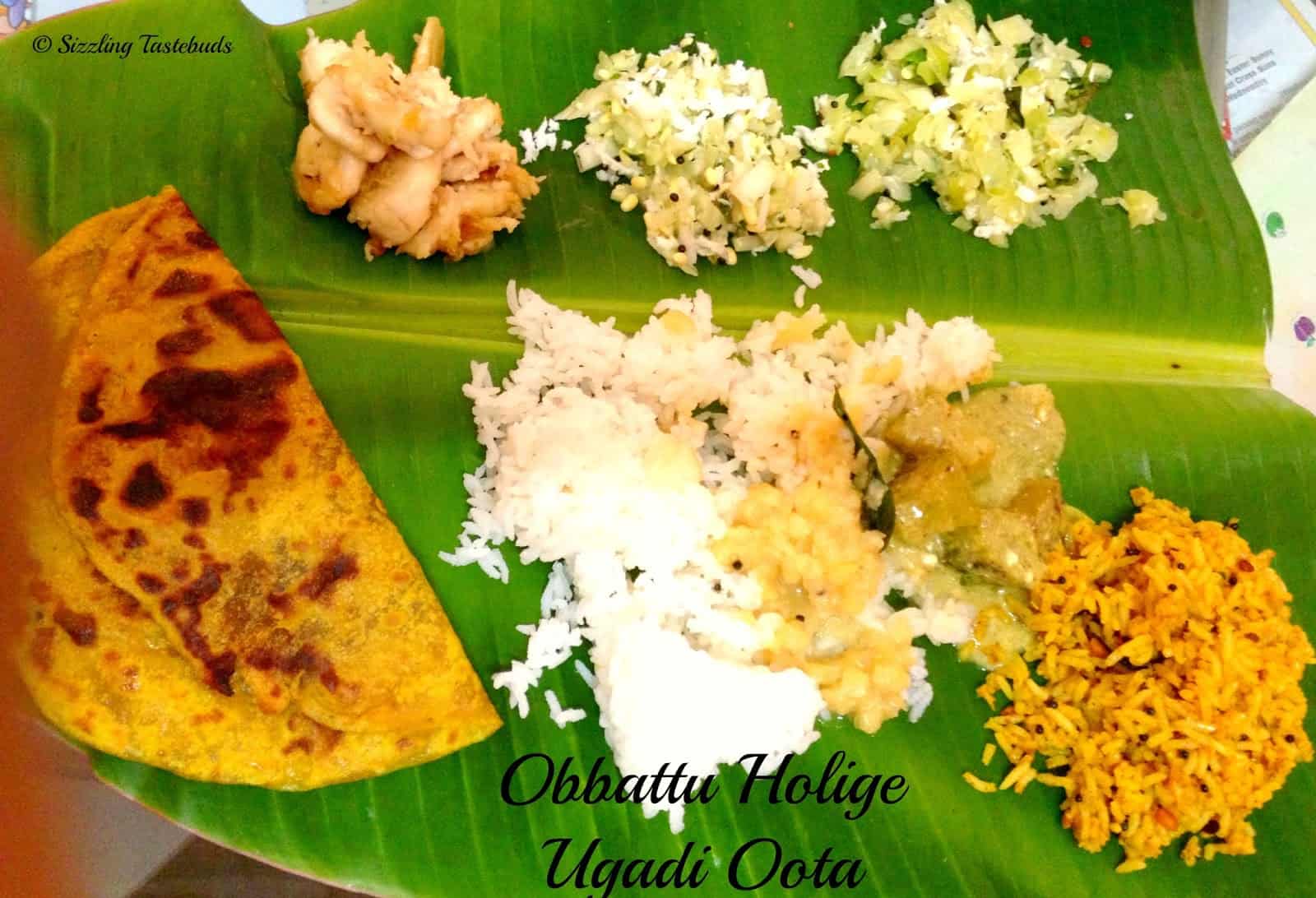 Pin

Prep time : 1
hour, Resting time : 1 hour+ | Cook time : Approx 45 mins | 

Makes : 15 – 20
Obbattus

Keeps for 1 week under refrigeration

Ingredients:

Stuffing : 
Toor Dal – 1 cup (Can also be made with a combination of channa dal & Toor dal)
Grated Jaggery –
3/4  cups
Turmeric – 1/4 tsp
Fresh Grated
coconut – 1 cup
Grated Nutmeg – a
large pinch
Powdered Elaichi /
cardamom – 1/2 tsp
Saffron strands –
few (optional)
 Oil / Ghee- to grease the rolling pin and banana leaves – approx 1/4 cup
Covering :
Wholewheat flour –
3/4 cup (Can use Maida only extensively, but amma uses both)
Maida – 1/4 cup
Chiroti rave /
Fine Sooji – 4 TBSP (If you dont have this, lightly pulse normal Sooji once)
Salt – two pinches
Turmeric – a large
pinch
Oil – to grease
(approx 1/4 cup)
Method:
For
the Covering or also called Kanika (ಕಣಿಕ)
:
In a large bowl,
sieve the flours and salt twice over. Add the fine sooji and mix well. Add
turmeric and little water to make a smooth dough. Keep covered for 1- 1.5
hours.At the end of the resting / Soaking time, the dough should be stretchy
without breaking, this is the test for the covering.
For the filling
(aka Hoorana (ಹೂರಣ)):
Soak Dal  for
1/2 hour. Bring 6-7 cups of water to a rolling boil, add the soaked and drained
Channa Dal, turmeric and cook till the dal is cooked, and not mushy. If you
were to press the dal between the thumb and the forefinger, it should be
slightly soft, but still hold shape in the centre. This takes approx 25 mins.
Drain and retain the water (yummy Obbattu saaru – or Obbattu Rasam is made out
of the extract).  Cool slightly & grind the dal along with the coconut
to a smooth paste without adding ANY water.
In a non stick
pan, melt the grated jaggery add the coconut – dal paste. Cook till the mass
comes to a thickish consistency, and you are able to pat a little pancake on
your palms with a small portion. At this stage, the filling would leave the
sides and turn to a thickish slightly dry mass rolling all over the pan without
sticking. 
Add powdered
elaichi and grated nutmeg to it and mix well. Cool and cover with a damp
kitchen towel.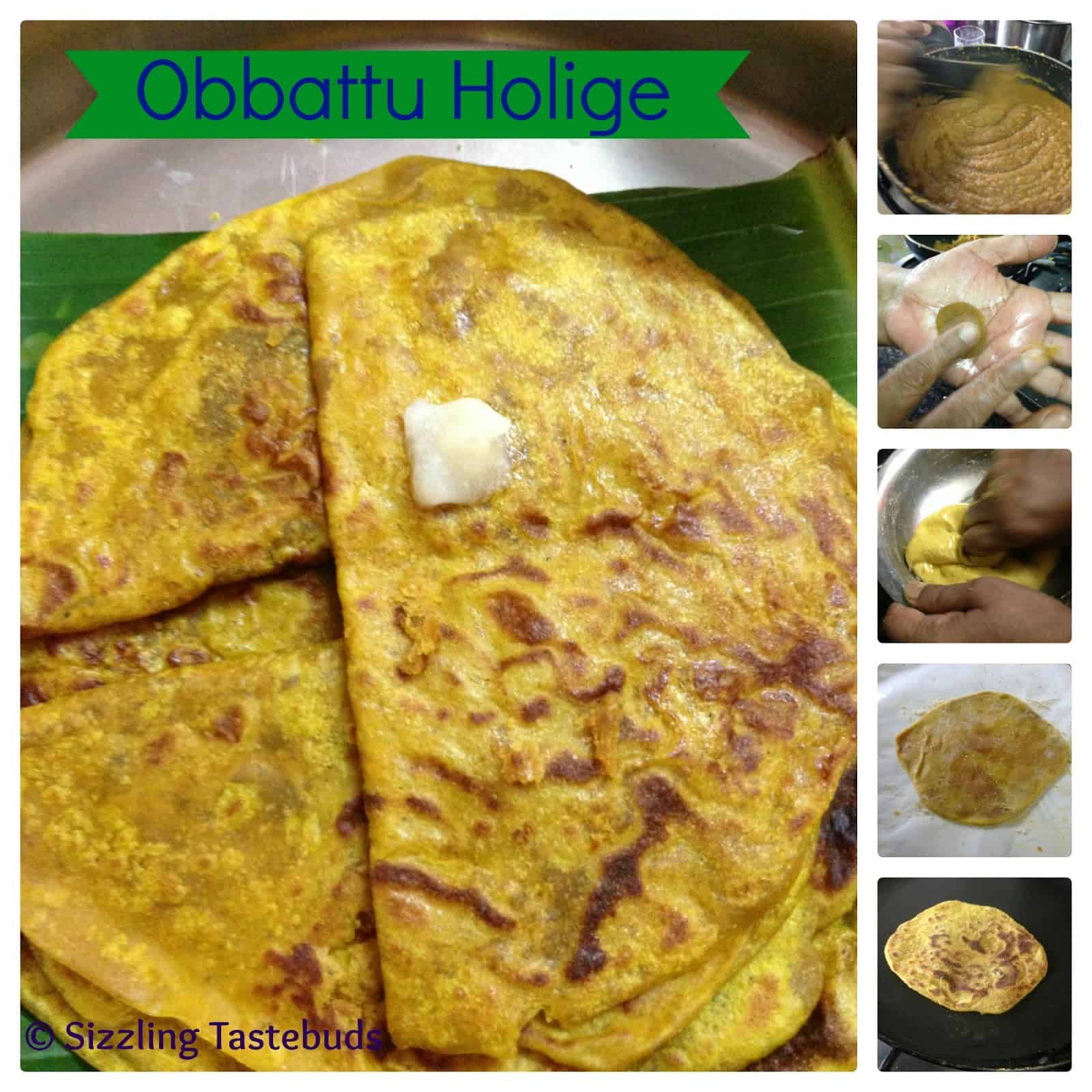 Pin
To make the
Obbattu: 
Knead the outer
covering well for 5 mins. Make equal portions of the stuffing. 
Grease a butter
paper or banana leaf with generous oil. Pinch a small amount of the covering,
and with the fingers, spread to a small disc, place the filling in the centre,
and as with a modak, fold the dough over to cover the filling. Pinch out excess
dough.
Very gently with
your fingers or lightly rolling with the rolling pin, flatten it out to a
thickish disc, approx 8 inch in diamater. Take care that the filling does not
come out.
Meanwhile heat a
tava on medium heat, flip the flattned out Obbattu on to the hot tava. Fry on
both sides without oil till dark brown spots appear on both sides (this is to
be done on low-medium heat) else will harden. There is no need to add oil for
frying as the flattening out / rolling out is done on a generously greased surface
Repeat for
remaining dough. 
Serve hot with a
dollop of ghee. Store between banana leaves in an airtight container – this
keeps for upto a week under refrigeration. 
To reheat, just
warm it on a tava for a min or microwave on a flat plate for 30 secs.
So far dished out in the Alphabet Series :
A for Avarekaalu Akki Thari uppittu (Field Beans / hyacinth beans and broken
rice pudding)
B for Batata Saang (Potatoes in coconut tamarind
gravy)
C for Chinna Vengaya Khara Kuzhambu (Pearl onion tamarind Gravy)
D for Davangere Benne Dose (Karnataka special Dosa)
E for Eerulli Gojju (onion-tamarind Gravy for rice)
F for Filter Coffee (South Indian beverage)
G for Godhi Chutneypudi (Wholewheat spice powder)
H for Hagalakayi Upkari (bitter gourd coconut curry)
I for Iyengar Thayirvadai (South Indian Dahi Wada)
J for Jolada Rotti (Sorghum bread)
K for Kadappa (potato – Chinna Vengaya Khara Kuzhambu garlic
– coconut gravy)
L for Lemon Sevai (Lemony Stringhoppers)
M for Mandakki Oggarane (Puffed rice snack)
P for Poondu
Podi (Garlic flavoured Spice powder)