Two healthy ingredients coming together in a medley that's not only yummy but also heart friendly and tasty – Oats Moong Tikki. Wholegrains Oats is used with my favourite lentil Moong dal – to create a quick snack that fights hunger pangs. Like the Moong dal Seekh Kebab, this one too requires the dal to be boiled al dente , not mushy. Addition of potatoes is optional and would give it more volume, although it may not be suited for diabetics. 
One may use boiled and grated sweet potato instead. Now, to the recipe. I used sprouted Moong (ground coarsely). You may use soaked and pulsed yellow Moong dal too. Other veggies that I added in this were Cabbage / grated carrots and some onions. Makes for a quick wholegrain snack. Sending this to my own event – CWS – Oats & Raji's Only Snacks, event by Pari. Lets get to the recipe now.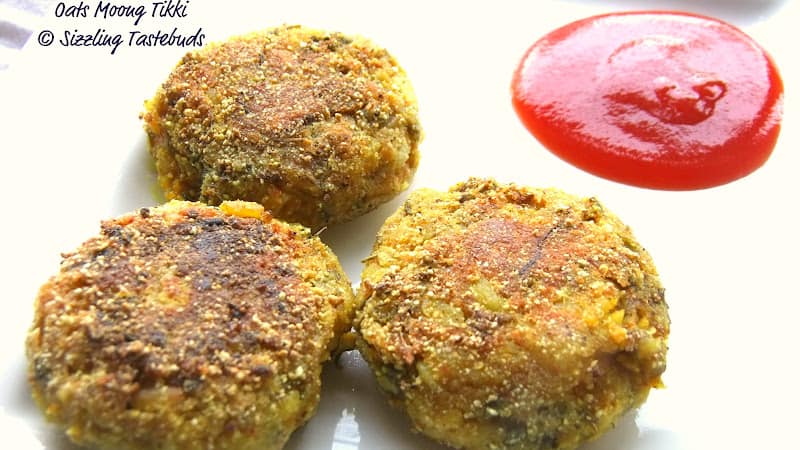 PinPin

Prep time – 15 mins

Cook time – 15 mins

Makes – 6 to 8 Tikkis

Ingredients:
Oats (I used rolled Oats) – 1/2 cup
Moong Sprouts (Split green gram sprouts) – 1/2 cup
Cabbage – 1/4 cup
Onions – 1/4 cup
Grated carrots – 1/4 cup
Salt – to taste
Olive oil – 4 to 5 TBSP
Garam Masala – 1 tsp
Turmeric – 1/2 tsp
Chaat Masala – 1/2 TBSP
Red chilli powder – 1/2 tsp
Green chillies – 1 or 2  (minced fine)
Coriander leaves & mint leaves – a handful
Cornmeal – to roll the tikkis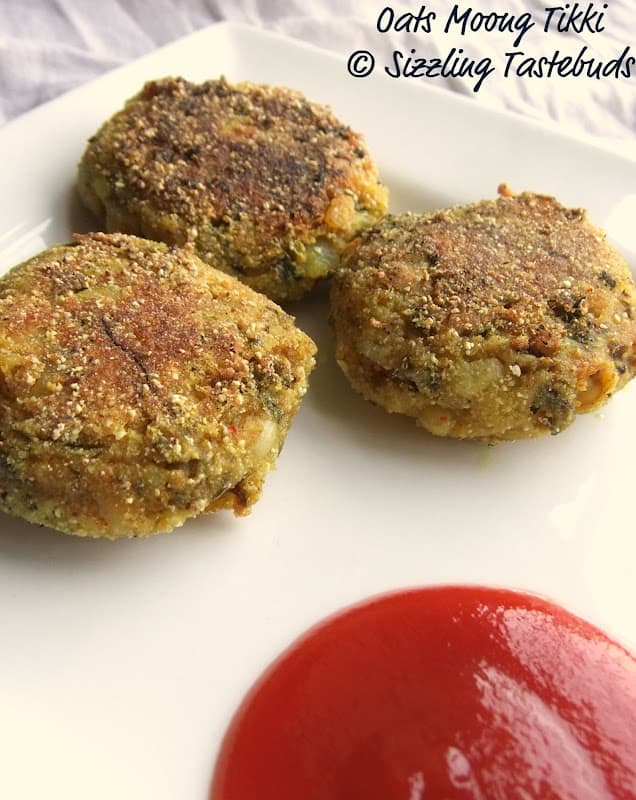 Pin
Method:
1) Roast Oats in a dry pan. Cool and powder coarsely.
2) Boil Moong Sprouts in hot water with a pinch of salt and turmeric for 10 mins till al dente. Drain and grind in a spice grinder to a coarse paste. 
3) Take the moong paste in a large bowl. Add the onions,chopped cabbage, grated carrots, salt, turmeric and dry masalas. Add green chillies and mix well. Now add roasted and powdered Oats little by little and mix to get a thickish mass (dough like consistency). Divide into equal portions and flatten out
4) Heat a shallow pan. Roll the tikkis in the cornmeal and place them on the pan. Drizzle oil around the tikkis and cook on medium flame. 
5) Serve hot with tomato ketchup or green chutney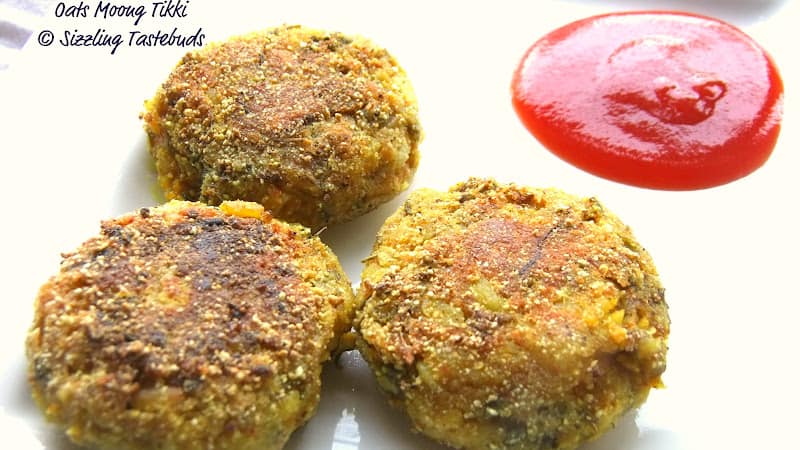 PinPin