I am Kalyani a.k.a Mom Chef ofWhat's Cooking?Delighted to be hosting WWC (Wholesome Wholegrain Cooking) event with the theme – Ragi for breakfast (Ragi = fingermillet) . Originally conceived bySanjeetha of Litebite, this event focuses on (and to quote Sanjeetha from her blog):
"….WWC is to get more creative ideas from all quarters of culinary world to boost the nutrition in our meals. I hope it will be fun & informative as well to experiment and cook with various wholegrain and add a new dimension to our meal and that is good health."
Finger millet is especially valuable as it contains the amino acid methionine.Finger millet can be ground and cooked into cakes, puddings or porridge. The grain is made into a fermented drink (or beer) in Nepal and in many parts of Africa. The straw from finger millet is used as animal fodder. It is also used for as a flavoured drink in festivals. Going by the names of Ragi (Kannada/Telugu),Kezhavargu (Tamil), Muthary(Malayalam), Nachni (Hindi / Rajasthani) etc, this wondergrain has loads of calcium which is even prescribed for 6 month old infants' food as Ragi Malt ! In India, Ragi recipes are hundreds in number and even common food stuffs such as dosa, idly and laddu are made out of ragi. Recipes such as Puttu, Ragi mudde, Bhakri, Ragi Sankati – all these bear testimony to the health wonder that is Ragi.
While Ragi for breakfast is the theme, the rules (slightly amended by me for pure vegetarian cooking) for this event running 1st – 31st May are as follows: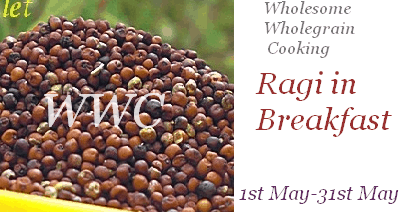 PinPin

1) Contest open from 1st May – 31st May 2011
2) Please refer to the central theme of "Ragi for breakfast"
3) Hyper link to this post and Sanjeetha's linkalong with the logo displayed alongside would be mandatory
4) Although we welcome archived entries, please re-post them with reference to this event.
5) Only vegetarian recipes welcome. No eggs or animal products please.
6) Non bloggers are also welcome to send in their entries to the following email ID.
7) Make a meal using the 'Key' ingredient and blog about it, send an email with "WWC – Ragi for breakfast"in the subject line to with the following information to this email ID : momchef77(at)gmail(dot)com
Your name
Your blog name and URL
Name of the recipe
Link to your post
Picture of the recipe (pls limit this to max 300 px)
8) Logo is as attached. Please use the same in all your entries 🙂
Looking forward to all your wonderful healthy dishes. Please do spread the word around in your blogosphere, and welcome to the wonderful world of Wholegrains 🙂
Cheers
Kalyani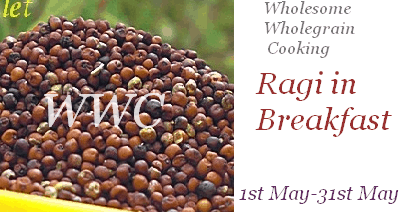 PinPin