There's
something about Mughlai Dishes – Anjeer
Halwa, Cabbage Channadal Kofta, Malai
Kofta, Galouti Kebab, Nawabi Biryani –— all these give you so much
happiness even when you talk about them, and the tastebuds do a happy dance
when you savour them. Thanks to the new vegetarian wave that's swept our
country, most of these meat-based dishes have been converted to vegetarian,
even vegan options. 
One such dish is today's Nargisi Kofta Curry – which
imitates the egg curry of Mughlai cuisine. I adapted this from Vaishali's
recipe, making slight changes along the way.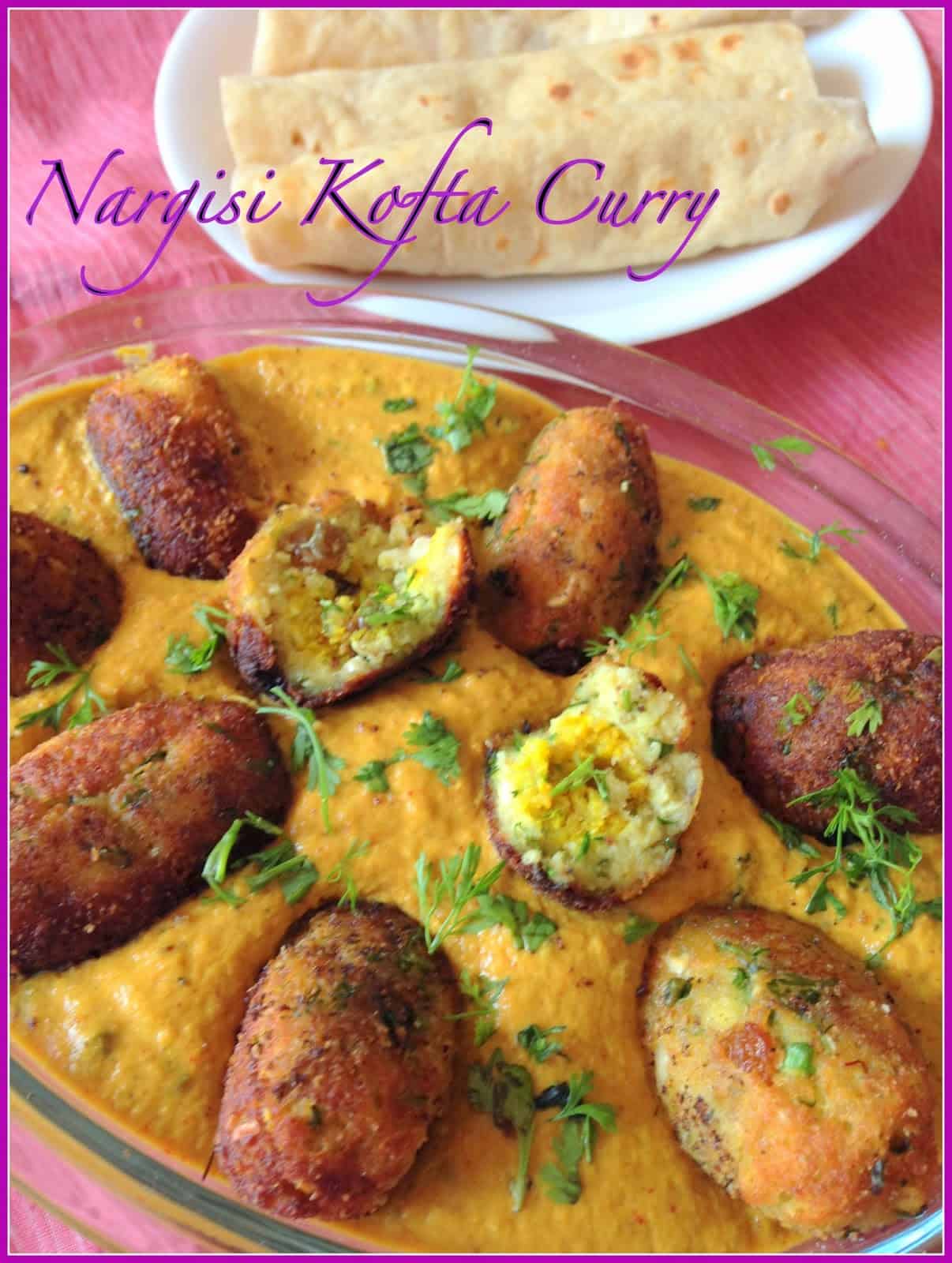 PinPin

An
ardent paneer lover, my daughter asked me to make this twice in a week – and
she loved it both the times. Its richness blew us away, and I promise this
would be the star of the Diwali party when you make it at home. Team it with
Wholewheat Kalonji naan and it would blow your mind away. Sending this across
to BM #45 under Side Dishes for Rotis theme. Stay tuned on what other 2 dishes
are coming your way this week..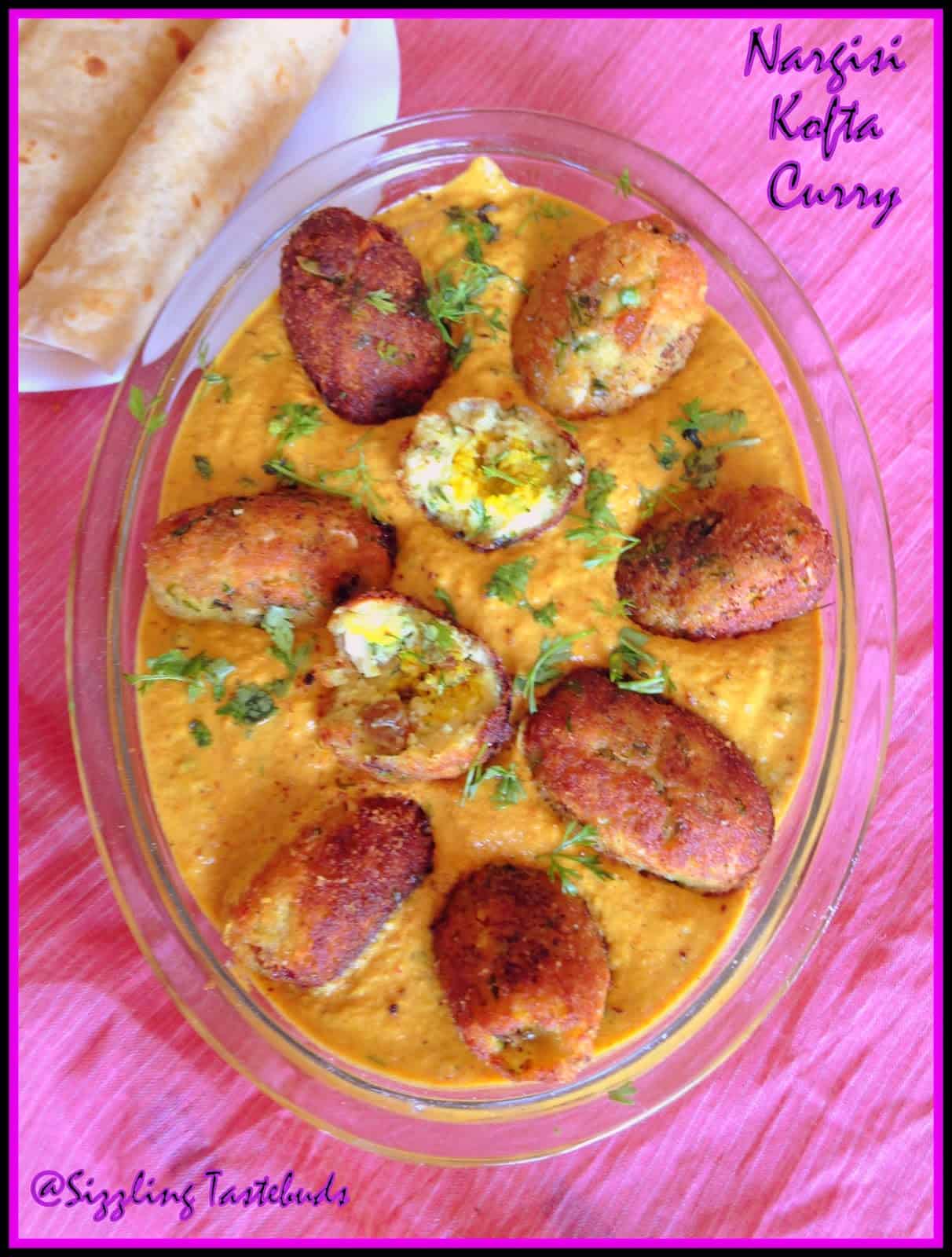 Pin
Prep
time : 20 mins | Cook time : 20 mins | Serves : 4
Ingredients:
Koftas:
Paneer
– 200 gms
Bread
slices – 4 nos (divided use) or use 3/4 cup fresh bread crumbs
Oil
– to deep fry the koftas
Saffron
strands – few (soaked in hot milk)
Salt
– to taste
Filling
:
Raisins
and nuts – 4 TBSP
Grated
ginger – 1 tsp
Coriander
leaves – 1 tsp
Mint
leaves – 1/2 tsp
Gravy:
Fried
Onions – 1 cup (I simply replaced with sauteed onions)
Tomatoes
– 4 large
Dhania
/ coriander powder – 1 TBSP
Jeera
powder – 1/2 TBSP
Garam
Masala – 1/2 TBSP
Red
chilli powder – 1/2 TBSP
Green
onions – 2 large (minced)
Cashewnuts
/ pumpkin seeds – 2 handfuls (soaked in warm water)
Turmeric – 1/2 tsp
Raw
onions – 1 large
Poppy
seeds – 1/2 tsp (also soaked in warm water)
Salt
– to taste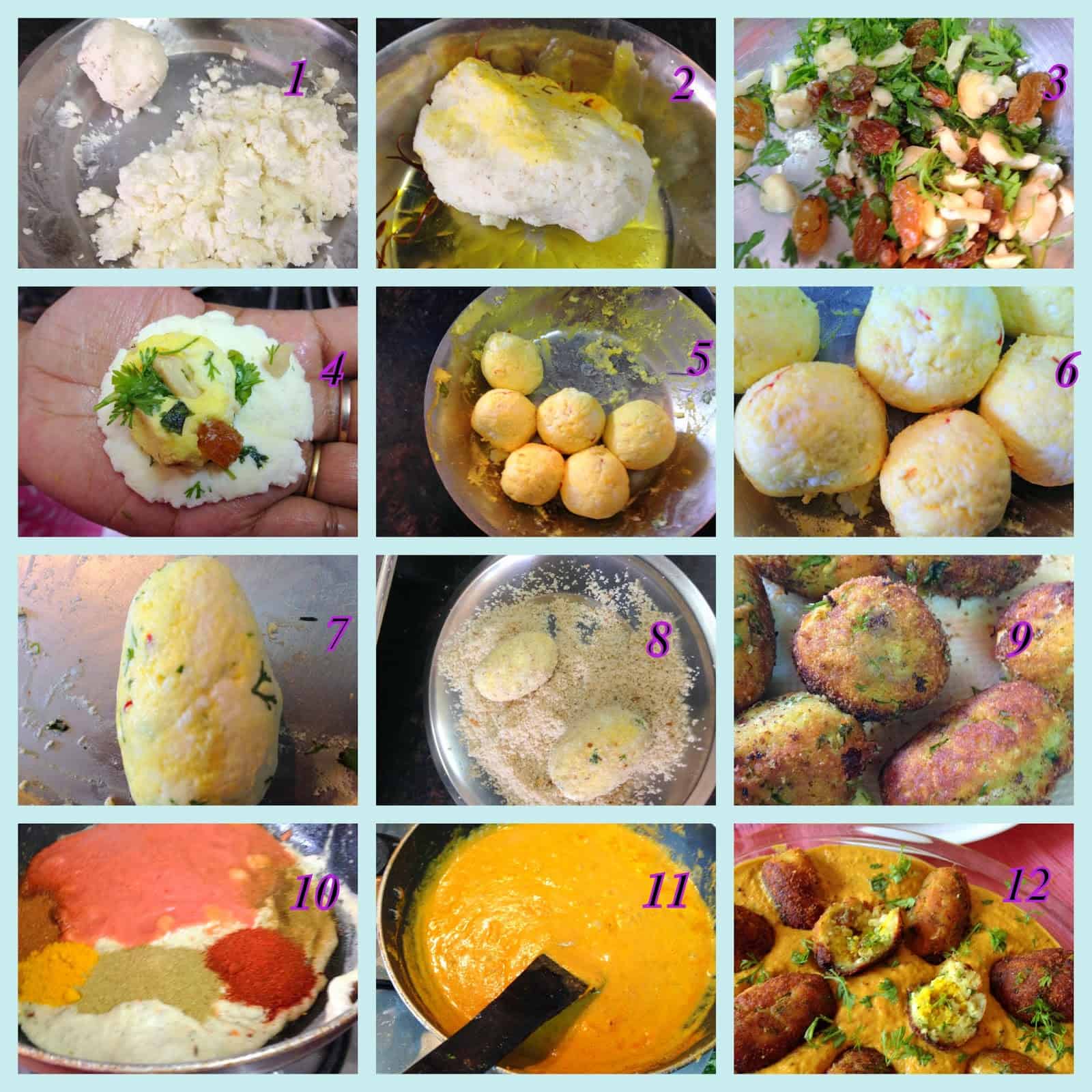 Pin
Method:
(a)
To Make the koftas:
Grate
panner and gently mash it with the heel of your palm. Add 1/2 of the bread
crumbs (or trimmed bread slices) and mash gently to a smooth mixture. Add a
pinch of salt and mix lightly. Now to about 1/3 of the paneer mixture, add the
milk soaked saffron. Mix well. Keep aside.
Make
8 equal portions of this 'yellow' panner. 
Mix
the ingredients of the filling (nuts, mint, ginger, coriander leaves)
Fill
1/4 tsp of this filling in the yellow panner and make small balls
Wash
your hands and mash the remaining paneer again. Check for salt. Divide this too
into 8 portions. Spread one portion of the white panner into a disc of 4 inch
diameter, Place the stuffed yellow panner ball and gently close into a ball /
oblong roundel. Repeat for remaining paneer till you have all koftas ready.
Keep
oil for heating (you may also use ebelskiver / paniyaram pan for frying : which
I did the next time I made this dish). Roll these koftas very gently in the
remaining bread crumbs and fry till golden brown. Drain on absorbent paper
(please note the koftas are very delicate , so handle them with care and make
to fry in batches, not more than 3 at a time)
(B)
to make the gravy:
Grind
together sauteed onions, tomatoes into a smooth paste – paste 1 
Grind
cashew nuts,poppy seeds, onions to a smooth paste – paste 2
In
a pan, heat oil, saute the paste 1 for few mins, then add paste 2, dry masala
powders one by one and simmer on low flame till you get a thickish gravy. 
(C)
To serve:
Place
all the koftas in a serving dish. Gently spoon the gravy over the koftas, do
not mix. Serve warm with rotis or phulkas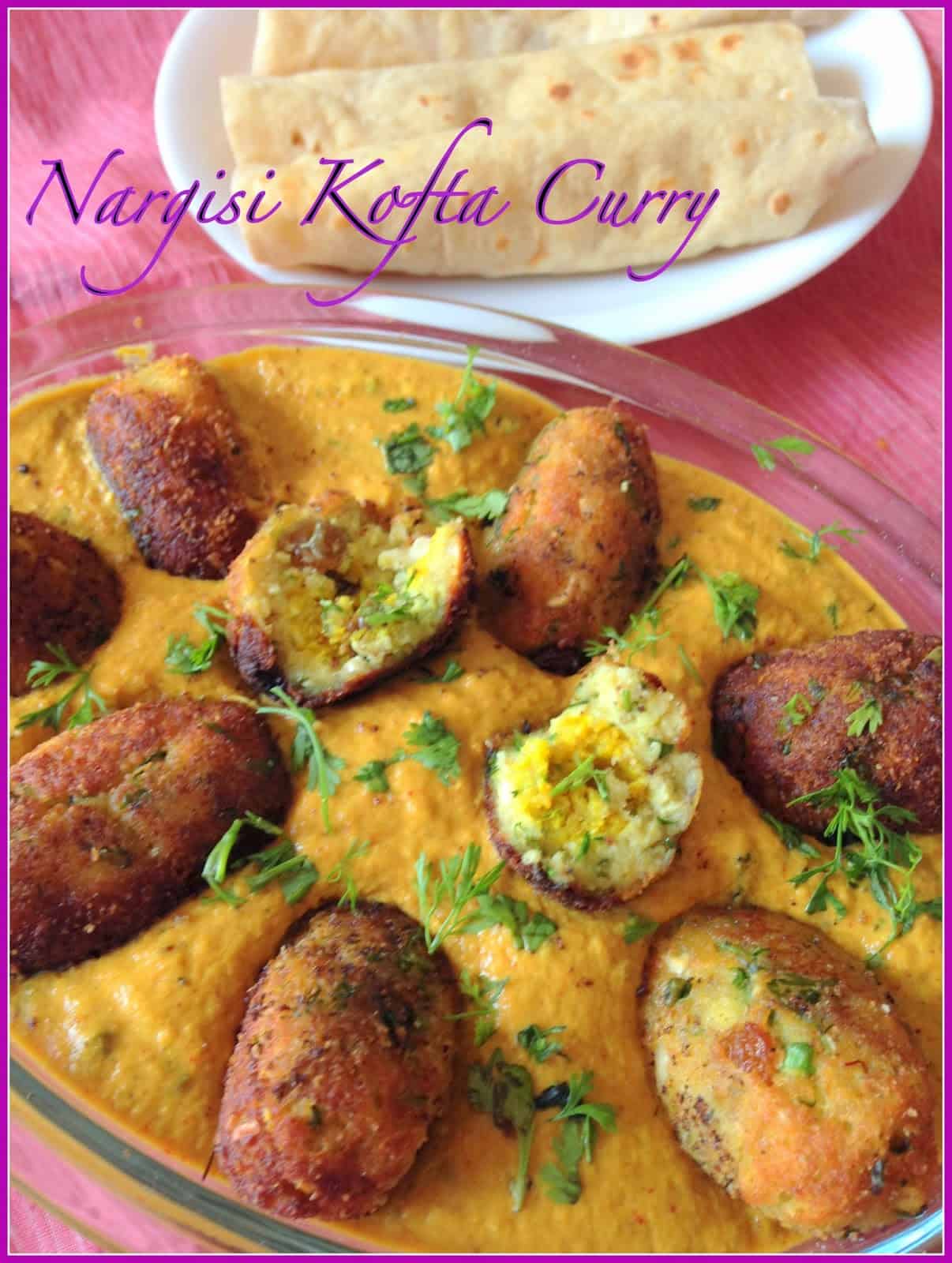 PinPin