Till a few years ago, I was completely unaware of Mangodi (green gram dumplings). I think summers bring out the food preservation techniques best known to each Indian home maker. Be it the papads or vathals or making mangodis, I personally feel the Indian art of preserving food (without artificial additives / canning devices) since time immemorial is worth a book by itself. Pickles – the ubiquitous lip smacking dish in every Indian meal is one such example : comes in a variety of flavours, and vegetable combos, their array is astonishing as one travels across India. 
Even I am wondering why all this rambling when I could write only about today's post ? Mangodi Kadhi – Green gram dumplings in spicy yoghurt gravy – is one such dish which summers make more delightful. Had with steaming rice and some papad, this is one dish that is truly desi in its avatar and flavour. I have adapted the basic Gatte ki Kadhi from my paired blogger – Pradnya – this month for Blog Hop Wednesdays. Pradnya's blog – Pumpkin Farm Food – is a delight to read. With an array of world cuisine and regional delights, I had a hard time choosing which dish to duplicate for BHP. Finally decided to adapt the Gatte Ki Kadhi but was pressed for time to make the Gatte. So, I had this packet of Mangodis waiting to be used up (a friend of mine had sent it all the way from Jaipur). It was delicious and we had this for our lunch with steaming rice and some pickles. Am happy to have tried this, and am sure this would be a regular along with the usual Kadhi Pakodi that is my family's favourite. Now off to the recipe..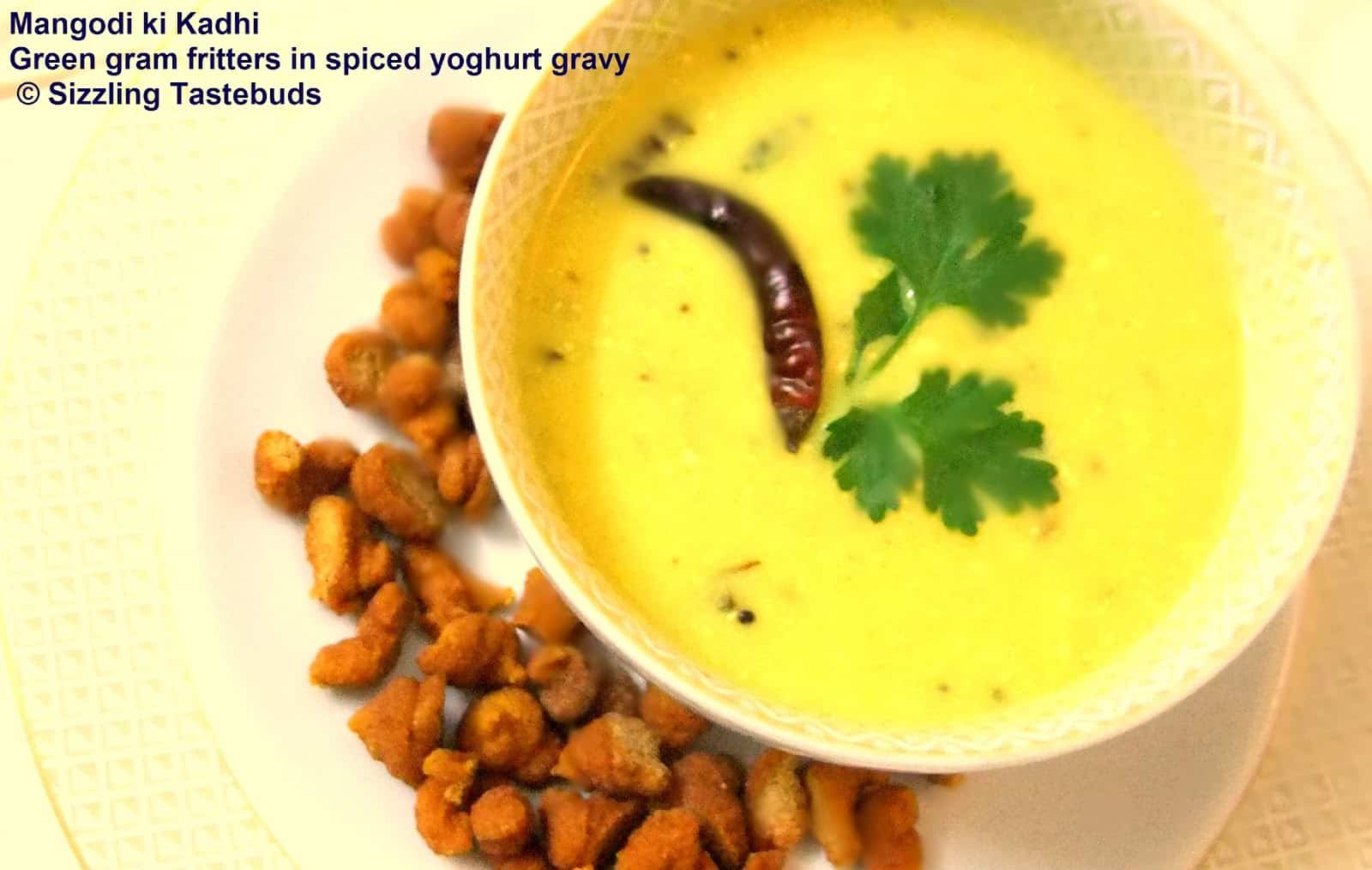 Pin
Sending this to:
Bloghop Wednesdays, My own eventHoli Fest –Colourful Palette,  EP Series:Herbs & Spices(Cilantro & Cumin) by Julie,Rasya'sI'm The Star,Resh's Comfort Food, Chandrani's Colourful Holi
Prep time : 15 mins
Cook time : 15 mins
Serves : 3
Ingredients:
Mangodi – 1/2 cup
Oil – 2 TBSP
Salt – to taste
Coriander leaves – for garnish
For the Kadhi:
Yoghurt / Curd – 2 cups
Besan / gramflour – 2 TBSP
Turmeric – a dash
Asafoetida – a generous pinch
Tempering:
Oil – 1 TBSP
Methi seeds (dry fenugreek seeds) – 1/2 tsp
Dry Coriander seeds – 1/2 tsp
Red chillies – 2 or 3 (also can substitute with green chillies)
Minced Ginger – 1/2 tsp
Curry leaves – few
Method:
1) Fry Mangodis in the oil till golden brown and drain on paper towels.
2) Beat yoghurt with besan (gram flour), salt, turmeric and little water to pouring consistency (like Dosa batter)
3) In a deep bottomed pan, heat 1 TBSP oil. Splutter methi seeds, coriander seeds, chillies, ginger & curry leaves
4) When the methi seeds turn slightly reddish, add the asafoetida and the yoghurt-besan mixture. Mix and simmer on low heat for 10 mins. When it comes to a slow boil, add the fried Mangodis, coriander leaves and simmer for further 5 – 6 mins till they are cooked.
5) Serve hot with steamed rice, pickles / papad and dry curry for a wholesome meal.
Notes:
1) Do not over fry the mangodis – they turn bitter.
2) Slightly sour yoghurt (dahi) works well for this kadhi, unless you prefer really sweet curds
3) Use of methi seeds is optional, but it enhances the taste quite a bit. use 1/4 tsp if you dont prefer the bitter taste.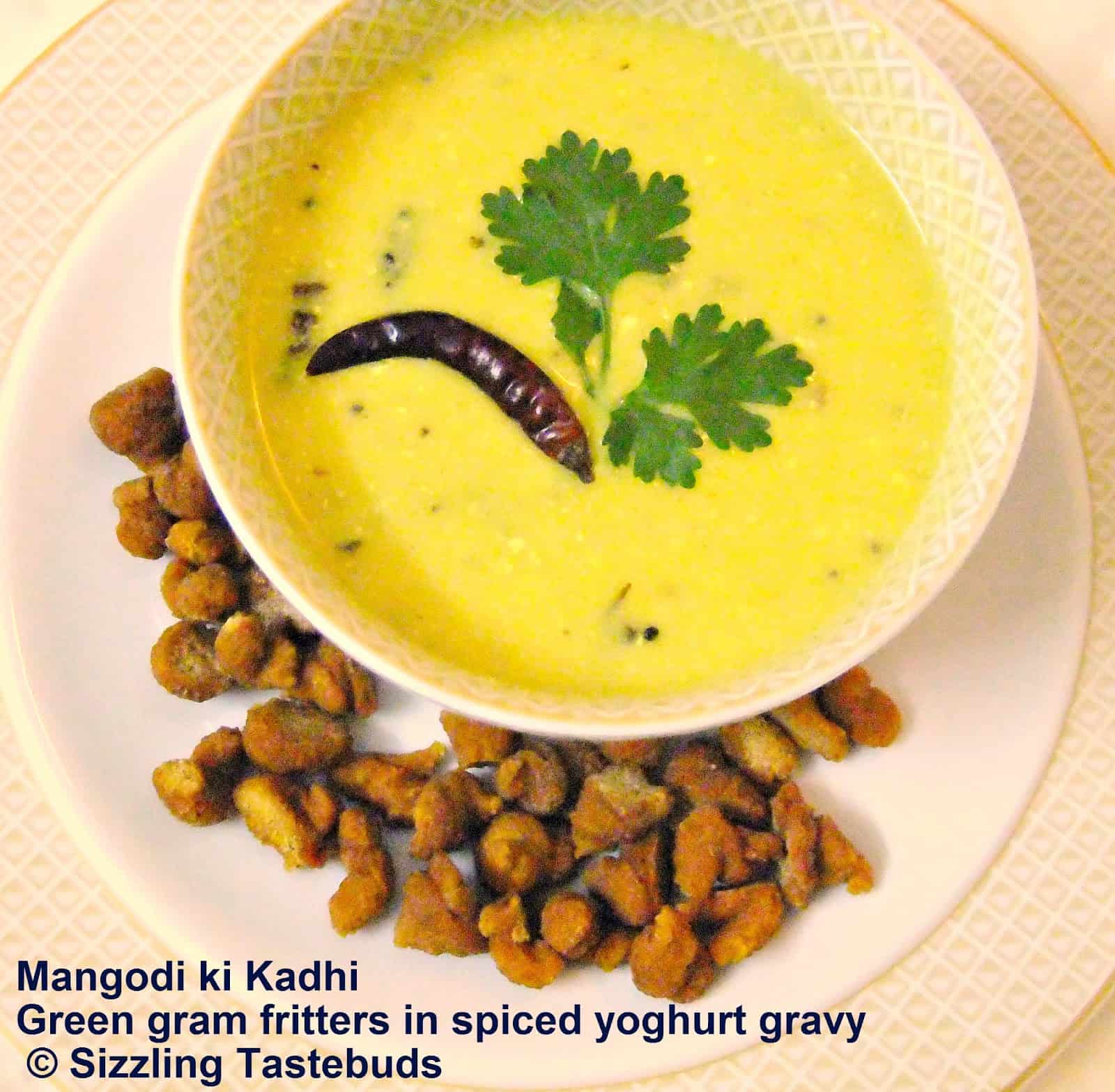 Pin