When Srivalli announced this theme on
Kootu (or lentil-veg gravies) made from Tamilnadu for Blogging Marathon , I was
happy for two reasons – Kootu features regularly in our regular menu as well as
some varieties made on occassions and we enjoy making different kinds almost on a weekly basis. Deriving from the tamil word, Kootu
literally means ' to add'. So, we add lentils and veggies together in a semi
thickish gravy which goes well with hot rice and ghee (clarified butter). Be it
part of the traditional sit down meal (served on plaintain leaves) or a festive
occassion or even regular home menus, Kootus can be classified as Puli Kootu
(based in Tamarind Gravy), Aruchivitta Kootu (made with home made ground
masala) or Poricha Kootu (made with freshly roasted and ground masala powder).
Basically, any lentil (Cow pea, Black eyed pea, Toor Dal or Moong Dal) is blended with veggies
(mostly snake gourd, chow chow (chayote), cabbage, ash gourd, or even string
beans).  Traditionally , Kootu is made without any onion or garlic, although that is changing with tastebuds evolving. Today's dish does not need both onion or garlic and is best savoured that way.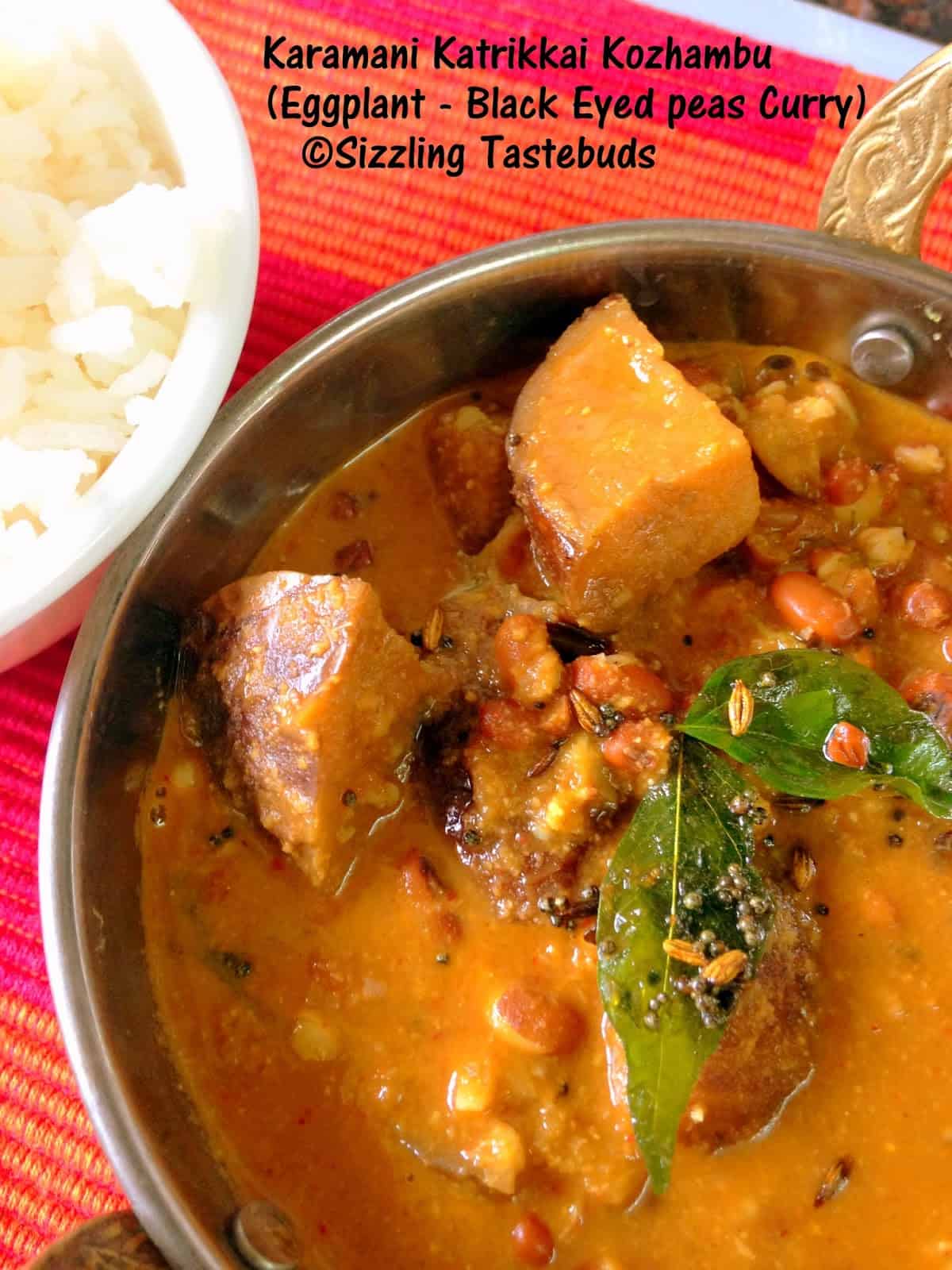 Pin

This dish has traversed from the
Mysore (a city in Karnataka) to my hearth (Tamil speaking household) and is a
common dish made by Tamilians hailing from the Karnataka region, that too from
the Mysore section of Karnataka. I had already posted a version of this kootu
earlier, but with this being mom's signature dish (and her version varies quite a bit
from mine), I have posted mom's version here. Enjoyed with hot rice, this is a
great dish that tastes better the next day too with chilled curd rice. Make sure you make this with
long and green brinjals (aka Mysore Badanekaayi) for best results. Another tip
from Amma (mom) is that the black eyed pea (or Alasandhe) needs to be cooked to
neither mashy or undercooked. So, enjoy this kootu series for Blogging Marathon # 28 and check out my fellow marathoners here. Also as its a protein rich dish, sending it to an event that am guesthosting all this May – MLLA # 59.

Update : Linking to Beulah'sEggplant
event, hosted forNayna.

Prep time : 45 mins soaking + 15 mins |
Cook time : 15 mins | Serves : 4

Difficulty level : Medium

Spice factor : Medium

Serving accompaniments : Hot rice, ghee
& Papad.

Ingredients:
Long, slender and fresh green brinjals
– 300 gms (or about 3 – 4 medium ones) *
Salt – to taste
Turmeric – 1/2 tsp
Black eyed pea / Alasandhe / Karamani – 1/4
cup (or 3 handfuls)
Oil – 3 TBSP
Tempering : Mustard seeds, curry leaves
*If you are not able to get the green ones, select
brinjals which are not the Bharta (big huge ones) or the ones which have many
seeds)
For the Masala paste:
Fresh coconut – 1/4 cup
Coriander seeds – 1 TBSP
Tamarind – 1/2 big gooseberry sized
Red Chillies – 2 big (or 3 medium)
Jeera / Cumin – 1/2 tsp
Channa Dal / split bengal gram – 3/4
TBSP
Asafoetida – a generous pinch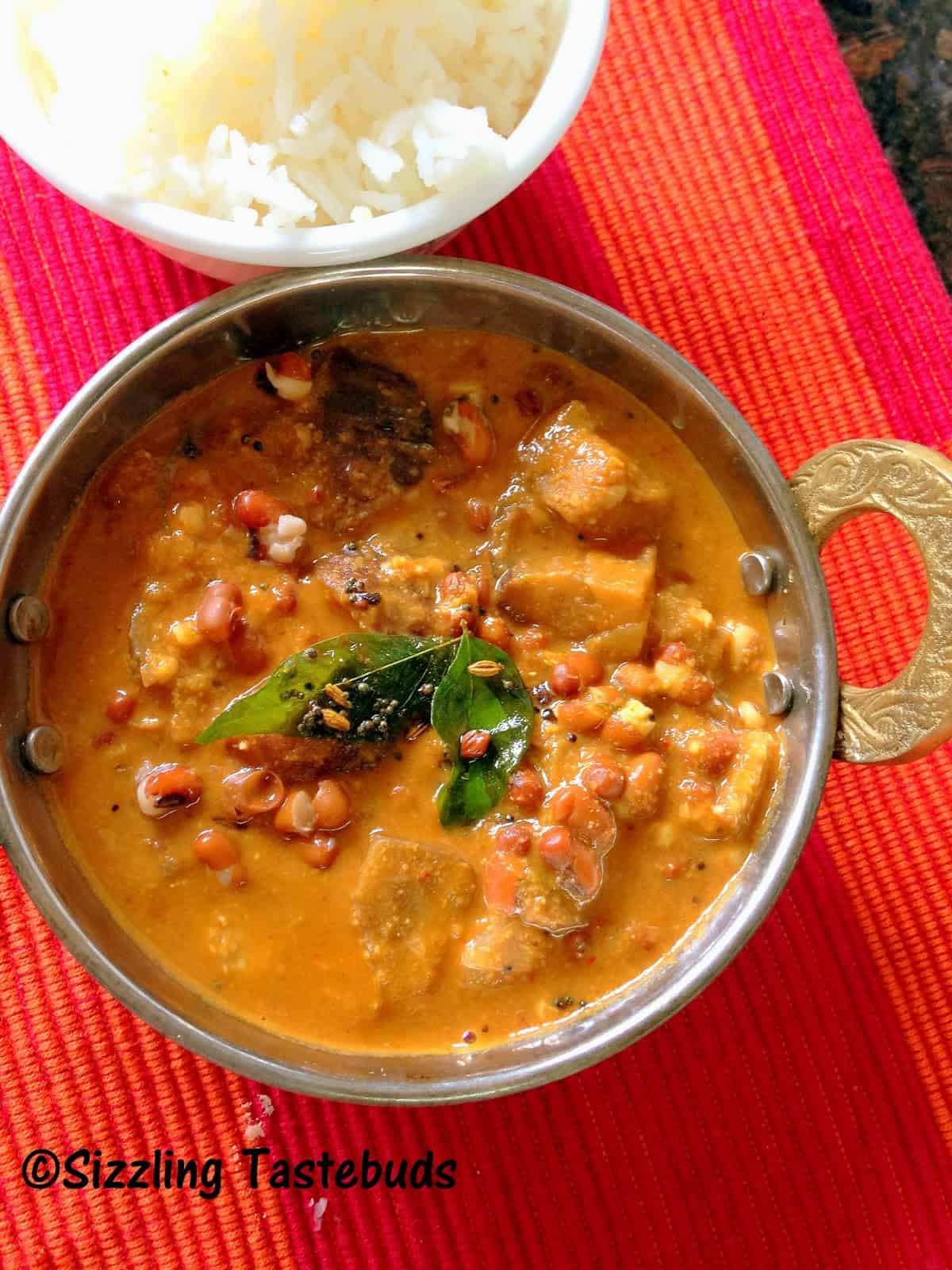 Pin
Method:
Wash and soak black eyed pea in warm water for
30 min – 1 hour. Once done, drain and pressure cook with a pinch of salt to 2
/.3 whistles till just done, but not mushy. Drain the water and reserve it.
Wash  and pat dry the brinjals.
Cut into 1 inch long batons and reserve in warm salted water. 
Heat 1 tsp of oil. Roast all the
ingredients except coconut and asafoetida one by one till they are slightly
roasted. Cool and grind with 1/4 cup water to a thickish paste.
In the same pan, heat the remaining
oil. Prepare the tempering with the mustard and curry leaves. 
Once the spluttering comes down, add
the cut brinjals, turmeric and saute for 5 – 6 mins till the oil coats the
brinjal.
Now add requisite salt and sprinkle
little water. Cover and cook till brinjals are cooked, but firm, about 8- 10
mins on medium heat.
Once they are done, add the masala
paste, and saute till the raw smell disappears and the oil begins to leave the
sides. Check for salt and spices.
Once masala paste is cooked, add the
cooked lentils, and 1/4 – 1/2 cup salt and mix well. Cover and cook for further
6 – 8 mins till done and a wonderful nutty aroma emerges and you get a thickish gravy.
Serve hot with rice and a dollop of
ghee.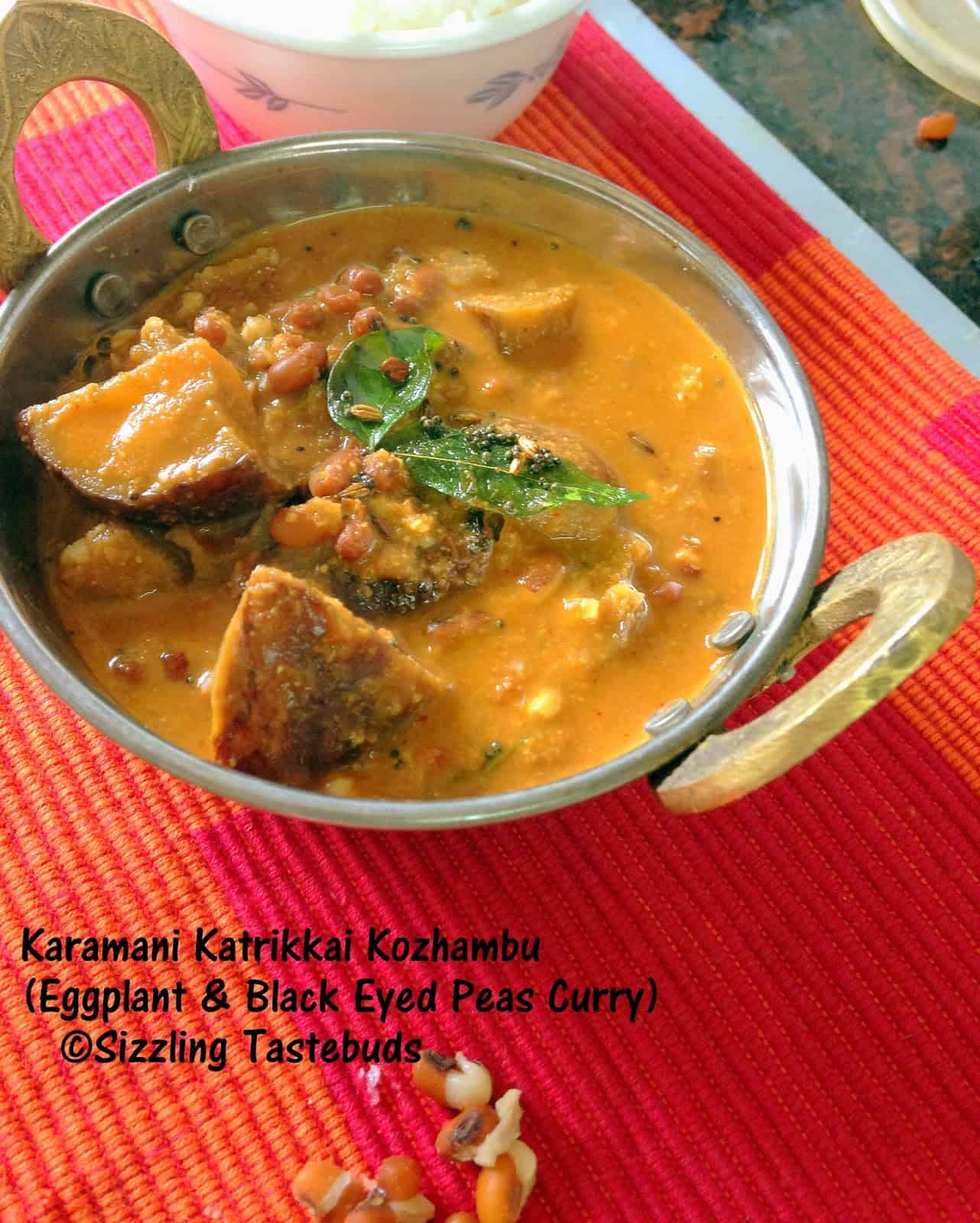 Pin