If Popeye is to spinach, then my little bunny at home is to carrots. She loves it in all forms and thanks to her, I have many dishes featuring carrots as the star ingredient:
and many many more…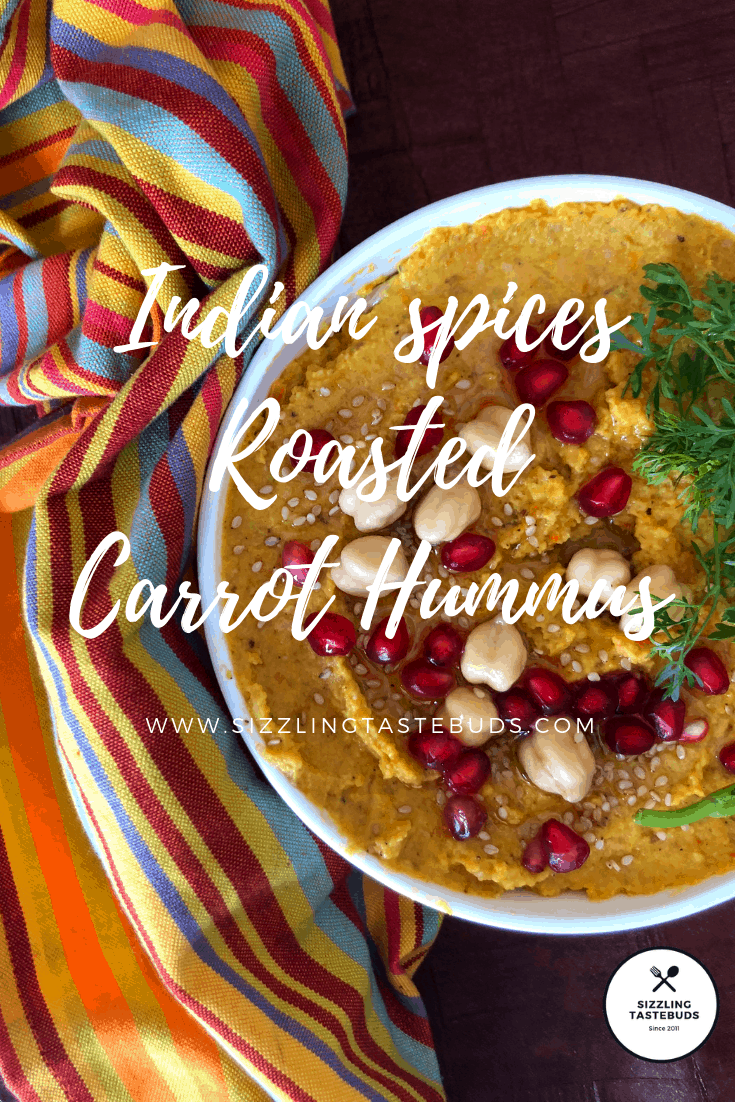 Pin

As I was done with most varieties of carrot soup (I simply loved the oven roasted veggie version ), I wanted to make something savoury and I have had my eye on Carrot hummus for a long time 🙂 

Not any ordinary hummus, but Indian-spices roasted carrot hummus . 

Adapted from here (and with own little twists), this was a cracker of a recipe and we all loved it a lot. After the beetroot hummus, this comes out as my personal top favourite. But our new personal favourite is the Mung Bean Hummus with garlic and lemon, oh so yum!!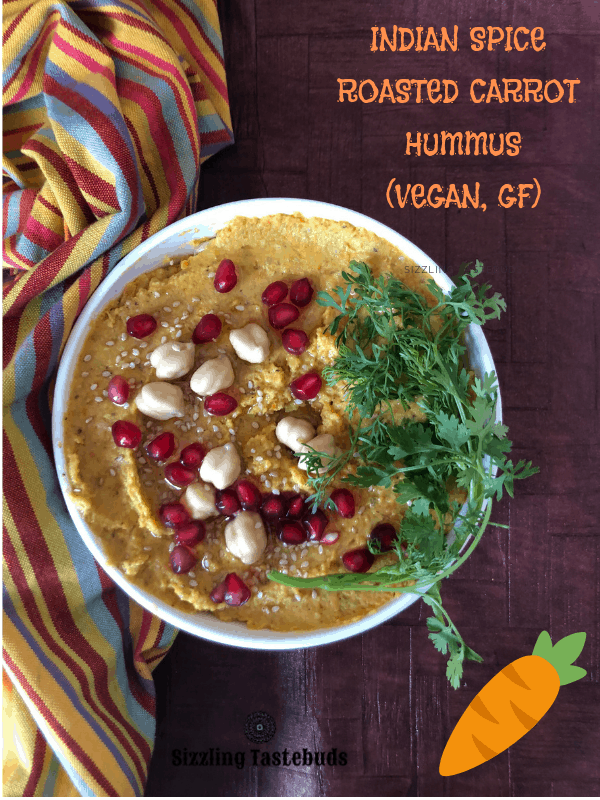 Pin

Let's see how to make it. As mentioned in my earlier posts, I always have a bag of cooked chickpeas in my freezer. I had to bring it to room temperature and then make this quick hummus in less than 30 mins. This is so delicious on its own that I have been indulging it just like that. How's wel as a base for a filling sandwich , with your parathas, crudités or even some Lavash sticks .. 

However, if u have raw chickpeas, the Prep time would vary. Soak the raw chickpeas overnight, pressure cook, drain all the water (and make your own DIY egg replacer with that aquafaba), and proceed as usual.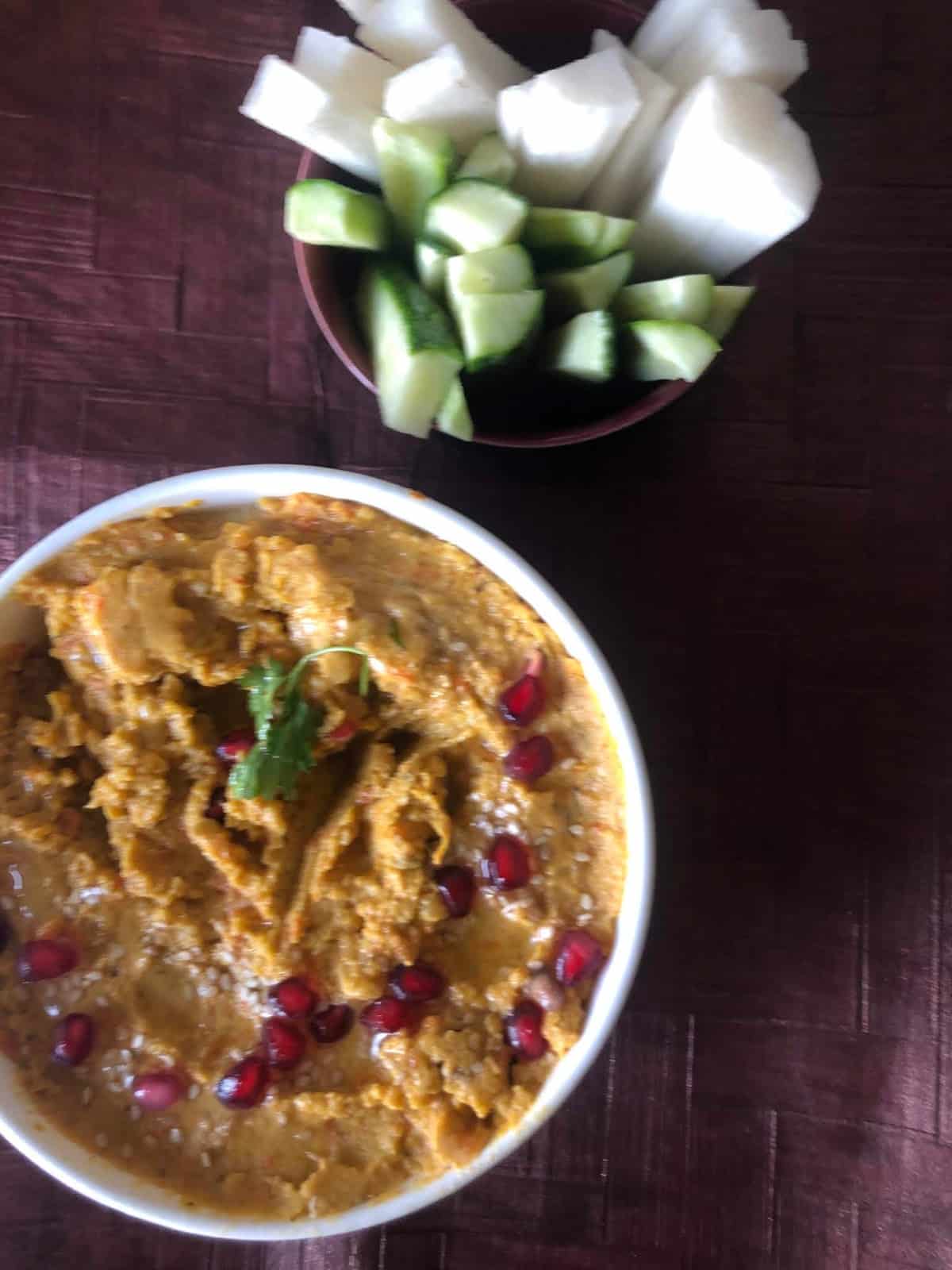 Pin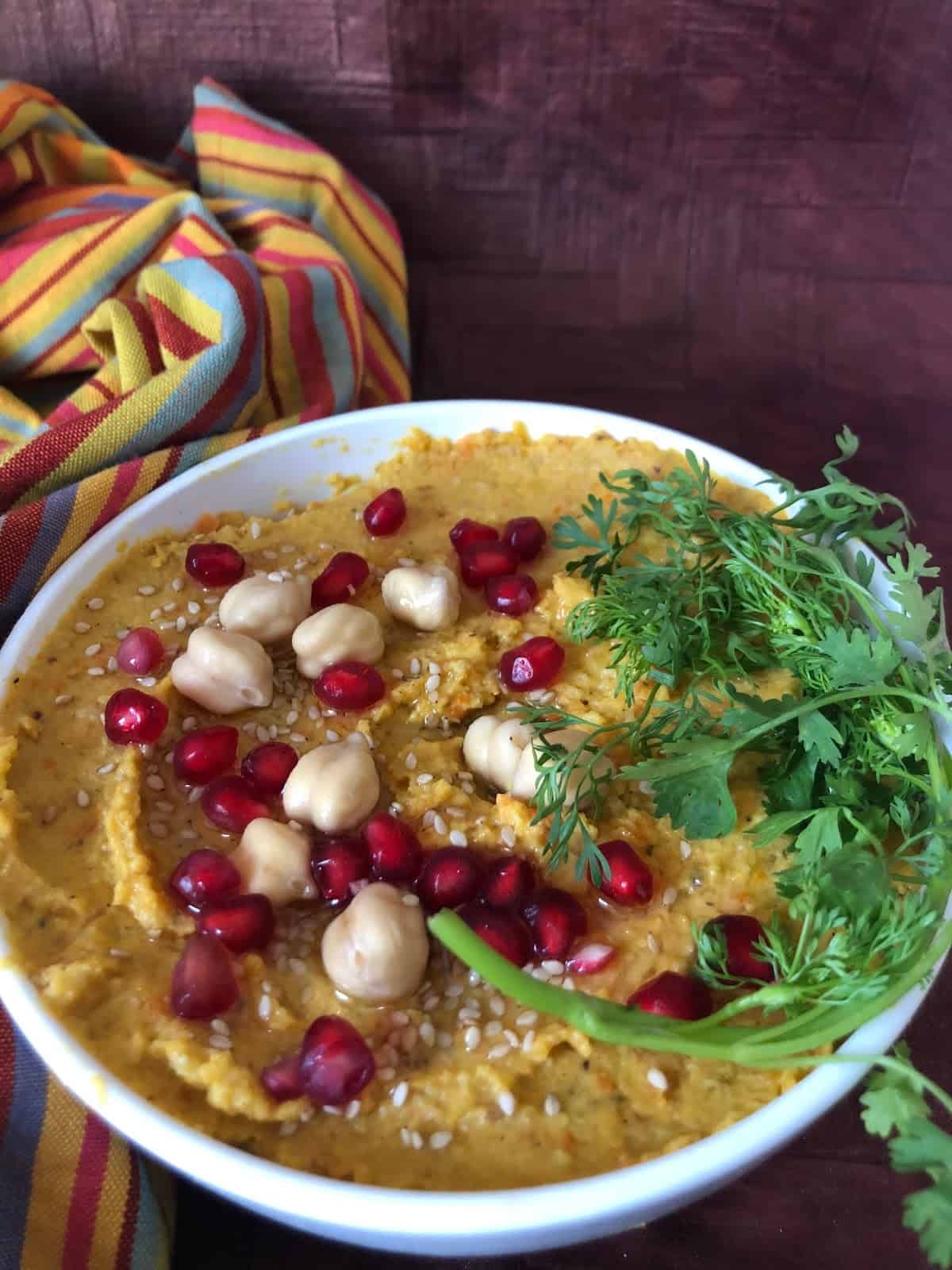 Pin
Prep time – 15 Mins, Makes~ 350 grams of hummus
What you need: 
Cooked chickpeas – 200 grams 
2 large carrots 
Salt – to taste 
Olive oil – 1/4 cup
Lemon juice – 2 tablespoon
Sumac – 1/4 tsp (my little twist)
Tahini – 2 tsp (I used roasted sesame seeds) 
Pomegranate arils and roasted sesame seeds to garnish
Spices for the marinade :
Coriander seeds 2 tsp, cumin seeds 1 tsp, whole black pepper 1/2 tsp, ajwain (Carrom seeds) 1/2 tsp, fennel seeds (saunf) 1 tsp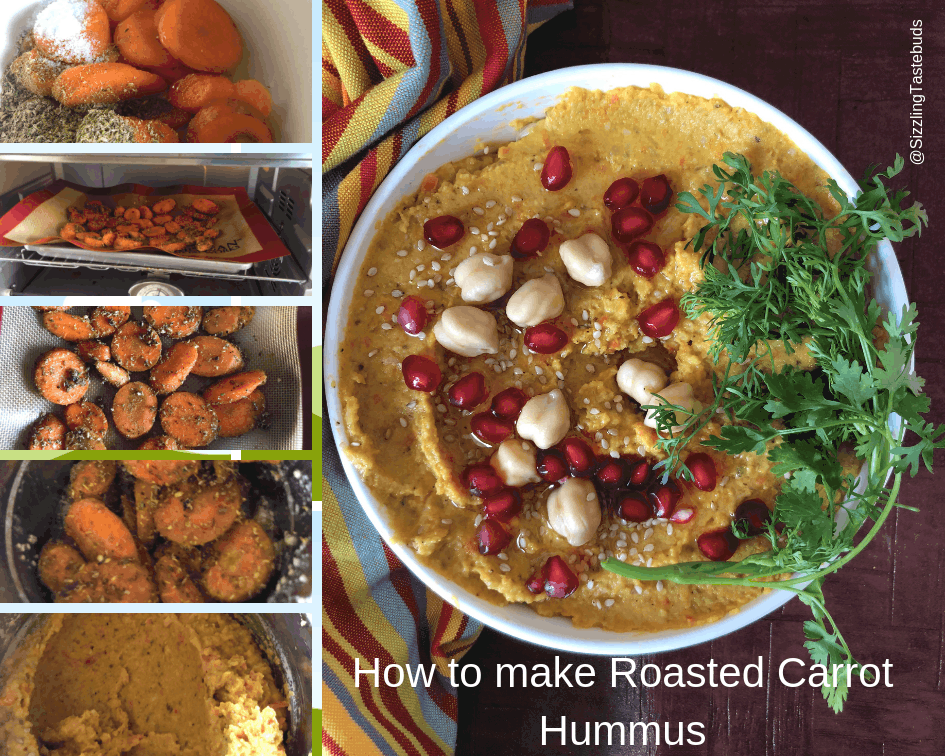 Pin
How to:
Preheat oven to 200 c /400 F. Line a baking sheet with silpat or parchment. 
Coarsely ground all spices in a mortar pestle. In a bow, Slice the carrots thin with a mandolin or a sharp knife. Let the slices be neither too thin or thick. Add the ground spices, salt, 3 tsp of the olive oil , mix well and marinate for 10 mins.
Arrange the slices evenly without overlapping on the baking sheet. Bake for 20 mins, cool and rest for a while.
In a good processor, pulse the cooked chickpeas with salt, half of the remaining olive oil. Add the tahini , roasted carrot (with the spices), lemon juice and pulse in batches , wiping down with a spatula every round. Add 3-4 tsp of water if required. 
The hummus will not be very smooth , but slightly coarse.  Mix well.
Garnish with Pomo arils, the remaining olive oil, and the roasted sesame
Serve with crudités as we did or with any bread of your choice 
This keeps for 4-5 days under refrigeration 
             PIN FOR LATER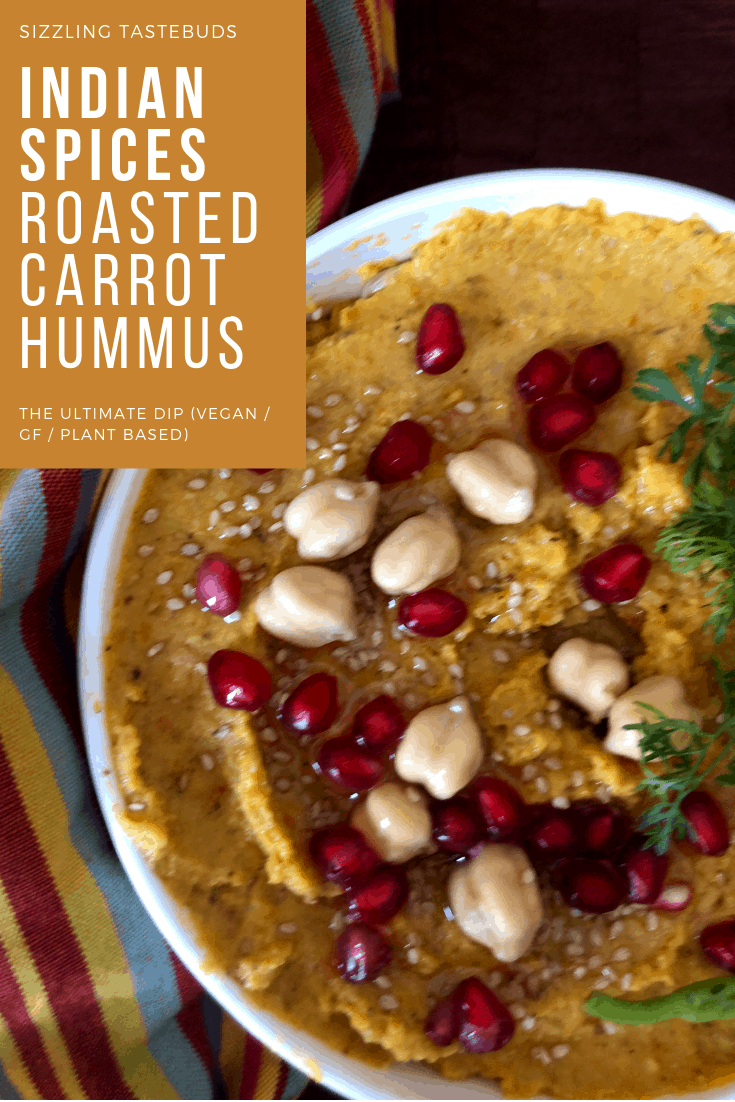 Pin
The International Carrot Day is celebrated every year on April 4th since 2003 and is the pinnacle for carrot lovers all around the world. It is day when Carrot, one of the world's healthiest foods is celebrated as fest, to spread knowledge about the health benefits of eating carrots. 


In many countries, people throw carrot parties at home, dress up in orange color and serve carrot dishes to their guests. So we @foodieMondayBlogHop proudly claim to be carrot ambassadors and spread a message through our following carrot delicacies.
Gajar Ka Khatta Meetha Achar – Swaty Malik
Blog post.. https://foodtrails25.com/2019/04/01/gajar-ka-khatta-meetha-achar/
Gluten-Free Cornmeal Carrot Cake – Sujata Roy
https://batterupwithsujata.wordpress.com/2019/04/01/gluten-free-cornmeal-carrot-cake/
Carrot Oatmeal Pancakes – Poonam Bachhav
https://poonambachhav.blogspot.com/2019/03/carrot-oatmeal-pancakes.html
Healthy Thai Carrot Salad Recipe – Priya Iyer
https://thephotowali.wordpress.com/2019/04/01/healthy-thai-carrot-salad-recipe/
Carrot Oatmeal Cookies – Mayuri Patel
https://mayuris-jikoni.com/2019/04/01/carrot-oatmeal-cookies/
Carrot Vada – Preethi Prasad
https://preethicuisine.com/carrot-vada-carrot-fritters/
Indian Spice Roasted Carrot Hummus  (my post)
https://www.sizzlingtastebuds.com/2019/04/indian-spice-roasted-carrot-hummus.html
Oven Roasted Carrots – Archana Gunjikar Potdar
https://themadscientistskitchen.com/perfectly-delicious-oven-roasted-carrots/
Carrot Mini Crescent Roll – Sasmita Sahoo Samanta
Recipe https://www.firsttimercook.com/2019/04/carrot-mini-crescent-rolls-vegan.html
Instapot Carrot Halwa – Veena Krishna Kumar
https://veenasvegnation.com/recipe/nutri-pot-carrot-halwa-instapot-carrot-halwa/
So join the fun and celebrate Carrot Day yourself !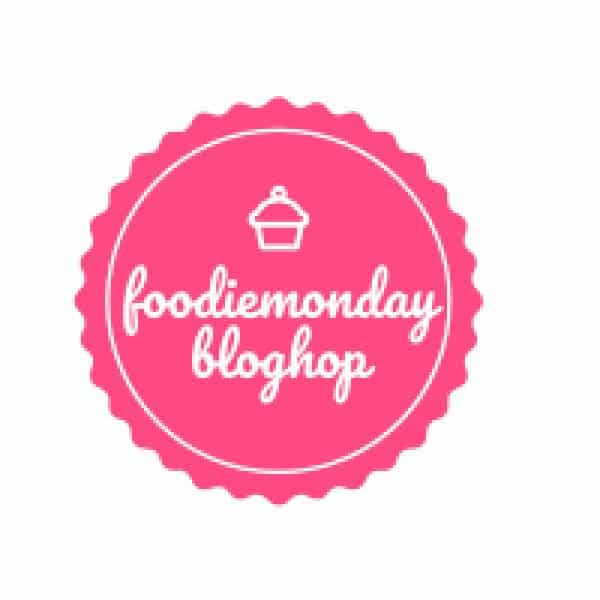 Pin