After Mexican fusion and Indian
adventures with Capsicum, it was time for Chinese fare with Capsicum – the chosen
veggie for this week @ Blogging Marathon. Hot & Sour Veggies with 3 pepper
rice was to be the pick when I asked my lil one what she would like from a
cookbook that I opened to her. Like I mentioned in the Rajma-Pepper Quesedillas and PaneerBharwa Capsicumposts, she quite takes to this veggie easily and thus could
serve it for dinner last weekend.
All it takes a little planning,
and a whole lot of sauces and chopping… Rest assured, it would simply vanish
with some more brownie points to your cookingJDo try it
out and let me know how you and your family liked it.. .Off to the recipe now –
the last in the series on Cooking with Capsicum / Bell Peppers …
Prep time : 30 mins | Cook time :
30 mins | Serves: 3
Cuisine : Asian Veg (Chinese fare)
Combo Meal : So, serve these two
together for a hearty meal.
Notes:
1)    This
contains no added MSG or thickening agents. In fact I substituted cornflour
with homemade rice flour, and it worked well.
2)    Use any
combo of veggies for the Hot and Sour Gravy. As the theme was Capsicum, I used
them aplenty.
3)    The
3-pepper Rice is a combo of Serrano peppers, bell peppers and white pepper
powder. Adjust spice accordingly.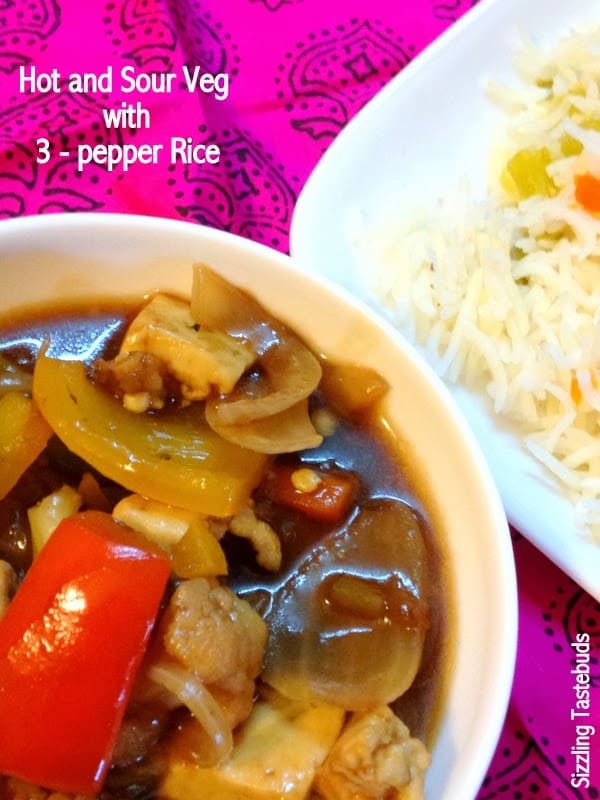 Pin

Ingredients:

(A)  3 Pepper
Rice :

       
Long grained rice – 1 cup
Bell Peppers – Red, Yellow, Green,
Purple – whatever works for you – ½ each
Onions – 1 medium
White pepper powder – ½ tsp
Salt – to taste
Oil – 2 TBSP
Garlic chopped – 1 tsp (a garlic
press works really well for this meal)
Ginger grated – ½ tsp
Serrano peppers – 2 medium
(B)  Hot and
Sour Vegetables:
Bell Peppers – ½ cup
Onions – Chopped into large pieces
– 1 medium
Baby Corn – ¼ cup (chopped into thick
juilennes)
Broccoli – cut into florets (1/4
cup)
Asparagus – 1 no (optional)
Low sodium Soya Sauce – ½ TBSP
Oil – 2 TBSP
Thick Tomato Puree – ½ tsp
White Pepper Powder – ¼ tsp
Brown Sugar – ½ tsp
Rice Flour – 2 tsp
Warm water – 2 TBSP
Vegetable Stock – 2 cups
Salt – to taste (mind you, the
sauces contain salt, so add in moderation)
Red chilli sauce – ½ tsp
Ginger – ½ tsp
Garlic – 2 large pods (minced)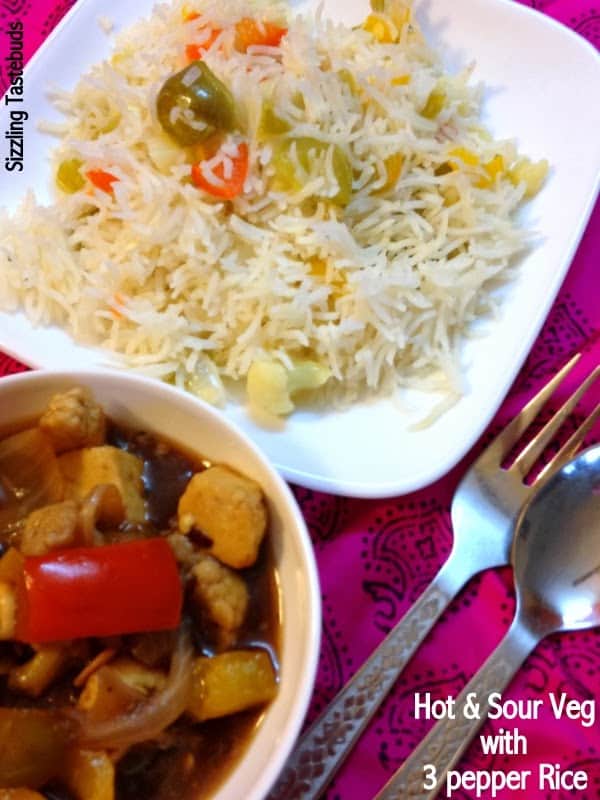 Pin

Method:

Preps required:

Wash and soak the rice for 15
mins. Drain. Cook till fluffy and separate the grains and keep aside.

Chop the baby corn, broccoli,
asparagus and blanch in slightly salted water for 3-4 mins. Transfer to a bowl
of ice and let them remain there, Drain after 4-5 mins.

To prepare the Hot & Sour
Veggies:




Heat oil, sauté the onions, ginger
and garlic. Add the peppers and sauté for 3 mins till they turn crunchy. Now
add the blanched and drained veggies and sauté once more for 2 mins. Add the
sauces, salt, tomato puree and toss once.

Tip in the vegetable stock and let
the veggies cook till done, but not mushy – about 7-8 mins.  Dissolve the rice flour in warm water and add
to the gravy. Now add the brown sugar and white pepper powder . Adjust spice
and serve with 3-pepper rice (recipe below)

To make the 3-pepper rice:

In a large wok, heat oil. Saute
ginger and garlic , onions and chopped peppers, add the slit Serrano peppers,
salt, and sauté till onions turn translucent (about 5-7 mins on medium flame).
Now add the white pepper powder, cooked rice.

Toss once taking care not to break
the grains. Adjust salt and spice.

Serve immediately with the Hot and
Sour Vegetables for a yummy Chinese Combo Meal.