This was a tricky alphabet, and thanks to this recipe by Tarla Dalal, I could crack it easily. Adapted from this and various other websites, I ended up making this many times before posting it here. For a Gluten free (and sometimes,Vegan) diet which we try to follow mostly at home, this Dosa is very handy and is filling too.  Faraali in Hindi means food eaten on days of fasting (esp during Navratri or Karva Chauth etc) when only certain ingredients are eaten due to religious beliefs. 
Served here with Suran ki Bhaji (Yam gravy), it was liked by the kids too without actually revealing to them that it contained flours that they would turn up their nose at 🙂 For a complete Faraali dish, you can serve it with peanut chutney.
All in all, an experiment that went well (and many times at that). 
So far in the #26daysofDosa series of presenting 26 Dosas Alphabetically this September, we have seen:
A – Azhagar Kovil Dosa (Vegan &GF)
B – Black Rice Adai (Kāvuni Arisi Dosa)- (Vegan &GF)C – Cucumber Dosa – (Vegan &GF)
D – Drumstick Leaves Adai (Vegan &GF)
E – Erra Karam Dosa (Vegan & GF)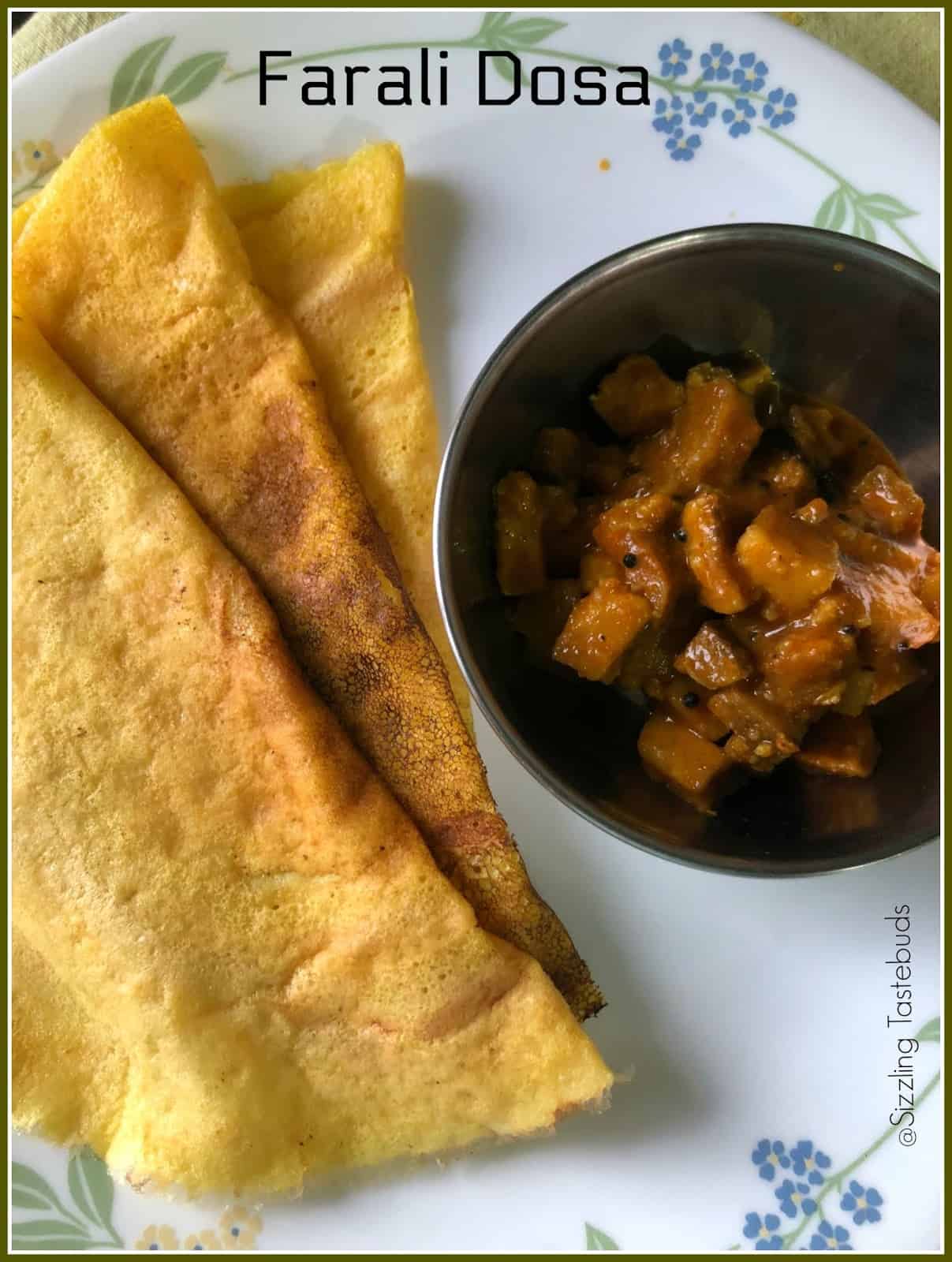 Pin

Prep time – 15 mins , Cook time – 20 mins ; Makes – 4~6  dosas

Ingredients:

Rajgira Flour – 1/2 cup (1 cup = 200 ml)

Tapioca Flour – 1/4 cup

Singhada ka atta – 1/4 cup (water Chestnut flour)

Vrat ka namak – to taste

Buttermilk – 1 cup

Ginger + chilly paste – 1/2 tsp

Oil – to fry the dosa (as required)

Method:

Sieve the flours with salt, add the ginger- chilly paste, buttermilk, whisk to a smooth flowing batter. 

Keep aside for 1/2 hour. Heat the tava, and make medium sized dosas drizzling oil around the sides. 

Keep it crisp as possible. 

Serve immediately with any chutney or sambhar (or Farali Chutney (Coriander-peanuts-green chillies) if required). 

SImilar Dosas on the blog:

Some more Dosa varieties (mostly Vegan and GF) on this blog :