Week 4 of Cooking Carnival.
This perhaps was the MOST difficult week for me to settle on a theme. I had scheduled 3 dishes of another theme already for this week, and then for the umpteenth time, changed the theme ! Whew – talk about indecisiveness !!
When it came to ever changing themes, this week took the cake  (although thats not the theme)
But am not complaining.I had to re-do some of the dishes to suit this week's theme : Soups for Kids.
 My kids got to taste some rather unusual and some favourite soups, and I got to click them at leisure.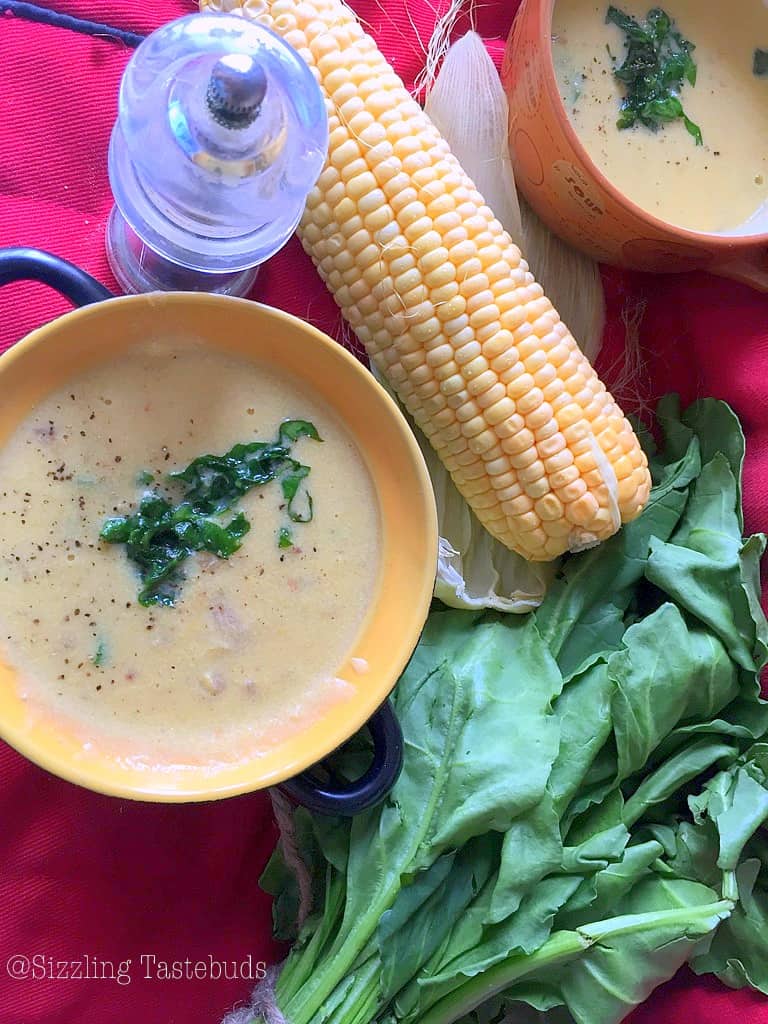 PinPin

For one whole week of cooking these, I made one extra portion for myself (ahem! the blog) and here they are presented during this week. Hope you enjoy the spread 🙂

The elder one is a great fan of soups, and I dont mind a bowl of these myself as long as someone else makes it (in my case, I had to make it for myself :-)) .So the elder kid and me dug into these, while the little one ate the croutons and some soups, and particularly enjoyed one soup (featured later in the week)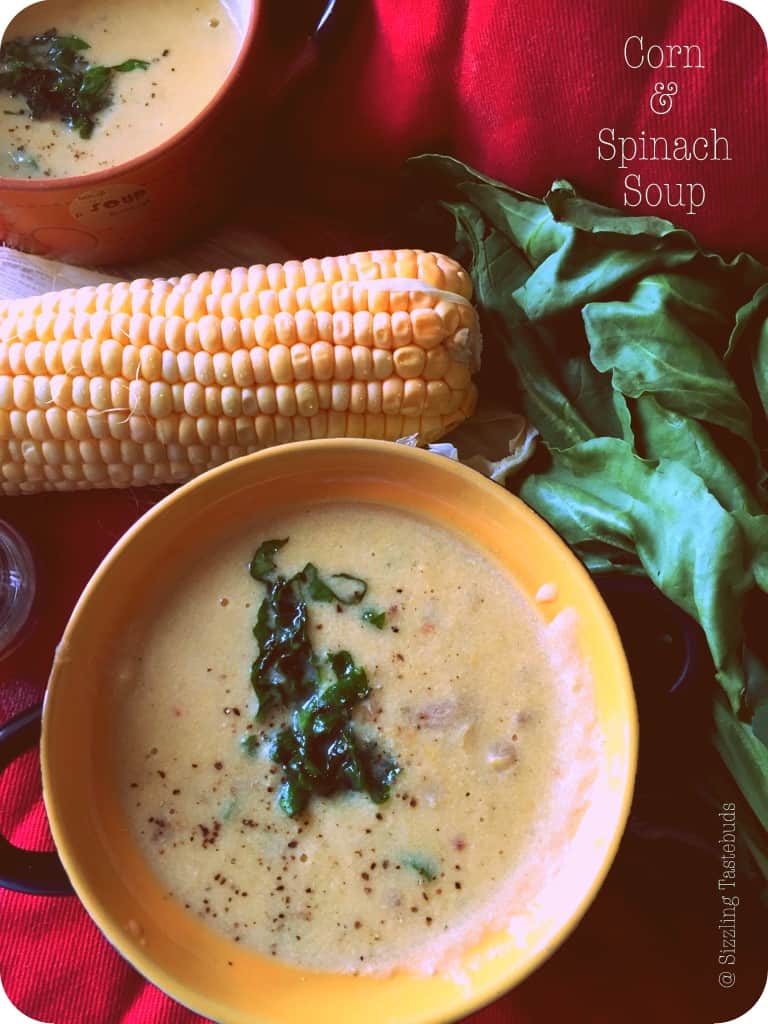 Pin

Corn is great on fibre, and spinach is … well (supported by Popeye) , we have been told its great on Vit. A. All in all, a great warm soup to dig in on a rainy / autumn / wintery day.

Actually everyday, coz soups are so filling ! Let's see how to make these..

Corn and Spinach Soup – Vegan, Gluten Free soup

Prep time : 15 mins , Cook time : 15 mins ; serves : 3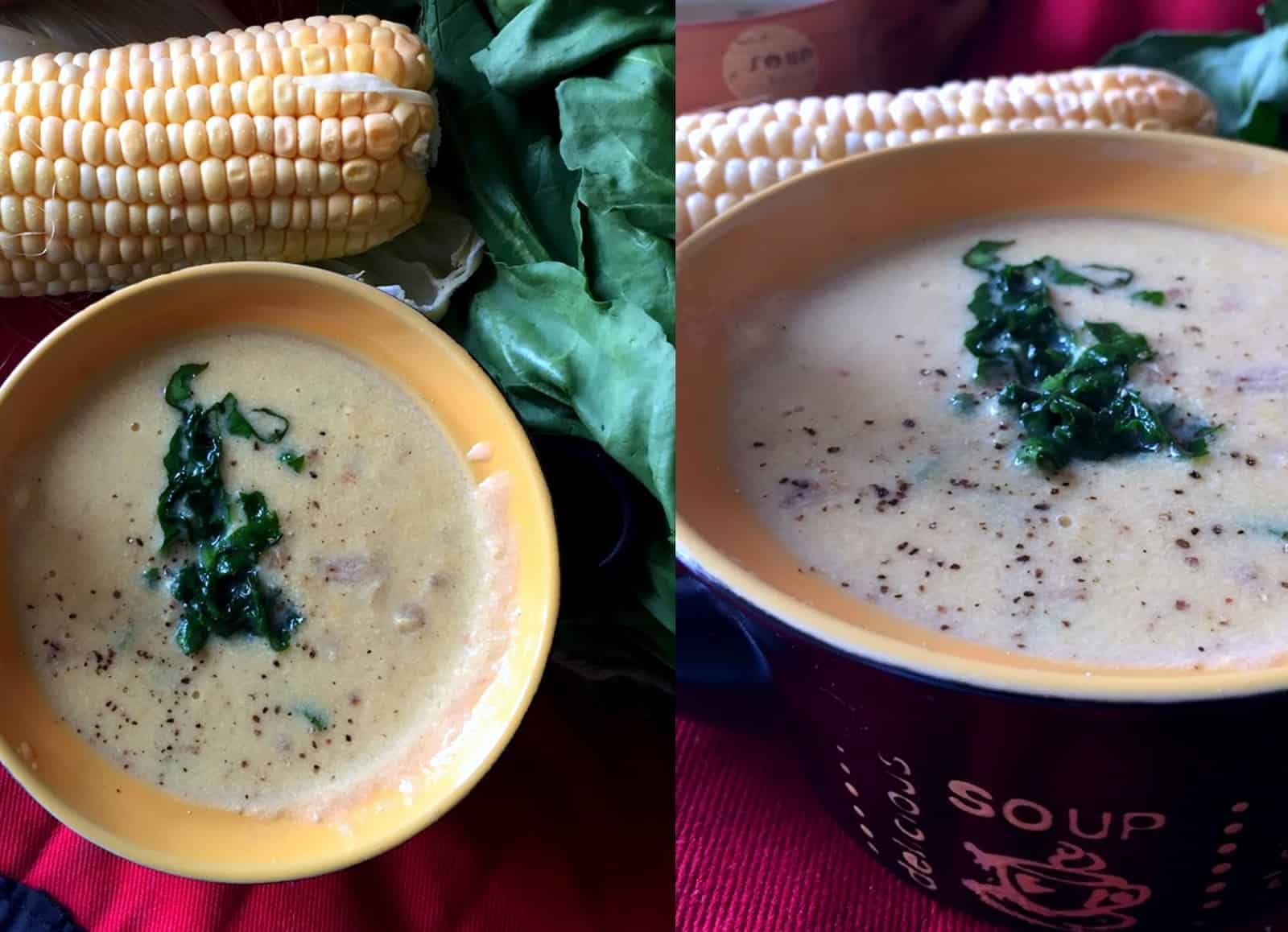 Pin
Ingredients:
Whole corn (on the cob)  – 1 large
Spinach (fresh) – 10-12 leaves
Moong dal (split green gram) – 4 TBSP 
Onion – 1 medium (I used the white, sweet variety)
Garlic – 2 pods (large)
Salt , pepper – to taste
Oil / butter – 1 tsp (sub butter with olive oil for a vegan version)
Method:
Scrape down the kernels of the corn. In a pressure cooker / pressure pan, add the kernels, moong dal, 1 medium onion (diced), 2 pods of garlic and 3 cups of water. Pressure cook for 3 whistles and switch off.
Meanwhile, chiffonade the spinach. In a non stick pan, add 1 tsp butter, add the spinach and saute well. Add a dash of salt and reserve aside. 
In the same pan, add  the onions and saute well till they turn pink. Add a dash of salt and crushed black pepper and saute.
Now make a puree of the pressure cooked veggies along with the water. Add this to the sauteed onions, adjust salt and seasoning. Let it simmer on very low flame for 3-4 mins till done. The pureed corn willl make it creamy and will thicken on cooling too.  
Now add the sauteed spinach on top and serve immediately.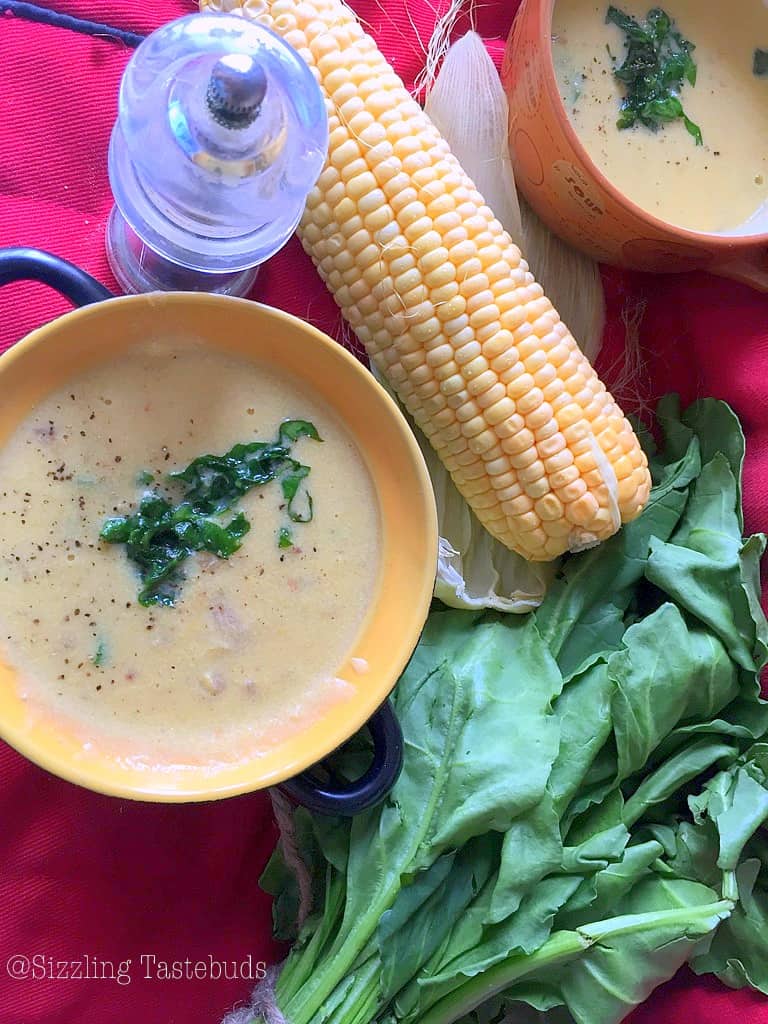 PinPin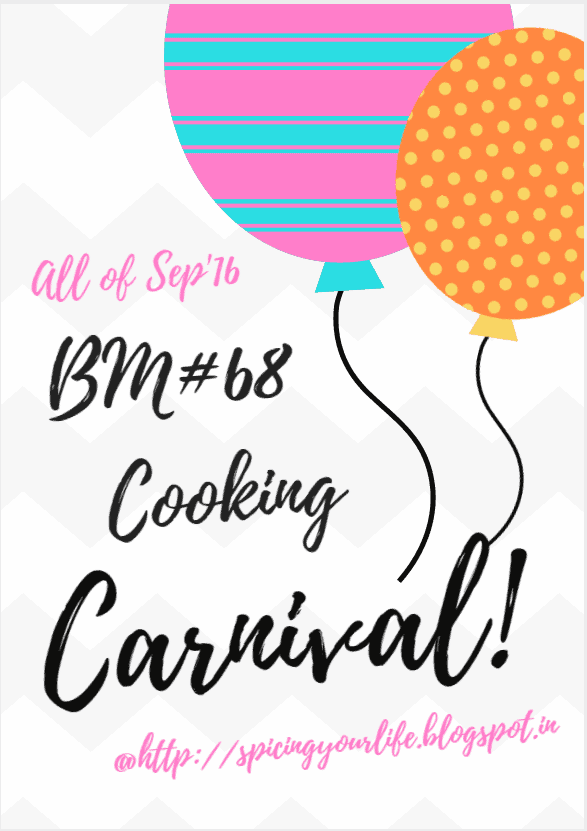 Pin
Check out the Blogging Marathon page for the other Blogging Marathoners doing BM# 68