Nashta is
a colloquial term used to define a mild-heavy snack had around 4-5 pm in South
Indian homes between lunch and dinner. Sometimes it could be filling enough to
skip dinner altogether, and ending the day with just buttermilk or curd rice.
This week, we shall see 3 varieties of quick to make and filling nashta. You
can also make this for a weekday dinner and skip dinner too. The first of these
is a quick Upma or savoury pudding made with buttermilk and Broken Rice.
I have already blogged about using Broken Rice Rava with field
beans for a Karnataka style Avarekaalu Akki Thari uppittu. Today's dish is from
Andhra, and my high school classmate used to bring it to school often. I had
forgotten about it, and when I saw it on Hari's blog I made it instantly. It
brought back so many memories of sharing lunchboxes and munching on some
fryums.. Thanks Hari, since then I have made this several times and as we are a
upma loving family, we quite liked the tang from the slightly sour buttermilk.
Its good to eat on its own, but if you are finicky (read fussy), you can eat it
with some chutneypudi or even coconut chutney.
Sending this to BM#48 under Nashta series. Check out fellow
marathoners here.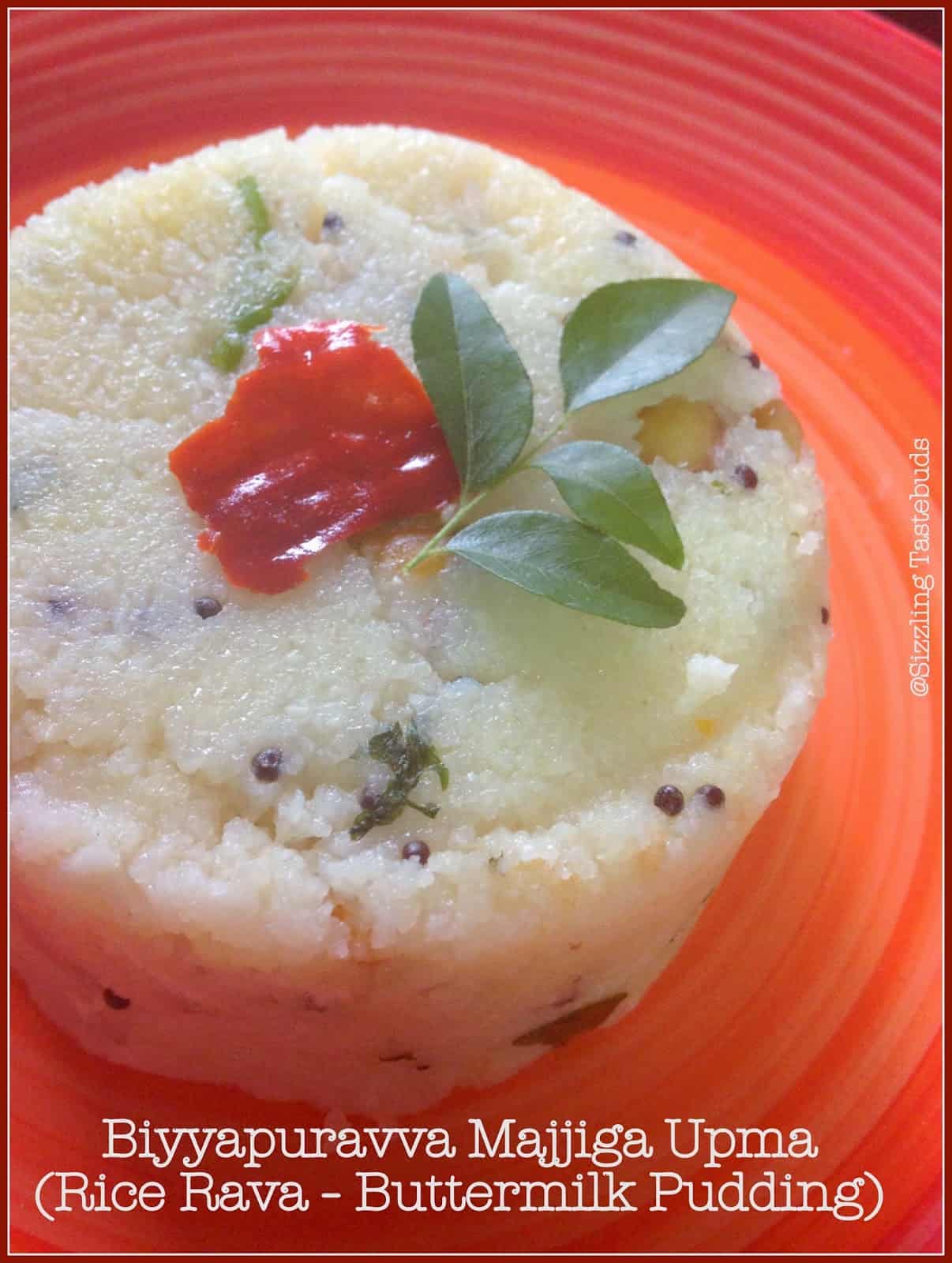 PinPin




Biyyapuravva Majjiga Upma (Buttermilk and broken rice upma)

Cuisine : South Indian / Andhra ; course : Breakfast / evening
nashta

Serving suggestion : Coconut chutney or as it is..

Spice level : medium to spicy | Difficulty level : Easy- medium

On how to make Rice rava from scratch at home, click here

Prep time : 15 mins | Cook time : 10 mins | Serves : 4

Ingredients:
Rice Rava – 2 cups (cup measures 150 ml)
Salt – to taste
Slightly sour buttermilk – 4 cups (See Notes below)*
Oil – 3 tsp*
Tempering : Mustard seeds, curry leaves, red chillies (broken -2
nos), large pinch of asafoetida
Hot water – 1 cup (if required)* 
Notes:
1) If you dont have sour buttermilk, churn 1 cup curd with 3 cups
of water, add a dash of lime juice or 1/2 tsp of tamarind juice to it and churn again. Use a mixer grinder to blitz it for lump free buttermilk.
2) Dont add cold water if the upma turns dry, keep 1 cup of hot
water ready, but add in batches as required.
3) 3 tsp of oil is sufficient if made in non stick pan. However,
if making in cast iron or other pans, more oil may be needed.
4) Cashewnuts / peanuts / Urad dal (split black gram) also may be
added to the tempering if required.
5) This upma is generally made without onions or any
veggies. However, if you are adding onions, saute them in oil before adding the
rice rava.
Method:
Clean rava of any impurities and keep aside.
In a non stick pan, heat oil. Temper mustard seeds, curry leaves,
red chillies and asafoetida. As the curry leaves slightly shrivel, add the rava
and fry for 1-2 mins. Add salt.
Now add the buttermilk and quickly stir in without any lumps. If
the rava is still dry, add a dash of hot water.
Close and cook covered for 10-12 mins (this rava requires longer
cooking time than normal Sooji).
Check for salt and consistency. If required, add 1-2 TBSP of hot
water and keep stirring.
Serve hot with chutney or as it is.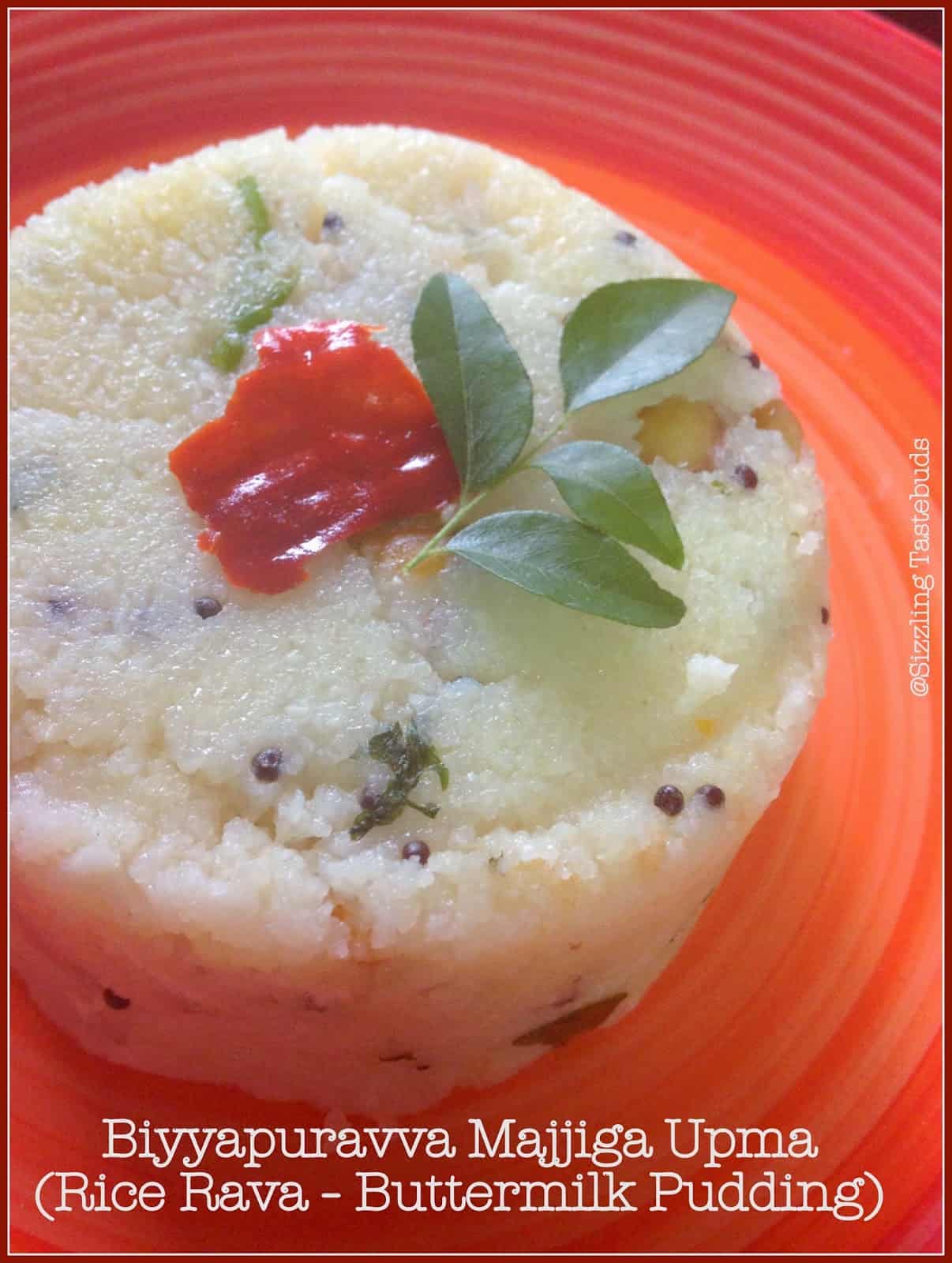 PinPin