Cheese is something that my kids love in parts and sometimes they don't like
It at all. In an endeavor to provide more plant – based food to the family (both vegan and Gf), I don't push them to eat cheese or paneer. 
Personally I have pizza – the only dish that I like cheese in – probably once or twice a year.
But some dishes – like today – are dipped and drowned in a smooth, velvety cheesy sauce that makes winters worth it 🙂 it's a late November night as I sit and type this, but we haven't had a single day yet that we can call winter. 
Yet the comfort that a good veg cheesy casserole provides is all that it takes for a weeknight dinner to transform the dinner table to a magical place.
Let's get cheesy tonight and indulge in some good old casserole.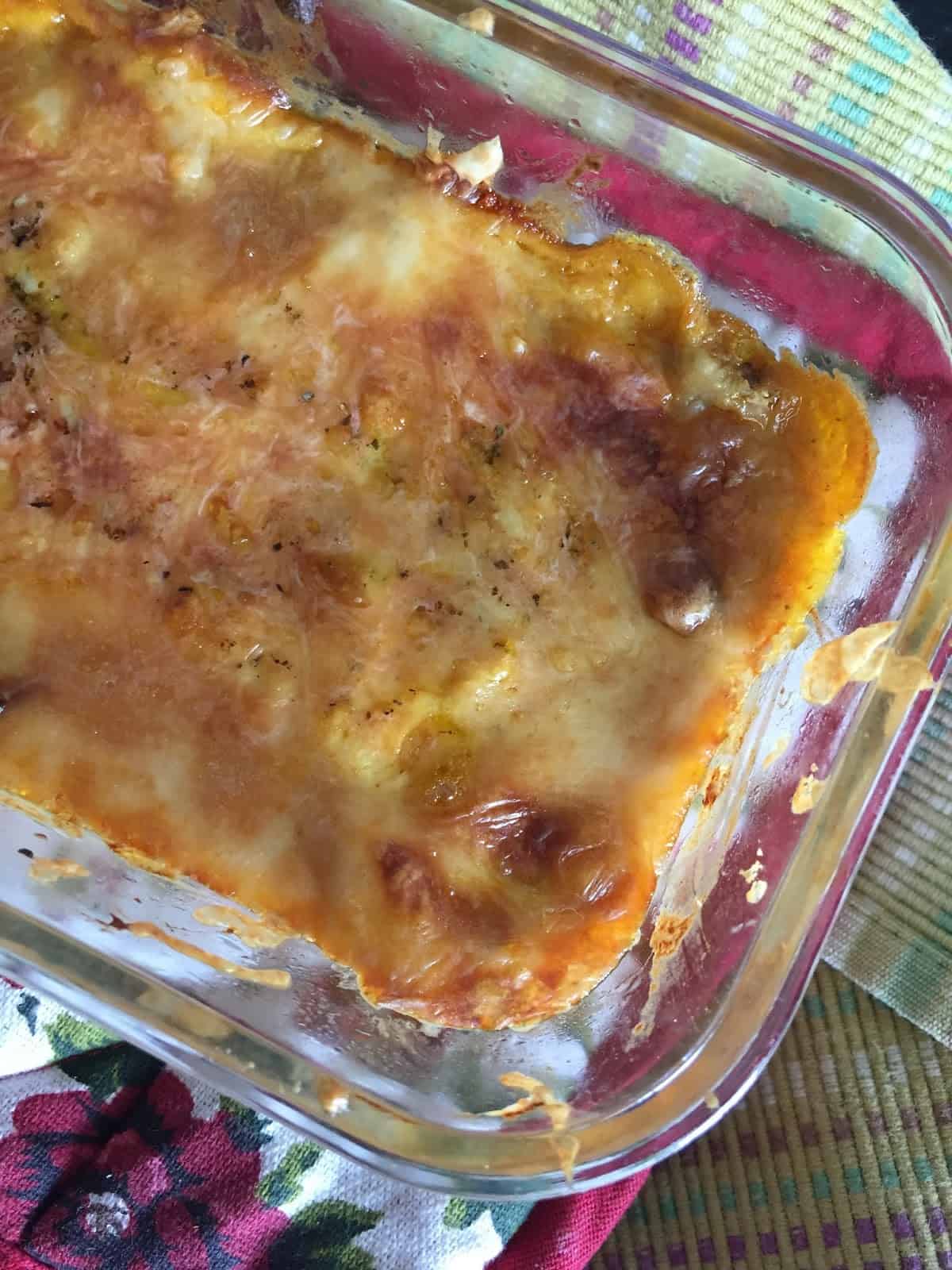 Pin

Veg cheesy casserole – served along with rich tomato soup. Perhaps a salad and some Bread could also a great accompaniment.

Prep time – 20 Mins , bake time – 35-40 Mins ; serves :2~3

Here 1 cup = 200 ml

Ingredients :



Base—



Chopped veggies – 2/3 cup (I used a mix of carrot, French beans, peas and cauliflower)

Olive oil – 2 tsp

One boiled potato – peeled and mashed slightly

Onion – 1 medium

Garlic – 1 pod , finely minced

Red chilli flakes – 1/4 tsp

Italian seasoning – 1/2 tsp

Salt and pepper to taste

Wholewheat Bechamel sauce –

Butter – 1 tsp

Oil – 1/2 tsp

Grated cheese – 1/3 cup

Wholewheat atta – 2 heaped tablespoons (maida can be used too)

Milk -1/2 cup+ 2 tsp

Grated nutmeg -1/8 tsp

Salt and pepper to taste 

Topping—

Grated cheese 1/3 cup – I used a mix of sharp cheddar and mozzarella and it worked, go with what you feel would work for you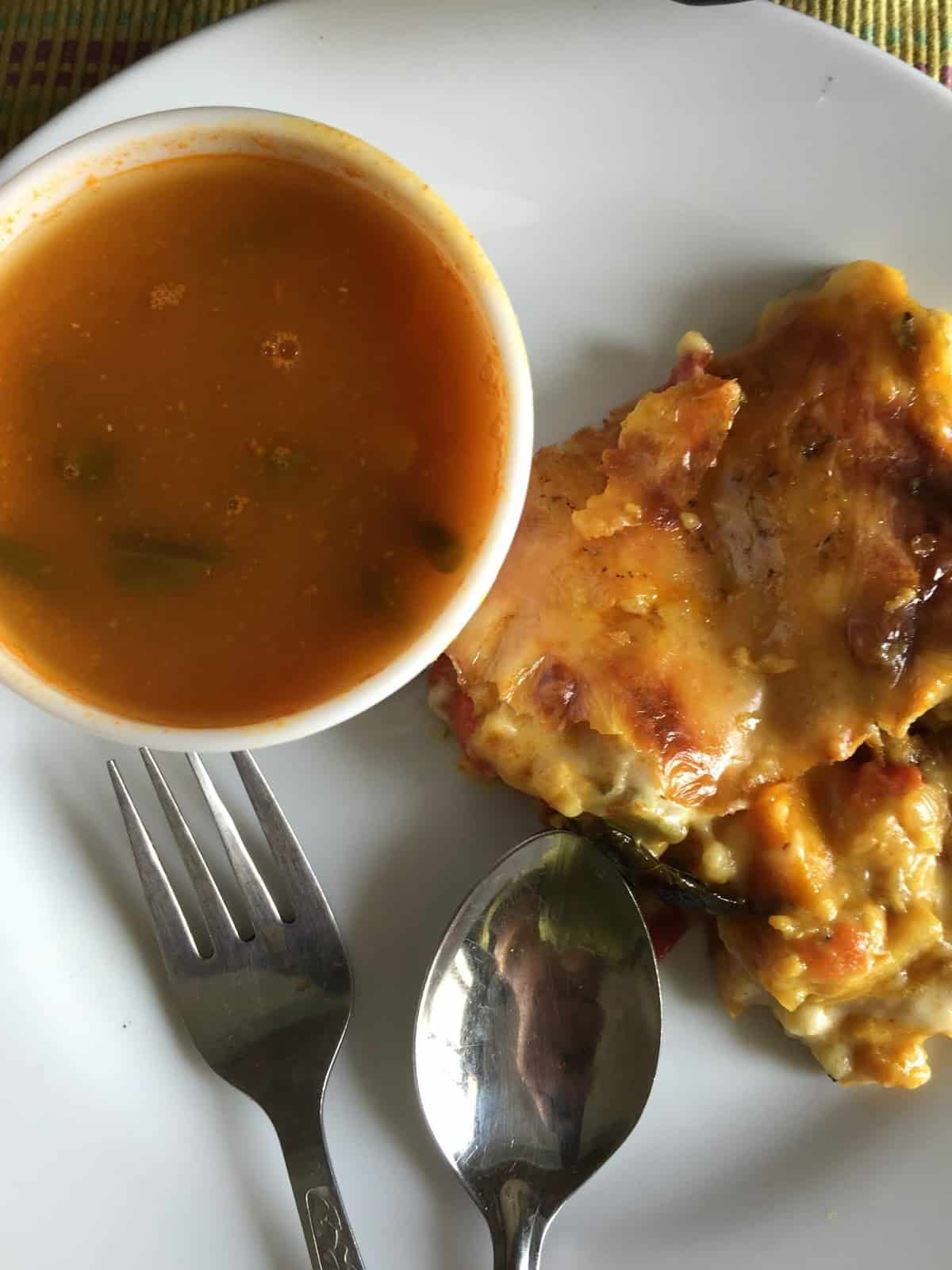 Pin
Method:


Stage 1 –
Grease a 8×4 baking / loaf pan and line if required. I just greased it well.
In a pan, heat oil, add onions and garlic sauté well. Add chopped vegetables except the potato and half the salt. Without adding any additional water , stir well and cook them till they are 70% cooked and still have a bite to them. cool. Add the seasonings to and mix. Taste and adjust spice , do NOT add additional salt and keep it undersalted for the cheese will give it saltiness.
Stage 2 –
In another sauce pan, heat butter and oil. Once it heats, add the wholewheat flour and on a very low flame, roast the flour till it leaves out a wonderful nutty aroma. Take off the flame, cool for a min and add in the milk and quickly whisk it to avoid any lumps. Keep whisking off the flame till you reach a beautiful smooth and silky consistency adding more milk if necessary ; now return the sauce to the flame. Add cheese, salt, pepper and nutmeg powder and whisk for 2-3 more mins . Cool to room temperature – this sauce thickens heavily upon cooling.
Keep in mind the cheese will be quite salty so add salt at each stage accordingly
Stage 3 —
Preheat oven to 175C.
In the greased baking pan, add the sautéed vegetables and the sauce in alternate layers. Top with mashed potatoes. Adjust spice and salt if required. Top with grated cheese and bake for 25 mins at 175, then turn the heat to 190 and bake for 7-8 mins keeping an eye that the cheese doesn't burn. Tent the pan if required .
Once you get a slightly hard crusty top that's typical of a cheese casserole, you may turn off .mine was done in 32 minutes.
Give it a standing time of 10-12 mins outside on a wire rack, and serve as required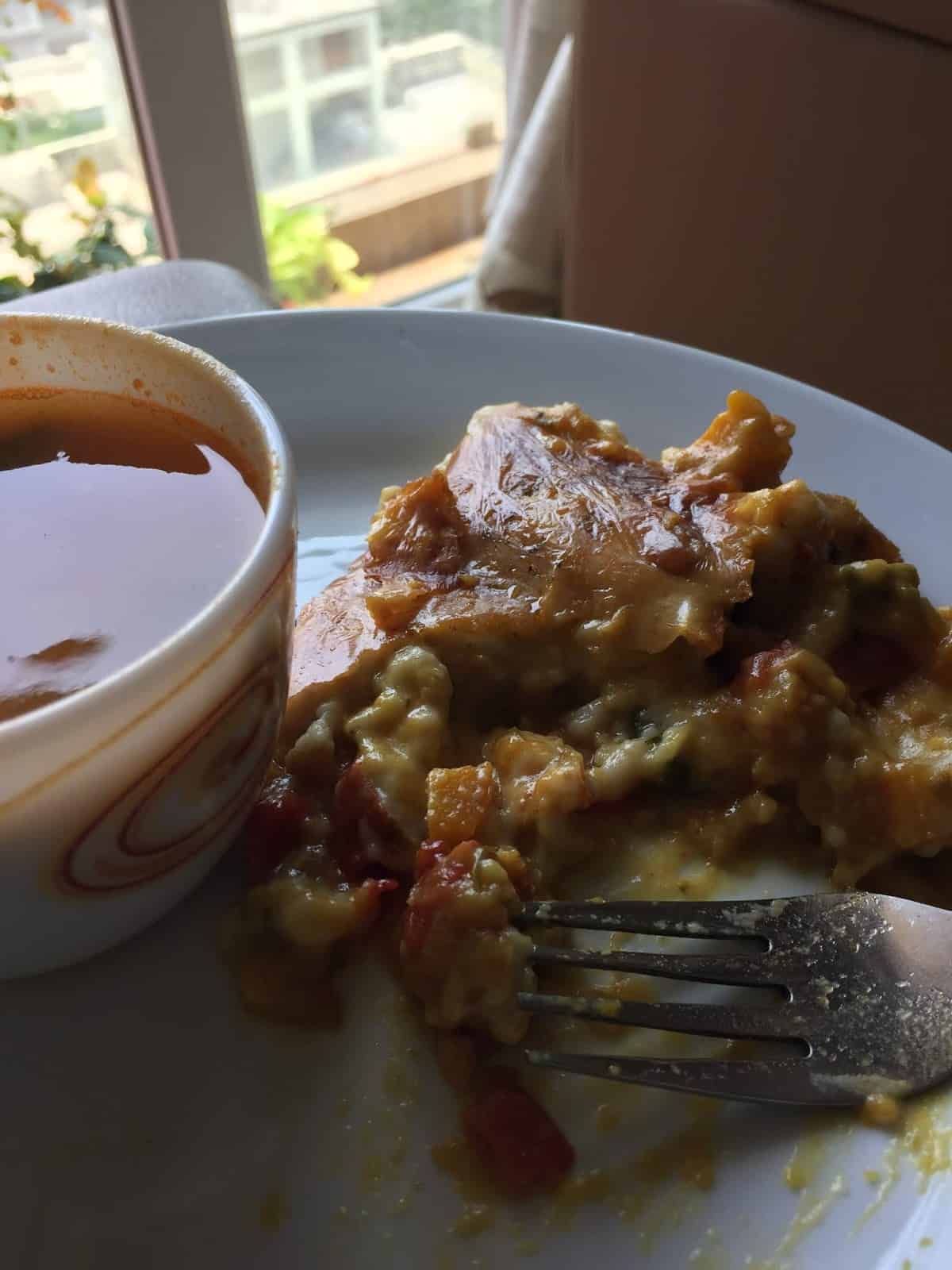 Pin
Pin
Check out the other bloggers doing this Bake-a-thon