You would have seen that my kids loved Cream of Peas Soup. As it happens, I had a bounty of off-season, but delicious fresh peas. I was always wanting to make Kachori (stuffed deep fried savoury bread), but was wary of the deep frying. So, here I adapted Shilpi's recipe to make the same awesome kachoris, but a whole lot guilt free. I didn't change a thing, just halved the recipe, and they came out extremely well. 
I took some to work, and wowed my colleagues who just couldn't believe they were baked. Kids loved it too, especially the younger one who has taken to savoury dishes after me. The elder girl said she wanted it more spicy, but nevertheless enjoyed it too. The husband (who's a great fan of home baked savoury snacks) missed it all as he was travelling. I have promised to make him a batch once the next lot of fresh peas comes in this October end-Nov. 
Hope you have been following the #proteinicious Mega Marathon. Dished out so far: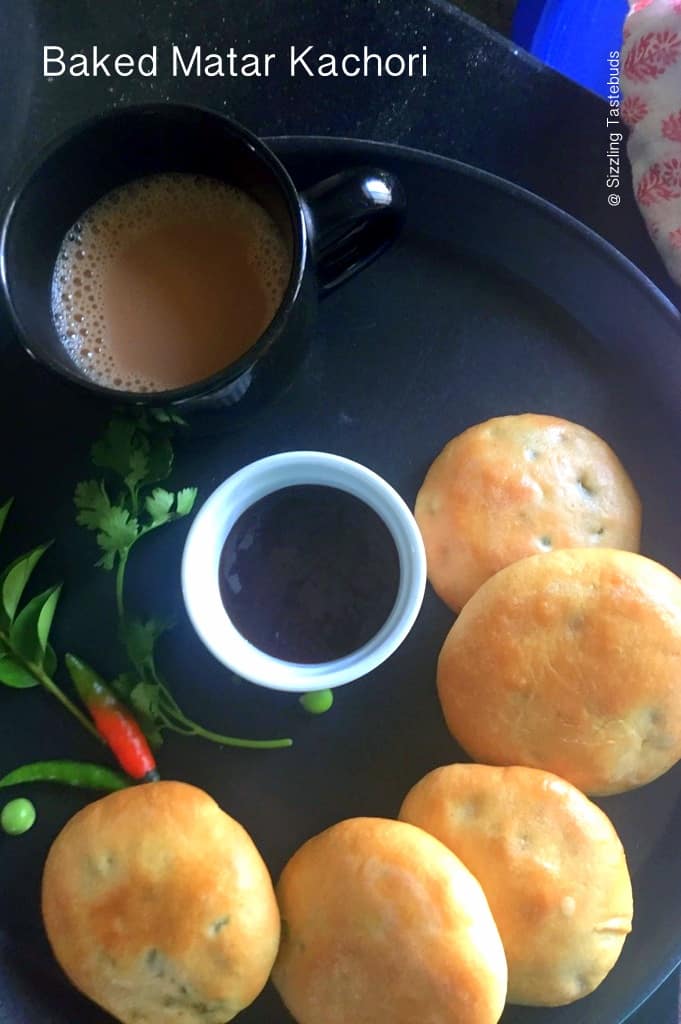 Pin

This recipe makes about 8-10 medium sized kachoris. You can easily double or triple the measurements to make the required quantity. 

Prep time : 20 mins, standing time : 2 hours + 30 mins ; bake time :  20 mins / batch (bake time may differ from oven to oven)

Vegan Baked Indian Snack – Matar ki Kachori

Cuisine : Indian, Course : Snack or even breakfast (in some Indian households, Kachori is had at breakfast too)

Protein source: Green Peas

1 cup = 200 ml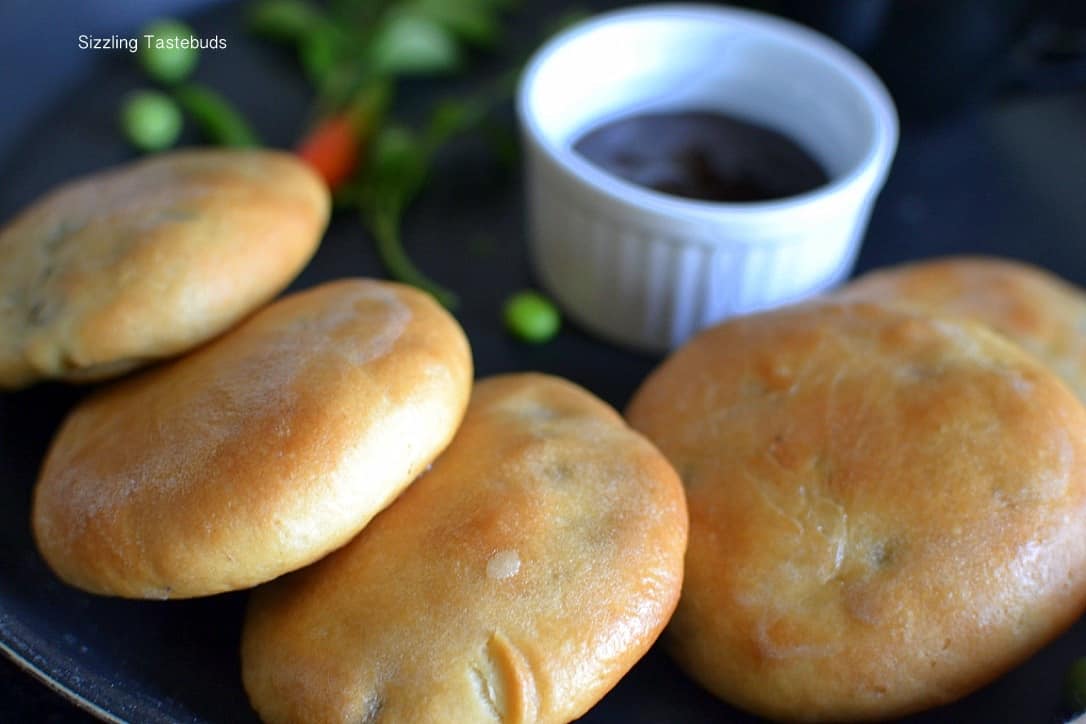 Pin
Ingredients:
Outer Covering:
All purpose flour (Maida) – 1 cup
Wholewheat flour – 1 cup
Instant Yeast – 7 gms + 1/2 tsp
Sugar – 2 tsp
Salt 
Oil – 3 TBSP
Warm water – as required
Stuffing:
Oil – 4 TBSP (divided use)
Fresh peas
Salt – to taste
Amchur powder (dry mango powder) – 1/2 tsp
Hing / Asafoetida – a generous pinch
Turmeric – 1/8 tsp (optional)
Red chilli powder – 1/2 tsp or to taste
Green chillies – minced fine or 1/2 tsp green chilly paste
Cumin seeds (Jeera) – 1/2 tsp
Method: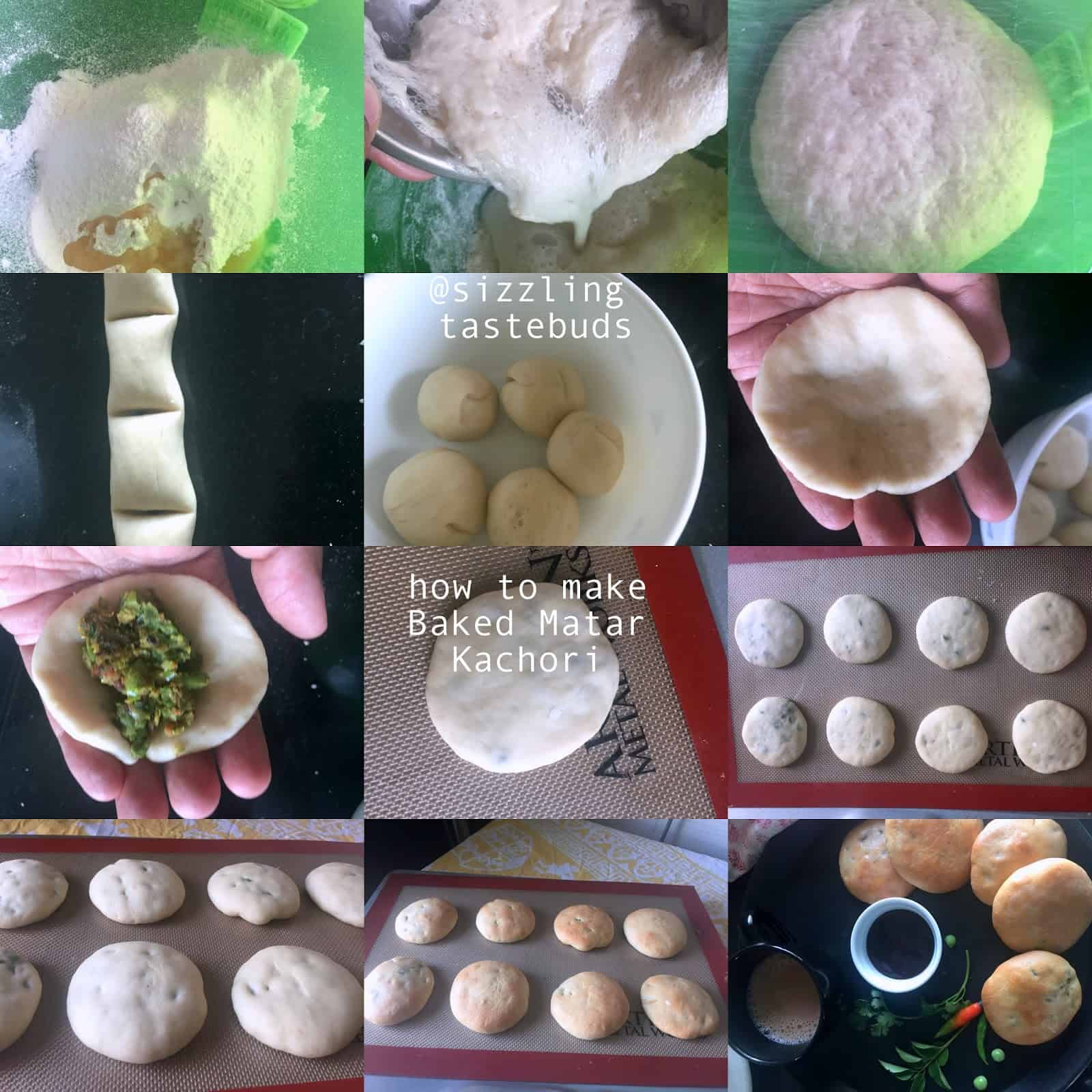 Pin
(a) Make the outer Dough:
In a bowl, add the flours, yeast, sugar, salt, 2 TBSP of oil and mix well. add water as required to make a slightly stiff dough. Knead well for 10-12 mins till you get a firm dough, apply oil on its surface. Cover and keep aside for 90-120 minutes till risen.
(b) Meanwhile, prepare the stuffing:
Microwave or boil the peas till tender with a pinch of salt and sugar. Drain thoroughly and blitz it just once to a coarse paste. 
In a pan, heat half of the oil, splutter cumin seeds, add the hing, turmeric powder, coarse peas paste, and stir well on a low-medium flame till all water completely disappears. Add salt and spices to taste and mix again. Let the mixture cool completely. 
(c) To make the Kachoris:
Punch down and knead the dough again, make small roundels. Make equal portions of the cooled peas stuffing and keep aside. 
On a plastic sheet or with greased hands, make a small disc of 3 inch diameter (pref the size of your palm), keep the stuffing in the middle and bring all the edges to the centre, and pinch out any excess dough. pat the stuffed kachoris gently and place on a lined baking tray. Similarly, complete the rest of the kachoris
Cover them lightly, and let them rest for 20-30 mins till they rise slightly.
Towards the end of the 2nd rise, preheat oven to 200 C.
Spray the kachoris liberally with the remaining oil, bake for 18-20 mins till golden brown on both sides. 
Serve hot with sweet tamarind chutney ! any extras Freeze well. You may microwave the frozen ones for 30-40 seconds before serving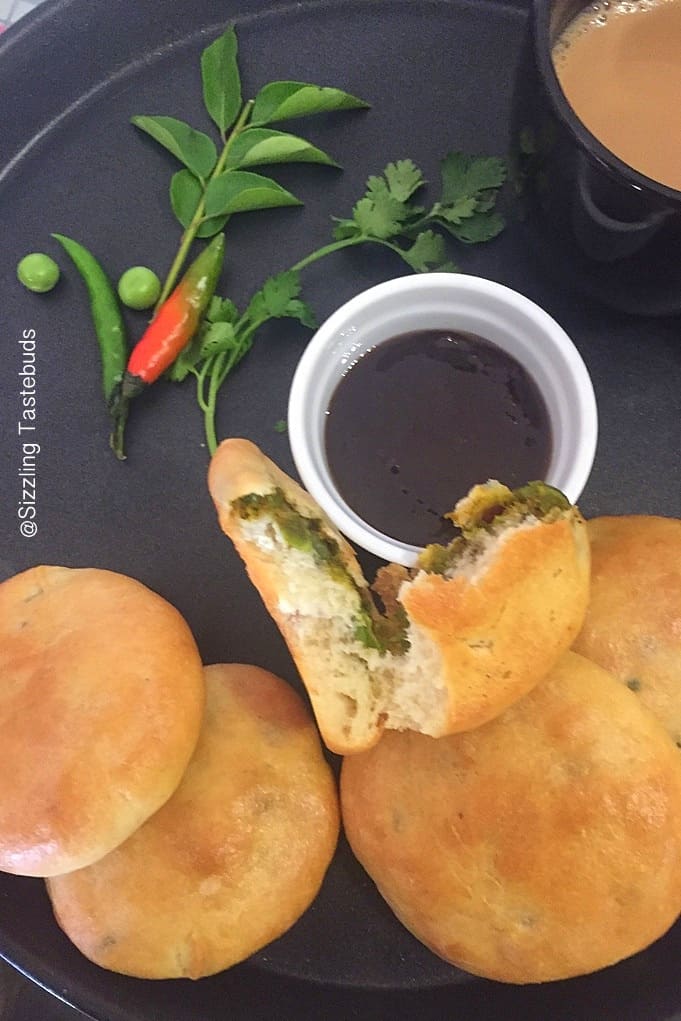 Pin
Notes:
1. add a pinch of sugar while boiling the peas – it helps them retain the colour
2. Add an adequate amount of stuffing, too little will make the kachoris taste bland, too much will create cracks and spill over while rising and baking
3. This method above is only for baking. There is a different method for deep frying, although the stuffing remains the same. 
4. If you are ok with using ghee, first add the melted ghee to the mixed flours and mix them well into make crumbs. Then add the yeast and oil and spices to make the dough as above.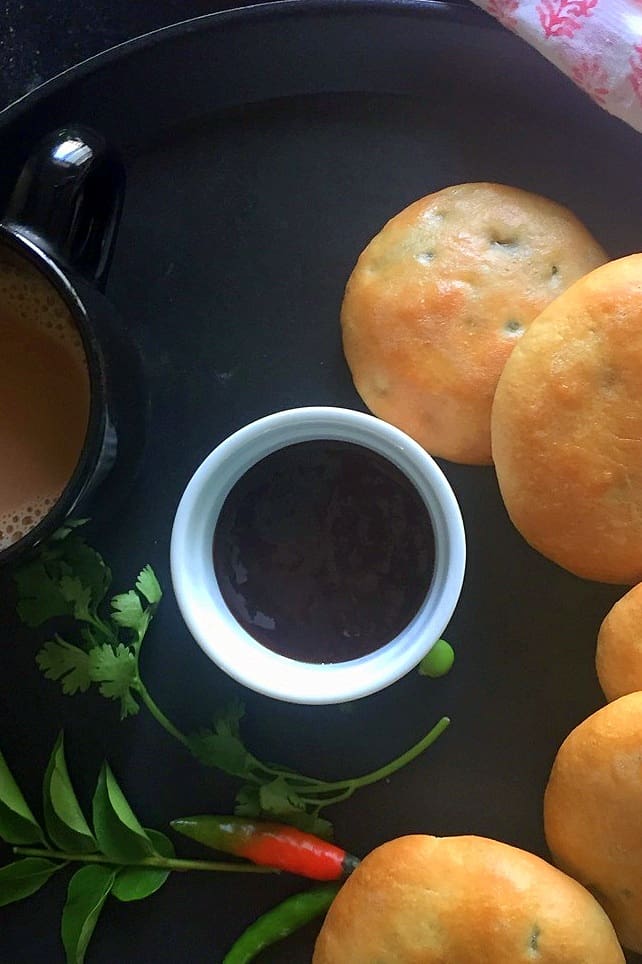 Pin
Pin
Check out the Blogging Marathon page for the other Blogging Marathoners doing BM# 80